Is Bitcoin Too Complex and Unproven for Amateur Day Traders to Handle?
Everybody seems to be making money on bitcoin and other cryptocurrency, but not many people grasp how the underlying technology works. Bitcoin is now traded on the exchanges for futures contracts. Is this problematic for amateur day traders that may not understand how bitcoin works?
09 January, 2018
Everybody seems to be making money on bitcoin and other cryptocurrency, but not many people grasp how the underlying technology works. 
---
Does that matter? We will soon find out, now that Bitcoin has recently been added to the Chicago Board Options Exchange and The Chicago Mercantile Exchange to allow for futures trading.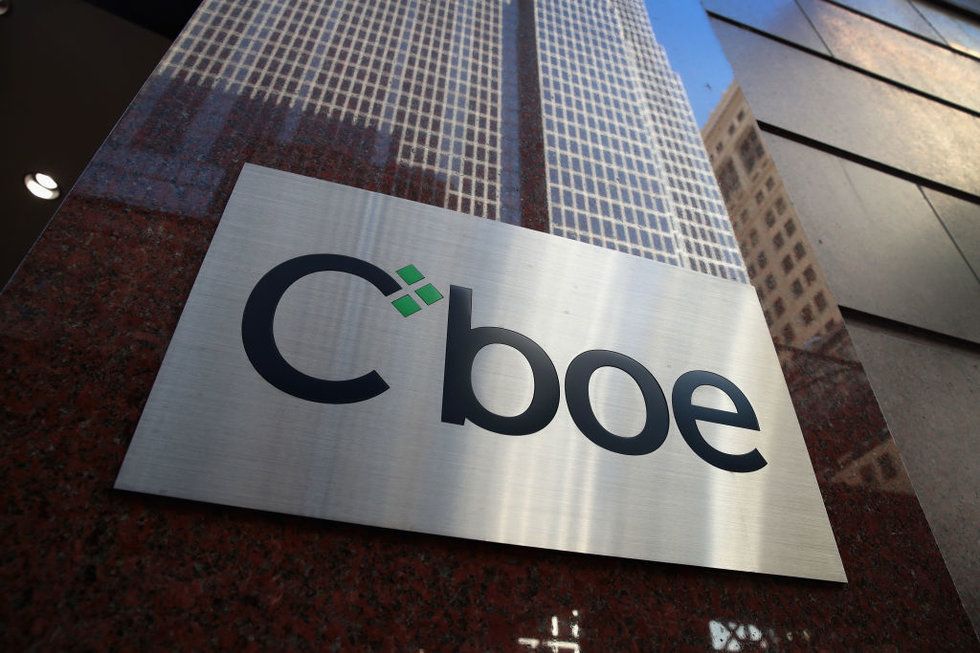 Every day brings new stories of investors pouring money into cryptocurrency with little understanding of the base technology, or perhaps intent of the company. For example, because of a recent spike in Ripple tokens, the paper weather of its co-founder Chris Larsen briefly surpassed that of Mark Zuckerberg.
Nevermind that the Ripple software was invented by programmer Jed McCaleb--the same programmer who created the infamous Mt. Gox. What may be more disconcerting, however, is that many investors may be unaware of the difference between the Ripple technology and the Ripple token. (The Ripple software is designed to be faster and more efficient than Bitcoin, without the mining process. Money can be moved between digital wallets. The Ripple token, not to be confused with the Ripple software, is one of the currencies that can be used.)
As Mark Twain once stated, "The more you explain it, the more I don't understand it."
Given the difficulty in grasping Bitcoin, is it wise to participate in futures trading with the currency? 
Until recently, the only way Americans and most other traders (Outside of contract-for-difference [CFD] agreements) to trade in Bitcoin was through cryptocurrency exchanges, such as Coinbase and Kraken. The popular exchange Coinbase limits the platform to only the most popular cryptocurrencies, and trades in billions worth of Bitcoin annually. When holding Bitcoin, a user will store the currency in the exchange or in their personal wallet. Traders are often concerned about hacking, with Coinbase customers reporting 30 thefts per month in 2017. 
In mid-December 2017, Bitcoin started trading on the CME and CBOE for futures. "This is your first opportunity to take a bitcoin derivative and put it on a centrally cleared exchange that has transparency, said JJ Kinahan, the chief derivatives strategist at Ameritrade, in a recent interview with CNBC. While futures markets tend to add stability, the initial low volume of trading may increase volatility. And unlike traditional Bitcoin trading, Bitcoin futures contracts can't get hacked or stolen.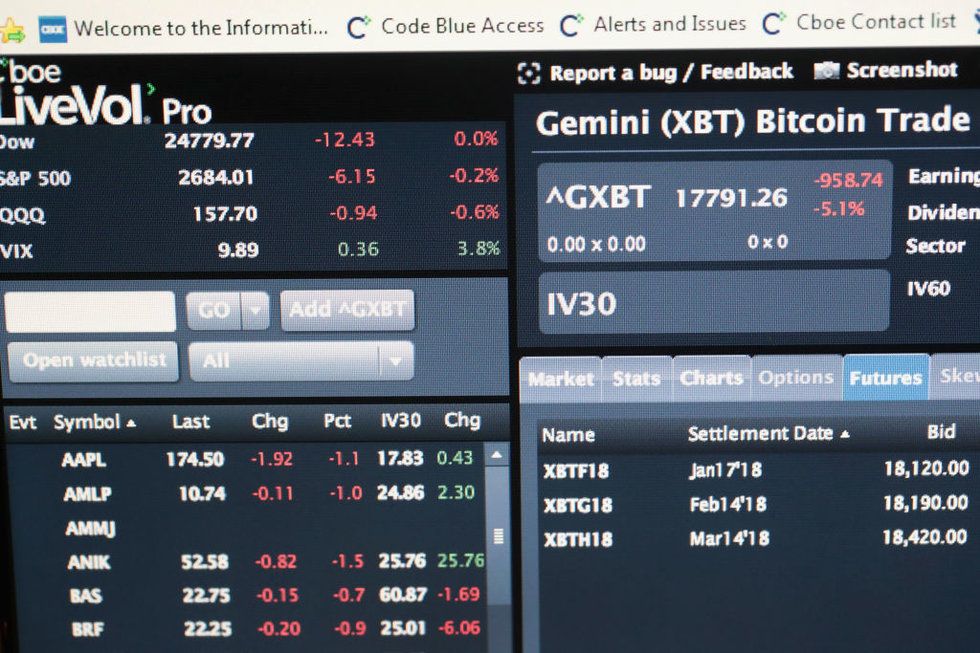 As of right now, however, futures trading is mostly for major traders.
"Most people won't lose their shirt unless they're doing this on credit, or buying on margin," states venture capitalist Scott Hartley, author of The Fuzzy and The Techie: Why the Liberal Arts Will Rule the Digital World.  "It's possible to do some of this on entry-level platforms like Coinbase, but the majority of anyone playing this close to the fire has been long crypto for a while, and is probably already playing with their paper gains." I ask him whether the complexity of Bitcoin is similar to Credit Default Swaps, where the people designing the product may not have even understood the instrument. 
"In my mind, we are a long way from CDS. That was people losing homes, and those were systematic ways of hiding risk," he states. "This is largely tech insiders losing money they didn't have six months ago because they're now chasing speculative gains on an alt coin. When your Uber driver starts asking you about Ripple that's when it's time to put some money down on a condo."
The overall cryptocurrency craze seems to be a mixture of greed, confusion, and an underlying promising technology (blockchain) that may revolutionize business. An August 2017 WIRED article title may have best summarized are current moment: Bitcoin Makes Even Smart People Feel Dumb.
What can 3D printing do for medicine? The "sky is the limit," says Northwell Health researcher Dr. Todd Goldstein.
Northwell Health
Sponsored by Northwell Health
Medical professionals are currently using 3D printers to create prosthetics and patient-specific organ models that doctors can use to prepare for surgery.
Eventually, scientists hope to print patient-specific organs that can be transplanted safely into the human body.
Northwell Health, New York State's largest health care provider, is pioneering 3D printing in medicine in three key ways.
Can dirt help us fight off stress? Groundbreaking new research shows how.
University of Colorado Boulder
Surprising Science
New research identifies a bacterium that helps block anxiety.
Scientists say this can lead to drugs for first responders and soldiers, preventing PTSD and other mental issues.
The finding builds on the hygiene hypothesis, first proposed in 1989.
Are modern societies trying too hard to be clean, at the detriment to public health? Scientists discovered that a microorganism living in dirt can actually be good for us, potentially helping the body to fight off stress. Harnessing its powers can lead to a "stress vaccine".
Researchers at the University of Colorado Boulder found that the fatty 10(Z)-hexadecenoic acid from the soil-residing bacterium Mycobacterium vaccae aids immune cells in blocking pathways that increase inflammation and the ability to combat stress.
The study's senior author and Integrative Physiology Professor Christopher Lowry described this fat as "one of the main ingredients" in the "special sauce" that causes the beneficial effects of the bacterium.
The finding goes hand in hand with the "hygiene hypothesis," initially proposed in 1989 by the British scientist David Strachan. He maintained that our generally sterile modern world prevents children from being exposed to certain microorganisms, resulting in compromised immune systems and greater incidences of asthma and allergies.
Contemporary research fine-tuned the hypothesis, finding that not interacting with so-called "old friends" or helpful microbes in the soil and the environment, rather than the ones that cause illnesses, is what's detrimental. In particular, our mental health could be at stake.
"The idea is that as humans have moved away from farms and an agricultural or hunter-gatherer existence into cities, we have lost contact with organisms that served to regulate our immune system and suppress inappropriate inflammation," explained Lowry. "That has put us at higher risk for inflammatory disease and stress-related psychiatric disorders."
University of Colorado Boulder
Christopher Lowry
This is not the first study on the subject from Lowry, who published previous work showing the connection between being exposed to healthy bacteria and mental health. He found that being raised with animals and dust in a rural environment helps children develop more stress-proof immune systems. Such kids were also likely to be less at risk for mental illnesses than people living in the city without pets.
Lowry's other work also pointed out that the soil-based bacterium Mycobacterium vaccae acts like an antidepressant when injected into rodents. It alters their behavior and has lasting anti-inflammatory effects on the brain, according to the press release from the University of Colorado Boulder. Prolonged inflammation can lead to such stress-related disorders as PTSD.
The new study from Lowry and his team identified why that worked by pinpointing the specific fatty acid responsible. They showed that when the 10(Z)-hexadecenoic acid gets into cells, it works like a lock, attaching itself to the peroxisome proliferator-activated receptor (PPAR). This allows it to block a number of key pathways responsible for inflammation. Pre-treating the cells with the acid (or lipid) made them withstand inflammation better.
Lowry thinks this understanding can lead to creating a "stress vaccine" that can be given to people in high-stress jobs, like first responders or soldiers. The vaccine can prevent the psychological effects of stress.
What's more, this friendly bacterium is not the only potentially helpful organism we can find in soil.
"This is just one strain of one species of one type of bacterium that is found in the soil but there are millions of other strains in soils," said Lowry. "We are just beginning to see the tip of the iceberg in terms of identifying the mechanisms through which they have evolved to keep us healthy. It should inspire awe in all of us."
Check out the study published in the journal Psychopharmacology.
We were gaining three IQ points per decade for many, many years. Now, that's going backward. Could this explain some of our choices lately?
The Flynn effect appears to be in retrograde. (Credit: Shutterstock/Big Think)
popular
There's a new study out of Norway that indicates our—well, technically, their—IQs are shrinking, to the tune of about seven IQ points per generation.
An ordained Lama in a Tibetan Buddhist lineage, Lama Rod grew up a queer, black male within the black Christian church in the American south. Navigating all of these intersecting, evolving identities has led him to a life's work based on compassion for self and others.
Think Again Podcasts
"What I'm interested in is deep, systematic change. What I understand now is that real change doesn't happen until change on the inside begins to happen."
"Masculinity is not inherently toxic. Patriarchy is toxic. We have to let that energy go so we can stop forcing other people to do emotional labor for us."
Big think's weekly newsletter.
Get smarter faster from the comfort of your inbox.
See our newsletter privacy policy
here
Most Popular
Most Recent
Big think's weekly newsletter.
Get smarter faster from the comfort of your inbox.
See our newsletter privacy policy
here
© Copyright 2007-2019 & BIG THINK, BIG THINK EDGE,
SMARTER FASTER trademarks owned by The Big Think, Inc. All rights reserved.