Big ideas.
Once a week.
Subscribe to our weekly newsletter.
14 movies for your next pagan holiday
18 February, 2019
14 pagan-flavored movies to consider for your next holiday get-together.
Filmmakers just can't stay way from the pagan love of nature and magic.
Pagan-themed movies can be excellent training for wee environmentalists.
---
Hollywood has always loved holiday movies. From Miracle on 34th Street to Die Hard, from Easter Parade to Hop, the big Christian holidays get plenty of Tinseltown love. But what's a pagan to watch on a chilly Imbolc afternoon?
Pagans are not any one thing, of course, since the term encompasses any belief system outside one of the world's major religions. Still, there are three basic principles that most if not all, pagans share:
A veneration of the natural world
A belief in polytheism or pantheism
A belief in feminine divinity
It's a fact that moviegoers seeking pagan holiday flicks are an underserved market. However, there are still plenty of pagan-compatible movies to enjoy on the Wheel of the Year's special days.
Before getting started, we should also mention a few pagan documentaries, recommended by the website Ditzy Druid: Glenafooka, American Mystic, and Modern Druids
Movies for pagan families
Pagan beliefs most consistently find a home in movies for children and families. Certainly the magical and fantastical are more at home in young imaginations. However, there's also the fact pagan beliefs can imbue the young with an enhanced appreciation for the natural world they'll need as grownup climate-change warriors. And some of these movies are simply great films by any standard.
1. Moana
Walt Disney Pictures
Internet Movie Database (IMDB) description: In Ancient Polynesia, when a terrible curse incurred by the Demigod Maui reaches Moana's island, she answers the Ocean's call to seek out the Demigod to set things right.
This wonderful, tuneful, eye-popping hit movie is what kid's movies should be: Full of big, beautiful imagery, positive ideas, humor, unforgettable songs, and reverence for nature. Also, I lassoed the sun — now that's going to be stuck in your head for the rest of the day. You're welcome.
2. My Neighbor Totoro
Studio Ghibli
IMDB description: When two girls move to the country to be near their ailing mother, they have adventures with the wondrous forest spirits who live nearby.
That's putting it mildly. The mysterious and sweet spirits that inhabit this masterwork by Hayao Miyazaki are charming, Chaplinesque, and profound. A rainy bus stop, a magic tiger taxi, and ineffable truths that remain just beyond one's grasp. Honorable mention, though scarier: Miyazaki's Spirited Away.
3. Song of the Sea
Backup Media/Screen Ireland
IMDB description: Ben, a young Irish boy, and his little sister Saoirse, a girl who can turn into a seal, go on an adventure to free the fairies and save the spirit world.
Another wonderfully magical tale rendered in art that manages to look both modern and ancient at the same time. The story involves Irish Selkies, a missing mother, and haunting music from Lisa Hannigan, who also plays the (late?) mother.
4. Pan's Labyrinth
Estudios Picasso/Tequila Gang/Esperanto Filmo
IMDB description: In the Falangist Spain of 1944, the bookish young stepdaughter of a sadistic army officer escapes into an eerie but captivating fantasy world.
This one's for bigger kids, or children who enjoy a good fright. Gullermo Del Toro's bizarre imagery is likely to populate their dreams for a long, long time. Talk to the hand — the one with eyeballs in it.
5. Brave
Walt Disney Pictures
IMDB description: Determined to make her own path in life, Princess Merida defies a custom that brings chaos to her kingdom. Granted one wish, Merida must rely on her bravery and her archery skills to undo a beastly curse.
Is it just us, or is this one of Pixar's most beautiful films ever? The Scottish highlands, the greens and reds, and wee light spirits make this a great story of female empowerment for the young goddess.
6. The Lion King
Walt Disney Pictures
IMDB description: A Lion cub crown prince is tricked by a treacherous uncle into thinking he caused his father's death and flees into exile in despair, only to learn in adulthood his identity and his responsibilities.
Ah, the Circle of Life in all its glory. A powerful story on one hand, and an appreciation of the richness of non-human lives on the other.
7. The Last Keepers
Vertical Entertainment
IMDB description: When the teenage daughter of a reclusive family of artists falls in love with an unusual boy at school, she awakens mysterious powers and discovers ancient family secrets that will change her life forever.
For older kids, the story of a pagan teen's struggle to fit in, and her coming to appreciate the power and value of her family's pagan way of life.
Movies for big pagans
These films are more sophisticated fare, though most are still quite heavy on the fantastical. The first one below is an exception.
8. Agora
Mod Producciones
IMDB description: A historical drama set in Roman Egypt, concerning a slave who turns to the rising tide of Christianity in the hope of pursuing freedom while falling in love with his mistress, the philosophy and mathematics professor Hypatia of Alexandria.
A sword and sandal epic starring Rachel Weiss that basically asks "what's a pagan supposed to do when Christianity comes to town?" If your town is Alexandria in Egypt, that is.
9. The Mists of Avalon
TNT/Warner Bros.
IMDB description: Based on the bestseller by Marion Zimmer Bradley It tells the story of the women behind King Arthur; including his mother, Igraine; his half-sister, Morgaine; his aunt Viviane, the Lady of the Lake; and his wife, Gwenwyfar.
Pagan movie buff Roy Linford Adams says this flick is "possibly the single most important movie for any Pagan family movie collection." The depiction of pagan beliefs is accurate in its telling of the manner in which British pagans responded to the arrival of Christianity. It's set within a realist take of the story of King Arthur.
10. Avatar
Twentieth Century Fox
IMDB description: A paraplegic marine dispatched to the moon Pandora on a unique mission becomes torn between following his orders and protecting the world he feels is his home.
James Cameron's classic breakthrough CGI extravaganza centers on the Navii community's Tree of Life, essentially Goddess of their belief system. It's a big, visually thrilling film, and even moving at times. It's also lovely, with Cameron's reverence for the fauna of this made-up world painted everywhere.
11. Beowulf
Paramount Pictures
IMDB description: The warrior Beowulf must fight and defeat the monster Grendel who is terrorizing Denmark, and later, Grendel's mother, who begins killing out of revenge.
This floridly animated story — using motion capture of its actors — is based on the epic Old English poem. In it, warrior Beowulf slays the monster Grendle and then beds his mother played by Angelina Jolie, because Angelina Jolie. Also, Beowulf becomes king. Not that well-received during its release, the film is intense and pretty dark.
Witch flicks
There's a whole sub-genre of movies about witches, and we're not even mentioning Kiki's Delivery Service.
12. Practical Magic
Warner Bros.
IMDB description: Two witch sisters, raised by their eccentric aunts in a small town, face closed-minded prejudice and a curse which threatens to prevent them ever finding lasting love.
Who says you can't have a witch-based rom-com? With lots of star power in Sandra Bullock and Nicole Kidman, the mortal boy toy is played by Aidan Quinn, who's also the dad in The Last Keepers above.
13. The Good Witch
Hallmark Channel
IMDB description: A darkly beautiful and mysterious woman comes in to town and inhabits the local haunted mansion, making everyone wonder if she's a witch or "The Grey Lady."
Answer: She's a witch. A nice one who immediately digs in to help the natives. Her name's Cassandra, and after a bit of persecution, well…
14. Bewitched
Columbia Pictures
IMDB description: Thinking he can overshadow an unknown actress in the part, an egocentric actor unknowingly gets a witch cast in an upcoming television remake of the classic sitcom Bewitched.
The movie based on the 1960s TV show, this time starring Nicole Kidman as the winsome witch with whom bobblehead actor Will Ferrell falls in love. Definitely a lightweight movie, but perfectly innocuous. Watch it if you're fond of the leads.
From Your Site Articles
Related Articles Around the Web
Some evidence attributes a certain neurological phenomenon to a near death experience.
Credit: Petr Kratochvil. PublicDomainPictures.net.
Surprising Science
Time of death is considered when a person has gone into cardiac arrest. This is the cessation of the electrical impulse that drive the heartbeat. As a result, the heart locks up. The moment the heart stops is considered time of death. But does death overtake our mind immediately afterward or does it slowly creep in?
Some scientists have studied near death experiences (NDEs) to try to gain insights into how death overcomes the brain. What they've found is remarkable, a surge of electricity enters the brain moments before brain death. One 2013 study out of the University of Michigan, which examined electrical signals inside the heads of rats, found they entered a hyper-alert state just before death.
Scientists are beginning to think an NDE is caused by reduced blood flow, coupled with abnormal electrical behavior inside the brain. So the stereotypical tunnel of white light might derive from a surge in neural activity. Dr. Sam Parnia is the director of critical care and resuscitation research, at NYU Langone School of Medicine, in New York City. He and colleagues are investigating exactly how the brain dies.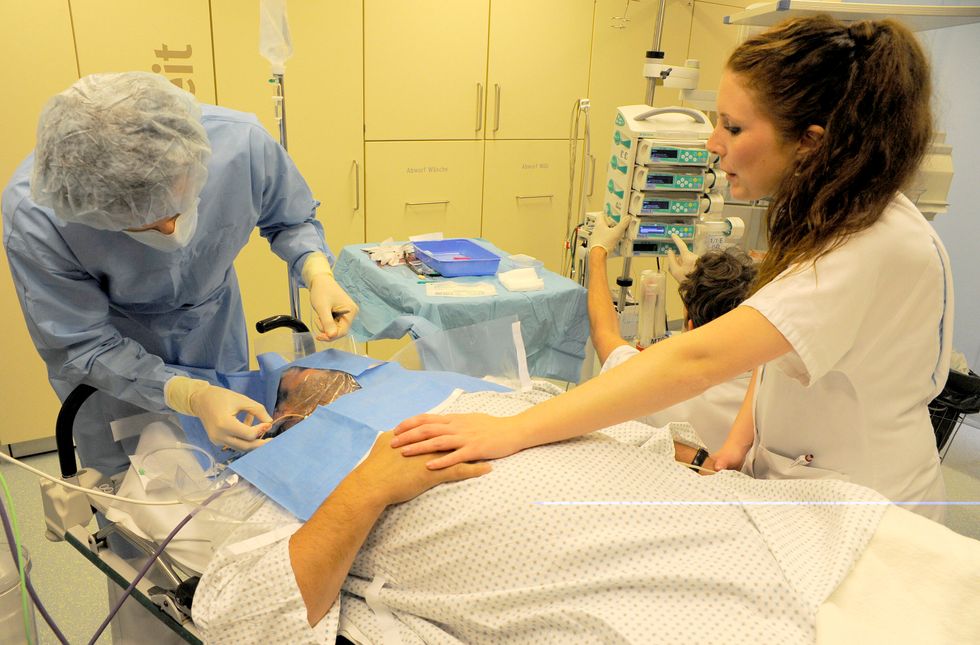 Our cerebral cortex is likely active 2–20 seconds after cardiac arrest. Credit: Getty Images.
In previous work, he's conducted animal studies looking at the moments before and after death. He's also investigated near death experiences. "Many times, those who have had such experiences talk about floating around the room and being aware of the medical team working on their body," Dr. Parnia told Live Science. "They'll describe watching doctors and nurses working and they'll describe having awareness of full conversations, of visual things that were going on, that would otherwise not be known to them."
Medical staff confirm this, he said. So how could those who were technically dead be cognizant of what's happening around them? Even after our breathing and heartbeat stops, we're conscious for about 2–20 seconds, Dr. Parnia says. That's how long the cerebral cortex is thought to last without oxygen. This is the thinking and decision-making part of the brain. It's also responsible for deciphering the information gathered from our senses.
According to Parnia during this period, "You lose all your brain stem reflexes — your gag reflex, your pupil reflex, all that is gone." Brain waves from the cerebral cortex soon become undetectable. Even so, it can take hours for our thinking organ to fully shut down.
Usually, when the heart stops beating, someone performs CPR (cardiopulmonary resuscitation). This will provide about 15% of the oxygen needed to perform normal brain function. "If you manage to restart the heart, which is what CPR attempts to do, you'll gradually start to get the brain functioning again," Parnia said. "The longer you're doing CPR, those brain cell death pathways are still happening — they're just happening at a slightly slower rate."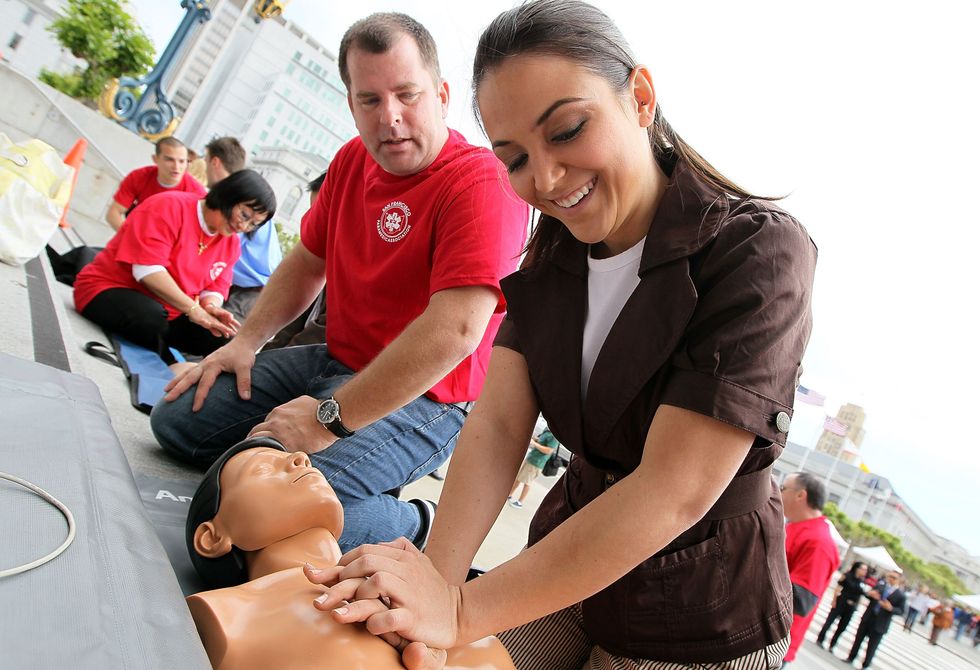 CPR may help retain some brain function for longer. Credit: Getty Images.
Dr. Parnia's latest, ongoing study looks at large numbers of Europeans and Americans who have experienced cardiac arrest and survived. "In the same way that a group of researchers might be studying the qualitative nature of the human experience of 'love,'" he said, "we're trying to understand the exact features that people experience when they go through death, because we understand that this is going to reflect the universal experience we're all going to have when we die."
One of the objectives is to observe how the brain acts and reacts during cardiac arrest, through the process of death, and during revival. How much oxygen exactly does it take to reboot the brain? How is the brain affected after revival? Learning where the lines are drawn might improve resuscitation techniques, which could save countless lives per year.
"At the same time, we also study the human mind and consciousness in the context of death," Parnia said, "to understand whether consciousness becomes annihilated or whether it continues after you've died for some period of time — and how that relates to what's happening inside the brain in real time."
For more on the scientific perspective on a near death experience, click here:
That's as fast as a bullet train in Japan.
Surprising Science
The way an elephant manipulates its trunk to eat and drink could lead to better robots, researchers say.
Elephants dilate their nostrils to create more space in their trunks, allowing them to store up to 5.5 liters (1.45 gallons) of water, according to their new study.
They can also suck up three liters (0.79 gallons) per second—a speed 30 times faster than a human sneeze (150 meters per second/330 mph), the researchers found.
The researchers wanted to better understand the physics of how elephants use their trunks to move and manipulate air, water, food, and other objects. They also wanted to learn if the mechanics could inspire the creation of more efficient robots that use air motion to hold and move things.
Photo by David Clode on Unsplash
While octopuses use jets of water to propel themselves and archer fish shoot water above the surface to catch insects, elephants are the only animals able to use suction both on land and underwater.

"An elephant eats about 400 pounds of food a day, but very little is known about how they use their trunks to pick up lightweight food and water for 18 hours, every day," says lead author Andrew Schulz, a mechanical engineering PhD student at the Georgia Institute of Technology. "It turns out their trunks act like suitcases, capable of expanding when necessary."
Sucking up tortilla chips without breaking them
Schulz and his colleagues worked with veterinarians at Zoo Atlanta, studying elephants as they ate various foods. For large rutabaga cubes, for example, the animal grabbed and collected them. It sucked up smaller cubes and made a loud vacuuming sound, like the sound of a person slurping noodles, before transferring the vegetables to its mouth.
To learn more about suction, the researchers gave elephants a tortilla chip and measured the applied force. Sometimes the animal pressed down on the chip and breathed in, suspending the chip on the tip of its trunk without breaking it, similar to a person inhaling a piece of paper onto their mouth. Other times the elephant applied suction from a distance, drawing the chip to the edge of its trunk.
Elephants inhale at speeds comparable to Japan's 300 mph bullet trains.

"An elephant uses its trunk like a Swiss Army knife," says David Hu, Schulz's advisor and a professor in Georgia Tech's School of Mechanical Engineering. "It can detect scents and grab things. Other times it blows objects away like a leaf blower or sniffs them in like a vacuum."
By watching elephants inhale liquid from an aquarium, the team was able to time the durations and measure volume. In just 1.5 seconds, the trunk sucked up 3.7 liters (just shy of 1 gallon), the equivalent of 20 toilets flushing simultaneously.
Soft robots and elephant conservation
The researchers used an ultrasonic probe to take trunk wall measurements and see how the trunk's inner muscles work. By contracting those muscles, the animal dilates its nostrils up to 30%. This decreases the thickness of the walls and expands nasal volume by 64%.
"At first it didn't make sense: an elephant's nasal passage is relatively small and it was inhaling more water than it should," Schulz says. "It wasn't until we saw the ultrasonographic images and watched the nostrils expand that we realized how they did it. Air makes the walls open, and the animal can store far more water than we originally estimated."
Based on the pressures applied, Schulz and the team suggest that elephants inhale at speeds comparable to Japan's 300-mph bullet trains.
Schulz says these unique characteristics have applications in soft robotics and conservation efforts.
"By investigating the mechanics and physics behind trunk muscle movements, we can apply the physical mechanisms—combinations of suction and grasping—to find new ways to build robots," Schulz says.
"In the meantime, the African elephant is now listed as endangered because of poaching and loss of habitat. Its trunk makes it a unique species to study. By learning more about them, we can learn how to better conserve elephants in the wild."
The paper appears in the Journal of the Royal Society Interface. The US Army Research Laboratory and the US Army Research Office 294 Mechanical Sciences Division, Complex Dynamics and Systems Program, funded the work. Any opinions, findings, and conclusions or recommendations expressed in this material are those of the authors and do not necessarily reflect the view of the sponsoring agency.
Source: Georgia Tech
Original Study DOI: 10.1098/rsif.2021.0215
Reprinted with permission of Futurity. Read the original article.
The experience of life flashing before one's eyes has been reported for well over a century, but where's the science behind it?
Mind & Brain
At the age of 16, when Tony Kofi was an apprentice builder living in Nottingham, he fell from the third story of a building. Time seemed to slow down massively, and he saw a complex series of images flash before his eyes.
As he described it, "In my mind's eye I saw many, many things: children that I hadn't even had yet, friends that I had never seen but are now my friends. The thing that really stuck in my mind was playing an instrument". Then Tony landed on his head and lost consciousness.
When he came to at the hospital, he felt like a different person and didn't want to return to his previous life. Over the following weeks, the images kept flashing back into his mind. He felt that he was "being shown something" and that the images represented his future.
Later, Tony saw a picture of a saxophone and recognized it as the instrument he'd seen himself playing. He used his compensation money from the accident to buy one. Now, Tony Kofi is one of the UK's most successful jazz musicians, having won the BBC Jazz awards twice, in 2005 and 2008.
Though Tony's belief that he saw into his future is uncommon, it's by no means uncommon for people to report witnessing multiple scenes from their past during split-second emergency situations. After all, this is where the phrase "my life flashed before my eyes" comes from.
But what explains this phenomenon? Psychologists have proposed a number of explanations, but I'd argue the key to understanding Tony's experience lies in a different interpretation of time itself.
When life flashes before our eyes
The experience of life flashing before one's eyes has been reported for well over a century. In 1892, a Swiss geologist named Albert Heim fell from a precipice while mountain climbing. In his account of the fall, he wrote is was "as if on a distant stage, my whole past life [was] playing itself out in numerous scenes".
More recently, in July 2005, a young woman called Gill Hicks was sitting near one of the bombs that exploded on the London Underground. In the minutes after the accident, she hovered on the brink of death where, as she describes it: "my life was flashing before my eyes, flickering through every scene, every happy and sad moment, everything I have ever done, said, experienced".
In some cases, people don't see a review of their whole lives, but a series of past experiences and events that have special significance to them.
Explaining life reviews
Perhaps surprisingly, given how common it is, the "life review experience" has been studied very little. A handful of theories have been put forward, but they're understandably tentative and rather vague.
For example, a group of Israeli researchers suggested in 2017 that our life events may exist as a continuum in our minds, and may come to the forefront in extreme conditions of psychological and physiological stress.
Another theory is that, when we're close to death, our memories suddenly "unload" themselves, like the contents of a skip being dumped. This could be related to "cortical disinhibition" – a breaking down of the normal regulatory processes of the brain – in highly stressful or dangerous situations, causing a "cascade" of mental impressions.
But the life review is usually reported as a serene and ordered experience, completely unlike the kind of chaotic cascade of experiences associated with cortical disinhibition. And none of these theories explain how it's possible for such a vast amount of information – in many cases, all the events of a person's life – to manifest themselves in a period of a few seconds, and often far less.
Thinking in 'spatial' time
An alternative explanation is to think of time in a "spatial" sense. Our commonsense view of time is as an arrow that moves from the past through the present towards the future, in which we only have direct access to the present. But modern physics has cast doubt on this simple linear view of time.
Indeed, since Einstein's theory of relativity, some physicists have adopted a "spatial" view of time. They argue we live in a static "block universe" in which time is spread out in a kind of panorama where the past, the present and the future co-exist simultaneously.
The modern physicist Carlo Rovelli – author of the best-selling The Order of Time – also holds the view that linear time doesn't exist as a universal fact. This idea reflects the view of the philosopher Immanuel Kant, who argued that time is not an objectively real phenomenon, but a construct of the human mind.
This could explain why some people are able to review the events of their whole lives in an instant. A good deal of previous research – including my own – has suggested that our normal perception of time is simply a product of our normal state of consciousness.
In many altered states of consciousness, time slows down so dramatically that seconds seem to stretch out into minutes. This is a common feature of emergency situations, as well as states of deep meditation, experiences on psychedelic drugs and when athletes are "in the zone".
The limits of understanding
But what about Tony Kofi's apparent visions of his future? Did he really glimpse scenes from his future life? Did he see himself playing the saxophone because somehow his future as a musician was already established?
There are obviously some mundane interpretations of Tony's experience. Perhaps, for instance, he became a saxophone player simply because he saw himself playing it in his vision. But I don't think it's impossible that Tony did glimpse future events.
If time really does exist in a spatial sense – and if it's true that time is a construct of the human mind – then perhaps in some way future events may already be present, just as past events are still present.
Admittedly, this is very difficult to make sense of. But why should everything make sense to us? As I have suggested in a recent book, there must be some aspects of reality that are beyond our comprehension. After all, we're just animals, with a limited awareness of reality. And perhaps more than any other phenomenon, this is especially true of time.

Steve Taylor, Senior Lecturer in Psychology, Leeds Beckett University
This article is republished from The Conversation under a Creative Commons license. Read the original article.
Scroll down to load more…