The Internet Is Killing the World's Languages. Can Google Help?
The Internet is contributing to the demise of 95 percent of the world's languages. Paradoxically, Google may have the solution.
22 December, 2015
What languages do you speak and are they different than the languages you use online? According to a recent study by prominent mathematical linguist András Kornai, less than 5 percent of the world's languages are going to make the transition to the digital realm and the Internet is contributing to the demise of the other 95 percent.
---
Kornai, in his research, estimates that 2,500 of the over 7,000 spoken languages in the world are considered endangered and that the vast majority of languages (spoken or otherwise) are not capable of what he terms "digital ascent." That is, they won't make the leap to online written usage. Kornai argues that if the written form of the language is the primary method of communication, then making the digital ascent is easier. To survive in the coming years, languages must function digitally. Unfortunately, many of them are already dead.
The primary registry of data about the world's languages is the Ethnologue database of the Summer Institute of Linguistics (SIL). The SIL estimates that there are 7,102 languages currently in the world (December 2015). Of that number, 916 (or 13 percent) are considered dying languages and since 1950, 367 languages have gone extinct, a rate of loss of five languages per year.
In terms of our spoken language capability, things are equally worse. In the European Union (EU), there are 24 officially recognized languages, and more than 60 regional or minority languages. According to the European Commission, just over half of Europeans (54 percent) are able to hold a conversation in at least one additional language, a quarter (25 percent) are able to speak at least two additional languages and one in 10 (10 percent) are conversant in at least three. In America, the stats are a bit more dismal where only one in four people can hold a conversation in a second language. As a whole, according to Stockholm University linguist Mikael Parkvall, 80 percent of the global population speaks 1.69 languages natively or non-natively per person.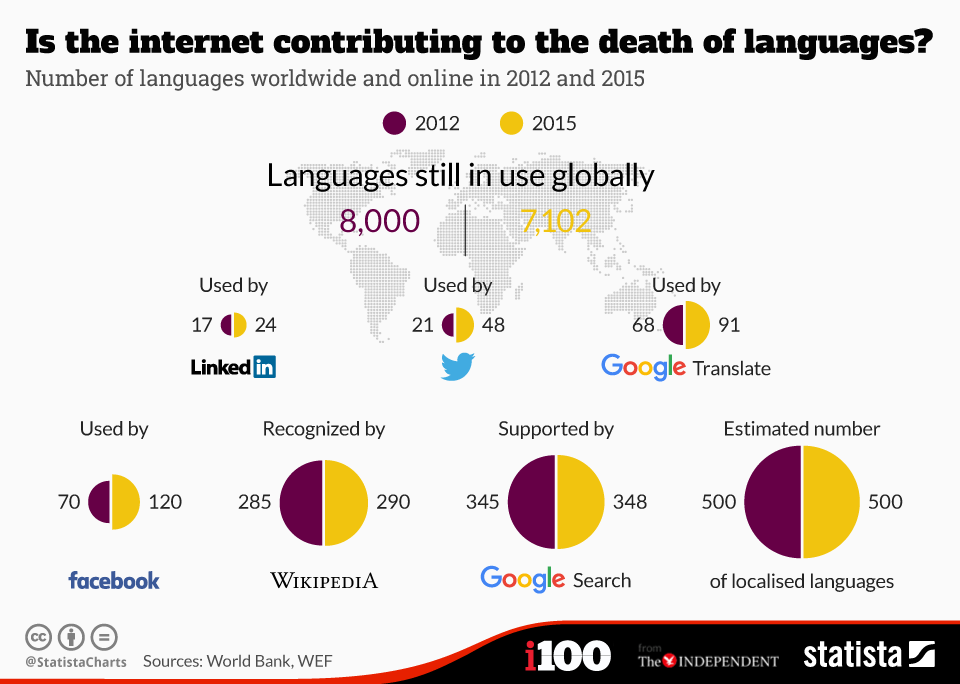 And which languages rule the Internet? In a 2009 UNESCO report that monitored the languages of websites from 1996 to 2008, researchers found that 45 percent of the content on the web was in English (although this may have been caused by search engines only indexing English information). More recently, W3Techs reports that 54 percent of the web's content is in English, outpacing the next language (Russian) by a factor of almost 10.
According to ITU's latest data, 43 percent of the world's population or 3 billion people are now online with some form of regular access to the Internet. And, if the numbers above are to be believed, much of the content they create and communicate with is in English. The World Economic Forum estimates that Google recognizes the most languages across its Search and Translate services, with 348 languages recognized on Google Search. That's 348 languages out of the more than 7,000 identified by SIL, or just over 5 percent.
Interestingly, this 5 percent number corresponds with Kornai's language-survival estimate. That is, Kornai says that around 5 percent of the world's languages will make the digital leap, the rest may experience extinction. Google currently allows searching in just over 5 percent of all languages. Could increasing the number of languages Google indexes for searching also increase that language's chances of survival? It's certainly an appealing avenue for further research.
In a breakthrough for nuclear fusion research, scientists at China's Experimental Advanced Superconducting Tokamak (EAST) reactor have produced temperatures necessary for nuclear fusion on Earth.
Credit: EAST Team
Surprising Science
The EAST reactor was able to heat hydrogen to temperatures exceeding 100 million degrees Celsius.
Nuclear fusion could someday provide the planet with a virtually limitless supply of clean energy.
Still, scientists have many other obstacles to pass before fusion technology becomes a viable energy source.
Giving our solar system a "slap in the face."
Surprising Science
A stream of galactic debris is hurtling at us, pulling dark matter along with it
It's traveling so quickly it's been described as a hurricane of dark matter
Scientists are excited to set their particle detectors at the onslffaught
The 116th Congress is set to break records in term of diversity among its lawmakers, though those changes are coming almost entirely from Democrats.
(Photo: MANDEL NGAN/AFP/Getty Images)
Politics & Current Affairs
Women and nonwhite candidates made record gains in the 2018 midterms.
In total, almost half of the newly elected Congressional representatives are not white men.
Those changes come almost entirely from Democrats; Republican members-elect are all white men except for one woman.
Big think's weekly newsletter.
Get smarter faster from the comfort of your inbox.
See our newsletter privacy policy
here
Most Popular
Most Recent
Big think's weekly newsletter.
Get smarter faster from the comfort of your inbox.
See our newsletter privacy policy
here
© Copyright 2007-2018 & BIG THINK, BIG THINK EDGE,
SMARTER FASTER trademarks owned by The Big Think, Inc. All rights reserved.