Compare and contrast - Video games as educational tools
16 February, 2011
Dr. Jim Gee notes:
---
If learning always operates well within the learner's resources, then all that happens is that the learner's behaviors get more and more routinized, as the learner continues to experience success by doing the same things. This is good ... for learning and practicing fluent and masterful performance ... but is not good for developing newer and higher skills. However, if learning operates outside one's resources, the learner is simply frustrated and gives up.

Good video games ... build in many opportunities for learners to operate at the outer edge of their regime of competence, thereby causing them to rethink their routinized mastery and move, within the game and themselves, to a new level. Indeed, for many learners it is these times ... when learning is most exciting and rewarding. Sadly in school, many so-called advantaged learners rarely get to operate at the edge of their regime of competence as they coast along in a curriculum that makes few real demands on them. At the same time, less advantaged learners are repeatedly asked to operate outside their regime of competence.

[Video games] build into their designs and encourage good principles of learning ... that are better than those in many of our skill-and-drill, back-to-basics, test-them-until-they-drop schools.

Gee, J. P. (2003). What video games have to teach us about learning and literacy. New York, NY: Palgrave Macmillan. [pp. 70, 205]
In contrast, here are current teachers' beliefs (click on graph for full report):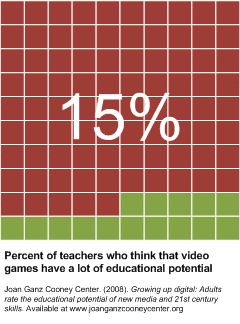 Setting a simple intention and coming prepared can help you — and those around you — win big.
Videos
Setting an intention doesn't have to be complicated, and it can make a great difference when you're hoping for a specific outcome.
When comedian Pete Holmes is preparing to record an episode of his podcast, "You Made it Weird with Pete Holmes," he takes 15 seconds to check in with himself. This way, he's primed with his own material and can help guests feel safe and comfortable to share theirs, as well.
Taking time to visualize your goal for whatever you've set out to do can help you, your colleagues, and your projects succeed.
The Amazon Rainforest is often called "the planet's lungs."
NASA
Politics & Current Affairs
For weeks, fires have been burning in the Amazon rainforest in Brazil, likely started by farmers and ranchers.
Brazil's president, Jair Bolsonaro, has blamed NGOs for starting the flames, offering no evidence to support the claim.
There are small steps you can take to help curb deforestation in the Amazon rainforest, which produces about 20 percent of the world's oxygen.
How do we combat the roots of these hateful forces?
Politics & Current Affairs
American Psychological Association sees a dubious and weak link between mental illness and mass shootings.
Center for the study of Hate and Extremism has found preliminary evidence that political discourse is tied to hate crimes.
Access to guns and violent history is still the number one statistically significant figure that predicts gun violence.