Compare and contrast - Video games as educational tools
Scott McLeod
Scott McLeod, J.D., Ph.D., is an Associate Professor of Educational Leadership at the University of Kentucky. He also is the Founding Director of the UCEA Center for the Advanced Study of Technology Leadership in Education (CASTLE), the nation's only academic center dedicated to the technology needs of school administrators, and was a co-creator of the wildly popular video series, Did You Know? (Shift Happens). He has received numerous national awards for his technology leadership work, including recognitions from the cable industry, Phi Delta Kappa, and the National School Boards Association. In Spring 2011 he was a Visiting Canterbury Fellow at the University of Canterbury in New Zealand. Dr. McLeod blogs regularly about technology leadership issues at Dangerously Irrelevant and Mind Dump, and occasionally at The Huffington Post. He can be reached at scottmcleod.net.
16 February, 2011
Dr. Jim Gee notes:
---
If learning always operates well within the learner's resources, then all that happens is that the learner's behaviors get more and more routinized, as the learner continues to experience success by doing the same things. This is good ... for learning and practicing fluent and masterful performance ... but is not good for developing newer and higher skills. However, if learning operates outside one's resources, the learner is simply frustrated and gives up.
Good video games ... build in many opportunities for learners to operate at the outer edge of their regime of competence, thereby causing them to rethink their routinized mastery and move, within the game and themselves, to a new level. Indeed, for many learners it is these times ... when learning is most exciting and rewarding. Sadly in school, many so-called advantaged learners rarely get to operate at the edge of their regime of competence as they coast along in a curriculum that makes few real demands on them. At the same time, less advantaged learners are repeatedly asked to operate outside their regime of competence.
[Video games] build into their designs and encourage good principles of learning ... that are better than those in many of our skill-and-drill, back-to-basics, test-them-until-they-drop schools.
Gee, J. P. (2003). What video games have to teach us about learning and literacy. New York, NY: Palgrave Macmillan. [pp. 70, 205]
In contrast, here are current teachers' beliefs (click on graph for full report):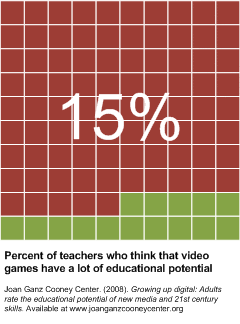 Journaling can help you materialize your ambitions.
Videos
Organizing your thoughts can help you plan and achieve goals that might otherwise seen unobtainable.
The Bullet Journal method, in particular, can reduce clutter in your life by helping you visualize your future.
One way to view your journal might be less of a narrative and more of a timeline of decisions.
Progressive America would be half as big, but twice as populated as its conservative twin.
Image: Dicken Schrader
Strange Maps
America's two political tribes have consolidated into 'red' and 'blue' nations, with seemingly irreconcilable differences.
Perhaps the best way to stop the infighting is to go for a divorce and give the two nations a country each
Based on the UN's partition plan for Israel/Palestine, this proposal provides territorial contiguity and sea access to both 'red' and 'blue' America
New research links urban planning and political polarization.
Pixabay
Politics & Current Affairs
Canadian researchers find that excessive reliance on cars changes political views.
Decades of car-centric urban planning normalized unsustainable lifestyles.
People who prefer personal comfort elect politicians who represent such views.
Big think's weekly newsletter.
Get smarter faster from the comfort of your inbox.
See our newsletter privacy policy
here
Most Popular
Most Recent
Big think's weekly newsletter.
Get smarter faster from the comfort of your inbox.
See our newsletter privacy policy
here
© Copyright 2007-2018 & BIG THINK, BIG THINK EDGE,
SMARTER FASTER trademarks owned by The Big Think, Inc. All rights reserved.