Can a computer lecture better than a human?
16 February, 2011
[cross-posted at the TechLearning blog]
---
\n\n
I'm going to prime the pump a little bit for my K12 Online presentation next week...
\n
My fifth-grade daughter's math homework this weekend required her to find out what a radian or a grad was (hint: both are ways besides degrees to measure angles). We hit ye olde Google and quickly found this helpful (and free) learning activity from Wisconsin Online:
\n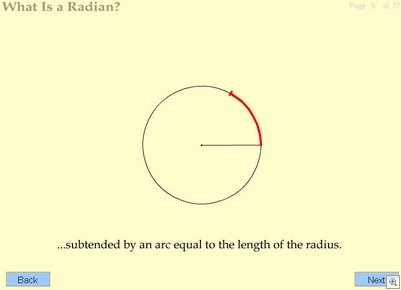 \n
Bam! Ten minutes later my daughter and I had learned what a radian was (the animation was much more helpful than the mere definitions that we found), answered correctly all of the self-assessment questions, and were ready to move forward.
\n
Okay, we actually weren't ready to move forward because we thought the animation was so cool that we set up a Wisconsin Online account and dug around for other interesting tutorials. In other words, we were passionate, self-directed, engaged learners, prompted by a single question from my daughter's math book.
\n
I've thought about that moment quite a bit the last couple of days. Of course my mind started wandering to the K12 Online Conference, the TED videos, various podcasts, the MIT Open Courseware project, and other similar online multimedia resources. As my mind meandered around, it dug up a question:
\n
\n

Can a computer lecture better than a human?
\n
That question's not quite accurate, because there's still a human behind every online learning activity. What I mean is that there are quite a number of examples on the Web of ways that we can learn and assess ourselves on fairly complex material using video lectures, animations, simulations, video games, and the like. As these resources grow in number – fueled by easy-to-learn, increasingly-powerful software that allows average citizens to create learning objects – and are organized and collected by individual experts, organizations like Wisconsin Online, or group efforts, it's going to become unbelievably easy to find a variety of ways other than text to learn about almost anything we want. This will be especially true if we are intentional about it and actively work to fill in needed gaps.
\n
Would I rather learn about a radian from a book or the Wisconsin Online animation? The animation – hands-down – due to its better explanatory power. Would I rather learn about a radian from a person or the animation? Well, the animation is infinitely patient – it doesn't get irritated with me if I don't understand the first time around. I can replay the animation as often as I need to but probably can't 'replay' the person. The animation is more accessible – it was available to me in my home, at a time when I wanted to access it. And if the animation still doesn't do the trick, there are other ways to learn the concept just a mouse click away (but other people who can explain radians usually aren't so easily found).
\n
Don't get me wrong. There's still a lot of value in human teachers when it comes to explaining difficult concepts, working through students' misconceptions, inspiring students to want to explore deeper, and so on. We're not replaceable by robots and software just yet. But it's easy to see that simulations, animations, and other online text and multimedia resources can carry a great deal of the initial instructional delivery load.
\n
There is a wealth of research showing that around 80 to 85 percent of classroom work is low-level factual and procedural work, exactly the kind of work that can easily be facilitated by the kinds of technology-mediated learning activities that I've alluded to this post. So why waste an expensive human on those things? If there's going to be that much lecturing (and similar low-level learning work) going on, why not let the computer 'lecture' and free up our valuable humans for the stuff that software can't do yet?
\n
Malcolm Gladwell teaches "Get over yourself and get to work" for Big Think Edge.
Big Think Edge
Learn to recognize failure and know the big difference between panicking and choking.

At Big Think Edge, Malcolm Gladwell teaches how to check your inner critic and get clear on what failure is.

Subscribe to Big Think Edge before we launch on March 30 to get 20% off monthly and annual memberships.
Can sensitive coral reefs survive another human generation?
Videos
Coral reefs may not be able to survive another human decade because of the environmental stress we have placed on them, says author David Wallace-Wells. He posits that without meaningful changes to policies, the trend of them dying out, even in light of recent advances, will continue.
The World Wildlife Fund says that 60 percent of all vertebrate mammals have died since just 1970. On top of this, recent studies suggest that insect populations may have fallen by as much as 75 percent over the last few decades.
If it were not for our oceans, the planet would probably be already several degrees warmer than it is today due to the emissions we've expelled into the atmosphere.
Research has shown that men today have less testosterone than they used to. What's happening?
Sex & Relationships
Several studies have confirmed that testosterone counts in men are lower than what they used to be just a few decades ago.
While most men still have perfectly healthy testosterone levels, its reduction puts men at risk for many negative health outcomes.
The cause of this drop in testosterone isn't entirely clear, but evidence suggests that it is a multifaceted result of modern, industrialized life.
Michael Dowling, Northwell Health's CEO, believes we're entering the age of smart medicine.
Sponsored by Northwell Health
The United States health care system has much room for improvement, and big tech may be laying the foundation for those improvements.
Technological progress in medicine is coming from two fronts: medical technology and information technology.
As information technology develops, patients will become active participants in their health care, and value-based care may become a reality.
Big think's weekly newsletter.
Get smarter faster from the comfort of your inbox.
See our newsletter privacy policy
here
Most Popular
Most Recent
Big think's weekly newsletter.
Get smarter faster from the comfort of your inbox.
See our newsletter privacy policy
here
© Copyright 2007-2018 & BIG THINK, BIG THINK EDGE,
SMARTER FASTER trademarks owned by The Big Think, Inc. All rights reserved.