Way to go! The U.K. has passed 1,000 hours of coal-free power in 2018.
One of the leading countries in the world in getting off coal and ramping up renewables.
13 July, 2018
For the first time, the United Kingdom has powered over 1,000 hours of energy in the various countries that compose it without the use of coal. 
---
Gas-powered electricity, nuclear, wind and solar, and bioenergy have all generated more this year than coal. 
The last eight coal plants in the United Kingdom ticked up in power generation when a massive storm hit in March, but it was brief and didn't affect these numbers much at all. It's a rather precipitous decline in the usage of the polluting power source; 40% of the U.K.'s electricity was supplied by coal in 2012, and this year, so far? Just 6%.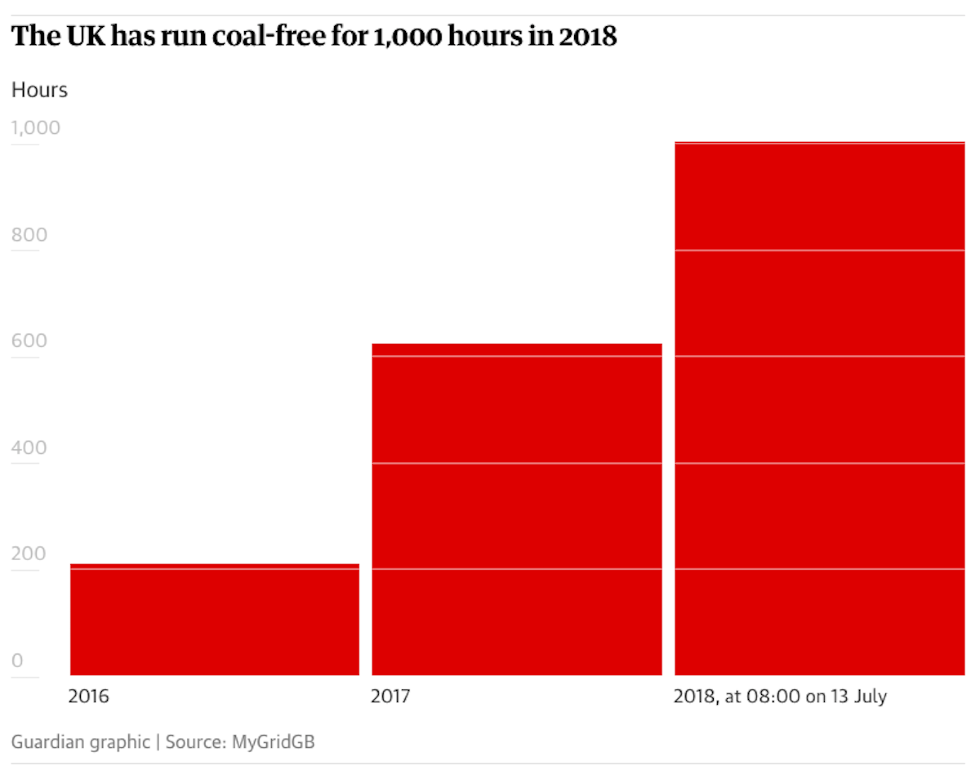 According to the U.K.'s official figures, just over 30% of electricity in the first three months of 2018 were generated by renewables; pretty impressive. 
Of note in those numbers: offshore wind farms generated 53% more electricity this year, and new solar records have been set as well: 1.94 terawatt hours of power were generated between June 10 and July 9, beating the previous record of 1.77TWh. However, this news isn't all good, partly because this is the fifth-sunniest summer on record. 
"Some of this increase is due to more solar having been installed since 2017 but most of the increase is climatic, with summer 2018 being the fifth sunniest on record so far. These figures highlight the growing importance of solar energy as a low-carbon and low-cost source of electricity," Alastair Buckley, a solar expert at the University of Sheffield, told The Guardian.
The plan is for coal to be phased out entirely by 2025, but at this rate, it could be sooner. 
A spokesperson at the U.K.'s Department for Business, Energy, and Industrial Strategy, sounded quite proud. "The U.K. leads the world in tackling climate change and this shows the time of unabated coal-fired electricity is being ended by a cleaner, greener future increasingly powered by renewable energy."
And here's the Dudgeon Offshore Wind Farm in England's North Sea, near Norfolk.  
Pfizer's partnerships strengthen their ability to deliver vaccines in developing countries.
Susan Silbermann, Global President of Pfizer Vaccines, looks on as a health care worker administers a vaccine in Rwanda. Photo: Courtesy of Pfizer.
Community healthcare workers face many challenges in their work, including often traveling far distances to see their clients
Pfizer is helping to drive the UN's sustainable development goals through partnerships.
Pfizer partnered with AMP and the World Health Organization to develop a training program for healthcare workers.
Sponsored
Is everyone's favorite Thanksgiving centerpiece really to blame for the post-dinner doldrums?
(Photo from Flickr)
Surprising Science
Americans kill around 45 million turkeys every year in preparation for the Thanksgiving meal, only to blame our favorite centerpiece for the following food comas.
Rumor has it our after-dinner sleepiness results from the tryptophan found in turkey.
However, it is the meal's overall nutritional imbalance, not just the tryptophan, that make us want to leave the dishes for tomorrow. Or maybe the next day.
Progressive America would be half as big, but twice as populated as its conservative twin.
Image: Dicken Schrader
Strange Maps
America's two political tribes have consolidated into 'red' and 'blue' nations, with seemingly irreconcilable differences.
Perhaps the best way to stop the infighting is to go for a divorce and give the two nations a country each
Based on the UN's partition plan for Israel/Palestine, this proposal provides territorial contiguity and sea access to both 'red' and 'blue' America
The famed author headed to the pond thanks to Indian philosophy.
Image: Public Domain / Shutterstock / Big Think
Personal Growth
The famed author was heavily influenced by Indian literature, informing his decision to self-exile on Walden Pond.
He was introduced to these texts by his good friend's father, William Emerson.
Yoga philosophy was in America a century before any physical practices were introduced.
Big think's weekly newsletter.
Get smarter faster from the comfort of your inbox.
See our newsletter privacy policy
here
Most Popular
Most Recent
Big think's weekly newsletter.
Get smarter faster from the comfort of your inbox.
See our newsletter privacy policy
here
© Copyright 2007-2018 & BIG THINK, BIG THINK EDGE,
SMARTER FASTER trademarks owned by The Big Think, Inc. All rights reserved.