IBM files patent for coffee-delivering drones that can sense your mood
"Hang on, Mom. My coffee just flew in." IBM just filed a patent for drones to deliver coffee to people that they "sense" need it.
23 August, 2018
You're standing with several other people at, say, a music festival, dog-tired from the parties the night before. Or you're awaiting a train to work, yawning and bleary-eyed. Or maybe you're groggily weaving your way to the parking lot at your apartment building, preparing to take your kid to school.
---
Suddenly, a drone drops from the sky, offering a strong cuppa joe … just for you. You happily take it from the air, your card is charged, and you're now much more jovial as your day proceeds.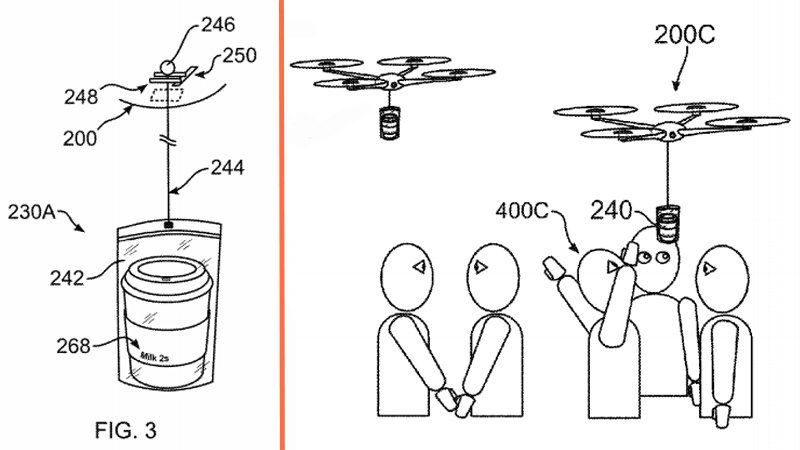 Image from IBM patent.
This is not such a work of fiction when you consider IBM just filed a patent for drones to deliver coffee to people that they "sense" need it, through a combination of factors such as a Fitbit or other wearable device, paired with electronic calendar notifications ("Staff meeting, 10:00 am. Everybody on deck!"). Or the recipients could flag the drone, like you would a taxi. Or even order the coffee from their app, a la Lyft or Uber. 
In the patent, named (yes, in all caps) "DRONE DELIVERY OF COFFEE BASED ON A COGNITIVE STATE OF AN INDIVIDUAL," the aim is clear. 
"Coffee or other drink, for example a caffeine containing drink, is delivered to individuals that would like the drink, or who have a predetermined cognitive state, using an unmanned aerial vehicle (UAV) drone. The drink is connected to the UAV, and the UAV flies to an area including people, and uses sensors to scan the people for an individual who has gestured that they would like the drink, or for whom an electronic analysis of sensor data indicates to be in a predetermined cognitive state. The UAV then flies to the individual to deliver the drink. The analysis can include profile data of people, including electronic calendar data, which can be used to determine a potentially predetermined cognitive state."
Note that the wording of the patent does not preclude the drink being, say, a beer or cocktail. Indeed, according to CNBC, IBM also wants the patent to apply to delivering drinks in a bar or restaurant, and deciding first if the person ordering is too young or already intoxicated.  
Any number of methods to ensure the person on the receiving end is actually who did the ordering are included, such as facial recognition, voice recognition, Bluetooth via phone, and electronic ID tags.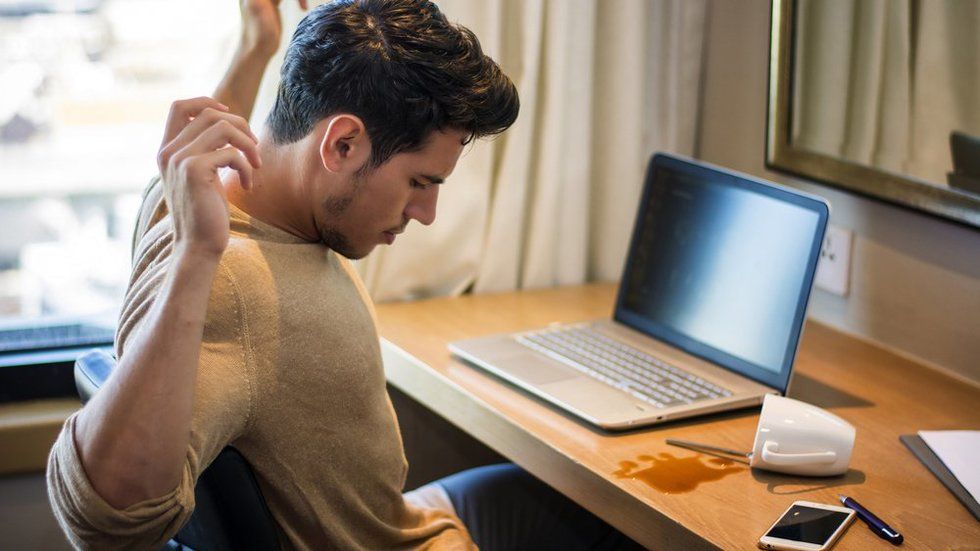 Can I blame the drone for this? (Photo: Shutterstock)
Still, the concept has its skeptics. 
Colin Newell, a coffee industry expert based in Canada, raised concerns about safety. 
"The fundamental flaw here is transporting hot liquids through the air," he said. "It's a shtick as much as Amazon saying it'll deliver parcels to your home by drone."
For its part, IBM spokesperson Amanda Carl told CNBC in an email: "IBM encourages our researchers to pursue their interests even though not all of their inventions become commercial products. By publishing their inventions as patents, we give our researchers the recognition they deserve and make their work public, so it can inspire new innovations."

Perhaps a medical marijuana company will follow suit? Oh, wait...
Upstreamism advocate Rishi Manchanda calls us to understand health not as a "personal responsibility" but a "common good."
Sponsored by Northwell Health
Upstreamism tasks health care professionals to combat unhealthy social and cultural influences that exist outside — or upstream — of medical facilities.
Patients from low-income neighborhoods are most at risk of negative health impacts.
Thankfully, health care professionals are not alone. Upstreamism is increasingly part of our cultural consciousness.
The Bajau people's nomadic lifestyle has given them remarkable adaptions, enabling them to stay underwater for unbelievable periods of time. Their lifestyle, however, is quickly disappearing.
Wikimedia Commons
Culture & Religion
The Bajau people travel in small flotillas throughout the Phillipines, Malaysia, and Indonesia, hunting fish underwater for food.
Over the years, practicing this lifestyle has given the Bajau unique adaptations to swimming underwater. Many find it straightforward to dive up to 13 minutes 200 feet below the surface of the ocean.
Unfortunately, many disparate factors are erasing the traditional Bajau way of life.
The Canadian professor's old-school message is why many started listening to him.
Jordan Peterson addresses students at The Cambridge Union on November 02, 2018 in Cambridge, Cambridgeshire. (Photo by Chris Williamson/Getty Images)
Personal Growth
The simplicity of Peterson's message on suffering echoes Buddha and Rabbi Hillel.
By bearing your suffering, you learn how to become a better person.
Our suffering is often the result of our own actions, so learn to pinpoint the reasons behind it.
An innovation may lead to lifelike evolving machines.
Shogo Hamada/Cornell University
Surprising Science
Scientists at Cornell University devise a material with 3 key traits of life.
The goal for the researchers is not to create life but lifelike machines.
The researchers were able to program metabolism into the material's DNA.
Big think's weekly newsletter.
Get smarter faster from the comfort of your inbox.
See our newsletter privacy policy
here
Most Popular
Most Recent
Big think's weekly newsletter.
Get smarter faster from the comfort of your inbox.
See our newsletter privacy policy
here
© Copyright 2007-2019 & BIG THINK, BIG THINK EDGE,
SMARTER FASTER trademarks owned by The Big Think, Inc. All rights reserved.