IBM files patent for coffee-delivering drones that can sense your mood
"Hang on, Mom. My coffee just flew in." IBM just filed a patent for drones to deliver coffee to people that they "sense" need it.
23 August, 2018
You're standing with several other people at, say, a music festival, dog-tired from the parties the night before. Or you're awaiting a train to work, yawning and bleary-eyed. Or maybe you're groggily weaving your way to the parking lot at your apartment building, preparing to take your kid to school.
---
Suddenly, a drone drops from the sky, offering a strong cuppa joe … just for you. You happily take it from the air, your card is charged, and you're now much more jovial as your day proceeds.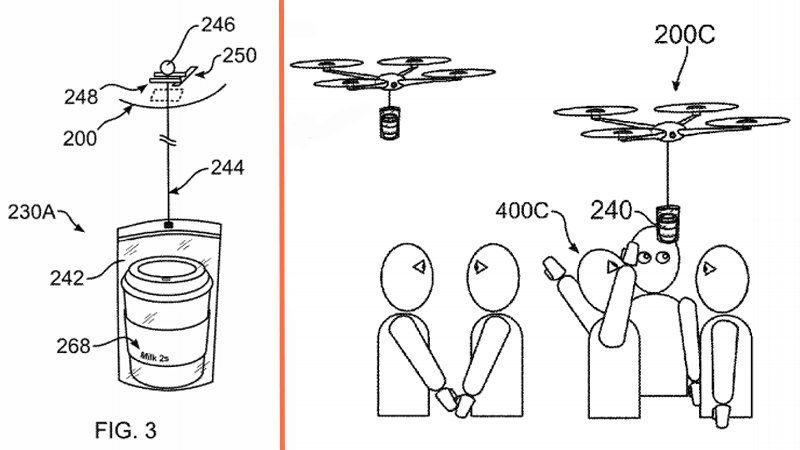 Image from IBM patent.
This is not such a work of fiction when you consider IBM just filed a patent for drones to deliver coffee to people that they "sense" need it, through a combination of factors such as a Fitbit or other wearable device, paired with electronic calendar notifications ("Staff meeting, 10:00 am. Everybody on deck!"). Or the recipients could flag the drone, like you would a taxi. Or even order the coffee from their app, a la Lyft or Uber. 
In the patent, named (yes, in all caps) "DRONE DELIVERY OF COFFEE BASED ON A COGNITIVE STATE OF AN INDIVIDUAL," the aim is clear. 
"Coffee or other drink, for example a caffeine containing drink, is delivered to individuals that would like the drink, or who have a predetermined cognitive state, using an unmanned aerial vehicle (UAV) drone. The drink is connected to the UAV, and the UAV flies to an area including people, and uses sensors to scan the people for an individual who has gestured that they would like the drink, or for whom an electronic analysis of sensor data indicates to be in a predetermined cognitive state. The UAV then flies to the individual to deliver the drink. The analysis can include profile data of people, including electronic calendar data, which can be used to determine a potentially predetermined cognitive state."
Note that the wording of the patent does not preclude the drink being, say, a beer or cocktail. Indeed, according to CNBC, IBM also wants the patent to apply to delivering drinks in a bar or restaurant, and deciding first if the person ordering is too young or already intoxicated.  
Any number of methods to ensure the person on the receiving end is actually who did the ordering are included, such as facial recognition, voice recognition, Bluetooth via phone, and electronic ID tags.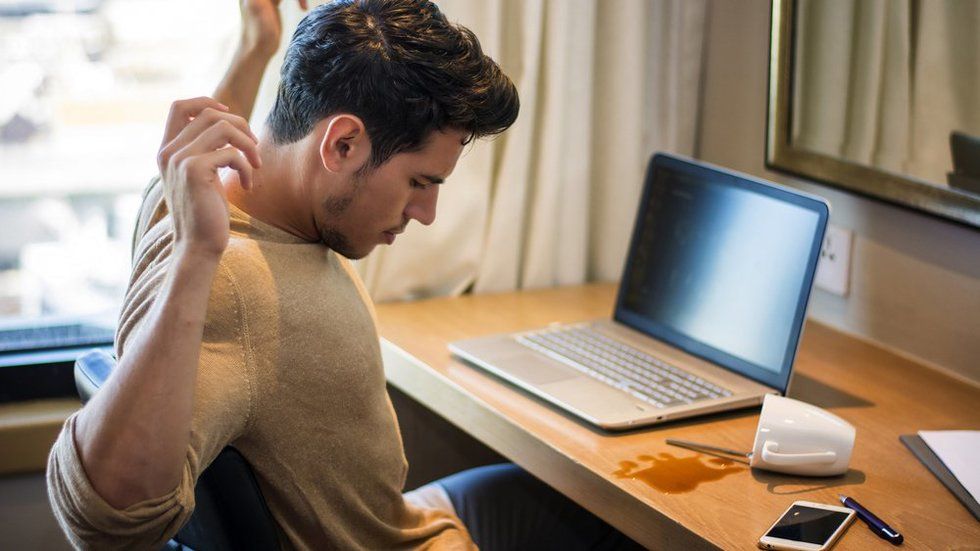 Can I blame the drone for this? (Photo: Shutterstock)
Still, the concept has its skeptics. 
Colin Newell, a coffee industry expert based in Canada, raised concerns about safety. 
"The fundamental flaw here is transporting hot liquids through the air," he said. "It's a shtick as much as Amazon saying it'll deliver parcels to your home by drone."
For its part, IBM spokesperson Amanda Carl told CNBC in an email: "IBM encourages our researchers to pursue their interests even though not all of their inventions become commercial products. By publishing their inventions as patents, we give our researchers the recognition they deserve and make their work public, so it can inspire new innovations."

Perhaps a medical marijuana company will follow suit? Oh, wait...
Step inside the unlikely friendship of a former ACLU president and an ultra-conservative Supreme Court Justice.

Sponsored by Charles Koch Foundation
Former president of the ACLU Nadine Strossen and Supreme Court Justice Antonin Scalia were unlikely friends. They debated each other at events all over the world, and because of that developed a deep and rewarding friendship – despite their immense differences.
Scalia, a famous conservative, was invited to circles that were not his "home territory", such as the ACLU, to debate his views. Here, Strossen expresses her gratitude and respect for his commitment to the exchange of ideas.
"It's really sad that people seem to think that if you disagree with somebody on some issues you can't be mutually respectful, you can't enjoy each other's company, you can't learn from each other and grow in yourself," says Strossen.
The opinions expressed in this video do not necessarily reflect the views of the Charles Koch Foundation, which encourages the expression of diverse viewpoints within a culture of civil discourse and mutual respect.
French newspapers report that the trial hasn't lived up to expectations.
Image source: Charly Triballeau / AFP / Getty Images
Technology & Innovation
The French government initially invested in a rural solar roadway in 2016.
French newspapers report that the trial hasn't lived up to expectations.
Solar panel "paved" roadways are proving to be inefficient and too expensive.
Erik Verlinde has been compared to Einstein for completely rethinking the nature of gravity.
Photo by Willeke Duijvekam
Surprising Science
The Dutch physicist Erik Verlinde's hypothesis describes gravity as an "emergent" force not fundamental.
The scientist thinks his ideas describe the universe better than existing models, without resorting to "dark matter".
While some question his previous papers, Verlinde is reworking his ideas as a full-fledged theory.
Scientists make an important discovery for the future of computing.
Pixabay
Surprising Science
Researchers find a new state of matter called "topological superconductivity".
The state can lead to important advancements in quantum computing.
Utilizing special particles that emerge during this state can lead to error-free data storage and blazing calculation speed.