If you ignored FBI advice to reboot your router, don't. It's already a massive problem.
Common routers include devices made by Netgear and Linksys; this is a major malware outbreak.
30 May, 2018
The seal of the F.B.I. hangs in the Flag Room at the bureau's headquaters March 9, 2007 in Washington, DC. (Chip Somodevilla/Getty Images))
There's no other way to say it: Walk over to your cable or DSL router right now, and disconnect the power. When it comes back on, you've done a good thing for the world — and you and your coworkers, for that matter.
---
According to the FBI, foreign "cyber criminals" have compromised over 500,000 network routers in homes and small offices around the world. And they're asking everyone who uses a router to connect to the Internet (basically, everyone except those who are hard-wired and those using a smart phone) to reboot. Now.
What they're using is something called "VPNFilter" and it's a particularly insidious infection that, according to the FBI, can " … perform multiple functions, including possible information collection, device exploitation, and blocking network traffic."
The motives of these hackers are not yet clear, but security company Talos has indicated it can collect files, data such a credit card info and other personal information that you'd typically type into a browser or tablet, and more. It has at least 3 stages, and likely more that haven't been discovered yet. Each requires the previous stage to be in place in order to function, and as of right now, stage 2 and higher are short-circuited by a reboot of the device.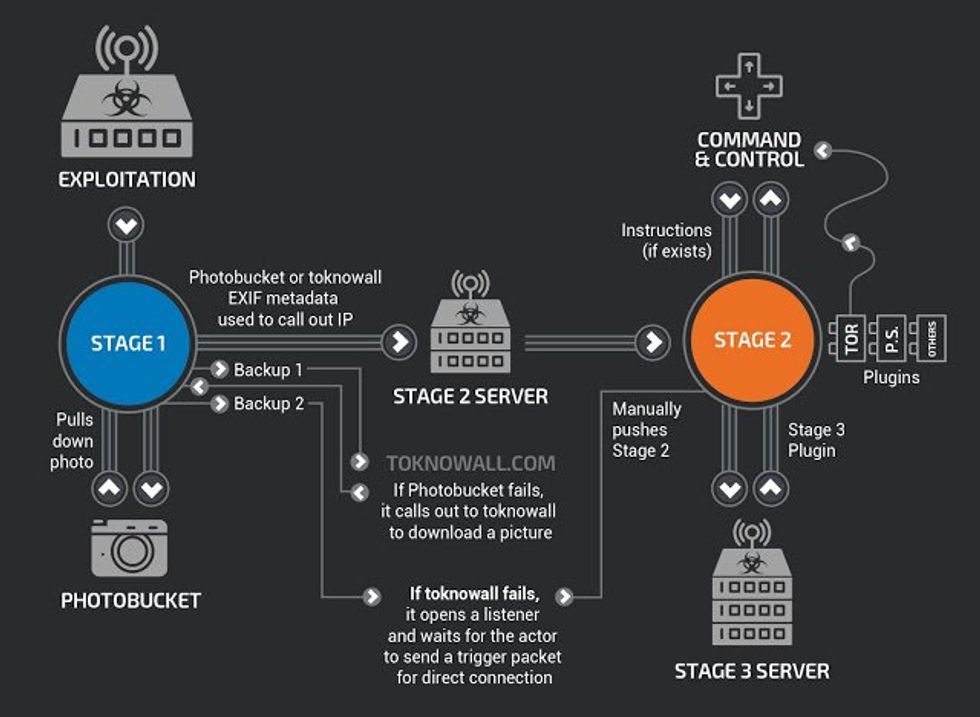 Image by Talos.
"The size and scope of the infrastructure by VPNFilter malware is significant," the FBI added. It also states that the malware can render your device inoperable, so we recommend you reset your router no matter its model.
Some of the most common devices affected are made by Linksys, MikroTik, Netgear, and TP-Link, but there are more.

Here are the routers affected, according to Tom's Guide:
"Cisco Talos listed the definitively affected routers as the
Linksys E1200, E2500 and WRVS4400N
TP-Link TL-R600VPN SafeStream VPN router 
MicroTik Cloud Core routers, mainly used by enterprises, may be affected if they run versions 1016, 1036 or 1072 of the MicroTik RouterOS
Cisco Talos found that two QNAP networked-attached-storage (NAS) drives, the TS-251 and TS-439 Pro, were also affected by VPNFilter."
But also according to Tom's Guide, there may be a lot more models affected eventually. 
While a true infection will require more technical knowledge to clean (by things like disabling remote management settings, changing passwords and replacing them with more secure ones, and upgrading router firmware) this reboot measure will at least temporarily disrupt the malware, and help identify devices that are compromised. (And a hint: all devices such as cable modems and network routers have a default password, usually "admin," "password," or other such easily-guessed words. Change that if you can.)
So what are you waiting for?
And here's Marc Goodman with some scary possibilities that hackers will be taking on, if they're not already:
To create wiser adults, add empathy to the school curriculum.
Sponsored by Charles Koch Foundation
Stories are at the heart of learning, writes Cleary Vaughan-Lee, Executive Director for the Global Oneness Project. They have always challenged us to think beyond ourselves, expanding our experience and revealing deep truths.
Vaughan-Lee explains 6 ways that storytelling can foster empathy and deliver powerful learning experiences.
Global Oneness Project is a free library of stories—containing short documentaries, photo essays, and essays—that each contain a companion lesson plan and learning activities for students so they can expand their experience of the world.
BASE particle physicists have discovered a very precise way to examine antimatter.
The Veil Nebula. Credit: By Jschulman555 - Own work, Wikipedia Commons.
Surprising Science
Thank your lucky stars you're alive. It's truly a miracle of nature. This has nothing to do with spirituality or religion and everything to do with science. Life itself may not be the miracle. Although we haven't found it elsewhere yet, our galaxy alone is so replete with Earth-like planets that, mathematically speaking, one of them must hold life, even if it's just the microbial variety. Intelligent life may be another matter.
Just before I turned 60, I discovered that sharing my story by drawing could be an effective way to both alleviate my symptoms and combat that stigma.
Photo by JJ Ying on Unsplash
Mind & Brain
I've lived much of my life with anxiety and depression, including the negative feelings – shame and self-doubt – that seduced me into believing the stigma around mental illness: that people knew I wasn't good enough; that they would avoid me because I was different or unstable; and that I had to find a way to make them like me.
A joint study by two England universities explores the link between sex and cognitive function with some surprising differences in male and female outcomes in old age.
Mind & Brain
A joint study by the universities of Coventry and Oxford in England has linked sexual activity with higher cognitive abilities in older age.
The results of this study suggest there are significant associations between sexual activity and number sequencing/word recall in men. In women, however, there was a significant association between sexual activity in word recall alone - number sequencing was not impacted.
The differences in testosterone (the male sex hormone) and oxytocin (a predominantly female hormone) may factor into why the male cognitive level changes much more during sexual activity in older age.
Technology & Innovation
Mathematicians studied 100 billion tweets to help computer algorithms better understand our colloquial digital communication.
Scroll down to load more…