If you ignored FBI advice to reboot your router, don't. It's already a massive problem.
Common routers include devices made by Netgear and Linksys; this is a major malware outbreak.
30 May, 2018
There's no other way to say it: Walk over to your cable or DSL router right now, and disconnect the power. When it comes back on, you've done a good thing for the world — and you and your coworkers, for that matter.
---
According to the FBI, foreign "cyber criminals" have compromised over 500,000 network routers in homes and small offices around the world. And they're asking everyone who uses a router to connect to the Internet (basically, everyone except those who are hard-wired and those using a smart phone) to reboot. Now.
What they're using is something called "VPNFilter" and it's a particularly insidious infection that, according to the FBI, can " … perform multiple functions, including possible information collection, device exploitation, and blocking network traffic."
The motives of these hackers are not yet clear, but security company Talos has indicated it can collect files, data such a credit card info and other personal information that you'd typically type into a browser or tablet, and more. It has at least 3 stages, and likely more that haven't been discovered yet. Each requires the previous stage to be in place in order to function, and as of right now, stage 2 and higher are short-circuited by a reboot of the device.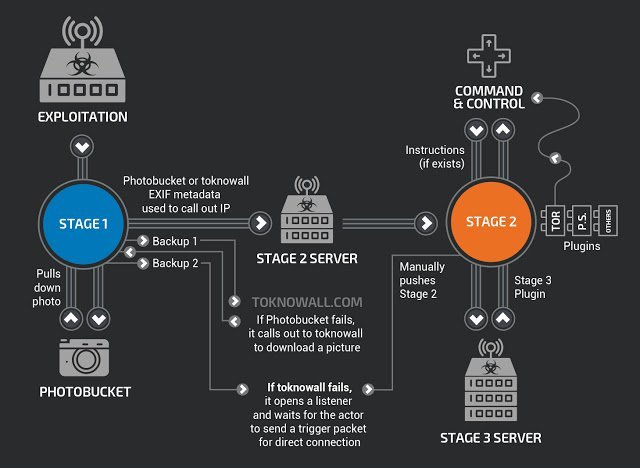 Image by Talos.
"The size and scope of the infrastructure by VPNFilter malware is significant," the FBI added. It also states that the malware can render your device inoperable, so we recommend you reset your router no matter its model.
Some of the most common devices affected are made by Linksys, MikroTik, Netgear, and TP-Link, but there are more.

Here are the routers affected, according to Tom's Guide:
"Cisco Talos listed the definitively affected routers as the
Linksys E1200, E2500 and WRVS4400N
TP-Link TL-R600VPN SafeStream VPN router 
MicroTik Cloud Core routers, mainly used by enterprises, may be affected if they run versions 1016, 1036 or 1072 of the MicroTik RouterOS
Cisco Talos found that two QNAP networked-attached-storage (NAS) drives, the TS-251 and TS-439 Pro, were also affected by VPNFilter."
But also according to Tom's Guide, there may be a lot more models affected eventually. 
While a true infection will require more technical knowledge to clean (by things like disabling remote management settings, changing passwords and replacing them with more secure ones, and upgrading router firmware) this reboot measure will at least temporarily disrupt the malware, and help identify devices that are compromised. (And a hint: all devices such as cable modems and network routers have a default password, usually "admin," "password," or other such easily-guessed words. Change that if you can.)
So what are you waiting for?
And here's Marc Goodman with some scary possibilities that hackers will be taking on, if they're not already:
Related Articles
Explore how alcohol affects your brain, from the first sip at the bar to life-long drinking habits.
(Photo by Angie Garrett/Wikimedia Commons)
Mind & Brain
Alcohol is the world's most popular drug and has been a part of human culture for at least 9,000 years.
Alcohol's effects on the brain range from temporarily limiting mental activity to sustained brain damage, depending on levels consumed and frequency of use.
Understanding how alcohol affects your brain can help you determine what drinking habits are best for you.
If you want to know what makes a Canadian lynx a Canadian lynx a team of DNA sequencers has figured that out.
Surprising Science
A team at UMass Amherst recently sequenced the genome of the Canadian lynx.
It's part of a project intending to sequence the genome of every vertebrate in the world.
Conservationists interested in the Canadian lynx have a new tool to work with.
Artwork: Guillaume le Clerc / Wikimedia Commons
13th-century fantastical depiction of an elephant.
It is easy to see how one can look at 66,000 genomic sequences stored away as being the analogous equivalent of the Svalbard Global Seed Vault. It is a potential tool for future conservationists.
But what are the practicalities of sequencing the genome of a lynx beyond engaging with broad bioethical questions? As the animal's habitat shrinks and Earth warms, the Canadian lynx is demonstrating less genetic diversity. Cross-breeding with bobcats in some portions of the lynx's habitat also represents a challenge to the lynx's genetic makeup. The two themselves are also linked: warming climates could drive Canadian lynxes to cross-breed with bobcats.
John Organ, chief of the U.S. Geological Survey's Cooperative Fish and Wildlife units, said to MassLive that the results of the sequencing "can help us look at land conservation strategies to help maintain lynx on the landscape."
What does DNA have to do with land conservation strategies? Consider the fact that the food found in a landscape, the toxins found in a landscape, or the exposure to drugs can have an impact on genetic activity. That potential change can be transmitted down the generative line. If you know exactly how a lynx's DNA is impacted by something, then the environment they occupy can be fine-tuned to meet the needs of the lynx and any other creature that happens to inhabit that particular portion of the earth.
Given that the Trump administration is considering withdrawing protection for the Canadian lynx, a move that caught scientists by surprise, it is worth having as much information on hand as possible for those who have an interest in preserving the health of this creature—all the way down to the building blocks of a lynx's life.
The exploding popularity of the keto diet puts a less used veggie into the spotlight.
Purple cauliflower. (Photo: Shutterstock)
Surprising Science
The cauliflower is a vegetable of choice if you're on the keto diet.
The plant is low in carbs and can replace potatoes, rice and pasta.
It can be eaten both raw and cooked for different benefits.
Big think's weekly newsletter.
Get smarter faster from the comfort of your inbox.
See our newsletter privacy policy
here
Most Popular
Most Recent
Big think's weekly newsletter.
Get smarter faster from the comfort of your inbox.
See our newsletter privacy policy
here
© Copyright 2007-2018 & BIG THINK, BIG THINK EDGE,
SMARTER FASTER trademarks owned by The Big Think, Inc. All rights reserved.