Christopher Hitchens's 4 greatest one-liners, according to Martin Amis
Over the years Christopher has spontaneously delivered many dozens of unforgettable lines. Here are four of them.
26 April, 2018
Christopher Hitchens at the LA Times Festival of Books on April 25, 2004. (Photo by Amanda Edwards/Getty Images)
Over the years Christopher has spontaneously delivered many dozens of unforgettable lines. Here are four of them.
---
1.
He was on TV for the second or third time in his life (if we exclude University Challenge), which takes us back to the mid-1970s and to Christopher's mid-twenties. He and I were already close friends (and colleagues at the New Statesman); but I remember thinking that nobody so matinee-telegenic had the right to be so exceptionally quick-tongued on the screen. At a certain point in the exchange, Christopher came out with one of his political poeticisms, an ornate but intelligible definition of (I think) national sovereignty.
His host—a fair old bruiser in his own right—paused, frowned, and said, with skepticism and with helpless sincerity:
"I can't understand a word you're saying."
"I'm not in the least surprised," said Christopher, and moved on.
The talk ran its course. But if this had been a frontier western, and not a chat show, the wounded man would have spent the rest of the segment leerily snapping the arrow in half and pushing its pointed end through his chest and out the other side.
2.
Every novelist of his acquaintance is riveted by Christopher, not just qua friend but also qua novelist. I considered the retort I am about to quote (all four words of it) so epiphanically devastating that I put it in a novel—indeed, I put Christopher in a novel. Mutatis mutandis (and it is the novel itself that dictates the changes), Christopher "is" Nicholas Shackleton in The Pregnant Widow—though it really does matter, in this case, what the meaning of "is" is. . . . The year was 1981. We were in a tiny Italian restaurant in West London, where we would soon be joined by our future first wives. Two elegant young men in waisted suits were unignorably and interminably fussing with the staff about rearranging the tables, to accommodate the large party they expected. It was an intensely class-conscious era (because the class system was dying); Christopher and I were candidly lower-middle bohemian, and the two young men were raffishly minor gentry (they had the air of those who await, with epic stoicism, the deaths of elderly relatives). At length, one of them approached our table and sank smoothly to his haunches, seeming to pout out through the fine strands of his bangs. The crouch, the bangs, the pout: these had clearly enjoyed many successes in the matter of bending others to his will. After a flirtatious pause he said:
"You're going to hate us for this."
And Christopher said, "We hate you already."
3.
In the summer of 1986, in Cape Cod, and during subsequent summers, I used to play a set of tennis every other day with the historian Robert Jay Lifton. I was reading, and then rereading, his latest and most celebrated book, The Nazi Doctors; so, on Monday, during changeovers, we would talk about "Sterilization and the Nazi Medical Vision"; on Wednesday, " 'Wild Euthanasia': The Doctors Take Over"; on Friday, "The Auschwitz Institution"; on Sunday, "Killing with Syringes: Phenol Injections"; and so on.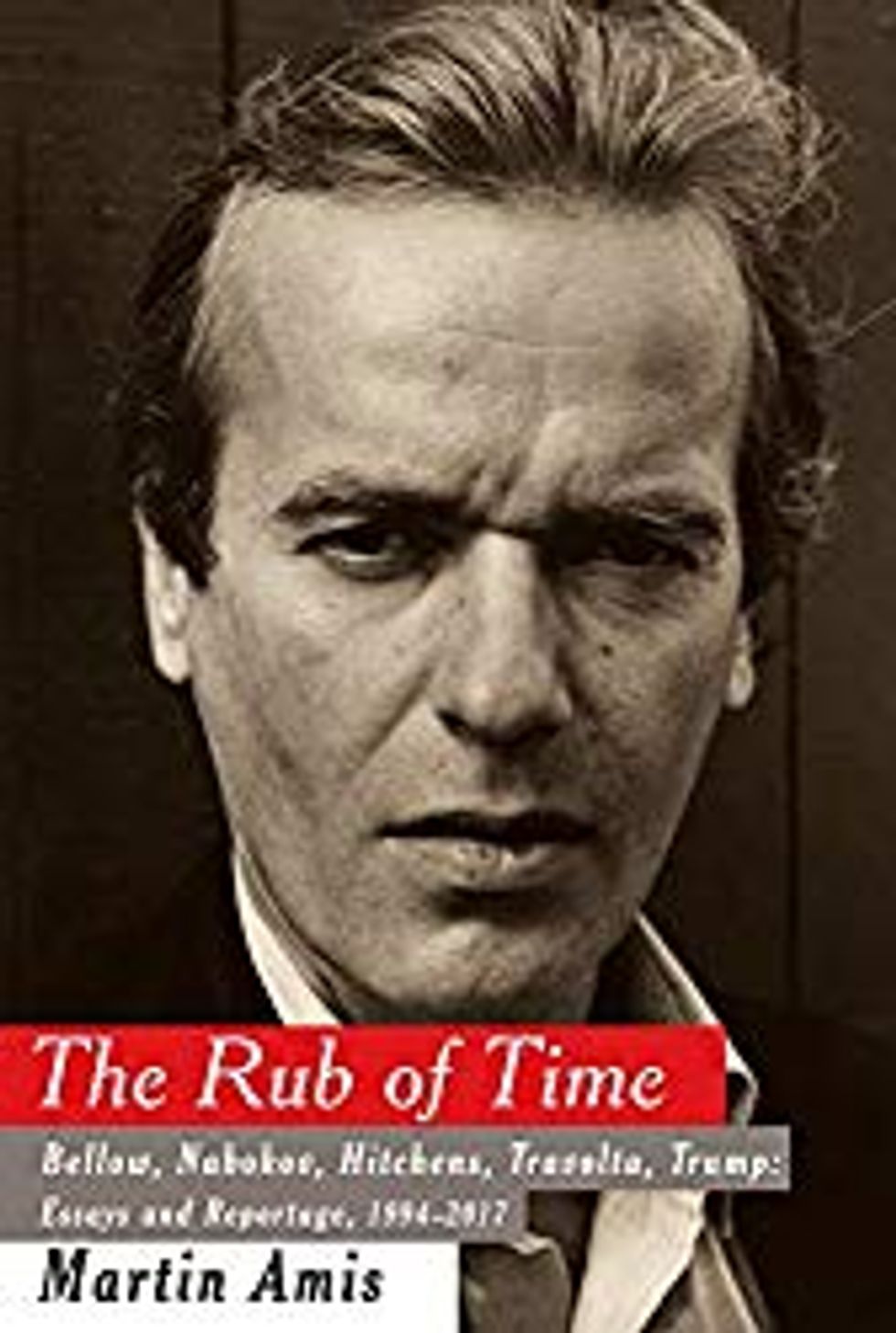 One afternoon, Christopher, whose family was staying with mine on Horseleech Pond, was due to show up at the court, after a heavy lunch in nearby Wellfleet, to be introduced to Bob (and to be driven back to the pond-front house). He arrived, much gratified by having come so far on foot: three or four miles—one of the greatest physical feats of his adult life. It was set point. Bob served, approached the net, and wrongfootingly dispatched my attempted pass. Now Bob was and is twenty-three years my senior; and the score was 6–0. I could, I suppose, plead preoccupation: that summer I was wondering (with eerie detachment) whether I had it in me to write a novel that dealt with the Holocaust. Christopher knew about this, and he knew about my qualms.
Elatedly toweling himself down, Bob said, "You know, there are so few areas of transcendence left to us. Sports. Sex. Art . . ."
"Don't forget the miseries of others," said Christopher. "Don't forget the languid contemplation of the miseries of others."
I did write that novel. And I still wonder whether Christopher's black, three-ply irony somehow emboldened me. What remains true, to this day, to this hour, is that of all subjects (including sex and art), the one we most obsessively return to is the Shoah, and its victims—those whom the wind of death has scattered.
4.
In conclusion, we move on to 1999, and by now Christopher and I have acquired new wives, and gained three additional children (making eight in all). It was midafternoon, on Long Island, and he and I hoped to indulge a dependable pleasure: we were in search of the most violent available film. In the end we approached a multiplex in Southampton (having been pitiably reduced to Wesley Snipes).
I said, "No one's recognized the Hitch for at least ten minutes."
"Ten? Twenty minutes. Twenty-five. And the longer it goes on, the more pissed off I get. I keep thinking: What's the matter with them? What can they feel, what can they care, what can they know, if they fail to recognize the Hitch?"
An elderly American was sitting opposite the doors to the cinema, dressed in candy colors and awkwardly perched on a hydrant. With his trembling hands raised in an Italianate gesture, he said weakly, "Do you love us? Or do you hate us?"
This old party was not referring to humanity, or to the West. He meant America and Americans.
Christopher said, "I beg your pardon?"
"Do you love us, or do you hate us?"
As Christopher pushed through to the foyer, he said, not warmly, not coldly, but with perfect evenness, "It depends on how you behave."
Who is to blame for the U.S.'s dismal college graduation rate? "Radical" educator Dennis Littky has a hunch.
Sponsored by Charles Koch Foundation
COVID-19 has magnified the challenges that underserved communities face with regard to higher education, such as widening social inequality and sky-high tuition.
At College Unbound, where I am president, we get to know students individually to understand what motivates them, so they can build a curriculum based on goals they want to achieve.
My teaching mantra: Everything is permitted during COVID-19. Everything is permitted during COVID-19. Everything is permitted during COVID-19.
Meteorologists propose a stunning new explanation for the mysterious events in the Bermuda Triangle.
Surprising Science
One of life's great mysteries, the Bermuda Triangle might have finally found an explanation. This strange region, that lies in the North Atlantic Ocean between Bermuda, Miami and San Juan, Puerto Rico, has been the presumed cause of dozens and dozens of mind-boggling disappearances of ships and planes.
Did you know that shifting to a positive perspective on aging can add 7.5 years to your life? Or that there is a provable U-curve of happiness that shows people get happier after age 50?
Sweden tops the ranking for the third year in a row.
AXEL SCHMIDT/DDP/AFP via Getty Images
Technology & Innovation
What does COVID-19 mean for the energy transition? While lockdowns have caused a temporary fall in CO2 emissions, the pandemic risks derailing recent progress in addressing the world's energy challenges.
Culture & Religion
Neo's superhuman powers were only inside of The Matrix. The outside world offered a different reality.
Scroll down to load more…