When a Pipe Is Not a Pipe: How Shifting Perspective Creates Insight, Creativity, and Mindfulness
A change in scale forces us to take note. Objects that we would never notice acquire significance, become worthy of examination and attention. In other words, they force mindfulness.
Maria Konnikova
Maria Konnikova is the New York Times bestselling author of The Confidence Game (Viking/Penguin 2016) and Mastermind: How to Think Like Sherlock Holmes (Viking/Penguin, 2013). She is a contributing writer for The New Yorker, where she writes a regular column with a focus on psychology and culture, and her writing has appeared in The Atlantic, The New York Times, California Sunday, Pacific Standard, The New Republic, WIRED, and The Smithsonian, among numerous other publications. Maria is a recipient of the 2015 Harvard Medical School Media Fellowship, and is a Schachter Writing Fellow at Columbia University's Motivation Science Center. She formerly wrote the "Literally Psyched" column for Scientific American and the popular psychology blog "Artful Choice" for Big Think. She graduated magna cum laude from Harvard University, where she studied psychology, creative writing, and government, and received her Ph.D. in Psychology from Columbia University.
07 June, 2011
---
Have you been to this subway station?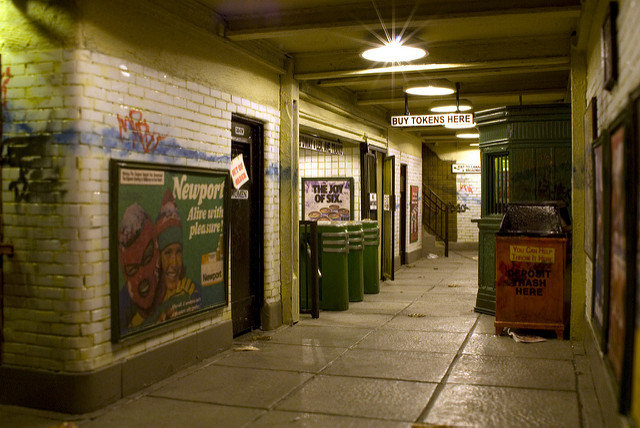 Look again. It's not actually real. It's part of a miniature model, on display at the Museum of Art and Design's Otherworldly: Optical Delusions and Small Realities exhibit (open through September 18).
The exhibit focuses on art that plays with our view of reality, from miniatures of startling detail to photographs of those miniatures that are so life-like that we may be tricked into thinking them real. Why would this matter to a decision maker? The art, I would argue, forces us to view reality from an alternative perspective, to grapple with it in a way that we do not often do – and in so doing, become more mindful and more creative in our approach to our lives.
A change in perspective engenders mindfulness and creativity
Nabokov wrote that there is something intrinsically artistic in diminishing large things – and in blowing up small ones. And, I would argue, not just artistic.  A change in scale forces us to take note. Objects that we would never notice acquire significance, become worthy of examination and attention. In other words, they force mindfulness.
In a past post on optical illusions, I noted the power of framing, or comparison, in making both perceptual judgments and decisions. While these artists' illusions are different, they also force us to reconsider the world, to look at things from a different angle. And sometimes, that change in perspective can be the spark that makes a difficult decision manageable – or that engenders creativity where none existed before. Consider a famous problem-solving experiment, originally designed by Norman Maier in 1931: A participant was placed in a room where two strings were hanging from the ceiling. The participant's job was to tie the two strings together. However, it was impossible to reach one string while holding the other. Several items were also available in the room, such as a pole, an extension cord, and a pair of pliers. What would you have done?
When pliers become a pendulum: the power of insight
Most participants struggled with the pole, with an extension cord, trying their best to reach the end while holding on to the other string. It was tricky business.
The most elegant solution? Tie the pliers to the bottom of one string, then use it as a pendulum and catch it as it floats toward you while you hold the other string. Simple, insightful, quick.
But very few people could visualize the change in object use (here, imagining the pliers as something other than pliers, a weight that could be tied to a string) – unless, that is, the experimenter seemingly by accident brushed one of the strings to induce a swinging motion. Then, participants appeared to spontaneously think of the pliers solution. I say spontaneously because they did not actually remember the stimulus that prompted them to do so. It was a so-called unconscious cue.
A flexible perspective, a flexible mind
This study was one of the first to shed light on the power of insight, or the "eureka" moment. It also underlined how crucial it can be to be flexible in your perspective, to challenge yourself to see the world in a less-than-obvious way (here's another problem of the same sort: you have a candle, a box of tacks, and a book of matches; your goal is to attach the candle to the wall; what do you do—without, of course, looking up the solution? If you come up with an answer that you are sure will work, do you think you would have thought of it without the prior prompt?).
The miniatures, the altered realities, the visual illusions in Otherworldly throw the same mental challenge to decision makers: challenge your perspective. Change the way you see your world to engage with it.  And maybe, in embracing that challenge we can become more mindful of our surroundings, more ready to engage, to create, to change our perspective in contexts that do not explicitly ask us to do so. Then, perhaps, we'll be one of the solitary few who walked into Maier's room of strings, thought for a second, tied the pliers to the string, and completed the task with elegance, alacrity, and insight.
[thumbnail photo: courtesy of the artist, Lori Nix; post photo: courtesy of the artist, Alan Wolfson]
The famed author headed to the pond thanks to Indian philosophy.
Image: Public Domain / Shutterstock / Big Think
Personal Growth
The famed author was heavily influenced by Indian literature, informing his decision to self-exile on Walden Pond.
He was introduced to these texts by his good friend's father, William Emerson.
Yoga philosophy was in America a century before any physical practices were introduced.
Pfizer's partnerships strengthen their ability to deliver vaccines in developing countries.
Susan Silbermann, Global President of Pfizer Vaccines, looks on as a health care worker administers a vaccine in Rwanda. Photo: Courtesy of Pfizer.
Sponsored
Community healthcare workers face many challenges in their work, including often traveling far distances to see their clients
Pfizer is helping to drive the UN's sustainable development goals through partnerships.
Pfizer partnered with AMP and the World Health Organization to develop a training program for healthcare workers.
A little goes a long way.
Photo: Shutterstock / Big Think
Personal Growth
A recent study from the Department of Health and Human Services found that 80 percent of Americans don't exercise enough.
Small breaks from work add up, causing experts to recommend short doses of movement rather than waiting to do longer workouts.
Rethinking what exercise is can help you frame how you move throughout your day.
Big think's weekly newsletter.
Get smarter faster from the comfort of your inbox.
See our newsletter privacy policy
here
Most Popular
Most Recent
Big think's weekly newsletter.
Get smarter faster from the comfort of your inbox.
See our newsletter privacy policy
here
© Copyright 2007-2018 & BIG THINK, BIG THINK EDGE,
SMARTER FASTER trademarks owned by The Big Think, Inc. All rights reserved.