Are we edubloggers too harsh on our kids' teachers?
Scott McLeod
Scott McLeod, J.D., Ph.D., is an Associate Professor of Educational Leadership at the University of Kentucky. He also is the Founding Director of the UCEA Center for the Advanced Study of Technology Leadership in Education (CASTLE), the nation's only academic center dedicated to the technology needs of school administrators, and was a co-creator of the wildly popular video series, Did You Know? (Shift Happens). He has received numerous national awards for his technology leadership work, including recognitions from the cable industry, Phi Delta Kappa, and the National School Boards Association. In Spring 2011 he was a Visiting Canterbury Fellow at the University of Canterbury in New Zealand. Dr. McLeod blogs regularly about technology leadership issues at Dangerously Irrelevant and Mind Dump, and occasionally at The Huffington Post. He can be reached at scottmcleod.net.
16 February, 2011
Will Richardson and Alec Couros are frustrated with their kids' teachers. Lee Kolbert pushed back. Gary Stager chimed in too as did many others in the various comment areas.
---
\n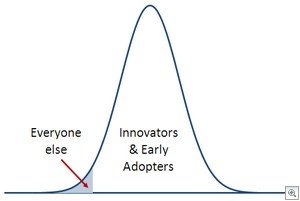 I greatly empathize with Will's and Alec's concerns. After all I see what Kathy Cassidy does with her 6–year-olds and I want that experience for my 6–year-old. I see the work that Brian Crosby does with his 5th-graders and I want that experience for my 5th-grader. I see the cool stuff that Dan Meyer and Jason Dyer are doing in their math classes and I want that experience for my kids. I'd rather my children have a Conspiracy Code-like Social Studies experience than a Thutmose III multiple-choice worksheet Social Studies experience. And so on…
\n
Many of us edubloggers read watch and/or listen to cutting-edge educational practice EVERY SINGLE DAY. We see and interact with teachers who live in the nose-bleeding margin of the stratosphere when it comes to technology integration and instruction for higher-order thinking. We know of administrators who are trying hard to create whole new paradigms of schooling. Over time we begin to normalize these actions and internalize them as 'best' or 'desired' practice.
\n
Given that there is an innovation adoption curve is it fair to expect our local educators to measure up? Can they ever do so? Are we edubloggers (myself included) too harsh on our kids' teachers?
Giving our solar system a "slap in the face"
Surprising Science
A stream of galactic debris is hurtling at us, pulling dark matter along with it
It's traveling so quickly it's been described as a hurricane of dark matter
Scientists are excited to set their particle detectors at the onslffaught
Bernardo Kastrup proposes a new ontology he calls "idealism" built on panpsychism, the idea that everything in the universe contains consciousness. He solves problems with this philosophy by adding a new suggestion: The universal mind has dissociative identity disorder.
We're all one mind in "idealism." (Credit: Alex Grey)
Mind & Brain
There's a reason they call it the "hard problem." Consciousness: Where is it? What is it? No one single perspective seems to be able to answer all the questions we have about consciousness. Now Bernardo Kastrup thinks he's found one. He calls his ontology idealism, and according to idealism, all of us and all we perceive are manifestations of something very much like a cosmic-scale dissociative identity disorder (DID). He suggests there's an all-encompassing universe-wide consciousness, it has multiple personalities, and we're them.
Once again, our circadian rhythm points the way.
Photo: Victor Freitas / Unsplash
Surprising Science
Seven individuals were locked inside a windowless, internetless room for 37 days.
While at rest, they burned 130 more calories at 5 p.m. than at 5 a.m.
Morning time again shown not to be the best time to eat.
Big think's weekly newsletter.
Get smarter faster from the comfort of your inbox.
See our newsletter privacy policy
here
Most Popular
Most Recent
Big think's weekly newsletter.
Get smarter faster from the comfort of your inbox.
See our newsletter privacy policy
here
© Copyright 2007-2018 & BIG THINK, BIG THINK EDGE,
SMARTER FASTER trademarks owned by The Big Think, Inc. All rights reserved.