Are we edubloggers too harsh on our kids' teachers?
16 February, 2011
Will Richardson and Alec Couros are frustrated with their kids' teachers. Lee Kolbert pushed back. Gary Stager chimed in too as did many others in the various comment areas.
---
\n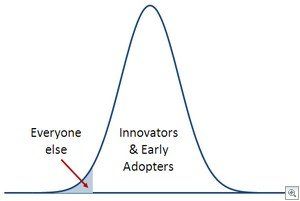 I greatly empathize with Will's and Alec's concerns. After all I see what Kathy Cassidy does with her 6–year-olds and I want that experience for my 6–year-old. I see the work that Brian Crosby does with his 5th-graders and I want that experience for my 5th-grader. I see the cool stuff that Dan Meyer and Jason Dyer are doing in their math classes and I want that experience for my kids. I'd rather my children have a Conspiracy Code-like Social Studies experience than a Thutmose III multiple-choice worksheet Social Studies experience. And so on…
\n
Many of us edubloggers read watch and/or listen to cutting-edge educational practice EVERY SINGLE DAY. We see and interact with teachers who live in the nose-bleeding margin of the stratosphere when it comes to technology integration and instruction for higher-order thinking. We know of administrators who are trying hard to create whole new paradigms of schooling. Over time we begin to normalize these actions and internalize them as 'best' or 'desired' practice.
\n
Given that there is an innovation adoption curve is it fair to expect our local educators to measure up? Can they ever do so? Are we edubloggers (myself included) too harsh on our kids' teachers?
Setting a simple intention and coming prepared can help you — and those around you — win big.
Videos
Setting an intention doesn't have to be complicated, and it can make a great difference when you're hoping for a specific outcome.
When comedian Pete Holmes is preparing to record an episode of his podcast, "You Made it Weird with Pete Holmes," he takes 15 seconds to check in with himself. This way, he's primed with his own material and can help guests feel safe and comfortable to share theirs, as well.
Taking time to visualize your goal for whatever you've set out to do can help you, your colleagues, and your projects succeed.
The Amazon Rainforest is often called "the planet's lungs."
NASA
Politics & Current Affairs
For weeks, fires have been burning in the Amazon rainforest in Brazil, likely started by farmers and ranchers.
Brazil's president, Jair Bolsonaro, has blamed NGOs for starting the flames, offering no evidence to support the claim.
There are small steps you can take to help curb deforestation in the Amazon rainforest, which produces about 20 percent of the world's oxygen.
How do we combat the roots of these hateful forces?
Politics & Current Affairs
American Psychological Association sees a dubious and weak link between mental illness and mass shootings.
Center for the study of Hate and Extremism has found preliminary evidence that political discourse is tied to hate crimes.
Access to guns and violent history is still the number one statistically significant figure that predicts gun violence.