How organizations can embrace diversity to boost creativity
Creativity is of vital importance in the modern world. Does diversity help promote it?
09 May, 2018
Does diversity help promote creativity? (Image: Getty Images/Big Think)
This series on diversity and inclusion is sponsored by Amway, which supports a prosperous economy through having a diverse workplace. Companies committed to diversity and inclusion are better equipped to innovate and drive performance. For more information, visit amwayglobal.com/our-story.
---
Creativity is a vital resource in the modern business world. In an IBM survey of more than a thousand CEOs, creativity was ranked as the most important quality in a modern business leader. In another study, creativity was found to be an essential requirement for entrepreneurship.
The need for a creative workplace is self-evident. How to promote creativity is less obvious. One method that is often considered is increasing the diversity of the workplace. Intuition suggests that this should be effective, as a plethora of worldviews and life experiences should promote a variety of responses to problems. But is this true?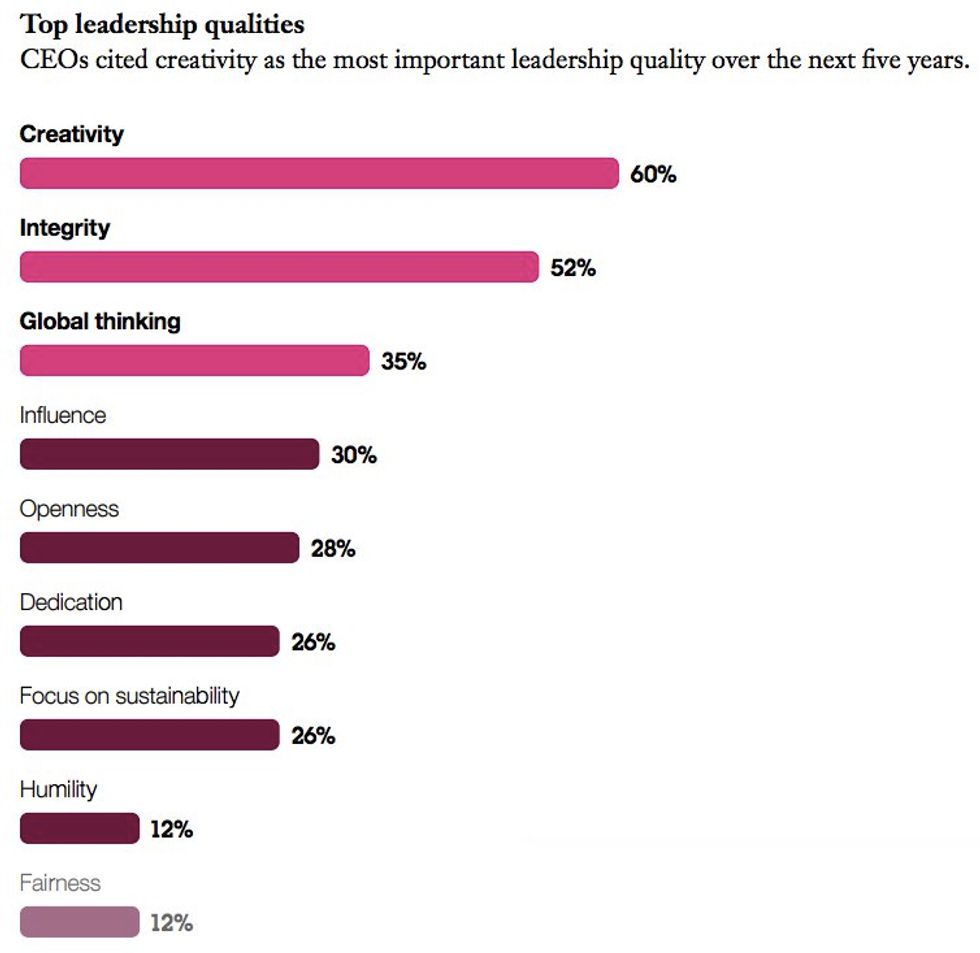 Diversity and creativity
There has been surprisingly little research on this subject despite the apparent interest in promoting creativity and learning about how diverse environments affect us. There are two extensive studies, however, that explore the relationship between creativity and diversity for both individuals and organizations.
The first study by Jackson Lu, Paul Eastwick, and several others examined the effect that intercultural dating had on creativity. Over the course of several experiments, it was shown that a history of intercultural dating could predict how well a person would score on a variety of creativity tests. A second experiment showed the effect was not a mere correlation, as subjects performed better on the same tests when they had spent time reflecting on an intercultural relationship rather than on an intracultural one.
The last part of the study focused on intercultural friendships rather than romantic relationships and found that more frequent contact with friends of another culture was a predictor for whether the subject would display traits of entrepreneurship or workplace innovation, providing further evidence that close intercultural relationships can promote creative thinking.

The authors concluded that their study provided "the first empirical evidence that intercultural romantic relationships and friendships can enhance creativity by facilitating cultural learning." They suggested that the mechanism for improved creativity is the mental flexibility that consistent interactions with someone from a culture that differs from your own often requires. 
Getting a second opinion
The second study, by Ceren Ozgen, Jacques Poot, and Peter Nijkamp, focused on the organizational effects of diversity and sought to determine if a diverse organization was a creative one. After deciding that the literature up to that point had shown mixed results, the researchers chose to analyze data comparing workplace demographics to innovation in Dutch companies.
While their findings did show that a young, highly skilled workforce located near competing firms tended to be more innovative, the diversity factor was insignificant though positive. Furthermore, if employees from the same country tended to stick together rather than interacting with those from different places, the effect of diversity on innovation was negative. After adding a factor for fixed effects, a tool often used in statistics to identify underlying variables, the only significant element of innovation in large firms that remained was the presence of high-skilled employees.
The authors concluded that "we do not find supporting empirical evidence for firms benefitting from cultural diversity of employment once reverse causality and unobserved firm heterogeneity are both taken into consideration." So, is the jury still out?
Despite the disagreement of these studies, some things can still be said about a diverse workplace. Both studies agree that the depth of relationships is important and that no positive effect exists when there is no meaningful interaction between people of differing cultures. It also remains possible that the second experiment did not focus on types of workplace creativity that were positively affected by diversity, as the authors suggested. As always, more research is needed.
So what can an organization do to take advantage of the findings of these studies?
How organizations can benefit from diversity
The authors of the first study suggest that the benefits of intercultural exchange can be harnessed at the organizational level in two steps. As these suggestions are geared towards improving the individual, the findings of the second study do not rule out the possibility of later benefits reaching the workplace. 
"The first step for organizations is to cultivate an intercultural environment by opening the door to individuals from different cultures. For example, to enhance cultural diversity in the workplace, organizations could develop more exchange programs between offices in different countries. In addition, organizations could provide more financial and logistical support for international employees in the challenging process of obtaining work visas and residency permits."
They suggest a step two that is a little more involved.
"Having ensured an adequate level of cultural diversity for intercultural interactions, the second step for organizations is to nurture close relationships among employees from different cultures. When intercultural relationships are mismanaged, they can breed discomfort, mistrust, and conflict due to cultural barriers and differences which explains why people generally favor intracultural romantic relationships and friendships in the first place. Instead of forcing international employees to suppress their cultural values and assimilate to the host culture, organizations could encourage inclusive multiculturalism by highlighting the benefits of cultural differences for both cultural in-groups and out-groups. Firms could facilitate deep intercultural relationships through shared activities, both inside and outside the workplace. At work, managers could assign foreign and domestic employees to work together on tasks that require cooperation, thereby reducing intergroup bias and barriers."
The authors suggest that individuals should "go out of their comfort zone to develop meaningful and long-lasting relationships with individuals from other cultures. While not everyone has the resources and opportunity to go abroad, they could strive to develop meaningful intercultural relationships via meet-ups (e.g., language exchange programs) within their home city."
They remind us, however, that this effect only works with deep interpersonal connections and not with passing acquaintances. If you want the benefits from this effect, you have to work for it. 
While it may not be the case that a workplace with greater diversity is necessarily a more creative one, it is the case that people with greater intercultural exposure and more committed intercultural relationships are more creative. Steps that encourage these relationships are likely to pay off in the long run. In a world where creativity and cultural literacy are ever more important, it certainly can't hurt.
More From
Related Articles
New data have set the particle physics community abuzz.
Credit: Stefano Garau / Adobe Stock and Trahko / Adobe Stock
13-8
The first question ever asked in Western philosophy, "What's the world made of?" continues to inspire high energy physicists.
New experimental results probing the magnetic properties of the muon, a heavier cousin of the electron, seem to indicate that new particles of nature may exist, potentially shedding light on the mystery of dark matter.
The results are a celebration of the human spirit and our insatiable curiosity to understand the world and our place in it.
If brute force doesn't work, then look into the peculiarities of nothingness. This may sound like a Zen koan, but it's actually the strategy that particle physicists are using to find physics beyond the Standard Model, the current registry of all known particles and their interactions. Instead of the usual colliding experiments that smash particles against one another, exciting new results indicate that new vistas into exotic kinds of matter may be glimpsed by carefully measuring the properties of the quantum vacuum. There's a lot to unpack here, so let's go piecemeal.
It is fitting that the first question asked in Western philosophy concerned the material composition of the world. Writing around 350 BCE, Aristotle credited Thales of Miletus (circa 600 BCE) with the honor of being the first Western philosopher when he asked the question, "What is the world made of?" What modern high energy physicists do, albeit with very different methodology and equipment, is to follow along the same philosophical tradition of trying to answer this question, assuming that there are indivisible bricks of matter called elementary particles.
Deficits in the Standard Model
Jumping thousands of years of spectacular discoveries, we now have a very neat understanding of the material composition of the world at the subatomic level: a total of 12 particles and the Higgs boson. The 12 particles of matter are divided into two groups, six leptons and six quarks. The six quarks comprise all particles that interact via the strong nuclear force, like protons and neutrons. The leptons include the familiar electron and its two heavier cousins, the muon and the tau. The muon is the star of the new experiments.
The Standard ModelCredit: Cush via Wikimedia Commons licensed under CC0 1.0
For all its glory, the Standard Model described above is incomplete. The goal of fundamental physics is to answer the most questions with the least number of assumptions. As it stands, the values of the masses of all particles are parameters that we measure in the laboratory, related to how strongly they interact with the Higgs. We don't know why some interact much stronger than others (and, as a consequence, have larger masses), why there is a prevalence of matter over antimatter, or why the universe seems to be dominated by dark matter — a kind of matter we know nothing about, apart from the fact that it's not part of the recipe included in the Standard Model. We know dark matter has mass since its gravitational effects are felt in familiar matter, the matter that makes up galaxies and stars. But we don't know what it is.
Whatever happens, new science will be learned.
Physicists had hoped that the powerful Large Hadron Collider in Switzerland would shed light on the nature of dark matter, but nothing has come up there or in many direct searches, where detectors were mounted to collect dark matter that presumably would rain down from the skies and hit particles of ordinary matter.
Could muons fill in the gaps?
Enter the muons. The hope that these particles can help solve the shortcomings of the Standard Model has two parts to it. The first is that every particle, like a muon, that has an electric charge can be pictured simplistically as a spinning sphere. Spinning spheres and disks of charge create a magnetic field perpendicular to the direction of the spin. Picture the muon as a tiny spinning top. If it's rotating counterclockwise, its magnetic field would point vertically up. (Grab a glass of water with your right hand and turn it counterclockwise. Your thumb will be pointing up, the direction of the magnetic field.) The spinning muons will be placed into a doughnut-shaped tunnel and forced to go around and around. The tunnel will have its own magnetic field that will interact with the tiny magnetic field of the muons. As the muons circle the doughnut, they will wobble about, just like spinning-tops wobble on the ground due to their interaction with Earth's gravity. The amount of wobbling depends on the magnetic properties of the muon which, in turn, depend on what's going on with the muon in space.
Credit: Fabrice Coffrini / Getty Images
This is where the second idea comes in, the quantum vacuum. In physics, there is no empty space. The so-called vacuum is actually a bubbling soup of particles that appear and disappear in fractions of a second. Everything fluctuates, as encapsulated in Heisenberg's Uncertainty Principle. Energy fluctuates too, what we call zero-point energy. Since energy and mass are interconvertible (E=mc2, remember?), these tiny fluctuations of energy can be momentarily converted into particles that pop out and back into the busy nothingness of the quantum vacuum. Every particle of matter is cloaked with these particles emerging from vacuum fluctuations. Thus, a muon is not only a muon, but a muon dressed with these extra fleeting bits of stuff. That being the case, these extra particles affect a muon's magnetic field, and thus, its wobbling properties.
About 20 years ago, physicists at the Brookhaven National Laboratory detected anomalies in the muon's magnetic properties, larger than what theory predicted. This would mean that the quantum vacuum produces particles not accounted for by the Standard Model: new physics! Fast forward to 2017, and the experiment, at four times higher sensitivity, was repeated at the Fermi National Laboratory, where yours truly was a postdoctoral fellow a while back. The first results of the Muon g-2 experiment were unveiled on 7-April-2021 and not only confirmed the existence of a magnetic moment anomaly but greatly amplified it.
To most people, the official results, published recently, don't seem so exciting: a "tension between theory and experiment of 4.2 standard deviations." The gold standard for a new discovery in particle physics is a 5-sigma variation, or one part in 3.5 million. (That is, running the experiment 3.5 million times and only observing the anomaly once.) However, that's enough for plenty of excitement in the particle physics community, given the remarkable precision of the experimental measurements.
A time for excitement?
Now, results must be reanalyzed very carefully to make sure that (1) there are no hidden experimental errors; and (2) the theoretical calculations are not off. There will be a frenzy of calculations and papers in the coming months, all trying to make sense of the results, both on the experimental and theoretical fronts. And this is exactly how it should be. Science is a community-based effort, and the work of many compete with and complete each other.
Whatever happens, new science will be learned, even if less exciting than new particles. Or maybe, new particles have been there all along, blipping in and out of existence from the quantum vacuum, waiting to be pulled out of this busy nothingness by our tenacious efforts to find out what the world is made of.
Credit
: William Thomas Cain via Getty Images
Personal Growth
Benjamin Franklin wrote essays on a whole range of subjects, but one of his finest was on how to be a nice, likable person.
Franklin lists a whole series of common errors people make while in the company of others, like over-talking or storytelling.
His simple recipe for being good company is to be genuinely interested in others and to accept them for who they are.
Think of the nicest person you know. The person who would fit into any group configuration, who no one can dislike, or who makes a room warmer and happier just by being there.
What makes them this way? Why are they so amiable, likeable, or good-natured? What is it, you think, that makes a person good company?
There are really only two things that make someone likable.
This is the kind of advice that comes from one of history's most famously good-natured thinkers: Benjamin Franklin. His essay "On Conversation" is full of practical, surprisingly modern tips about how to be a nice person.
Franklin begins by arguing that there are really only two things that make someone likable. First, they have to be genuinely interested in what others say. Second, they have to be willing "to overlook or excuse Foibles." In other words, being good company means listening to people and ignoring their faults. Being witty, well-read, intelligent, or incredibly handsome can all make a good impression, but they're nothing without these two simple rules.
The sort of person nobody likes
From here, Franklin goes on to give a list of the common errors people tend to make while in company. These are the things people do that makes us dislike them. We might even find, with a sinking feeling in our stomach, that we do some of these ourselves.
1) Talking too much and becoming a "chaos of noise and nonsense." These people invariably talk about themselves, but even if "they speak beautifully," it's still ultimately more a soliloquy than a real conversation. Franklin mentions how funny it can be to see these kinds of people come together. They "neither hear nor care what the other says; but both talk on at any rate, and never fail to part highly disgusted with each other."
2) Asking too many questions. Interrogators are those people who have an "impertinent Inquisitiveness… of ten thousand questions," and it can feel like you're caught between a psychoanalyst and a lawyer. In itself, this might not be a bad thing, but Franklin notes it's usually just from a sense of nosiness and gossip. The questions are only designed to "discover secrets…and expose the mistakes of others."
3) Storytelling. You know those people who always have a scripted story they tell at every single gathering? Utterly painful. They'll either be entirely oblivious to how little others care for their story, or they'll be aware and carry on regardless. Franklin notes, "Old Folks are most subject to this Error," which we might think is perhaps harsh, or comically honest, depending on our age.
4) Debating. Some people are always itching for a fight or debate. The "Wrangling and Disputing" types inevitably make everyone else feel like they need to watch what they say. If you give even the lightest or most modest opinion on something, "you throw them into Rage and Passion." For them, the conversation is a boxing fight, and words are punches to be thrown.
5) Misjudging. Ribbing or mocking someone should be a careful business. We must never mock "Misfortunes, Defects, or Deformities of any kind", and should always be 100% sure we won't upset anyone. If there's any doubt about how a "joke" will be taken, don't say it. Offense is easily taken and hard to forget.
Not following Benjamin Franklin's advice.Credit: Ronald Martinez via Getty Images
On practical philosophy
Franklin's essay is a trove of great advice, and this article only touches on the major themes. It really is worth your time to read it in its entirety. As you do, it's hard not to smile along or to think, "Yes! I've been in that situation." Though the world has changed dramatically in the 300 years since Franklin's essay, much is exactly the same. Basic etiquette doesn't change.
If there's only one thing to take away from Franklin's essay, it comes at the end, where he revises his simple recipe for being nice:
"Be ever ready to hear what others say… and do not censure others, nor expose their Failings, but kindly excuse or hide them"
So, all it takes to be good company is to listen and accept someone for who they are.
Philosophy doesn't always have to be about huge questions of truth, beauty, morality, art, or meaning. Sometimes it can teach us simply how to not be a jerk.
A recent study analyzed the skulls of early Homo species to learn more about the evolution of primate brains.
Credit: M. Ponce de León and Ch.Zollikofer, UZH
Surprising Science
Using computed tomography, a team of researchers generated images of what the brains of early Homo species likely looked like.
The team then compared these images to the brains of great apes and modern humans.
The results suggest that Homo species developed humanlike brains about 1.7 million years ago and that this cognitive evolution occurred at the same time early Homo culture and technology were becoming more complex.
For nearly two centuries, scientists have known that humans descended from the great apes. But it's proven difficult to precisely map out the branches of that evolutionary tree, especially in terms of determining when and where early Homo species first developed brains similar to modern humans.
There are clear differences between ape and human brains. Compared to apes, the Homo sapiens brain is larger, and its frontal lobe is organized such that we can engage in toolmaking, planning, and language. Other Homo species also enjoyed some of these cognitive innovations, from the Neanderthals to Homo floresiensis, the hobbit-like people who once inhabited Indonesia.
One reason it's been difficult to discern the details of this cognitive evolution from apes to Homo species is that brains don't fossilize, so scientists can't directly study early primate brains. But primate skulls offer clues.
Brains of yore
In a new study published in Science, an international team of researchers analyzed impressions left on the skulls of Homo species to better understand the evolution of primate brains. Using computer tomography on fossil skulls, the team generated images of what the brain structures of early Homo species probably looked like, and then compared those structures to the brains of great apes and modern humans.
The results suggest that Homo species first developed humanlike brains approximately 1.7 to 1.5 million years ago in Africa. This cognitive evolution occurred at roughly the same time Homo species' technology and culture were becoming more complex, with these species developing more sophisticated stone tools and animal food resources.
Credit: Ponce de León et al.
The team hypothesized that "this pattern reflects interdependent processes of brain-culture coevolution, where cultural innovation triggered changes in cortical interconnectivity and ultimately in external frontal lobe topography."

The team also found that these structural changes occurred after Homo species migrated out of Africa for regions like modern-day Georgia and Southeast Asia, which is where the fossils in the study were discovered. In other words, Homo species still had ape-like brains when some groups first left Africa.
While the study sheds new light on the evolution of primate brains, the team said there's still much to learn about the history of early Homo species, particularly in terms of explaining the morphological diversity of Homo fossils discovered in Africa.
"Deciphering evolutionary process in early Homo remains a challenge that will be met only through the recovery of expanded fossil samples from well-controlled chronological contexts," the researchers wrote.
Big think's weekly newsletter.
Get smarter faster from the comfort of your inbox.
See our newsletter privacy policy
here
Most Popular
Most Recent
Big think's weekly newsletter.
Get smarter faster from the comfort of your inbox.
See our newsletter privacy policy
here
© Copyright 2007-2020 & BIG THINK, BIG THINK EDGE,
SMARTER FASTER trademarks owned by Freethink Media, Inc. All rights reserved.