Why Gore's Climate First Campaign Is Likely to Run Up Against the New Normal of 2% Economic Growth
Matthew C. Nisbet
Matthew C. Nisbet, Ph.D. is Associate Professor of Communication Studies, Public Policy, and Urban Affairs at Northeastern University. Nisbet studies the role of communication and advocacy in policymaking and public affairs, focusing on debates over over climate change, energy, and sustainability. Among awards and recognition, Nisbet has been a Visiting Shorenstein Fellow on Press, Politics, and Public Policy at Harvard University's Kennedy School of Government, a Health Policy Investigator at the Robert Wood Johnson Foundation, and a Google Science Communication Fellow. In 2011, the editors at the journal Nature recommended Nisbet's research as "essential reading for anyone with a passing interest in the climate change debate," and the New Republic highlighted his work as a "fascinating dissection of the shortcomings of climate activism."
14 July, 2011
Jim Zarroli and John Ydstie filed stories for NPR this week on the "new normal" for the American economy, with experts anticipating that 2% annual economic growth will be a long term trend, a major shift from the 3% growth of past decades.  Importantly for climate advocates, a 2% growth rate threatens to lock in unemployment rates at 10-12%. 
---
As I described in Chapter 4 of the Climate Shift report, concern with the environment and climate change correlates strongly with unemployment rates.  Often overlooked, in 2006 and 2007, during the peak years of public concern with climate change, unemployment rates were at 5.5%, the lowest levels since 2000.  Take a look at the trends in the figure below.  In years that unemployment is low, concern with the environment peaks.  In years that unemployment rises, especially to the levels of recent years, public concern plummets.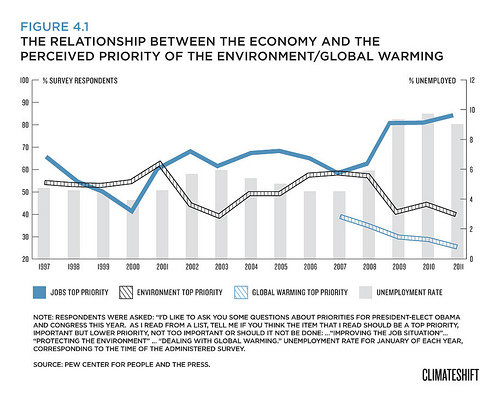 With a new normal of double-digit unemployment -- and with a prevailing center-right mood -- any policy campaign that leads with a focus on climate change as the animating issue intended to mobilize political change -- as Gore appears ready to do with his Climate Reality Project -- is only like to appeal to a base of strongly committed environmentalists and progressives. 
Obama and others have been criticized by Gore and his base for "not talking about climate change."  The Obama Administration has pursued instead a policy and communication agenda that emphasizes the role of government in catalyzing innovation, with a strong emphasis on energy innovation.  This strategy, given unemployment rates and economic conditions, is likely to have far more political traction than a climate first campaign as led by Gore and others.
As one economist explains to NPR, greater investment in innovation might lift economic growth closer to 3%, but what's still missing is public funding of innovation efforts.
Economist Ken Goldstein of the Conference Board explains that for the first part of the year, the U.S. economy grew very slowly — an annualized rate of only about 2 percent.
"Without innovation, not only would you be stuck at 2 percent — we might be lucky to get 2 percent growth," he says. 
Goldstein says a concerted focus on innovation could boost growth by perhaps half a percentage point.
"And that's got to be worth, alone, maybe 50-, 75- maybe even 100,000 jobs a month," he says. 
That's nothing to sneeze at when you consider that just 18,000 jobs were created last month.
But innovation, and the jobs it creates, doesn't happen overnight. It takes time, and there's another stumbling block — money.
"Where we are right now is not a dearth of ideas, but the ability to finance those new ideas into new companies, new products, new services. It hasn't broken down, but it has slowed down," Goldstein says. 
Right now, not much public money is being invested in innovation, and despite historically low interest rates, there's not all that much private-sector investment, either.
From another of the NPR stories, see the figure below charting the implications of a 2% growth rate, changes that will be top of mind for most Americans.  Given the limited pool of worry for the public, under these conditions engaging the public on climate change will only likely grow more difficult. 

Progressive America would be half as big, but twice as populated as its conservative twin.
Image: Dicken Schrader
Strange Maps
America's two political tribes have consolidated into 'red' and 'blue' nations, with seemingly irreconcilable differences.
Perhaps the best way to stop the infighting is to go for a divorce and give the two nations a country each
Based on the UN's partition plan for Israel/Palestine, this proposal provides territorial contiguity and sea access to both 'red' and 'blue' America
The lawsuit claims the administration violated the First Amendment when it revoked the press credentials of reporter Jim Acosta.
(Photo by Al Drago - Pool/Getty Images)
Politics & Current Affairs
CNN reporter Jim Acosta's press credentials were revoked following a heated exchange with President Donald Trump on November 8.
The network filed a lawsuit against the administration on Tuesday, claiming the administration has violated multiple amendments.
The White House may only revoke the press credentials of journalists for "compelling reasons," not for reasons involving content.
The ability to speak clearly, succinctly, and powerfully is easier than you think
Former U.S. President Barack Obama speaks during a Democratic Congressional Campaign Committee rally at the Anaheim Convention Center on September 8, 2018 in Anaheim, California. (Photo by Barbara Davidson/Getty Images)
Personal Growth
The ability to communicate effectively can make or break a person's assessment of your intelligence, competence, and authenticity.
Big think's weekly newsletter.
Get smarter faster from the comfort of your inbox.
See our newsletter privacy policy
here
Most Popular
Most Recent
Big think's weekly newsletter.
Get smarter faster from the comfort of your inbox.
See our newsletter privacy policy
here
© Copyright 2007-2018 & BIG THINK, BIG THINK EDGE,
SMARTER FASTER trademarks owned by The Big Think, Inc. All rights reserved.