STUDY: What Can Climate Communicators Learn from Gladwell's Tipping Point and Gore's WE Campaign?
16 August, 2010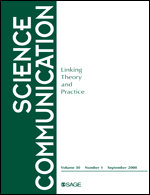 Over the past decade, best-selling books such as Malcolm Gladwell's
The Tipping Point
have told compelling stories of how marketers and political consultants use "influentials," "mavens," "connectors," and "navigators" to sell products and win elections. In similar fashion, following the 2008 election,
news articles
proclaimed Barack Obama the first "online networking president" and speculated as to how Obama might be able to translate his millions of online campaign activists into a powerful governing force.
On climate change, with the 2006 release of
An Inconvenient Truth
, Al Gore launched The Climate Project, an initiative that has trained more than a 1,000 volunteers to present a version of Gore's slide show presentation to local organizations and groups.
Later in April 2008, Gore launched the WE campaign to recruit 10 million activists on climate change. The campaign's explicit goal is to create public opinion pressure on elected officials to adopt major policy actions. According to Cathy Zoi, WE campaign director, a central part of their strategy is to recruit "influentials" to be active on climate change, or as she defined them for Andrew Revkin
at the New York Times
: "...people who talk to five times as many people a day as the typical person, who derive self-esteem from having new information."
Yet is there research that can provide context and insight into the viability of these strategies for engaging the public on complex science debates such as climate change? More specifically, what are the prospects that the WE campaign or Obama's online activist model, if applied to climate change, might mobilize citizens on key policy decisions and/or shape their consumer and lifestyle choices, especially relative to energy efficiency and alternative energy? Perhaps even more importantly, how can principles from past research on influentials be translated and applied by a variety of organizations to effectively communicate with the public on a range of complex policy problems?
Those are some of the questions I wanted to figure out in a
peer-reviewed paper
just published at the journal
Science Communication
. My co-author is John Kotcher, a former graduate student now working as a communications officer at the National Academies. The article is part of a special issue at the journal focused on climate change communication, see importantly the
introduction to the issue
by co-editors Ed Maibach and Susanna Hornig Priest.
Below is the abstract to our paper. If you don't have an institutional subscription, please email me at nisbetmc AT gmail DOT com for a copy.
I also wrote about the study
when it was first accepted back in November. I will have more to say about other studies in the special issue upcoming, specifically one study that sheds light on the
ongoing George Will affair
.

This version was published on March 1, 2009
Science Communication, Vol. 30, No. 3, 328-354 (2009)
DOI: 10.1177/1075547008328797

A Two-Step Flow of Influence?
Opinion-Leader Campaigns on Climate Change
Matthew C. Nisbet

American University, Washington, DC, nisbet@american.edu

John E. Kotcher

National Academies, Washington, DC

In this article, we review concepts, measures, and strategies that can be applied to opinion-leader campaigns on climate change. These campaigns can be used to catalyze wider political engagement on the issue and to promote sustainable consumer choices and behaviors. From past research, we outline six relevant categories of self-designated opinion-leaders, detailing issues related to identification, recruitment, training, message development, and coordination. We additionally analyze as prominent initiatives Al Gore's The Climate Project and his more recent We campaign, which combines the recruitment of digital opinion-leaders with traditional media strategies. In evaluating digital opinion-leader campaigns, we conclude that there are likely to be significant trade-offs in comparison to face-to-face initiatives. The challenge for both scholars and practitioners is to understand under what conditions are digital opinion-leaders effective and in which ways can online interactions strengthen or build on real-world connections.

Key Words: opinion leaders • influentials • climate change • framing • digital networks
Upstreamism advocate Rishi Manchanda calls us to understand health not as a "personal responsibility" but a "common good."
Sponsored by Northwell Health
Upstreamism tasks health care professionals to combat unhealthy social and cultural influences that exist outside — or upstream — of medical facilities.
Patients from low-income neighborhoods are most at risk of negative health impacts.
Thankfully, health care professionals are not alone. Upstreamism is increasingly part of our cultural consciousness.
The Bajau people's nomadic lifestyle has given them remarkable adaptions, enabling them to stay underwater for unbelievable periods of time. Their lifestyle, however, is quickly disappearing.
Wikimedia Commons
Culture & Religion
The Bajau people travel in small flotillas throughout the Phillipines, Malaysia, and Indonesia, hunting fish underwater for food.
Over the years, practicing this lifestyle has given the Bajau unique adaptations to swimming underwater. Many find it straightforward to dive up to 13 minutes 200 feet below the surface of the ocean.
Unfortunately, many disparate factors are erasing the traditional Bajau way of life.
Some evidence attributes a certain neurological phenomenon to a near death experience.
Credit: Petr Kratochvil. PublicDomainPictures.net.
Surprising Science
Time of death is considered when a person has gone into cardiac arrest. This is the cessation of the electrical impulse that drive the heartbeat. As a result, the heart locks up. The moment the heart stops is considered time of death. But does death overtake our mind immediately afterward or does it slowly creep in?
An innovation may lead to lifelike self-reproducing and evolving machines.
Shogo Hamada/Cornell University
Surprising Science
Scientists at Cornell University devise a material with 3 key traits of life.
The goal for the researchers is not to create life but lifelike machines.
The researchers were able to program metabolism into the material's DNA.
Big think's weekly newsletter.
Get smarter faster from the comfort of your inbox.
See our newsletter privacy policy
here
Most Popular
Most Recent
Big think's weekly newsletter.
Get smarter faster from the comfort of your inbox.
See our newsletter privacy policy
here
© Copyright 2007-2019 & BIG THINK, BIG THINK EDGE,
SMARTER FASTER trademarks owned by The Big Think, Inc. All rights reserved.