Pew: Few Americans Fear the Loss of Their Local Newspaper
Matthew C. Nisbet
Matthew C. Nisbet, Ph.D. is Associate Professor of Communication Studies, Public Policy, and Urban Affairs at Northeastern University. Nisbet studies the role of communication and advocacy in policymaking and public affairs, focusing on debates over over climate change, energy, and sustainability. Among awards and recognition, Nisbet has been a Visiting Shorenstein Fellow on Press, Politics, and Public Policy at Harvard University's Kennedy School of Government, a Health Policy Investigator at the Robert Wood Johnson Foundation, and a Google Science Communication Fellow. In 2011, the editors at the journal Nature recommended Nisbet's research as "essential reading for anyone with a passing interest in the climate change debate," and the New Republic highlighted his work as a "fascinating dissection of the shortcomings of climate activism."
16 August, 2010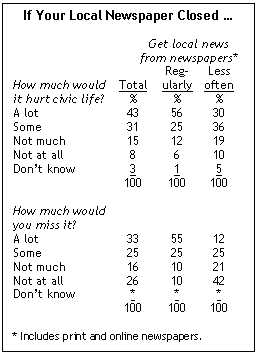 The struggles of the science beat at local newspapers have little or nothing to do with scientific illiteracy or public respect for science and much more to do with the economic climate and a more general and profound absence of public appreciation for the role of the press in civic life. Consider this
stark finding
from a just released
Pew report
: Less than a majority of Americans believe that the loss of their local newspaper would critically harm the health of their community.
So what's going on here? Science has been and remains the dominant force in American culture. Research shows that scientists are deeply trusted by the public, and they enjoy high levels of social status and prestige. On key policy issues, the American public believes that scientists have greater levels of expertise and should have more say in key policy debates than religious leaders, industry, or government officials. Over time, Americans have maintained an unchanging optimism in science to improve their quality of life and to grow the economy while public trust in other institutions including the media has plummeted.
So while the public deeply respects and even strongly defers to the cultural authority of science, they use this strong deference as the ultimate heuristic, replacing the motivation to seek out quality science coverage with blind trust on most science-related issues. Only on a few issues such as climate change, evolution, and stem cell research where rival groups tell the public that science is at odds with something else they care deeply about--such as religion or the economy--does broad based public deference and support for science break down. In short, in the U.S. the default for culture is a blind faith in science, rather than a war on science.
So where does the connection to local newspapers come in? Because Americans lack both an appreciation for the importance of news in local civic life and also often strongly prefer to just trust science--many do not realize that if our local news organizations fail, the very infrastructure of our communities grows considerably weaker. In other words, if communities lack a strong source of science and public affairs information tailored to local concerns, than these communities will not be able to adapt to challenges such as climate change or economic recovery. Indeed, their citizens will be ill equipped to participate meaningfully in collective decisions and policy choices.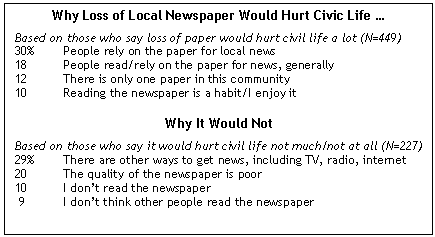 Related Articles
These five main food groups are important for your brain's health and likely to boost the production of feel-good chemicals.
Infographics show the classes and anxieties in the supposedly classless U.S. economy.
What is the middle class now, anyway? (JEWEL SAMAD/AFP/Getty Images)
Politics & Current Affairs
For those of us who follow politics, we're used to commentators referring to the President's low approval rating as a surprise given the U.S.'s "booming" economy. This seeming disconnect, however, should really prompt us to reconsider the measurements by which we assess the health of an economy. With a robust U.S. stock market and GDP and low unemployment figures, it's easy to see why some think all is well. But looking at real U.S. wages, which have remained stagnant—and have, thus, in effect gone down given rising costs from inflation—a very different picture emerges. For the 1%, the economy is booming. For the rest of us, it's hard to even know where we stand. A recent study by Porch (a home-improvement company) of blue-collar vs. white-collar workers shows how traditional categories are becoming less distinct—the study references "new-collar" workers, who require technical certifications but not college degrees. And a set of recent infographics from CreditLoan capturing the thoughts of America's middle class as defined by the Pew Research Center shows how confused we are.
Big think's weekly newsletter.
Get smarter faster from the comfort of your inbox.
See our newsletter privacy policy
here
Most Popular
Most Recent
Big think's weekly newsletter.
Get smarter faster from the comfort of your inbox.
See our newsletter privacy policy
here
© Copyright 2007-2018 & BIG THINK, BIG THINK EDGE,
SMARTER FASTER trademarks owned by The Big Think, Inc. All rights reserved.