Neil deGrasse Tyson on Framing Science
Matthew C. Nisbet
Matthew C. Nisbet, Ph.D. is Associate Professor of Communication Studies, Public Policy, and Urban Affairs at Northeastern University. Nisbet studies the role of communication and advocacy in policymaking and public affairs, focusing on debates over over climate change, energy, and sustainability. Among awards and recognition, Nisbet has been a Visiting Shorenstein Fellow on Press, Politics, and Public Policy at Harvard University's Kennedy School of Government, a Health Policy Investigator at the Robert Wood Johnson Foundation, and a Google Science Communication Fellow. In 2011, the editors at the journal Nature recommended Nisbet's research as "essential reading for anyone with a passing interest in the climate change debate," and the New Republic highlighted his work as a "fascinating dissection of the shortcomings of climate activism."
16 August, 2010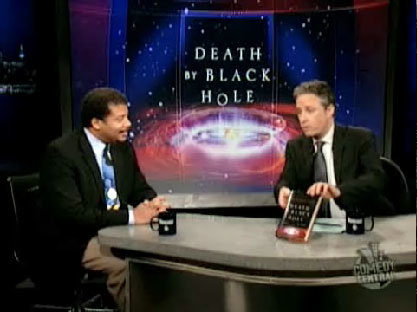 Neil deGrasse Tyson understands the central role of framing in communication and it's a major reason that Tyson is perhaps the most effective science popularizer of his generation. In a fascinating interview on this week's Point of Inquiry, here's how Tyson describes his philosophy and approach to reaching non-traditional audiences via the media (at about 11:40 minutes into the interview):


GROTHE Do you think that mass media, going that route, do you think it undercuts your science education agenda because you have to speak in sound bites, you have to reduce it down to the simplest terms for the widest appeal?

TYSON: That is an excellent question. I think what I have done--and invested a fair amount of social, cultural, and intellectual effort in-- is to recognize and understand the various parameters around the media I am using.

For example, if I am invited onto the Colbert Report or the Daily Show with Jon Stewart, I am going to study previous episodes of what the dynamics are between the host and the guest and I am going to see what kind of opportunity does the guest have to speak, how many words are likely to come out of my mouth before I am playfully interpreted ...because they are comedy shows of course.

So I will then package the message I want to deliver into the context of that program. That takes effort, I think most people don't do that and I think it makes for awkward moments.

I do that willingly because I am visiting them in their medium. If they are going to come to my college class, and they are going to listen to my one hour lecture, I am not going to sound bite it for them at that time. They are visiting me in my habitat.

The moment I go into their habitat, I owe the viewer, a delivery of content that fits that habitat. So my challenge then is how do I not compromise on either the principles or the content of science yet deliver it in a form commensurate with the comedic short form sound bite or the evening news sound bite which is a little different...

For any of us who are scientists there is always the temptation to dumb down our field to share it with someone who is uninitiated in the language, in the subject matter, the jargon...there is a strong urge to do that, but it is possible to resist that I have found.

But to resist it you have to know what is going on in the mind of the person. What are the tangled pathways that may interfere with what you are about to say? When you understand that, then you can shape your content in a way that does not dumb it down but that best intersects their capacity to receive it.

New research identifies an unexpected source for some of earth's water.
Surprising Science
A lot of Earth's water is asteroidal in origin, but some of it may come from dissolved solar nebula gas.
Our planet hides majority of its water inside: two oceans in the mantle and 4–5 in the core.
New reason to suspect that water is abundant throughout the universe.
Progressive America would be half as big, but twice as populated as its conservative twin.
Image: Dicken Schrader
Strange Maps
America's two political tribes have consolidated into 'red' and 'blue' nations, with seemingly irreconcilable differences.
Perhaps the best way to stop the infighting is to go for a divorce and give the two nations a country each
Based on the UN's partition plan for Israel/Palestine, this proposal provides territorial contiguity and sea access to both 'red' and 'blue' America
SpaceX plans to launch about 12,000 internet-providing satellites into orbit over the next six years.
Technology & Innovation
SpaceX plans to launch 1,600 satellites over the next few years, and to complete its full network over the next six.
Blanketing the globe with wireless internet-providing satellites could have big implications for financial institutions and people in rural areas.
Some are concerned about the proliferation of space debris in Earth's orbit.
Big think's weekly newsletter.
Get smarter faster from the comfort of your inbox.
See our newsletter privacy policy
here
Most Popular
Most Recent
Big think's weekly newsletter.
Get smarter faster from the comfort of your inbox.
See our newsletter privacy policy
here
© Copyright 2007-2018 & BIG THINK, BIG THINK EDGE,
SMARTER FASTER trademarks owned by The Big Think, Inc. All rights reserved.