Gray's Anatomy Finale Misleading on Cancer?
Matthew C. Nisbet
Matthew C. Nisbet, Ph.D. is Associate Professor of Communication Studies, Public Policy, and Urban Affairs at Northeastern University. Nisbet studies the role of communication and advocacy in policymaking and public affairs, focusing on debates over over climate change, energy, and sustainability. Among awards and recognition, Nisbet has been a Visiting Shorenstein Fellow on Press, Politics, and Public Policy at Harvard University's Kennedy School of Government, a Health Policy Investigator at the Robert Wood Johnson Foundation, and a Google Science Communication Fellow. In 2011, the editors at the journal Nature recommended Nisbet's research as "essential reading for anyone with a passing interest in the climate change debate," and the New Republic highlighted his work as a "fascinating dissection of the shortcomings of climate activism."
16 August, 2010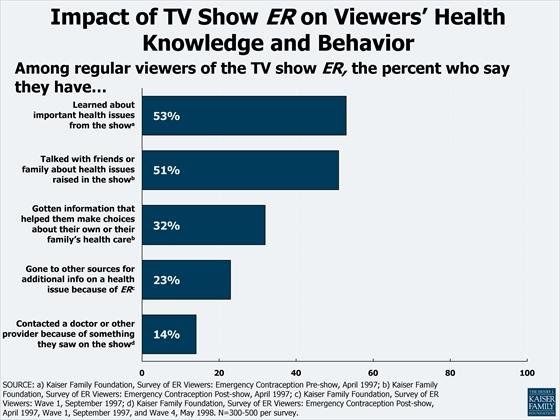 As we discuss in a current working paper, the "
going broad
" strategy of using entertainment media to reach wider audiences was first pioneered in the area of health.
For example, working in collaboration with experts, screenwriters for the series ER purposely inserted plot scenarios intended to raise attention to beneficial health behaviors. Evaluation of the efforts found important impacts in raising awareness, discussion, and interest in the featured health topic among viewers. More recently,
a special issue
of the
American Journal of Bioethics
evaluated the use of programs such as
House
to teach viewers--even medical students--about ethics.
Not every TV series, of course, reflects closely expert views or opinion. Last week, I found myself thinking this as I sat in the living room working from my laptop as my girlfriend watched the season finale of
Gray's Anatomy
. The plot line involving a major character's life and death choices on how to treat her skin cancer which had spread to her brain seemed a bit far fetched, if not misleading for viewers.
Turns out my suspicions were correct. Here's how
USA Today presented
the problem last week:
The two-hour broadcast depicted Izzie and her fellow doctors agonizing over how to treat her melanoma -- a deadly form of skin cancer -- that had spread to her liver, bowel and brain. Because of the location of her brain tumor, doctors presented her with two unattractive options: surgery that could leave her with severe memory problems or a highly toxic drug called interleukin-2, or IL-2.

In fact, doctors never recommend IL-2 for melanoma that has spread to the brain because it can cause bleeding and strokes, says Otis Brawley, chief medical officer at the American Cancer Society. If doctors are concerned about the risks of surgery, they recommend radiosurgery, in which doctors focus intensive radiation on the tumor, he says....

...Though TV hospital shows are great drama, they often stretch the truth, says Brawley, who concedes he went into medicine partly because he was inspired by shows such as Medical Center, the CBS drama that aired from 1969 to 1976. "Many people view the cancer problem as much simpler than it actually is," Brawley says. "That's because they get their medical information from television shows. But television shows are by and large fictional, and much of the medical information there is also going to be fictional."
Related Articles
These modern-day hermits can sometimes spend decades without ever leaving their apartments.
700,000 Japanese people are thought to be hikikomori, modern-day hermits who never leave their apartments (BEHROUZ MEHRI/AFP/Getty Images).
Mind & Brain
A hikikomori is a type of person in Japan who locks themselves away in their bedrooms, sometimes for years.
This is a relatively new phenomenon in Japan, likely due to rigid social customs and high expectations for academic and business success.
Many believe hikikomori to be a result of how Japan interprets and handles mental health issues.
How a cataclysm worse than what killed the dinosaurs destroyed 90 percent of all life on Earth.
Credit: Ron Miller
Surprising Science
While the demise of the dinosaurs gets more attention as far as mass extinctions go, an even more disastrous event called "the Great Dying" or the "End-Permian Extinction" happened on Earth prior to that. Now scientists discovered how this cataclysm, which took place about 250 million years ago, managed to kill off more than 90 percent of all life on the planet.
A new study discovers the "liking gap" — the difference between how we view others we're meeting for the first time, and the way we think they're seeing us.
New acquaintances probably like you more than you think. (Photo by Simone Joyner/Getty Images)
Surprising Science
We tend to be defensive socially. When we meet new people, we're often concerned with how we're coming off. Our anxiety causes us to be so concerned with the impression we're creating that we fail to notice that the same is true of the other person as well. A new study led by Erica J. Boothby, published on September 5 in Psychological Science, reveals how people tend to like us more in first encounters than we'd ever suspect.
Big think's weekly newsletter.
Get smarter faster from the comfort of your inbox.
See our newsletter privacy policy
here
Most Popular
Most Recent
Big think's weekly newsletter.
Get smarter faster from the comfort of your inbox.
See our newsletter privacy policy
here
© Copyright 2007-2018 & BIG THINK, BIG THINK EDGE,
SMARTER FASTER trademarks owned by The Big Think, Inc. All rights reserved.