Big ideas.
Once a week.
Subscribe to our weekly newsletter.
Food Stamp President? The Science of Why Gingrich's Race-Tinged Label Sticks
18 January, 2012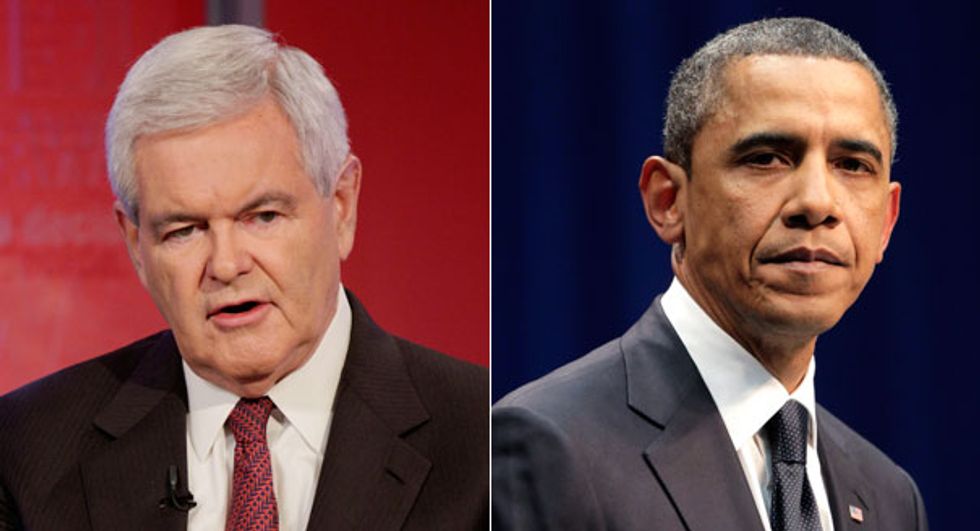 In Monday's GOP primary debate, Newt Gingrich earned praise from conservatives while drawing justifiable anger from many for his labeling of Barack Obama as the "food stamp president."  As the former Speaker of the House told moderator Juan Williams: "I'm going to continue to find ways to help poor people learn how to get a job, learn how to get a better job and learn some day to own the job." Gingrich has since used the exchange in a TV ad and a fundraising letter.
The candidate's comments appeal to conservatives and other whites on several counts. First, Gingrich implies by his comments that Americans receiving food stamps are unemployed, playing on a common misperception held by voters. The reality is that many food stamp recipients are low wage workers. The great majority of low wage jobs lack benefits such as health insurance or retirement accounts and provide little or no chance for career advancement. 
Second, Gingrich's comments reflect a race-tinged strategy that echoes those used by Ronald Reagan in the 1980s and Gingrich himself in advocating for the 1996 welfare reform bill. As South Carolina Rep. James Clyburn, who is black, told NPR yesterday, it is no longer the "welfare queen," a line oft-touted by Reagan, but "king of the food stamps." As he noted: "I guess a lot of people see it as, if Ronald Reagan can do it and be so lionized by conservatives, then I ought to be able to do it."
During the 1990s, there was a significant amount of research conducted in political science, communication, and sociology on the factors that shape public opinion and media coverage of poverty-related issues such as food stamps. Multiple strands of evidence demonstrate that the same general principles still apply today, despite changes in the political and media environment.
These factors include the stubborn perceptual screen of individualism and belief in limited government, lingering racial stereotypes, and patterns in how the news media, particularly TV news, cover issues related to poverty and low income work. 
I reviewed this research in a book chapter published in 2009.  The chapter also discussed research proposing alternative communication strategies that might be able to breakthrough these perceptual screens. I have excerpted the relevant portions of that chapter below.
Excerpted from Nisbet, M.C. (2009). Knowledge into Action: Framing the Debates Over Climate Change and Poverty. In P. D'Angelo and J. Kuypers, Doing News Framing Analysis: Empirical, Theoretical, and Normative Perspectives. New York: Routledge.
When reaching judgments about poverty, Americans actively draw upon a few core cultural values. In particular, many survey analyses have identified a belief in individualism as guiding preferences about social spending and policies. The assumption underlying a belief in individualism is that economic opportunity in the United States is widespread and that anyone who tries hard enough can succeed (Gilens, 1996a).
Yet other values also play a role. In particular, individualism is balanced in the minds of many Americans by humanitarianism, or the belief that government has an obligation to assist those who are most in need (Kuklinski, 2001). 
In one classic study demonstrating this ambivalence, political scientists John Zaller and Stanley Feldman (1992) analyzed the open-ended answers of survey respondents about whether or not the government should spend more on social services, including education and health. Respondents who opposed increased spending offered thoughts that drew almost exclusively on individualism and a corresponding belief in limited government, emphasizing personal effort, responsibility, and hard work while opposing increased taxes and bureaucracy.
In contrast, supporters of increased government emphasized the core value of humanitarianism—mentioning a duty to help others and the need for the government to provide social assistance—but they also somewhat ambivalently warned against increased taxes and bureaucracy, emphasizing that before receiving assistance, individuals should always try to get along on their own.
More recent work demonstrates the ability of news frames to activate the core values of either individualism or humanitarianism as the criteria by which audiences evaluate anti-poverty initiatives. In an experiment with college students, Shen and Edwards (2005) asked student subjects to fill out an initial questionnaire that measured their orientations towards both individualism and humanitarianism.
Subjects were then asked to read one of two different versions of a newspaper article about poverty.  After finishing the article, they were instructed to write down any thoughts that came to mind. As depicted below, the first article by way of the headline and lead paragraph framed the issue in terms of individualism and the second article framed the issue in terms of humanitarianism.
Headline: Welfare Reform Must Require Strict Work Requirements.

Americans remain sharply divided on whether welfare reform should expand work requirements or increase aid to low income families.  Welfare critics argue that recent welfare reform legislation doesn't go far enough to require recipients to work for their benefits.  They would like to see tougher work requirements on welfare benefits.

Headline: Tough Welfare Restrictions Said to Hurt the Poor and Children.

Americans remain sharply divided on whether welfare should expand work requirements or increase aid to low income families.  Welfare supporters and defenders warn that further restrictions on welfare benefits would hurt children and the poor. They argue that welfare reform should aim to reduce poverty and assist needy families. 
Not surprisingly, for subjects who read the first article, they recorded significantly more thoughts that were in line with individualistic objections to welfare (Shen & Edwards, 2005). In comparison, the subjects who read the second article were more likely to write down thoughts that were in line with a humanitarian support for welfare. Yet more importantly, among readers of the first article who also scored high on individualistic values, they generated significantly more opposing statements about welfare than readers who did not score high on this value orientation.
In other words, the news article's selective emphasis on individual accountability triggered the application and intensification of this core value in evaluating welfare reform. A similar amplification, however, was not found for subjects reading the second article who also scored high on humanitarianism.
Consistent with the study by Feldman and Zaller (1992), these experimental findings provide further evidence that Americans' views about poverty are developed on an uneven playing field.  In comparison to humanitarianism, the core value of individualism exists as a far more potent schema, always ready to be triggered by way of selectively framed arguments and news coverage.
Black Stereotypes in White America
While core values and their activation by news frames play a significant role in structuring American views about poverty, the issue is by no means "race neutral." In fact, based on analyses of multiple national surveys, the political scientist Martin Gilens (1995; 1996b; 1999) concludes that among whites, the belief that "black people are lazy" is the most important source of opposition to spending on welfare and to programs that provide direct assistance such as food stamps and unemployment benefits. 
In one survey analysis, Gilens determined that holding negative perceptions of white welfare mothers led to some increase in opposition to welfare spending, but the increase was limited.  In contrast, holding negative views of black welfare mothers resulted in substantial increases in opposition (Gilens 1996b; 1999).
He also compared the relationship between the real world incidence of blacks in poverty to shifts in news magazine and TV portrayals, examining any corresponding changes in the public's perception of poverty's racial composition. Between 1985 and 1991, while the actual percent of poor who were black remained relatively constant at about 29%, the percent of blacks featured in media portrayals of poverty increased from 50% to 63%; and public estimates of the percent of the poor who were black increased from 39% to 50%.
Other research is consistent with Gilens' conclusions. For example, Gilliam (1999) traces the stereotype of the "black welfare queen" to a story recited in stump speeches during the 1976 presidential campaign by Ronald Reagan. Gilliam argues that the image has become a common script found in TV news coverage. In his experiments testing the effects of these stereotypes, Gilliam finds that when white viewers watch TV news portrayals of black mothers on welfare, exposure leads viewers to oppose welfare spending and to endorse beliefs that blacks are lazy, sexually promiscuous, law breakers, and undisciplined.  
Similarly, in a separate study analyzing Chicago-area TV news coverage, Entman and Rojecki (2000) found that the dominant visuals in TV stories related to poverty featured blacks.  Moreover, beyond images of race, they found that poverty itself was seldom the direct subject of a news story, with reports rarely focused on low income, hunger, homelessness, low housing quality, unemployment, or welfare dependence. Instead, the focus was symptoms associated with poverty, particularly racial discrimination and problems of health or health care.
TV News and Attributions of Responsibility
In combination with core values and stereotypes, the public tends to reach decisions on political issues by reducing them down to questions of responsibility and blame. In answering these questions, the public relies heavily on the news, especially television. Across a series of studies, Iyengar (1991) finds that the mode of presentation across TV reports of poverty can alter viewers interpretations of causal responsibility, (i.e. judgments about poverty's origins), and treatment responsibility, (i.e. judgments relative to who or what has the power to alleviate poverty). 
Based on his analysis of TV reports from the late 1980s, Iyengar (1991) concluded that most reports tended to be packaged in "episodic" terms, focused on a particular event or individual, defining poverty relative to concrete instances. (An example would be a story filed during an especially cold winter in Chicago depicting a single mother struggling to afford the cost of heating.)  Far less common were "thematic" TV stories that took the form of more general backgrounders, placing poverty in the context of social conditions or institutions.
In experiments, Iyengar (1991) discovered that, in contrast to thematic reporting, episodic stories led white middle class viewers to assign the causes and treatments of poverty to individuals rather than societal conditions and government institutions. Race also played a role. News coverage of black poverty in general, and episodic coverage of black mothers specifically, heightened the degree to which white middle class viewers held individuals responsible for their economic plight.
Gilliam (n.d. [a]) notes that while the natural tendency for journalists and advocates alike is to tell personal stories about issues with the goal of capturing interest and stirring emotion, episodic presentations are likely to lead viewers to "miss the forest for the trees." Overwhelmed by personal stories, viewers miss out on any greater understanding of the systemic causes of poverty.  In other words, memorability and vividness in news portrayals of poverty likely come at the expense of support for public policy. If journalists and advocates want to focus on institutional fixes to the problem, thematic TV news stories are likely to favor the effort to build public support for these goals.
The Decade After Welfare Reform
In a series of published analyses, political scientists Sanford Schram and Joe Soss identify each of the previously described factors as contributing to the passage in 1996 of welfare reform. Yet as they explain, while many centrist Democrats predicted that the victory would pave the wave for more meaningful anti-poverty policies, the intensive communication campaign needed to build support for the historic legislation might have inadvertently delivered many self-inflicted wounds. In the public's mind, there remains the interpretation that poverty is fundamentally a problem anchored in personal responsibility and race.  Despite many recent focusing events and powerful economic forces, public perceptions today are little changed from the 1980s.
For decades, in attacking the welfare system, conservatives claimed that symptoms associated with poverty such as crime, teen pregnancy, and drugs were in fact the result of a permissive system that allowed lifelong dependency on government assistance. Poverty, in fact, was an outcome of big government. By the early 1990s, centrist Democrats had concluded that conservatives had successfully used welfare to turn the public against any public spending and to stoke the flames of racism.
Yet they reasoned that if Democrats could reform welfare and make government aid recipients appear to "play by the rules," then they could claim political credit, undercut racism, and mobilize the public in support of more effective anti-poverty policies. Soon after his election, Clinton set the agenda for these efforts, vowing in his 1993 State of the Union address to "end welfare as we know it" (Soss & Schram, 2007).
Playing on the public's conflicting orientations towards individualism and compassion for the "deserving poor," both conservatives and centrist Democrats recast policy initiatives in terms of "welfare to work," and labeled bills using frame devices such as "personal responsibility," "temporary assistance," and "family self-sufficiency." Uglier, more tacit messages evoked the myth of the "black welfare queen" or similar race codes, while the news media's episodic presentation style and skewed depictions of race further reinforced individual attributions (Schram & Soss, 2001).
This message campaign successfully redefined welfare for the public as a social crisis.  In 1992, only 7% of the public named welfare as the most important problem facing the country, but by 1996, this number had crested to 27% (Soss & Schram, 2007). In fact, by 1996, given magnified media attention and selective interpretations that played on public values and racial attitudes, more than 60% of Americans supported handing responsibility for welfare over to the states, and a similar number supported capping welfare benefits at five years. In August 1996, following successful Congressional passage of the Personal Responsibility and Work Opportunity Reconciliation Act, more than 80% of the public said that they supported Clinton signing the bill into law (Shaw & Shapiro, 2002). 
In the decade since 1996, the emphasis on ending "long term dependency" continues to serve as the primary criteria by which many elites and the news media define the success of welfare reform. Specifically, journalists have focused almost exclusively on statistics showing a decrease in welfare caseloads and an increase in the number of individuals who have left welfare to take low wage jobs (Schramm & Soss, 2002).
Tipping Point or Illusion?
By making welfare more "morally demanding," centrist Democrats hoped to re-instill confidence in the ability of the government to help the poor. Strategists, pundits, and several prominent scholars had predicted that welfare reform would set in motion a powerful policy feedback effect, removing the taint of racism, and opening up the public to support for more effective policies.
Unfortunately, in a systematic analysis comparing multiple indicators of polling data gathered between 1998 and 2004 with data from the late 1980s, Soss and Schramm (2007) find no evidence for this impact. The tendency for Americans to blame poverty on a lack of effort has held steady, feelings toward the poor have grown slightly cooler, willingness to aid the poor has stayed the same or diminished, and racial attitudes still color support for assistance to the poor.
Yet, pointing to more recent polling data, influential progressives remain optimistic that the public is finally ready to get behind a campaign against poverty (Halpin, 2007; Teixeira, 2007). In particular, a widely talked about analysis by Pew (2007) indicates a roughly 10% shift between 1994 and 2007 in the public's agreement that the government should take care of people who can't take care of themselves, guarantee food and shelter for all, and help more needy people even if it means government debt.
However, as Soss and Schramm (2007) point out, any comparison to 1994 is misleading, since these polls were taken at the height of the welfare reform campaign. During this period, news attention to welfare soared, with this coverage overwhelmingly negative in tone.  By 1998, however, news attention and negativity had both sharply declined (Schneider & Jacoby 2005).
In reality, absent very salient messages attacking welfare programs, what the 2007 polls reveal is a normalization of public attitudes about poverty to their pre-Clinton era levels, rather than any turning point in public sentiment.
A more recent analysis by Dyck and Hussey (2008) supports these conclusions. Although news attention to welfare policy declined between 1999 and 2004, in this coverage, blacks remained dramatically over-represented as the face of America's poor.  Blacks during these years constituted roughly 25% of Americans in poverty, yet more than 40% of news magazine pictures of poor people at Time, Newsweek, and US News & World Report featured blacks.  
With this racial stereotype remaining salient and few counter-stereotypes available in news coverage, Dyck and Hussey find in their analysis of 2004 survey data that the belief among whites that "blacks are lazy" remained among the strongest predictors of opposition to welfare spending.
Today, these enduring misconceptions about individual responsibility and worth ethic as causal agents of poverty continue to be reinforced by leading political figures, even by moderates such as New York City Mayor Michael Bloomberg.[1] Though he might be celebrated in the press for promoting innovative anti-poverty policies, Bloomberg's language and definition of the problem is decidedly old-fashioned.
In speeches, he argues for restoring the "dignity of work" and "ending dependency" by "restoring personal responsibility" through a program that "incentivizes personal decisions" (Bloomberg, 2007.)  Each of these phrases serve as powerful triggers, setting in motion a train of thought that narrowly places responsibility for poverty on the individual rather on society and its institutions.
Reframing the Problem and the Solutions
The realities of income disparity, low wage work, and economic insecurity span partisan, ideological, and racial boundaries. Yet in news media portrayals and political messaging, most policy solutions continue to be framed in ways that trigger the perceptual lens of individualism, limited government, and racial bias.
To date, the most comprehensive research on the re-framing of low wage work and poverty was funded by the Ford Foundation and carried out by Meg Bostrom and her firm Public Knowledge LLC.  In a series of analyses conducted in 2001, 2002, and 2004, Bostrom identified several alternative frames that might be able to break through the public's persistent belief that poverty is a matter of individual failure, establishing a train of thought that focuses instead on systemic problems and solutions.
Bostrom (2004) developed and tested several rival interpretations to the traditional sympathy for the poor frame that focused on moral appeals, individual stories and solutions. She examined the influence of these frames as experiments embedded in a nationally representative telephone survey (n=3205).  Across sub-samples of survey respondents, she tested the traditional sympathy for the poor frame, a new responsible economic planning frame, and a slightly different responsible community planning frame.
Within sub-samples, these alternative frames were first presented as part of an introductory script and then re-emphasized in selectively worded questions that asked generally about issue priority, issue concern, news attentiveness to the issue, the perceived cause of a decline in wages, followed by an agree/disagree attitudinal question regarding what should be done in terms of policy. This innovative design ensures that across the survey a specific train of thought is established for the respondent before answering a series of neutrally worded key indicator questions.
At the end of the survey, these key indicator questions served as dependent variables to test the relative effects of the three frame conditions. Respondents were asked about the perceived opportunity to get ahead; preferences for government action on the economy; the priority of specific economic policies; beliefs relative to how the economy works; and perceptions regarding who is to blame for poverty. Table 2 summarizes the language used in each frame's corresponding introductory script to set the train of thought for respondents on the issue of low income work and poverty.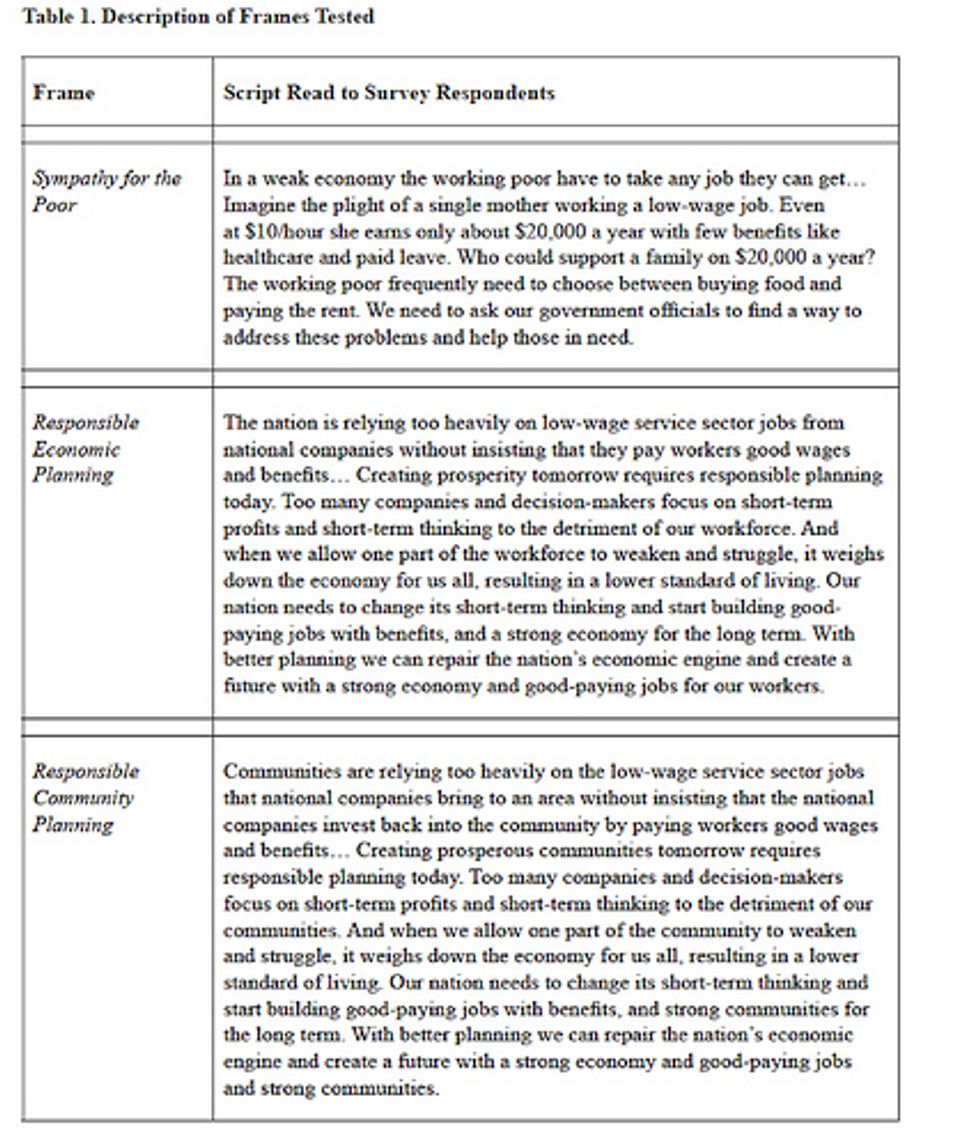 * From Bostrom, M. (2004). Together for Success: Communicating Low-Wage Work as Economy Not Poverty. Report to the Ford Foundation.
Among the frames tested from Table 2, the most effective interpretation for activating support across diverse audiences was the responsible economic planning frame.  In the survey analysis, when presented in this context, policies were supported by net margins 4-11% higher than when framed in traditional terms of sympathy for the poor.  Moreover, the responsible economic planning frame also rated as more credible than other well worn arguments such as "breaking a cycle of childhood poverty" and the emphasis on a "fair economy" where "people who work hard shouldn't be poor."
Perhaps most importantly, in the survey analyses, the economic planning frame was able to generate added support for low wage work issues among non-traditional segments of the public, audiences for whom the typical sympathy for the poor frame might actually activate increased opposition. These groups included the self-identified "working class," non-college educated and older men, union voters, and older voters without a college education. The frame even appeared to soften opposition to proposals among traditional Republican voters. [2] 
Table 3 reproduces the key differences and points of emphasis that Bostrom identifies between the responsible economic planning frame and the sympathy for the poor frame. In the conclusion to this chapter, we will return to a discussion of what these findings mean for the media strategy of advocates but also for journalists who want to break through entrenched audience filters on the issue.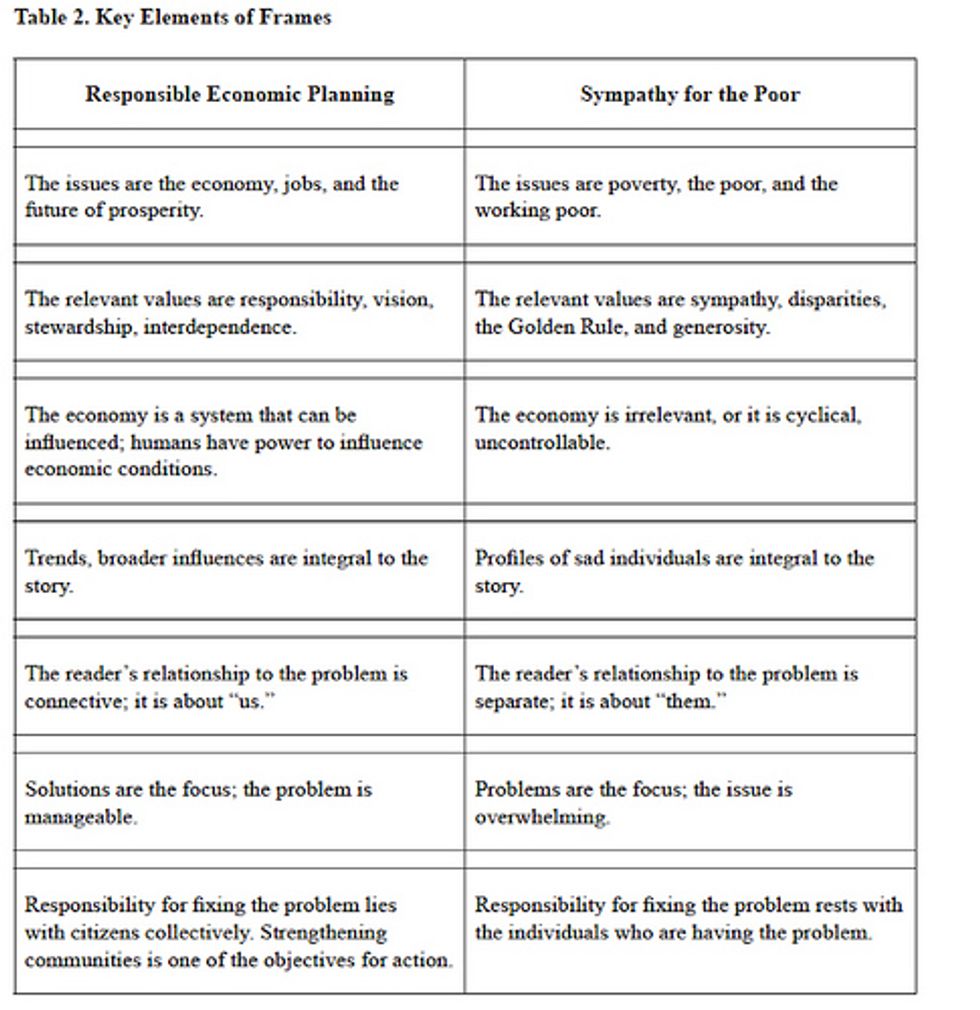 * From Bostrom, M. (2004). Together for Success: Communicating Low-Wage Work as Economy Not Poverty. Report to the Ford Foundation.
Lessons from UK's Social Inclusion Movement
The ability of the responsible economic planning frame to unify public support reflects closely the successful efforts in Great Britain by Tony Blair and the New Labour party to redefine anti-poverty initiatives in terms of "social inclusion." Instead of alleviating the condition of poverty and its implied moral and racial underpinnings, the new social inclusion direction in government was about improving "prospects and networks and life chances" rather than simply raising the dollar amount of wages or redistributing wealth through cash welfare benefits or taxes (Faircloth, 2000).
The language and metaphors of social inclusion are designed to focus attention on the structures and processes that exclude certain groups of individuals from full participation in society, and may offer important clues for advocates in the United States. Similar to the responsible economic planning frame, the logic emphasizes that in a competitive global marketplace, the nation is stronger, more secure, and better off if more of its population can participate fully in the labor force and economy. The metaphor of the "caravan of the desert" has been offered as a frame device to quickly and vividly translate the meaning of social inclusion. 
One can picture our nation as a convoy crossing the desert. Everyone may be moving forward, but if the distance between those at the back and [the] rest of the convoy keeps growing there comes a point at which it breaks up.[3][4]
A Work in Progress: The Re-Framing of Poverty
A few recent policy reports and legislative proposals incorporate elements of the responsible economic planning frame.  For example, in 2007, Margy Waller's Mobility Agenda applied the frame to their own re-formulation of the definition and measure for low wage work (Boushey et al., 2007). This approach defines low wage work as a job that pays less than two-thirds of the median wage, or typical job, held by men. In analyses and graphical displays of data, this recalibration of jobs away from the traditional measure of either below or above the poverty line more accurately and effectively communicates how structural problems in the economy and society are pulling workers apart.
This "much less than the rest" approach shows that for low wage workers their inflation adjusted wages today are roughly equivalent to what they were in 1979.  As the authors of the report argue, while remaining accurate, this new metric also fits better with a message that might mobilize broader segments of the public to care about low wage issues. Echoing the economic planning frame as well as social inclusion's "caravan in the desert" metaphor, the authors' emphasize that:
An economy that leaves a substantial segment of workers far behind the rest of the workforce is contrary to the national belief that the United States is "one nation, indivisible."…As a nation, we are stronger and more cohesive if we have an economy that does not allow those at the back to fall so far behind that the essential unit of the nation breaks apart (Boushey et al., 2007 p. 5).
Though for the most part, still focusing on moral calls to action that employ a sympathy for the poor appeal, the Center for American Progress (CAP) has also begun to shift to a responsible economic planning frame, connecting poverty to national economic recovery.  For example, in a white paper entitled "The Price of Poverty," CAP argues that if generations of children remain in poverty as adults, then the trend grows the overall cost of social services and leads to additional costs to the economy in terms of lost tax revenues from adults who would otherwise be working. The report concludes: "Many believe that the moral case for ending child poverty is already clear.
But this research makes clear that failing to tackle poverty today imposes substantial financial costs on society as well."[5]  Other CAP reports have defined programs such as food stamps and home energy assistance and retro-fitting as benefiting efforts at economic stimulus, emphasizing that these "investments" create private sector jobs in the food and housing industry while freeing up money for consumer spending among low income households.[6]
In terms of shifts in news coverage, analyses of print coverage show that there has been some decline in racial stereotypes about poverty (Dyck & Hussey 2008) and an increase in thematic depictions of structural problems and solutions (Gould, 2001; Gould, 2007). Yet there is little research indicating whether or not national TV news has shifted from its' preferred package of episodic coverage. There is also scant data on racial bias in national TV news, and almost no data on how local television news frames low wage issues.
Specific to amount of attention, these recent analyses show that even as of 2006, media attention to the "working poor" or "low wage jobs" is still relatively limited in comparison to other major policy issues. The 2008 presidential campaign and more recent debate over economic recovery have focused, somewhat vaguely, on "relief for the middle class" with little explicit mention of low wage workers. In addition, few stories about poverty-related issues appear on national television news. Finally, even when poverty or low wage work are mentioned, news attention is frequently incidental to a broader focus on issues such as either health insurance or housing generally (Gould, 2007).
A 2007 seven-part series by the Columbus (OH) Dispatch offers a leading example of how news coverage can successfully re-frame poverty and low wage work around responsible economic growth. In a state ravaged by urban job losses and unemployment, instead of focusing anecdotally on individual stories of struggle, the Dispatch editorial team framed the problem in terms of communities, specifically Ohio's seven largest cities. In doing so, the newspaper evaded the all too familiar trap of characterizing job loss and poverty as an "us" (the suburbs) versus "them" (the inner cities) problem.  Consider the train of thought generated by Dispatch editor Benjamin Marrison in his editorial launching the series. Reflecting on his experience as a young reporter covering Toledo City Hall, Marrison recounted how he asked the then city manager why "anyone in the suburbs should care about Toledo?" As Marrison described:
"A region is like a piece of fruit," said [the city manager]. "The core is the city. If the core rots, it's only a matter of time until all the fruit is rotten." That exchange forever changed my view of cities. It made sense. Although many of us live in the suburbs, we depend on cities for things that are important to us. We also take them for granted….We should all pray for their success. While many of us live and work in the suburbs, the quality of life for all Ohioans will deteriorate if our major cities continue to decline.
Finally, the biggest impact on how poverty and low wage work will be framed by both advocates and the news media will be the message set by President Obama and his administration.  However, if Obama's major campaign speeches and policy papers on the topic are any indication, then it appears as if Obama is not unlike the rest of the progressive policy community: He still lacks a consistent storyline.
For example, he has emphasized heavily in the opening of his speeches a sympathy for the poor moral imperative, telling the story of Bobby Kennedy's encounter with a hungry child in 1968 and Kennedy's tearful reaction to reporters: "How can a country like this allow it?"  He then uses the story and question as a re-occurring theme throughout the speech (Obama, 2007). On urban poverty, Obama has also emphasized traditional themes of personal responsibility, arguing the "difference it makes when people start caring for themselves," admonishing fathers that "responsibility does not end at conception," and asserting that "it makes a difference when a parent turns off the TV once in awhile, puts away the video games, and starts reading to their child, and getting involved in his education" (Obama, 2007).
In addition, simply by way of its politically safe title, the Administration's "Task Force on the Middle Class," led by Vice President Joe Biden, risks deflecting further attention away from the needs of low income workers. For example, while several progressive advocates stress that the Administration's affiliated "green jobs" programs be heavily focused on low-income urban youth, the Vice President officially launched his Task Force initiative with news coverage and an op-ed at the Philadelphia Inquirer headlined "Green jobs are a way to aid the middle class," a frame device that immediately calls to mind a very different focus and target for the jobs program (MacGillis, 2009).
Still, in a positive sign for low wage advocates, Obama has also emphasized in his public remarks the systemic causes of poverty. In a message that echoes the responsible economic planning frame, he consistently attributes part of the blame for poverty to more thematic realities of the economy:
Today's economy has made it easier to fall into poverty. The fall is often more precipitous and more permanent than ever before….You used to be able to count on your job to be there for your entire life. Today almost any job can be shipped overseas in an instant…Everyone American is vulnerable to the insecurities and anxieties of this new economy (Obama, 2007).
---
[1] Bloomberg, M. (2007, Aug. 28). Address to the Brookings Center, Washington, DC. News from the Blue Room. Available at www.nyc.gov.
[2] In terms of activating core supporters for low income proposals, Democrats responded positively to all three frame treatments, but in comparison, the responsible community planning frame generated slightly stronger support for specific policy.
[3] Greg Clark, "Poverty is Too Important an Issue to Leave to the Labour Party," Conservative Home Blogs, http://www.tinyurl.com/wkjlo. Clark's convey image is borrowed from journalist Polly Toynbee's book Hard Work: Life in Low-Pay Britain, London: Bloomsbury, 2003. See Polly Toynbee, "If Cameron Can Climb on My Caravan, Anything is Possible," The Guardian, November 23, 2006, http://www.guardian.co.uk/Columnists/Column/0,,1954790,00.html.
[4] Somewhat ironically, in 2007, the UK Labour Party, under pressure from Conservatives, seemed to shift in frame towards a more traditional U.S definition of the issue, putting forward a proposal titled "Reforming Welfare to Reward Responsibility" and introducing "work for the dole" programs, language that mirrors directly the mid-1990s US welfare reform debate. This shift is an example of how frames often translate across national contexts, especially when there is shared political culture. See report at http://www.americanprogress.org/issues/2008/08/uk_welfare.html.
[5] Available at http://www.americanprogress.org/issues/2008/11/price_of_poverty.html.
[6] Available at http://www.americanprogress.org/issues/2009/02/basic_needs_brief.html.
REFERENCES
Bostrom, M. (2002a). Responsibility and opportunity. Economy that Works Project of the Ford Foundation.  Available at: http://www.economythatworks.org/reports.htm.
Bostrom, M. (2002b). Responsible planning for the future. Economy that Works Project of the Ford Foundation. Available at: http://www.economythatworks.org/reports.htm.
Bostrom, M. (2004). Together for success: Communicating low-wage work as economy, not   poverty.  Economy that Works Project of the Ford Foundation. Available at:        http://www.economythatworks.org/reports.htm.
Boushey, H., Fremstad, S., Gragg, R., and Waller, M. (2007).  Understanding low-wage work in the United States.  Inclusionist.org.   Available at: http://www.inclusionist.org/files/       lowwagework.pdf.
Brophy-Baermann, M., &  Bloeser, A. J. (2006).  Stealthy wealth: The untold story. Harvard   International Journal of Press/Politics, 11(3), 89 – 112.
Dyck, J. J., & Hussey, L.S. (2008). The end of welfare as we know it? Public Opinion      Quarterly, 72(4):589-618.
Entman, R., & Rojecki, A. (2000). The Black image in the White mind. Chicago: University of Chicago Press.
Fairclough, N. (2000).  New Labour, new language?  London: Routledge.
Feldman, S. & Zaller, J. (1992). The political culture of ambivalence: Ideological responses to the welfare state. American Journal of Political Science 36, 268-307.
Gilens, M. (1995).  Racial attitudes and opposition to welfare.  Journal of Politics, 57, 994-1014.
Gilens, M. (1996a). Race and poverty in America: Public misperceptions and the American news media.  Public Opinion Quarterly, 60(4), 513-535.
Gilens, M. (1996b). Race-coding and White opposition to welfare. American Political Science Review, 90, 593-604.
Gilens, M. (1999). Why Americans hate welfare: Race, media, and the politics of anti-poverty policy. University of Chicago Press.
Gilliam, F.D. (n.d. [a]). Vivid examples: What they actually mean and why you should be   careful using them.  Frameworks Institute E-Zine.  Available at     http://www.frameworksinstitute.org/ezine33.html.
Gilliam, F.D. (n.d. [b]). The Architecture of a New Racial Discourse. Framworks Institute   Message Memo. Available at http://www.frameworksinstitute.org/
Gilliam, F. D. (1999). The 'welfare queen' experiment. Nieman Reports, 53(2), 49.
Gould Douglas & Co. (2001). Between a rock and a hard place. Economy that Works Project of the Ford Foundation.
Gould Douglas & Co. (2007). Working press: An analysis of media coverage on low wage work. Economy that Works Project of the Ford Foundation.
Halpin, J. (2007, April 26). Reducing poverty is the right goal. Center for American Progress.
Iyengar, S. (1991). Is anyone responsible? How television frames political issues. Chicago: University of Chicago Press.
Kuklinski, J.H. (2001). Citizens and politics: Perspectives from political psychology. Cambridge: Cambridge University Press.
MacLeavy, J. (2006).  The language of politics and the politics of language: Unpacking 'social exclusion' in New Labour Policy.  Space and Polity 10(1). 87-98
Pew Center for the People and the Press (2007). Trends in political values and core attitudes: 1987-2007. Available at: http://people-press.org/reports/display.php3?ReportID=312
Popkin, S. L. (1991). The reasoning voter.  Chicago, IL: University of Chicago Press.
Schram, S. F., & Soss, J. (2001). Success stories: Welfare reform, policy discourse, and the politics of research.  The Annals of the American Academy of Political and Social Science, 557, 49-65.
Shen, F. Y., & Edwards, H. H. (2005). Economic individualism, humanitarianism,and welfare reform: A value-based account of framing effects.  Journal of Communication, 55(4), 795-809.
Soss, J., & Schram, S. F. (2007).  A public transformed? Welfare reform as policy feedback. American Political Science Review, 101(1), 111-127.
Stengel, R. (2008, April 17). Why we're going green. Time. Retrieved on November 20, 2008, from http://www.time.com/time/magazine/article/0,9171,1731899,00.html. 
Teixeira, R. (2007, April 27). Public opinion snapshot: Americans extend helping hand to the poor. Washington, DC: Center for American Progress.
These alien-like creatures are virtually invisible in the deep sea.
Credit: Karen Osborn/Smithsonian
Surprising Science
A team of marine biologists used nets to catch 16 species of deep-sea fish that have evolved the ability to be virtually invisible to prey and predators.
"Ultra-black" skin seems to be an evolutionary adaptation that helps fish camouflage themselves in the deep sea, which is illuminated by bioluminescent organisms.
There are likely more, and potentially much darker, ultra-black fish lurking deep in the ocean.
A team of marine biologists has discovered 16 species of "ultra-black" fish that absorb more than 99 percent of the light that hits their skin, making them virtually invisible to other deep-sea fish.
The researchers, who published their findings Thursday in Current Biology, caught the species after dropping nets more than 200 meters deep near California's Monterey Bay. At those depths, sunlight fizzles out. That's one reason why many deep-sea species have evolved the ability to illuminate the dark waters through bioluminescence.
But what if deep-sea fish don't want to be spotted? To counter bioluminescence, some species have evolved ultra-black skin that's exceptionally good at absorbing light. Only a few other species are known to possess this strange trait, including birds of paradise and some spiders and butterflies.
The Pacific blackdragon
Credit: Karen Osborn/Smithsonian
When researchers first saw the deep-sea species, it wasn't immediately obvious that their skin was ultra-black. Then, marine biologist Karen Osborn, a co-author on the new paper, noticed something strange about the photos she took of the fish.
"I had tried to take pictures of deep-sea fish before and got nothing but these really horrible pictures, where you can't see any detail," Osborn told Wired. "How is it that I can shine two strobe lights at them and all that light just disappears?"
After examining samples of fish skin under the microscope, the researchers discovered that the fish skin contains a layer of organelles called melanosomes, which contain melanin, the same pigment that gives color to human skin and hair. This layer of melanosomes absorbs most of the light that hits them.
A crested bigscale
Credit: Karen Osborn/Smithsonian
"But what isn't absorbed side-scatters into the layer, and it's absorbed by the neighboring pigments that are all packed right up close to it," Osborn told Wired. "And so what they've done is create this super-efficient, very-little-material system where they can basically build a light trap with just the pigment particles and nothing else."
The result? Strange and terrifying deep-sea species, like the crested bigscale, fangtooth, and Pacific blackdragon, all of which appear in the deep sea as barely more than faint silhouettes.
Pacific viperfish
David Csepp, NMFS/AKFSC/ABL
But interestingly, this unique disappearing trick wasn't passed on to these species by a common ancestor. Rather, they each developed it independently. As such, the different species use their ultra-blackness for different purposes. For example, the threadfin dragonfish only has ultra-black skin during its adolescent years, when it's rather defenseless, as Wired notes.
Other fish—like the oneirodes species, which use bioluminescent lures to bait prey—probably evolved ultra-black skin to avoid reflecting the light their own bodies produce. Meanwhile, species like C. acclinidens only have ultra-black skin around their gut, possibly to hide light of bioluminescent fish they've eaten.
Given that these newly described species are just ones that this team found off the coast of California, there are likely many more, and possibly much darker, ultra-black fish swimming in the deep ocean.
Information may not seem like something physical, yet it has become a central concern for physicists. A wonderful new book explores the importance of the "dataome" for the physical, biological, and human worlds.
Credit: agsandrew via Adobe Stock
13-8
The most important current topic in physics relates to a subject that hardly seems physical at all — information, which is central to thermodynamics and perhaps the universe itself.
The "dataome" is the way human beings have been externalizing information about ourselves and the world since we first began making paintings on cave walls.
The dataome is vast and growing everyday, sucking up an ever increasing share of the energy humans produce.
Physics is a field that is supposed to study real stuff. By real, I mean things like matter and energy. Matter is, of course, the kind of stuff you can hold in your hand. Energy may seem a little more abstract, but its reality is pretty apparent, appearing in the form of motion or gravity or electromagnetic fields.
What has become apparent recently, however, is the importance to physics of something that seems somewhat less real: information. From black holes to quantum mechanics to understanding the physics of life, information has risen to become a principal concern of many physicists in many domains. This new centrality of information is why you really need to read astrophysicist Caleb Scharf's new book The Ascent of Information: Books, Bits, Machines, and Life's Unending Algorithms.
Scharf is currently the director of the Astrobiology Program at Columbia University. He is also the author of four other books as well as a regular contributor to Scientific American.
(Full disclosure: Scharf and I have been collaborators on a scientific project involving the Fermi Paradox, so I was a big fan before I read this new book. Of course, the reason why I collaborated with him is because I really like the way he thinks, and his creativity in tackling tough problems is on full display in The Ascent of Information.)
What is the dataome?
In his new book, Scharf is seeking a deeper understanding of what he calls the "dataome." This is the way human beings have been externalizing information about ourselves and the world since we first began making paintings on cave walls. The book opens with a compelling exploration of how Shakespeare's works, which began as scribbles on a page, have gone on to have lives of their own in the dataome. Through reprintings in different languages, recordings of performances, movie adaptations, comic books, and so on, Shakespeare's works are now a permanent part of the vast swirling ensemble of information that constitutes the human dataome.
I found gems in these parts of the book that forced me to put the volume down and stare into space for a time to deal with their impact.
But the dataome does not just live in our heads. Scharf takes us on a proper physicist's journey through the dataome, showing us how information can never be divorced from energy. Your brain needs the chemical energy from food you ate this morning to read, process, and interpret these words. One of the most engaging parts of the book is when Scharf details just how much energy and real physical space our data-hungry world consumes as it adds to the dataome. For example, the Hohhot Data Center in the Inner Mongolia Autonomous Region of China is made of vast "farms" of data processing servers covering 245 acres of real estate. A single application like Bitcoin, Scharf tells us, consumes 7.7 gigawatts per year, equivalent to the output of half a dozen nuclear reactors!
Information is everywhere
But the dataome is not just about energy. Entropy is central to the story as well. Scharf takes the reader through a beautifully crafted discussion of information and the science of thermodynamics. This is where the links between energy, entropy, the limits of useful work, and probability all become profoundly connected to the definition of information.
The second law of thermodynamics tells us that you cannot use all of a given amount of energy to do useful work. Some of that energy must be wasted by getting turned into heat. Entropy is the physicist's way of measuring that waste (which can also be thought of as disorder). Scharf takes the reader through the basic relations of thermodynamics and then shows how entropy became intimately linked with information. It was Claude Shannon's brilliant work in the 1940s that showed how information — bits — could be defined for communication and computation as an entropy associated with the redundancy of strings of symbols. That was the link tying the physical world of physics explicitly to the informational and computational world of the dataome.
The best parts of the book are where Scharf unpacks how information makes its appearance in biology. From the data storage and processing that occurs with every strand of DNA, to the tangled pathways that define evolutionary dynamics, Scharf demonstrates how life is what happens to physics and chemistry when information matters. I found gems in these parts of the book that forced me to put the volume down and stare into space for a time to deal with their impact.
The physics of information
There are a lot of popular physics books out there about black holes and exoplanets and other cool stuff. But right now, I feel like the most important topic in physics relates to a subject that hardly seems physical at all. Information is a relatively new addition to the physics bestiary, making it even more compelling. If you are looking for a good introduction to how that is so, The Ascent of Information is a good place to start.
A new study tested to what extent dogs can sense human deception.
Credit: Adobe Stock / kozorog
Surprising Science
A study of 260 dogs found that, in some cases, dogs can tell when people are lying.
The experiments involved giving dogs information about the location of food.
The majority of the dogs did not follow false suggestions when they knew humans were lying.
Is humanity's best friend catching on to our shenanigans? Researchers at the University of Vienna discovered that dogs can in certain cases know when people are lying.
The scientists carried out a study with hundreds of dogs to determine to what extent dogs could spot deception. The team's new paper, published in Proceedings of the Royal Society B, outlined experiments that tested whether dogs, like humans, have some inner sense of how to assess truthfulness.
As the researchers wrote in their paper, "Among non-primates, dogs (Canis familiaris) constitute a particularly interesting case, as their social environment has been shared with humans for at least 14,000 years. For this reason, dogs have been considered as a model species for the comparative investigation of socio-cognitive abilities." The investigation focused specifically on understanding if dogs were "sensitive to some mental or psychological states of humans."
The experiment
The experiments involved 260 dogs, which were made to listen to advice from a human "communicator" whom they did not know. The human told them which one of two bowls had a treat hidden inside by touching it and saying, "Look, this is very good!" If the dogs took the person's advice, they would get the treat.
Once they established the trust of the dogs, the researchers then complicated the experience by letting dogs watch another human that they did not know transfer the treat from one bowl to another. In some cases, the original communicator would also be present to watch but not always.
The findings revealed that half of the dogs did not follow the advice of the communicator if that person was not present when the food was switched to a different bowl. The dogs had a sense that this human could not have known the true location of the treat. Furthermore, two-thirds of the dogs ignored the human's suggestion if she did see the food switch but pointed to the wrong bowl. The dogs figured out the human was lying to them.
Photos of experiments showing the dog, human communicator, and person hiding the treat. Credit: Lucrezia Lonardo et al / Proceedings of the Royal Society B.
"We thought dogs would behave like children under age five and apes, but now we speculate that perhaps dogs can understand when someone is being deceitful," co-author Ludwig Huber from the University of Vienna told New Scientist. "Maybe they think, 'This person has the same knowledge as me, and is nevertheless giving me the wrong [information].' It's possible they could see that as intentionally misleading, which is lying."
This is not the first time such experiments have been carried out. Previously, children under age five, macaques, and chimps were tested in a similar way. It turned out that children and other animals were more likely than dogs to listen to the advice of the liars. Notably, among the dogs, terriers were found to be more like children and apes, more eagerly following false suggestions.
Personal Growth
When we rely on the conscious mind alone, we lose; but when we listen to the body, we gain a winning edge.
Scroll down to load more…