At X-Mas, A Call for Scientists to Join with Religious Leaders
16 August, 2010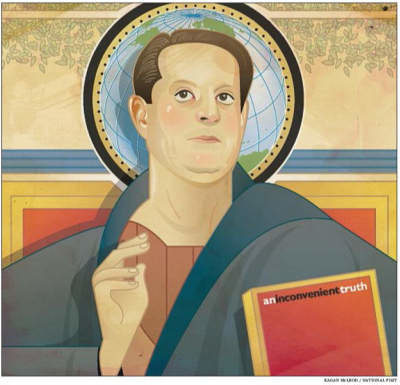 A X-Mas Goracle

In an editorial in the latest issue of the journal Climatic Change, Simon Donner argues that scientists need to join with religious leaders in communicating the urgency of climate change. Donner is an assistant professor of Geography at the University of British Columbia. His research focuses on climate change, coral reefs, and nutrient cycling.

Following the lead of older avant-garde communicators such as Carl Sagan, Neil deGrasse Tyson and EO Wilson, Donner is one of many among a new generation of scientists who recognize that a paradigm shift is needed for engaging the public. Part of this new paradigm involves collaboration with religious leaders in framing shared common values rather than engaging in a campaign of attacks and insults. More on this paradigm shift in communication will be discussed this February at the panel on the topic at the annual AAAS meetings in Boston.

Here is how Donner powerfully closes his essay:


The true communications challenge facing climate scientists, educators and policy-makers is time. Aggressive reductions in greenhouse gas emissions could need to begin in the next decade to avoid "dangerous anthropogenic interference" in the climate system, like
the collapse of major ice sheets, shifts in ocean circulation and the widespread degradation
of coral reefs (e.g., O'Neill and Oppenheimer 2002). Garnering strong public and political support for any substantial near-term action is requiring society to adapt beliefs held relatively constant for millennia in a matter of years.

This is one example where scientific community may need to work with theologians and philosophers. Many leaders in the Christian, Jewish, Hindu, Buddhist and Islamic community recognize the possible threat posed by human-induced climate change and are actively working to reconcile understanding of climate change with their belief systems (Schut and Barnett 2005).

The influential Christian evangelical movement in the USA recently began a campaign to educate followers about the need for action on climate change (Hagg 2006). Scientists should not be afraid to embrace religious or philosophical initiatives to address the fundamental understanding of the human relationship with the climate. Otherwise, future historians may conclude that a failure to confront questions of belief, rather than questions of economics, explains the failure of our generation to act in time.
The way that you think about stress can actually transform the effect that it has on you – and others.
Big Think Edge
Stress is contagious, and the higher up in an organization you are the more your stress will be noticed and felt by others.
Kelly McGonigal teaches "Reset your mindset to reduce stress" for Big Think Edge.

Subscribe to Big Think Edge before we launch on March 30 to get 20% off monthly and annual memberships.
These quick bursts of inspiration will brighten your day in 10 minutes or less.

Explore a legendary philosopher's take on how society fails to prepare us for education and progress.
Alan Watts.
Personal Growth
Alan Watts was an instrumental figure in the 1960s counterculture revolution.
He believed that we put too much of a focus on intangible goals for our educational and professional careers.
Watts believed that the whole educational enterprise is a farce compared to how we should be truly living our lives.
How can we use the resources that are already on the Moon to make human exploration of the satellite as economical as possible?
The All-Terrain Hex-Limbed Extra-Terrestrial Explorer (ATHLETE), a prototype heavy-lift utility vehicle to support future human exploration of extraterrestrial surfaces, at right, is parked beside the Habitat Demonstration Unit - Pressurized Excursion Module (HDU-PEM), at left, a concept off-Earth living and work quarters for astronauts stationed on asteroids, the moon or Mars, 15 September 2010. Photo by: ROBYN BECK/AFP/Getty Images
Technology & Innovation
If you were transported to the Moon this very instant, you would surely and rapidly die. That's because there's no atmosphere, the surface temperature varies from a roasting 130 degrees Celsius (266 F) to a bone-chilling minus 170 C (minus 274 F). If the lack of air or horrific heat or cold don't kill you then micrometeorite bombardment or solar radiation will. By all accounts, the Moon is not a hospitable place to be.

Big think's weekly newsletter.
Get smarter faster from the comfort of your inbox.
See our newsletter privacy policy
here
Most Popular
Most Recent
Big think's weekly newsletter.
Get smarter faster from the comfort of your inbox.
See our newsletter privacy policy
here
© Copyright 2007-2018 & BIG THINK, BIG THINK EDGE,
SMARTER FASTER trademarks owned by The Big Think, Inc. All rights reserved.