At Politico, Rating Enviros' Strategy on Oil Spill
16 August, 2010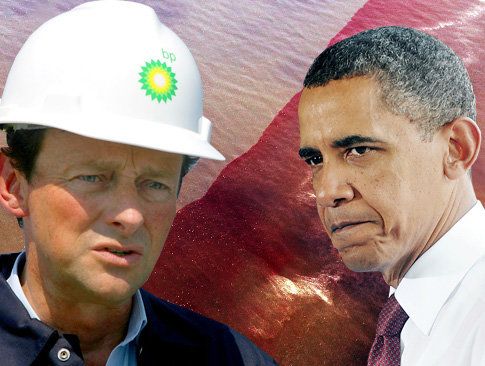 Credit: NY Daily News

Over the weekend, Politico ran a lengthy feature by Josh Gerstein in which he asks various experts to assess how environmental groups have reacted to the Obama administration's handling of the BP oil disaster.

In my own comments quoted in the article, I note that environmental groups appear to have adopted a smart strategy, letting the heavy news attention and general emphasis on public accountability do the communication work for them. If environmental groups were to become more open in their criticism of the Administration or too visible in news coverage, they risk alienating the White House and may be criticized by the media and the public for being politically opportunistic. Below are additional thoughts on the article and recent trends:

* As I emphasized to Gerstein, the sound bite of the crisis so far has been James Carville's "who's your daddy" comment, a frame device delivered with deep emotion that instantly conveys the emphasis on public accountability that has come to dominate news narratives. With this interpretation so salient, having enviro groups add their voice to the outrage would add little while generating the political risks mentioned above. As I told Politico: "In some ways, the media coverage is doing a lot of the work for the environmental groups. They have a perfect narrative going right now. ...The lower profile is working for them."

* The BP oil disaster has led to important shifts in public opinion. Here's how I described the shifts in these opinion trends in a presentation to NOAA staff last week:


Over the last three months, Gallup polling finds that the Gulf oil spill has led to an expected shift in Americans' views on the balance between pursuing energy supplies and environmental protection. As Gallup reports, in March, by 50% to 43%, Americans said it was more important to develop U.S. energy supplies than to protect the environment, continuing a trend in the direction of energy production seen since 2007. By mid-May, following heavy news and public attention to the oil spill, the majority had shifted to favor environmental protection, by 55% to 39% -- the second-largest percentage (behind the 58% in 2007) favoring the environment in the 10-year history of the question.

Shifts in the perceptions and preferences among the segment of the public who is relatively non-attentive to environmental issues explains the non-linear nature of trends in aggregate American public opinion and argue against the extreme urgency voiced by some environmental advocates when they pointed to downward turns in these trends earlier this year. In fact, across the past decade, while up and down fluctuations might occur among the non-attentive public, among a sizable proportion of Americans there has been an enduring strong base of environmental activism and concern in the U.S. (For an apt metaphor describing the up and down cycles in American environmental concern, see Andrew Revkin's "waves in a shallow pan" analogy.)

Working with the Gallup organization, sociologist Riley Dunlap has tracked the strength of this base since 2000, estimating over time that between 60% to 70% of Americans self-identify as either active (approx. 15-20%) in the environmental movement or sympathetic (approx. 50%). Similarly, there continues to be a stable, yet dramatically smaller segment of hostility to the environmental movement and to action on climate change. Gallup tracks this segment around 10% while Yale/GMU surveys indicate that outright "climate dismissives" are in the 10-15% range.

Trends related to the economy, weather, national elections, wars, energy crises, scandals, and natural disasters will contribute to up and down cycles in environmental concern. However, the focus of environmental organizations, government agencies, and scientists should remain on using their communication capital effectively and wisely and not over-reacting to these trends in a way that might damage this enduring base line of public trust and concern over the environment.

What do readers think? Have environmental groups been visible enough in the wake of the BP oil disaster? Should they be critical of the Administration? Are enviros taking the right steps to turn the oil disaster into a wake up call for policy action?
Update:
At the
Huffington Post
, Jane Hamsher, founder of Firedoglake.com, interprets my comments to the Politico as criticism of environmental groups, when to the contrary, as I explain above, their approach to date has been an effective and wise strategy. Hamsher quotes me out of context and does not provide a link to the Politico article as the source for the quote.
Step inside the unlikely friendship of a former ACLU president and an ultra-conservative Supreme Court Justice.

Sponsored by Charles Koch Foundation
Former president of the ACLU Nadine Strossen and Supreme Court Justice Antonin Scalia were unlikely friends. They debated each other at events all over the world, and because of that developed a deep and rewarding friendship – despite their immense differences.
Scalia, a famous conservative, was invited to circles that were not his "home territory", such as the ACLU, to debate his views. Here, Strossen expresses her gratitude and respect for his commitment to the exchange of ideas.
"It's really sad that people seem to think that if you disagree with somebody on some issues you can't be mutually respectful, you can't enjoy each other's company, you can't learn from each other and grow in yourself," says Strossen.
The opinions expressed in this video do not necessarily reflect the views of the Charles Koch Foundation, which encourages the expression of diverse viewpoints within a culture of civil discourse and mutual respect.
Learn how to redesign your job for maximum reward.
Videos
Broaching the question "What is my purpose?" is daunting – it's a grandiose idea, but research can make it a little more approachable if work is where you find your meaning. It turns out you can redesign your job to have maximum purpose.
There are 3 ways people find meaning at work, what Aaron Hurst calls the three elevations of impact. About a third of the population finds meaning at an individual level, from seeing the direct impact of their work on other people. Another third of people find their purpose at an organizational level. And the last third of people find meaning at a social level.
"What's interesting about these three elevations of impact is they enable us to find meaning in any job if we approach it the right way. And it shows how accessible purpose can be when we take responsibility for it in our work," says Hurst.
Erik Verlinde has been compared to Einstein for completely rethinking the nature of gravity.
Photo by Willeke Duijvekam
Surprising Science
The Dutch physicist Erik Verlinde's hypothesis describes gravity as an "emergent" force not fundamental.
The scientist thinks his ideas describe the universe better than existing models, without resorting to "dark matter".
While some question his previous papers, Verlinde is reworking his ideas as a full-fledged theory.
TuSimple, an autonomous trucking company, has also engaged in test programs with the United States Postal Service and Amazon.
Technology & Innovation
This week, UPS announced that it's working with autonomous trucking startup TuSimple on a pilot project to deliver cargo in Arizona using self-driving trucks.
UPS has also acquired a minority stake in TuSimple.
TuSimple hopes its trucks will be fully autonomous — without a human driver — by late 2020, though regulatory questions remain.