At Politico, Rating Enviros' Strategy on Oil Spill
Matthew C. Nisbet
Matthew C. Nisbet, Ph.D. is Associate Professor of Communication Studies, Public Policy, and Urban Affairs at Northeastern University. Nisbet studies the role of communication and advocacy in policymaking and public affairs, focusing on debates over over climate change, energy, and sustainability. Among awards and recognition, Nisbet has been a Visiting Shorenstein Fellow on Press, Politics, and Public Policy at Harvard University's Kennedy School of Government, a Health Policy Investigator at the Robert Wood Johnson Foundation, and a Google Science Communication Fellow. In 2011, the editors at the journal Nature recommended Nisbet's research as "essential reading for anyone with a passing interest in the climate change debate," and the New Republic highlighted his work as a "fascinating dissection of the shortcomings of climate activism."
16 August, 2010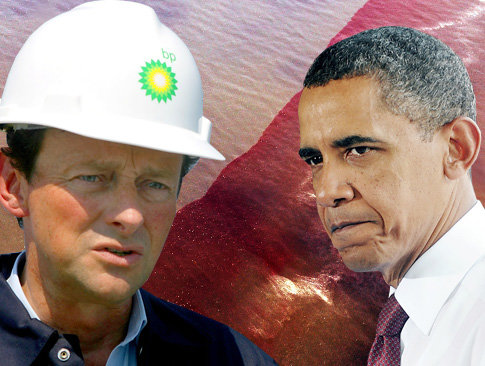 Credit: NY Daily News

Over the weekend, Politico ran a lengthy feature by Josh Gerstein in which he asks various experts to assess how environmental groups have reacted to the Obama administration's handling of the BP oil disaster.

In my own comments quoted in the article, I note that environmental groups appear to have adopted a smart strategy, letting the heavy news attention and general emphasis on public accountability do the communication work for them. If environmental groups were to become more open in their criticism of the Administration or too visible in news coverage, they risk alienating the White House and may be criticized by the media and the public for being politically opportunistic. Below are additional thoughts on the article and recent trends:

* As I emphasized to Gerstein, the sound bite of the crisis so far has been James Carville's "who's your daddy" comment, a frame device delivered with deep emotion that instantly conveys the emphasis on public accountability that has come to dominate news narratives. With this interpretation so salient, having enviro groups add their voice to the outrage would add little while generating the political risks mentioned above. As I told Politico: "In some ways, the media coverage is doing a lot of the work for the environmental groups. They have a perfect narrative going right now. ...The lower profile is working for them."

* The BP oil disaster has led to important shifts in public opinion. Here's how I described the shifts in these opinion trends in a presentation to NOAA staff last week:


Over the last three months, Gallup polling finds that the Gulf oil spill has led to an expected shift in Americans' views on the balance between pursuing energy supplies and environmental protection. As Gallup reports, in March, by 50% to 43%, Americans said it was more important to develop U.S. energy supplies than to protect the environment, continuing a trend in the direction of energy production seen since 2007. By mid-May, following heavy news and public attention to the oil spill, the majority had shifted to favor environmental protection, by 55% to 39% -- the second-largest percentage (behind the 58% in 2007) favoring the environment in the 10-year history of the question.

Shifts in the perceptions and preferences among the segment of the public who is relatively non-attentive to environmental issues explains the non-linear nature of trends in aggregate American public opinion and argue against the extreme urgency voiced by some environmental advocates when they pointed to downward turns in these trends earlier this year. In fact, across the past decade, while up and down fluctuations might occur among the non-attentive public, among a sizable proportion of Americans there has been an enduring strong base of environmental activism and concern in the U.S. (For an apt metaphor describing the up and down cycles in American environmental concern, see Andrew Revkin's "waves in a shallow pan" analogy.)

Working with the Gallup organization, sociologist Riley Dunlap has tracked the strength of this base since 2000, estimating over time that between 60% to 70% of Americans self-identify as either active (approx. 15-20%) in the environmental movement or sympathetic (approx. 50%). Similarly, there continues to be a stable, yet dramatically smaller segment of hostility to the environmental movement and to action on climate change. Gallup tracks this segment around 10% while Yale/GMU surveys indicate that outright "climate dismissives" are in the 10-15% range.

Trends related to the economy, weather, national elections, wars, energy crises, scandals, and natural disasters will contribute to up and down cycles in environmental concern. However, the focus of environmental organizations, government agencies, and scientists should remain on using their communication capital effectively and wisely and not over-reacting to these trends in a way that might damage this enduring base line of public trust and concern over the environment.

What do readers think? Have environmental groups been visible enough in the wake of the BP oil disaster? Should they be critical of the Administration? Are enviros taking the right steps to turn the oil disaster into a wake up call for policy action?
Update:
At the
Huffington Post
, Jane Hamsher, founder of Firedoglake.com, interprets my comments to the Politico as criticism of environmental groups, when to the contrary, as I explain above, their approach to date has been an effective and wise strategy. Hamsher quotes me out of context and does not provide a link to the Politico article as the source for the quote.
Is everyone's favorite Thanksgiving centerpiece really to blame for the post-dinner doldrums?
(Photo from Flickr)
Surprising Science
Americans kill around 45 million turkeys every year in preparation for the Thanksgiving meal, only to blame our favorite centerpiece for the following food comas.
Rumor has it our after-dinner sleepiness results from the tryptophan found in turkey.
However, it is the meal's overall nutritional imbalance, not just the tryptophan, that make us want to leave the dishes for tomorrow. Or maybe the next day.
Pfizer's partnerships strengthen their ability to deliver vaccines in developing countries.
Susan Silbermann, Global President of Pfizer Vaccines, looks on as a health care worker administers a vaccine in Rwanda. Photo: Courtesy of Pfizer.
Sponsored
Community healthcare workers face many challenges in their work, including often traveling far distances to see their clients
Pfizer is helping to drive the UN's sustainable development goals through partnerships.
Pfizer partnered with AMP and the World Health Organization to develop a training program for healthcare workers.
The famed author headed to the pond thanks to Indian philosophy.
Image: Public Domain / Shutterstock / Big Think
Personal Growth
The famed author was heavily influenced by Indian literature, informing his decision to self-exile on Walden Pond.
He was introduced to these texts by his good friend's father, William Emerson.
Yoga philosophy was in America a century before any physical practices were introduced.
Big think's weekly newsletter.
Get smarter faster from the comfort of your inbox.
See our newsletter privacy policy
here
Most Popular
Most Recent
Big think's weekly newsletter.
Get smarter faster from the comfort of your inbox.
See our newsletter privacy policy
here
© Copyright 2007-2018 & BIG THINK, BIG THINK EDGE,
SMARTER FASTER trademarks owned by The Big Think, Inc. All rights reserved.