American Muslims: Politically left but socially conservative
16 August, 2010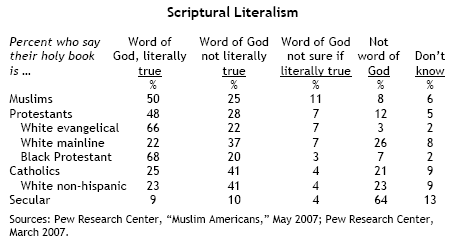 Pew has released a survey analysis comparing American Muslims to other American religious groups, comparing levels of religious intensity, political identification, and policy preferences. I summarize and quote from some of the key findings below.

---
Muslims account for less than one percent of the country's population, whereas eight-in-10 Americans are Christian. Recent public opinion surveys by the Pew Research Center find that, with respect to the intensity of their religious beliefs, Muslim Americans most closely resemble white evangelicals and black Protestants.

Among the findings, as displayed above, half of Muslim Americans (50%) view the Koran as the word of God to be taken literally, word for word. Majorities of both white evangelicals (66%) and black Protestants (68%) hold a similar view of the Bible. Among Catholics and white mainline Protestants, by contrast, far fewer than half (25% and 22%, respectively) take a literal view of the Scriptures.

Though white evangelicals share similarities with Muslims with respect to religious intensity, the two groups are very different when it comes to their respective political orientation. Muslim Americans, simply put, are far more politically liberal than evangelicals, and more similar in their basic political outlook to black Protestants, secular Americans and, in some instances, white mainline Protestants.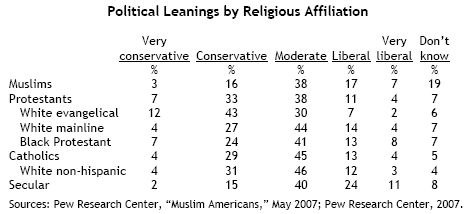 On the question of the proper size and scope of government, a strong majority of Muslim Americans (70%) say they prefer a larger government that provides more services rather than a smaller government providing fewer services, a preference nearly identical to that of black Protestants. Among evangelicals (as well as white Catholics and white mainline Protestants), majorities express a preference for smaller government.

Yet despite their identification with Democrats, Muslims remain as socially conservative on issues such as gay marriage (see below) and legislating morality as Evangelicals. On the question of whether government should be involved in protecting morality, Muslim Americans are even more supportive of government action than evangelicals (or any other group). Roughly six-in-10 Muslims (59%) believe that government should do more to protect morality, compared with only 29% who say they worry that the government is getting too involved in the issue of morality. Among all other major religious groups, fewer than half share the view that government should do more to protect morality.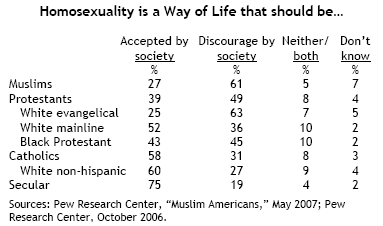 Who is to blame for the U.S.'s dismal college graduation rate? "Radical" educator Dennis Littky has a hunch.
Sponsored by Charles Koch Foundation
COVID-19 has magnified the challenges that underserved communities face with regard to higher education, such as widening social inequality and sky-high tuition.
At College Unbound, where I am president, we get to know students individually to understand what motivates them, so they can build a curriculum based on goals they want to achieve.
My teaching mantra: Everything is permitted during COVID-19. Everything is permitted during COVID-19. Everything is permitted during COVID-19.
Meteorologists propose a stunning new explanation for the mysterious events in the Bermuda Triangle.
Surprising Science
One of life's great mysteries, the Bermuda Triangle might have finally found an explanation. This strange region, that lies in the North Atlantic Ocean between Bermuda, Miami and San Juan, Puerto Rico, has been the presumed cause of dozens and dozens of mind-boggling disappearances of ships and planes.
Did you know that shifting to a positive perspective on aging can add 7.5 years to your life? Or that there is a provable U-curve of happiness that shows people get happier after age 50?
Sweden tops the ranking for the third year in a row.
AXEL SCHMIDT/DDP/AFP via Getty Images
Technology & Innovation
What does COVID-19 mean for the energy transition? While lockdowns have caused a temporary fall in CO2 emissions, the pandemic risks derailing recent progress in addressing the world's energy challenges.
Culture & Religion
Neo's superhuman powers were only inside of The Matrix. The outside world offered a different reality.
Scroll down to load more…