American Muslims: Politically left but socially conservative
Matthew C. Nisbet
Matthew C. Nisbet, Ph.D. is Associate Professor of Communication Studies, Public Policy, and Urban Affairs at Northeastern University. Nisbet studies the role of communication and advocacy in policymaking and public affairs, focusing on debates over over climate change, energy, and sustainability. Among awards and recognition, Nisbet has been a Visiting Shorenstein Fellow on Press, Politics, and Public Policy at Harvard University's Kennedy School of Government, a Health Policy Investigator at the Robert Wood Johnson Foundation, and a Google Science Communication Fellow. In 2011, the editors at the journal Nature recommended Nisbet's research as "essential reading for anyone with a passing interest in the climate change debate," and the New Republic highlighted his work as a "fascinating dissection of the shortcomings of climate activism."
16 August, 2010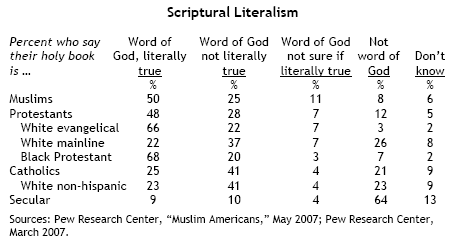 Pew has released a survey analysis comparing American Muslims to other American religious groups, comparing levels of religious intensity, political identification, and policy preferences. I summarize and quote from some of the key findings below.

---
Muslims account for less than one percent of the country's population, whereas eight-in-10 Americans are Christian. Recent public opinion surveys by the Pew Research Center find that, with respect to the intensity of their religious beliefs, Muslim Americans most closely resemble white evangelicals and black Protestants.

Among the findings, as displayed above, half of Muslim Americans (50%) view the Koran as the word of God to be taken literally, word for word. Majorities of both white evangelicals (66%) and black Protestants (68%) hold a similar view of the Bible. Among Catholics and white mainline Protestants, by contrast, far fewer than half (25% and 22%, respectively) take a literal view of the Scriptures.

Though white evangelicals share similarities with Muslims with respect to religious intensity, the two groups are very different when it comes to their respective political orientation. Muslim Americans, simply put, are far more politically liberal than evangelicals, and more similar in their basic political outlook to black Protestants, secular Americans and, in some instances, white mainline Protestants.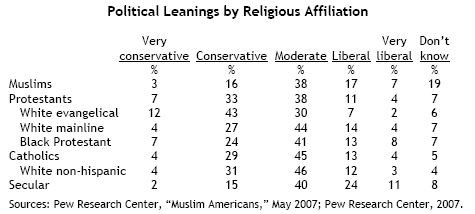 On the question of the proper size and scope of government, a strong majority of Muslim Americans (70%) say they prefer a larger government that provides more services rather than a smaller government providing fewer services, a preference nearly identical to that of black Protestants. Among evangelicals (as well as white Catholics and white mainline Protestants), majorities express a preference for smaller government.

Yet despite their identification with Democrats, Muslims remain as socially conservative on issues such as gay marriage (see below) and legislating morality as Evangelicals. On the question of whether government should be involved in protecting morality, Muslim Americans are even more supportive of government action than evangelicals (or any other group). Roughly six-in-10 Muslims (59%) believe that government should do more to protect morality, compared with only 29% who say they worry that the government is getting too involved in the issue of morality. Among all other major religious groups, fewer than half share the view that government should do more to protect morality.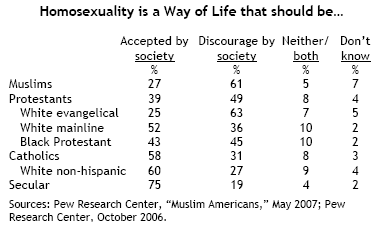 A federal judge ruled that the Trump administration likely violated the reporter's Fifth Amendment rights when it stripped his press credentials earlier this month.
WASHINGTON, DC - NOVEMBER 16: CNN chief White House correspondent Jim Acosta (R) returns to the White House with CNN Washington bureau chief Sam Feist after Federal judge Timothy J. Kelly ordered the White House to reinstate his press pass November 16, 2018 in Washington, DC. CNN has filed a lawsuit against the White House after Acosta's press pass was revoked after a dispute involving a news conference last week. (Photo by Alex Wong/Getty Images)
Politics & Current Affairs
Acosta will be allowed to return to the White House on Friday.
The judge described the ruling as narrow, and didn't rule one way or the other on violations of the First Amendment.
The case is still open, and the administration may choose to appeal the ruling.
Progressive America would be half as big, but twice as populated as its conservative twin.
Image: Dicken Schrader
Strange Maps
America's two political tribes have consolidated into 'red' and 'blue' nations, with seemingly irreconcilable differences.
Perhaps the best way to stop the infighting is to go for a divorce and give the two nations a country each
Based on the UN's partition plan for Israel/Palestine, this proposal provides territorial contiguity and sea access to both 'red' and 'blue' America
The definition of a kilogram will now be fixed to Planck's constant, a fundamental part of quantum physics.
Surprising Science
The new definition of a kilogram is based on a physical constant in quantum physics.
Unlike the current definition of a kilogram, this measurement will never change.
Scientists also voted to update the definitions of several other measurements in physics.
Big think's weekly newsletter.
Get smarter faster from the comfort of your inbox.
See our newsletter privacy policy
here
Most Popular
Most Recent
Big think's weekly newsletter.
Get smarter faster from the comfort of your inbox.
See our newsletter privacy policy
here
© Copyright 2007-2018 & BIG THINK, BIG THINK EDGE,
SMARTER FASTER trademarks owned by The Big Think, Inc. All rights reserved.