Big ideas.
Once a week.
Subscribe to our weekly newsletter.
William Etty: The Most Controversial Artist You've Never Heard of
24 August, 2011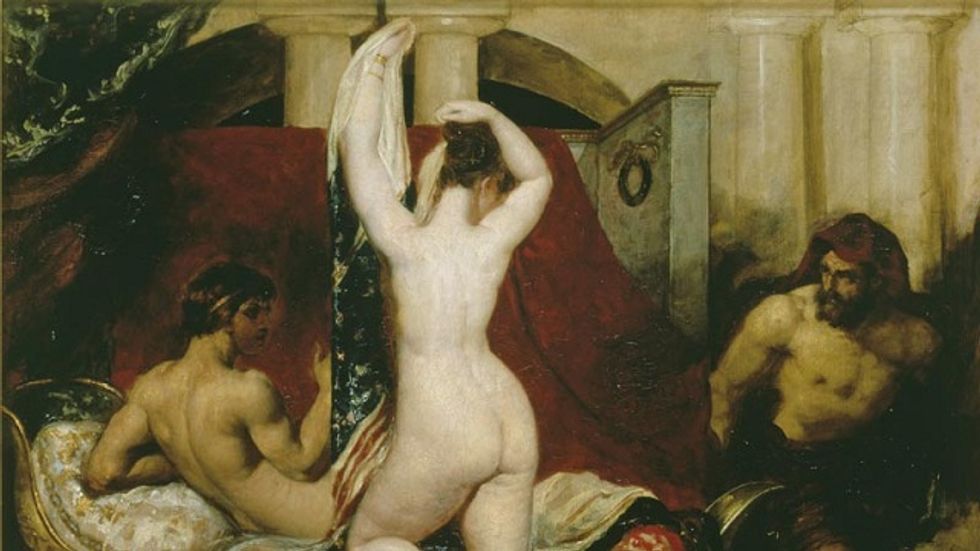 His statue has stood outside the York Art Gallery for a century now, but most passersby don't know the name of William Etty or the works that once made him York's most famous and infamous native artist. In the exhibition, William Etty: Art and Controversy, which runs through January 22, 2012 at the York Art Gallery, the nudes that brought lavish praise and vicious criticism upon Etty's head stand for inspection before a new generation. As the curators and essayists of the catalog revisit the old controversies that seem quaint now, they also reveal a different side of Etty that makes him a controversial figure for today.
---
"Indeed, with the possible exception of [J.M.W.] Turner, no other British artist in the first half of the nineteenth century divided opinion more vehemently and consistently," curators Sarah Burnage and Mark Hallett write in the catalog introduction. Whereas Turner changed how people saw, Etty wanted to change what people saw. Etty broke the rules of decorum by painting humanly realistic nudes rather than idealized gods and goddesses. Most of the criticism questioned the appropriateness of Etty's female nudes, while the male nudes quite often found praise as "heroic." Tragically, the critics got personal in their comments, essentially charging Etty with deliberately trying to corrupt the viewing public. "He is a laborious draughtsman, and a beautiful colourist," one critic began innocently enough, "but he [Etty] has not taste or chastity of mind enough to venture on the naked truth […] we fear that Mr. E will never turn from his wicked ways, and make himself fit for decent company." "[T]he spectator can see in [Etty's female nudes] nothing beyond the portrait of some poor girl who was necessitated to sacrifice the feelings of her sex for bread," another critic accused. "Nudity is all that the artist has to show us, and when unassociated with anything like incident or sentiment, the spectacle is offensive." Etty defended himself as an innocent lover of nature's greatest creation—the human form. Even after evoking the Biblical phrase that "to the pure of heart all things are pure," Etty's explanations fell on deaf ears. (The curators collect many of the cruelest attacks in a mock newspaper, The Etty Express, which can be viewed here, here, here, and here.)
Etty fell in love with the human form in his pursuit of life studies while a student at the Royal Academy schools. Sir Thomas Lawrence called Etty "a Child of the Royal Academy, educated in it–Its most assiduous Student." In his catalog essay, Martin Myrone sees Etty's fanaticism as rooted in his humble beginnings in York. "His academic dedication emerges, in that light, as a consequence of a specific social trajectory through the art world," Myrone writes. The poor boy from York painted copied "memorials" honoring heroes such as Titian, Rubens, Poussin, Reynolds, and Lawrence. Etty's "approach to them was one of humility, always seeking to learn, and never, unlike Turner, to compete," Richard Green writes in an essay on "Etty and the Masters." Rather than anxiety of influence, Etty found good company with the greats of the past. Unfortunately, critics claimed that Etty's emulated the worst elements of the Old Masters—the dirty bits that marred Titian and Rubens, for example.
Why did Etty court disaster when what he wanted more than anything else was to belong to the pantheon he lovingly copied again and again? It's hard to say, but something made him defy convention at the same time he wanted to belong to the establishment of the Royal Academy. In Candaules King of Lydia, Shews His Wife by Stealth, which Etty exhibited at the Royal Academy in 1830, Etty retells the story from Herodotus of King Candaules, who allowed Gyges, one of his generals, to watch secretly as his wife disrobed for bed. Candaules' wife repaid him by conspiring with Gyges to kill him. "With her back to the audience, Etty ensures that spectators are complicit in this act of betrayal and are similarly implicated in the role of voyeur," Sarah Burnage writes in her sharp analysis of the painting. "Indeed, with its narrative of deceit, exploitation, voyeurism and vengeance, there was something explicitly provocative about Etty's choice of Herodotus's narrative." By picking a story with no clear, redeeming, moral message, Etty invited all the criticisms he claimed were untrue.
It's this seemingly self-destructive, split personality that makes Etty fascinating beyond the two-dimensional portrayal of your typical controversial artist. In her essay on Etty's 1840 painting The Wrestlers, Sarah Victoria Turner argues that Etty's depiction of a white wrestler grappling with a black wrestler is "an ambiguous image in which numerous juxtapositions and contrasts (black/white, hard/soft, violence/intimacy) are dramatically spotlit for the viewer to contemplate." Painted in the same year as the World Anti-Slavery Conference in London and Turner's The Slave Ship, Etty's wrestlers battle on a human scale the larger conflicts of imperialism and racism. With such analysis, Etty emerges as more than the painter of pretty faces and sexy bodies.
The concluding essay of the catalog, "Queer and Now: On Etty's Autobiography' (1849) and Male Nude with Arms Up-Stretched (c. 1830)" by Jason Edwards, employs queer theory to "examine through a celebratory lens, rather than write from a position that seeks to pass negative judgment on so-called queer sexualities" in Etty's art and life. Edwards remarks on the irony that the male nudes that critics let pass in Victorian times are now the center of the homoerotic critiques of today. "[W]hen read with a 'queer eye' for a supposedly straight guy, there is plenty of evidence" of Etty's homosexuality, Edwards shows. Even the life study studio where Etty allegedly toiled diligently for his craft becomes "a deliciously multi-sensory, erotically-embodied experience for the painter and his peers" in Edwards analysis, bringing whole new colors to Etty's seemingly drab existence.
"I never meant to seduce," Etty claimed. In William Etty: Art and Controversy, Etty seduces a new generation not only with his stunning technique, but also with the ideas beneath the surface. Like all the scholars involved in this exhibition, Edwards "comes out" as an Etty appreciator and "runs the risk of being identified as someone with risible taste." It's easy to bash Victorians for bashing nudity, but, as Edwards points out, contemporary disdain for Etty's "still widely-ridiculed history and Orientalist paintings" shows our own blind spots. William Etty: Art and Controversy is truly about art and controversy, reminding us of controversies that once set tongues wagging and of the art that deserves to be seen and judged on its own merits.
 [Image: William Etty. Candaules King of Lydia, Shews His Wife by Stealth. Exh. R.A. 1830, Oil on Canvas, Copyright Tate, 2011.]
[Many thanks to the York Art Gallery for providing me with the image above and a review copy of the catalog to the exhibition, William Etty: Art and Controversy, which runs through January 22, 2012.]
Certain water beetles can escape from frogs after being consumed.
Surprising Science
A Japanese scientist shows that some beetles can wiggle out of frog's butts after being eaten whole.
The research suggests the beetle can get out in as little as 7 minutes.
Most of the beetles swallowed in the experiment survived with no complications after being excreted.
In what is perhaps one of the weirdest experiments ever that comes from the category of "why did anyone need to know this?" scientists have proven that the Regimbartia attenuata beetle can climb out of a frog's butt after being eaten.
The research was carried out by Kobe University ecologist Shinji Sugiura. His team found that the majority of beetles swallowed by black-spotted pond frogs (Pelophylax nigromaculatus) used in their experiment managed to escape about 6 hours after and were perfectly fine.
"Here, I report active escape of the aquatic beetle R. attenuata from the vents of five frog species via the digestive tract," writes Sugiura in a new paper, adding "although adult beetles were easily eaten by frogs, 90 percent of swallowed beetles were excreted within six hours after being eaten and, surprisingly, were still alive."
One bug even got out in as little as 7 minutes.

Sugiura also tried putting wax on the legs of some of the beetles, preventing them from moving. These ones were not able to make it out alive, taking from 38 to 150 hours to be digested.
Naturally, as anyone would upon encountering such a story, you're wondering where's the video. Thankfully, the scientists recorded the proceedings:
The Regimbartia attenuata beetle can be found in the tropics, especially as pests in fish hatcheries. It's not the only kind of creature that can survive being swallowed. A recent study showed that snake eels are able to burrow out of the stomachs of fish using their sharp tails, only to become stuck, die, and be mummified in the gut cavity. Scientists are calling the beetle's ability the first documented "active prey escape." Usually, such travelers through the digestive tract have particular adaptations that make it possible for them to withstand extreme pH and lack of oxygen. The researchers think the beetle's trick is in inducing the frog to open a so-called "vent" controlled by the sphincter muscle.
"Individuals were always excreted head first from the frog vent, suggesting that R. attenuata stimulates the hind gut, urging the frog to defecate," explains Sugiura.
For more information, check out the study published in Current Biology.
The design of a classic video game yields insights on how to address global poverty.
Politics & Current Affairs
A new essay compares the power-up system in Mario Kart to feedback loops in real-life systems.
Both try to provide targeted benefits to those who most need them.
While games are simpler than reality, Mario's example makes the real-life cases easier to understand.
Poverty can be a self-sustaining cycle that might require an external influence to break it. A new paper published in Nature Sustainability and written by professor Andrew Bell of Boston University suggests that we could improve global anti-poverty and economic development systems by turning to an idea in a video game about a race car-driving Italian plumber.
A primer on Mario Kart
For those who have not played it, Mario Kart is a racing game starring Super Mario and other characters from the video game franchise that bears his name. Players race around tracks collecting power-ups that can directly help them, such as mushrooms that speed up their karts, or slow down other players, such as heat-seeking turtle shells that momentarily crash other karts.
The game is well known for having a mechanism known as "rubber-banding." Racers in the front of the pack get wimpy power-ups, like banana peels to slip up other karts, while those toward the back get stronger ones, like golden mushrooms that provide extra long speed boosts. The effect of this is that those in the back are pushed towards the center, and those in front don't get any boosts that would make catching them impossible.
If you're in last, you might get the help you need to make a last-minute break for the lead. If you're in first, you have to be on the lookout for these breakouts (and the ever-dreaded blue shells). The game remains competitive and fun.
Rubber-banding: A moral and economic lesson from Mario Kart
In the real world, we see rubber-banding used all the time. Welfare systems tend to provide more aid to those who need it than those who do not. Many of them are financed by progressive taxation, which is heavier on the well-off than the down-and-out. Some research suggests that these do work, as countries with lower levels of income inequality have higher social mobility levels.
It is a little more difficult to use rubber-banding in real life than in a video game, of course. While in the game, it is easy to decide who is doing well and who is not, things can be a little more muddled in reality. Furthermore, while those in a racing game are necessarily antagonistic to each other, real systems often strive to improve conditions for everybody or to reach common goals.
As Bell points out, rubber-banding can also be used to encourage sustainable, growth programs that help the poor other than welfare. They point out projects such as irrigation systems in Pakistan or Payments for Ecosystems Services (PES) schemes in Malawi, which utilize positive feedback loops to both provide aid to the poor and promote stable systems that benefit everyone.
Rubber-banding feedback loops in different systems. Mario Kart (a), irrigation systems in Pakistan (b), and PES operations in Malawi (c) are shown. Links between one better-off (blue) and one worse-off (red) individual are highlighted. Feedback in Mario Kart (a), designed to balance the racers, imprAndrew Bell/ Nature Sustainability
In the Malawi case, farmers were paid to practice conservation agriculture to reduce the amount of sediment from their farms flowing into a river. This immediately benefits hydroelectric producers and their customers but also provides real benefits to farmers in the long run as their soil doesn't erode. By providing an incentive to the farmers to conserve the soil, a virtuous cycle of conservation, soil improvement, and improved yields can begin.
While this loop differs from the rubber-banding in Mario, the game's approach can help illustrate the benefits of rubber-banding in achieving a more equitable world.
The task now, as Bell says in his paper, is to look at problems that exist and find out "what the golden mushroom might be."
Satellite imagery can help better predict volcanic eruptions by monitoring changes in surface temperature near volcanoes.
Credit:
Ammit
via Adobe Stock
Surprising Science
A recent study used data collected by NASA satellites to conduct a statistical analysis of surface temperatures near volcanoes that erupted from 2002 to 2019.
The results showed that surface temperatures near volcanoes gradually increased in the months and years prior to eruptions.
The method was able to detect potential eruptions that were not anticipated by other volcano monitoring methods, such as eruptions in Japan in 2014 and Chile in 2015.
How can modern technology help warn us of impending volcanic eruptions?
One promising answer may lie in satellite imagery. In a recent study published in Nature Geoscience, researchers used infrared data collected by NASA satellites to study the conditions near volcanoes in the months and years before they erupted.
The results revealed a pattern: Prior to eruptions, an unusually large amount of heat had been escaping through soil near volcanoes. This diffusion of subterranean heat — which is a byproduct of "large-scale thermal unrest" — could potentially represent a warning sign of future eruptions.
Conceptual model of large-scale thermal unrestCredit: Girona et al.
For the study, the researchers conducted a statistical analysis of changes in surface temperature near volcanoes, using data collected over 16.5 years by NASA's Terra and Aqua satellites. The results showed that eruptions tended to occur around the time when surface temperatures near the volcanoes peaked.

Eruptions were preceded by "subtle but significant long-term (years), large-scale (tens of square kilometres) increases in their radiant heat flux (up to ~1 °C in median radiant temperature)," the researchers wrote. After eruptions, surface temperatures reliably decreased, though the cool-down period took longer for bigger eruptions.
"Volcanoes can experience thermal unrest for several years before eruption," the researchers wrote. "This thermal unrest is dominated by a large-scale phenomenon operating over extensive areas of volcanic edifices, can be an early indicator of volcanic reactivation, can increase prior to different types of eruption and can be tracked through a statistical analysis of little-processed (that is, radiance or radiant temperature) satellite-based remote sensing data with high temporal resolution."
Temporal variations of target volcanoesCredit: Girona et al.
Although using satellites to monitor thermal unrest wouldn't enable scientists to make hyper-specific eruption predictions (like predicting the exact day), it could significantly improve prediction efforts. Seismologists and volcanologists currently use a range of techniques to forecast eruptions, including monitoring for gas emissions, ground deformation, and changes to nearby water channels, to name a few.

Still, none of these techniques have proven completely reliable, both because of the science and the practical barriers (e.g. funding) standing in the way of large-scale monitoring. In 2014, for example, Japan's Mount Ontake suddenly erupted, killing 63 people. It was the nation's deadliest eruption in nearly a century.
In the study, the researchers found that surface temperatures near Mount Ontake had been increasing in the two years prior to the eruption. To date, no other monitoring method has detected "well-defined" warning signs for the 2014 disaster, the researchers noted.
The researchers hope satellite-based infrared monitoring techniques, combined with existing methods, can improve prediction efforts for volcanic eruptions. Volcanic eruptions have killed about 2,000 people since 2000.
"Our findings can open new horizons to better constrain magma–hydrothermal interaction processes, especially when integrated with other datasets, allowing us to explore the thermal budget of volcanoes and anticipate eruptions that are very difficult to forecast through other geophysical/geochemical methods."
Surprising Science
New research from the University of Granada found that stress could help determine sex.
Scroll down to load more…