Who Really Killed the Beatles?
We heard the news today, 46 years ago, that the Beatles were no more. But who was the real killer in the magical mystery tour of the Fab Four's finale?
31 March, 2016
As with the end of any long-term relationship, pinning down a specific date for when the Beatles (shown above, frolicking in 1964) — the most influential group in the history of popular music — ended isn't easy.  But if we must point to specific date, a good candidate is April 10, 1970—the day that Paul McCartney announced he was leaving the group.  It took five more years to iron out the legal issues, but that date was at least the beginning of the beginning of the end.  But wasn't it Yoko's fault?  Didn't she push John Lennon to leave?  Who really "killed" the Beatles?
---
Video: January 30, 1969: British rock group the Beatles perform their last live public concert on the rooftop of the Apple Organization building for director Michael Lindsey-Hogg's film documentary, Let It Be, on Savile Row, London, England. Drummer Ringo Starr sits behind his kit. Singer/songwriters Paul McCartney and John Lennon perform at their microphones, and guitarist George Harrison stands behind them. Lennon's wife Yoko Ono sits at right. The Beatles Rooftop Concert 1969 London (HD) from lordcris on Vimeo.
The carefree days of the early and mid-1960s felt like a century before they began work on the album Let It Be in 1969.  In retrospect, the film documentary produced to record the making of the album now allows us to see the break up happening right before our eyes.  Tensions clearly fill the room with every shot.  Prisoners of their own mammoth fame, the Beatles longed for the simpler days (hence the song, "Get Back") and tried to recreate them in gestures such as the famous "rooftop concert" (video shown above), but nothing could bring them back together.  Growing older, as well as spiritually and artistically, meant growing irrevocably apart.  But who, among these Fab Four suspects, really "killed" the Beatles?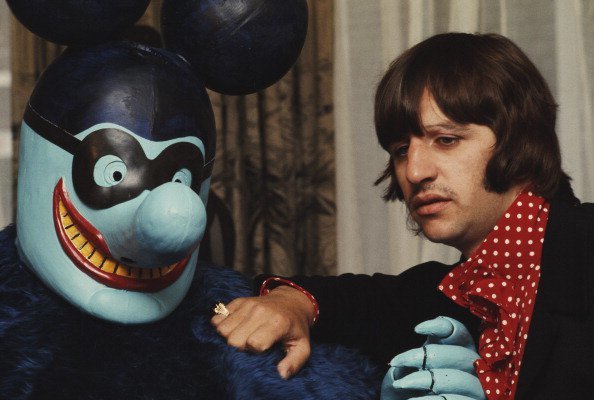 Image: London - 8th July: Ringo Starr from The Beatles attends a press screening for the film Yellow Submarine along with a Blue Meanie at the Bowater House Cinema in Knightsbridge, London on 8th July 1968. (Photo by Mark and Colleen Hayward/Redferns)
Who was the first Beatle to try to quit?  The most unlikely one, of course—Ringo Starr (the meanie shown above with a Blue Meanie from the film Yellow Submarine).  On August 22, 1968, Ringo, feeling alienated from the group during recording sessions for The White Album, told his bandmates he was leaving.  "It wasn't just me; the whole thing was going down," Ringo explained later.  "I had definitely left, I couldn't take it anymore. There was no magic and the relationships were terrible." Starr escaped to the Mediterranean for two weeks of vacation, during which he wrote the song "Octopus's Garden."  McCartney filled in on drums during Starr's absence.  When the other members of the group telegrammed Starr, "You're the best rock'n'roll drummer in the world. Come on home, we love you," he returned.  The renewed partnership after that near-death experience for the Beatles sustained them, at least for a year.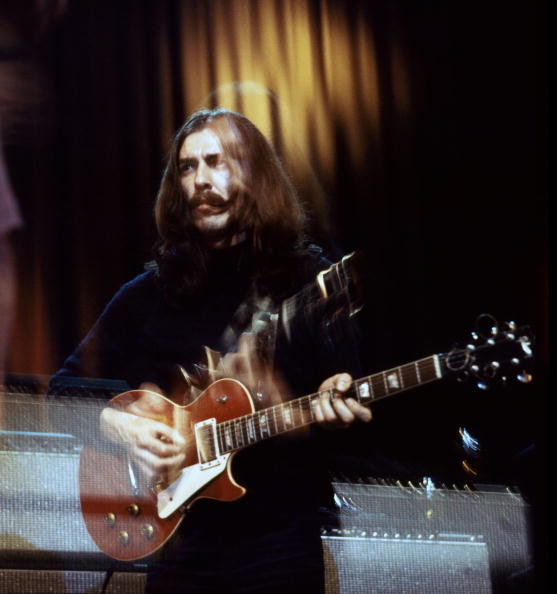 Image: Copenhagen, Denmark - December 01: George Harrison performs on stage with Delaney and Bonnie in Copenhagen, Denmark in December 1969. He is playing "Lucy," a Gibson Les Paul guitar given to him by Eric Clapton. (Photo by Jan Persson/Redferns)
Who was the second Beatle to quit?  George Harrison (shown above) on January 10, 1969, got up at lunch during the Let It Be recording sessions and said "See you 'round the clubs."  Rather than telegram their love, as they did with Ringo, the remaining Beatles got angry.  Lennon immediately suggested replacing George with Eric Clapton, who was "just as good and not such a headache" (as well as a close friend of the Beatles—particularly Harrison, whose then-wife Patty Boyd would later inspire Clapton to write "Layla" and later marry him).  After a series of meetings, Harrison returned five days later but under a host of conditions, including no more live shows (although he did agree to the aforementioned "rooftop concert").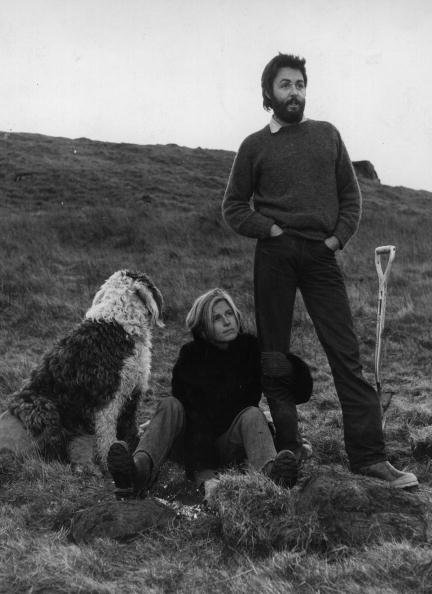 Image: 5th January 1970: Paul and Linda McCartney (1941-1998) on their lonely farm near the fishing town of Campbeltown, the day after McCartney started High Court proceedings to seal the final break-up of the Beatles. Mirror Syndication International (Photo by Evening Standard/Getty Images).
Two suspects left.  It couldn't be Paul, could it?  The "cute one"?  On April 10, 1970, McCartney held a press conference to announce he was leaving the group.  The day before, April 9th, McCartney released a statement to the British press promoting his first solo album, the eponymous McCartney.  Citing "Home, Family, Love" as the theme of the album and reason for going solo on the album (as well as posing for domestic images such as the farm-filled shot with wife Linda shown above), the press release said nothing about leaving the Beatles permanently.  The April 10th announcement dropped like a bomb on the other Beatles.  Soon McCartney would pit his attorney and father-in-law Lee Eastman against Allen Klein, the other three Beatles' business manager, for royalties and creative control of the Beatles' legacy.  Contemporary papers charged McCartney as the "killer" of the Beatles and, even worse, using the controversy surrounding the breakup to promote his new solo work.  Unlike Starr and Harrison, McCartney would never return to the full Beatles' lineup.  Only in 1995, 25 years after the breakup and 15 years after Lennon's assassination, did Paul work again with both George and Ringo and a virtual, pre-recorded John on the single "Free as a Bird."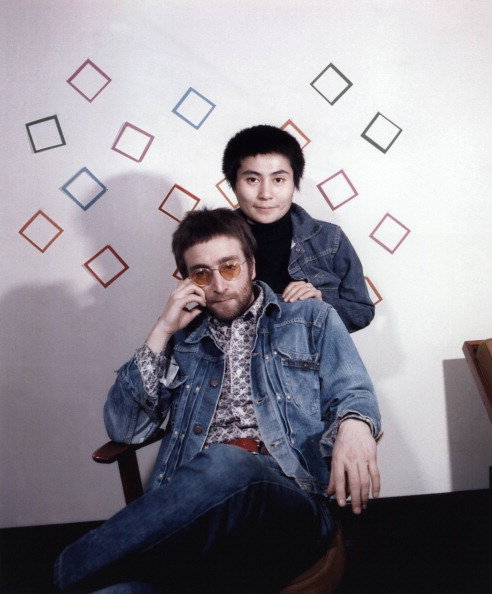 Image: London-11th February: English musician and member of The Beatles John Lennon (1940-1980) posed backstage with Yoko Ono on BBC TV's Top Of The Pops in London on 11th February 1970. (Photo by Ron Howard/Redferns)
So, why are John and Yoko (mostly Yoko) charged with "killing" the Beatles today? "It's a simple fact that [Paul] can't have his own way, so he's causing chaos," Lennon remarked a month after McCartney's bombshell. "I put out four albums last year, and I didn't say a f***ing word about quitting."  The standard arguments blaming Yoko Ono claim that her relationship with Lennon pulled him away from the group, that Lennon's insistence that she be involved creatively in the Beatles (as seen throughout the Let It Be documentary) alienated the others (particularly Harrison, who already felt like a third wheel after Lennon and McCartney), and that the success of Lennon and Ono's new group, the Plastic Ono Band, made Lennon want to move on.  Lennon later claimed he "quit" the Beatles in September 1969, but signed a huge, new royalty deal that same month with his co-Beatles, so he couldn't have totally checked out.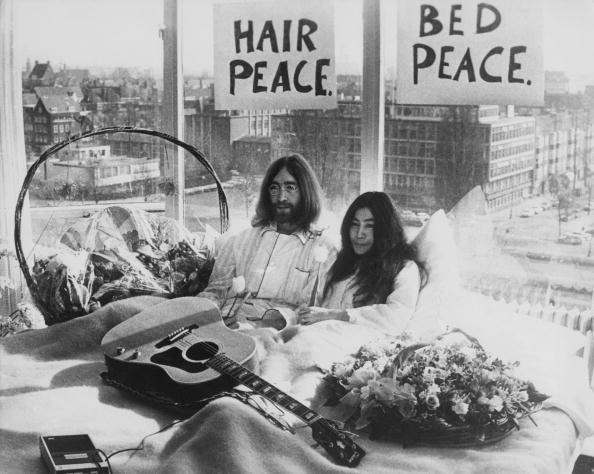 Image: Beatle John Lennon (1940-1980) and his wife of a week Yoko Ono in their bed in the Presidential Suite of the Hilton Hotel, Amsterdam, 25th March 1969. The couple are staging a "bed-in for peace" and intend to stay in bed for seven days 'as a protest against war and violence in the world'. (Photo by Keystone/Hulton Archive/Getty Images)
The group kept Lennon's leaving a secret from the press, as they had with Starr's momentary escape.  (Harrison's was already captured on film.)  Perhaps they didn't take him seriously.  Perhaps they didn't think it would ever really end.  Sadly, over the years, McCartney's role in the breakup's been erased and a mythology has grown around Yoko Ono's involvement.  As a politically outspoken, Asian, woman avant-garde artist, Yoko Ono was an easy target for misogynists, conservatives irritated by her anti-war protests (shown above), and others reluctant to blame any of the actual Beatles for the final breakup.  Maybe McCartney announced his decision as a preemptive strike knowing that Lennon was already leaving?  Maybe McCartney would have stayed if not for John and Yoko?  Who "killed" the Beatles?  Maybe it was all of them.
[Image at top of post: Photo of Beatles; L-R: Ringo Starr, George Harrison, Paul McCartney, John Lennon—posed, group shot—jumping on wall, Used on the "Twist & Shout" EP cover (Photo by Fiona Adams/Redferns).]
[Please follow me on Twitter (@BobDPictureThis) and Facebook (Art Blog By Bob) for more art news and views.]
Pfizer's partnerships strengthen their ability to deliver vaccines in developing countries.
Susan Silbermann, Global President of Pfizer Vaccines, looks on as a health care worker administers a vaccine in Rwanda. Photo: Courtesy of Pfizer.
Community healthcare workers face many challenges in their work, including often traveling far distances to see their clients
Pfizer is helping to drive the UN's sustainable development goals through partnerships.
Pfizer partnered with AMP and the World Health Organization to develop a training program for healthcare workers.
Sponsored
Swiss researchers identify new dangers of modern cocaine.
Getty Images
Mind & Brain
Cocaine cut with anti-worming adulterant levamisole may cause brain damage.
Levamisole can thin out the prefrontal cortex and affect cognitive skills.
Government health programs should encourage testing of cocaine for purity.
A study on flies may hold the key to future addiction treatments.
Scott Barbour/Getty Images
Mind & Brain
A new study suggests that drinking alcohol can affect how memories are stored away as good or bad.
This may have drastic implications for how addiction is caused and how people recall intoxication.
The findings may one day lead to a new form of treatment for those suffering from addiction.
Politics & Current Affairs
Political division is nothing new. Throughout American history there have been numerous flare ups in which the political arena was more than just tense but incideniary. In a letter addressed to William Hamilton in 1800, Thomas Jefferson once lamented about how an emotional fervor had swept over the populace in regards to a certain political issue at the time. It disturbed him greatly to see how these political issues seemed to seep into every area of life and even affect people's interpersonal relationships. At one point in the letter he states:
"I never considered a difference of opinion in politics, in religion, in philosophy, as cause for withdrawing from a friend."
Today, we Americans find ourselves in a similar situation, with our political environment even more splintered due to a number of factors. The advent of mass digital media, siloed identity-driven political groups, and a societal lack of understanding of basic discursive fundamentals all contribute to the problem.
Civil discourse has fallen to an all time low.
The question that the American populace needs to ask itself now is: how do we fix it?

Discursive fundamentals need to be taught to preserve free expression
In a 2017 Free Speech and Tolerance Survey by Cato, it was found that 71% of Americans believe that political correctness had silenced important discussions necessary to our society. Many have pointed to draconian university policies regarding political correctness as a contributing factor to this phenomenon.

It's a great irony that, colleges, once true bastions of free-speech, counterculture and progressiveness, have now devolved into reactionary tribal politics.
Many years ago, one could count on the fact that universities would be the first places where you could espouse and debate any controversial idea without consequence. The decline of staple subjects that deal with the wisdom of the ancients, historical reference points, and civic discourse could be to blame for this exaggerated partisanship boiling on campuses.
Young people seeking an education are given a disservice when fed biased ideology, even if such ideology is presented with the best of intentions. Politics are but one small sliver for society and the human condition at large. Universities would do well to instead teach the principles of healthy discourse and engagement across the ideological spectrum.
The fundamentals of logic, debate and the rich artistic heritage of western civilization need to be the central focus of an education. They help to create a well-rounded citizen that can deal with controversial political issues.
It has been found that in the abstract, college students generally support and endorse the first amendment, but there's a catch when it comes to actually practicing it. This was explored in a Gallup survey titled: Free Expression on Campus: What college students think about First amendment issues.
In their findings the authors state:
"The vast majority say free speech is important to democracy and favor an open learning environment that promotes the airing of a wide variety of ideas. However, the actions of some students in recent years — from milder actions such as claiming to be threatened by messages written in chalk promoting Trump's candidacy to the most extreme acts of engaging in violence to stop attempted speeches — raise issues of just how committed college students are to
upholding First Amendment ideals.
Most college students do not condone more aggressive actions to squelch speech, like violence and shouting down speakers, although there are some who do. However, students do support many policies or actions that place limits on speech, including free speech zones, speech codes and campus prohibitions on hate speech, suggesting that their commitment to free speech has limits. As one example, barely a majority think handing out literature on controversial issues is "always acceptable."
With this in mind, the problems seen on college campuses are also being seen on a whole through other pockets of society and regular everyday civic discourse. Look no further than the dreaded and cliche prospect of political discussion at Thanksgiving dinner.
Talking politics at Thanksgiving dinner
As a result of this increased tribalization of views, it's becoming increasingly more difficult to engage in polite conversation with people possessing opposing viewpoints. The authors of a recent Hidden Tribes study broke down the political "tribes" in which many find themselves in:
Progressive Activists: younger, highly engaged, secular, cosmopolitan, angry.
Traditional Liberals: older, retired, open to compromise, rational, cautious.
Passive Liberals: unhappy, insecure, distrustful, disillusioned.
Politically Disengaged: young, low income, distrustful, detached, patriotic, conspiratorial
Moderates: engaged, civic-minded, middle-of-the-road, pessimistic, Protestant.
Traditional Conservatives: religious, middle class, patriotic, moralistic.
Devoted Conservatives: white, retired, highly engaged, uncompromising,
Patriotic.
Understanding these different viewpoints and the hidden tribes we may belong to will be essential in having conversations with those we disagree with. This might just come to a head when it's Thanksgiving and you have a mix of many different personalities, ages, and viewpoints.
It's interesting to note the authors found that:
"Tribe membership shows strong reliability in predicting views across different political topics."
You'll find that depending on what group you identify with, that nearly 100 percent of the time you'll believe in the same way the rest of your group constituents do.
Here are some statistics on differing viewpoints according to political party:
51% of staunch liberals say it's "morally acceptable" to punch Nazis.
53% of Republicans favor stripping U.S. citizenship from people who burn the American flag.
51% of Democrats support a law that requires Americans use transgender people's preferred gender pronouns.
65% of Republicans say NFL players should be fired if they refuse to stand for the anthem.
58% of Democrats say employers should punish employees for offensive Facebook posts.
47% of Republicans favor bans on building new mosques.
Understanding the fact that tribal membership indicates what you believe, can help you return to the fundamentals for proper political engagement
Here are some guidelines for civic discourse that might come in handy:
Avoid logical fallacies. Essentially at the core, a logical fallacy is anything that detracts from the debate and seeks to attack the person rather than the idea and stray from the topic at hand.
Practice inclusion and listen to who you're speaking to.
Have the idea that there is nothing out of bounds for inquiry or conversation once you get down to an even stronger or new perspective of whatever you were discussing.
Keep in mind the maxim of : Do not listen with the intent to reply. But with the intent to understand.
We're not trying to proselytize nor shout others down with our rhetoric, but come to understand one another again.
If we're tied too closely to some in-group we no longer become an individual but a clone of someone else's ideology.
Civic discourse in the divisive age
Debate and civic discourse is inherently messy. Add into the mix an ignorance of history, rabid politicization and debased political discourse, you can see that it will be very difficult in mending this discursive staple of a functional civilization.
There is still hope that this great divide can be mended, because it has to be. The Hidden Tribes authors at one point state:
"In the era of social media and partisan news outlets, America's differences have become
dangerously tribal, fueled by a culture of outrage and taking offense. For the combatants,
the other side can no longer be tolerated, and no price is too high to defeat them.
These tensions are poisoning personal relationships, consuming our politics and
putting our democracy in peril.

Once a country has become tribalized, debates about contested issues from
immigration and trade to economic management, climate change and national security,
become shaped by larger tribal identities. Policy debate gives way to tribal conflicts.
Polarization and tribalism are self-reinforcing and will likely continue to accelerate.
The work of rebuilding our fragmented society needs to start now. It extends from
re-connecting people across the lines of division in local communities all the way to
building a renewed sense of national identity: a bigger story of us."
We need to start teaching people how to approach subjects from less of an emotional or baseless educational bias or identity, especially in the event that the subject matter could be construed to be controversial or uncomfortable.
This will be the beginning of a new era of understanding, inclusion and the defeat of regressive philosophies that threaten the core of our nation and civilization.
Big think's weekly newsletter.
Get smarter faster from the comfort of your inbox.
See our newsletter privacy policy
here
Most Popular
Most Recent
Big think's weekly newsletter.
Get smarter faster from the comfort of your inbox.
See our newsletter privacy policy
here
© Copyright 2007-2018 & BIG THINK, BIG THINK EDGE,
SMARTER FASTER trademarks owned by The Big Think, Inc. All rights reserved.