Music to My Eyes: Walter Martin Sings Art History
Walter Martin sings about art history in his new album Arts and Leisure and makes music for your eyes.
10 February, 2016
"Writing about music is like dancing about architecture," somebody once said. But what about singing about art? Walter Martin, former member of the alternative music group The Walkmen, answers that question in his new album Arts and Leisure. Using quirky, idiosyncratic vocals, lyrics, and instruments, Martin presents not another boring art history lecture, but rather a lesson about how a personal engagement with art as an integrated part of one's existence can help you, too, make music for your eyes.
---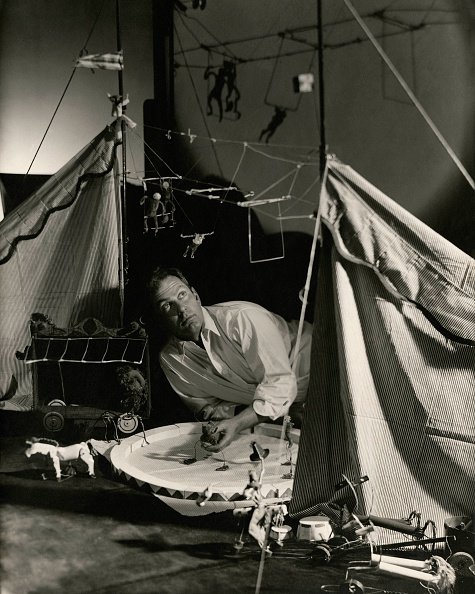 As a follow-up to his debut solo album of songs aimed at children, We're All Young Together, Martin first considered an album of funny songs about art. "I wrote all these funny songs and I got sick of them," Martin remembers. "Then I wrote all these serious songs and realized they were boring." Finally, "I broke my back writing a two-minute song about Alexander Calder's miniature circus and I thought it was perfect — it was whimsical and weird, but also had personal ideas about art tucked in there that gave it the depth and warmth I was looking for."
From that whimsical, weird starting point, Martin went on to write the rest of the album, which varies from direct references to art to subtler, indirect references, but all of which are deeply personal. Martin taps deeply into his memories of seeing Calder's Miniature Circus (shown above) at the Whitney Museum in New York City, giving you a warm, firsthand account rather than a cold, analytic study.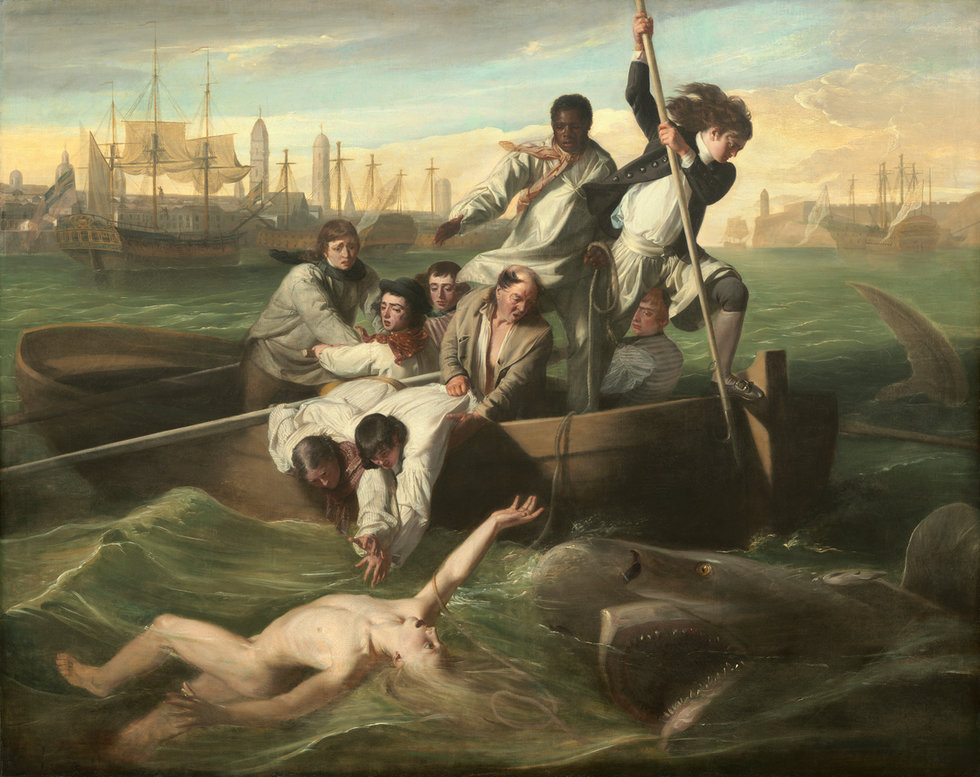 Calder's circus got Martin started, but John Singleton Copley's painting Watson and the Shark (shown above) exemplifies the best of Art and Leisure's leisurely approach to making music out of visual art. Growing up in Washington, D.C., Martin remembers visiting the National Gallery of Art and being profoundly bored by most 18th century art, especially the portraits of the rich and famous. (Martin inserts this story in the middle of the song "Watson and the Shark" in an almost Woody Guthrie-esque, folksy aside.) Stumbling upon Copley's Watson and the Shark in the middle of all those boring portraits, however, startled the young Martin. 
"John Singleton Copley / you got me hypnotized," Martin sings in "Watson and the Shark." "John Singleton Copley / it's music to my eyes, to my eyes." Copley "hypnotized" Martin with that painting of a shark attack (as well as another Copley work, A Boy with a Flying Squirrel) by sheer surprise, by "attacking" his imagination with art's power to defy expectations. That sense of surprise and unconventionality appears in Martin's music in everything from his quirky, sometimes Bob Dylan-esque delivery to his playing "drums, guitar, upright bass, piano, trombone, organ, mandolin, xylophone, slide whistle, glockenspiel and just about every noise-maker and percussion instrument you can imagine." Just as Copley throws everything but the kitchen sink at you in Watson and the Shark, Martin throws everything he knows at you to make the "music for your eyes" in Arts and Leisure.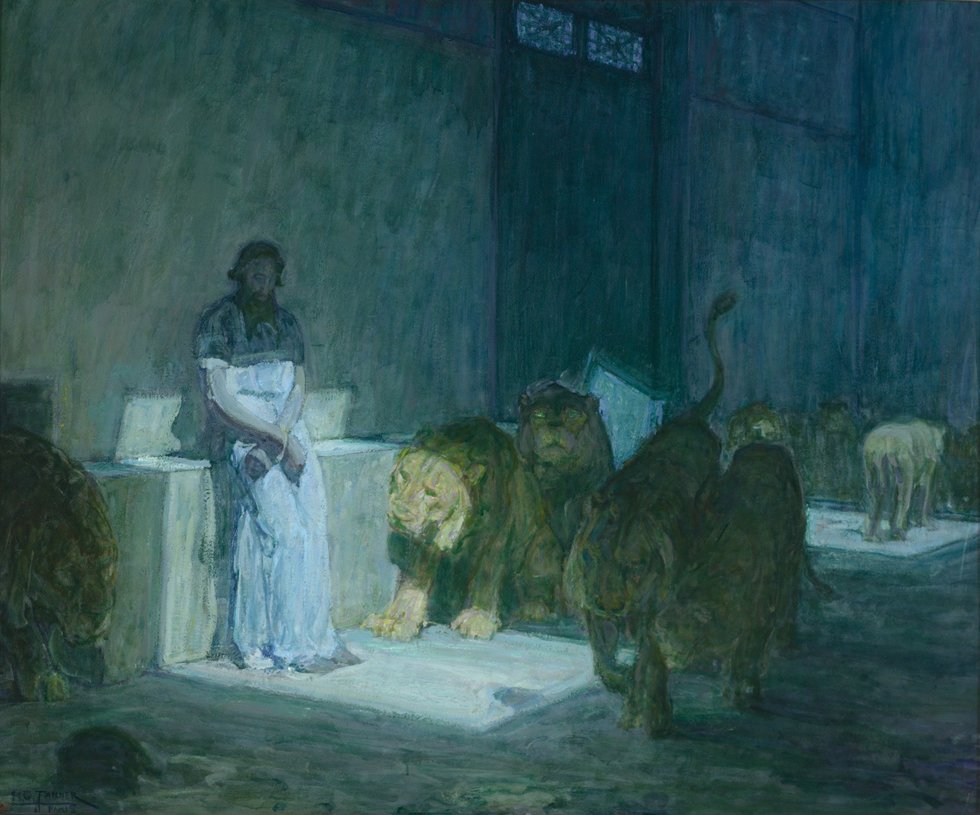 If Martin were a painter, he'd be an Impressionist — not a "blurry haystacks at sunset" Impressionist, but someone who conveys the impressions he experiences from art in a clear, evocative way. In "Daniel in the Lions' Den," Martin resists describing Henry Ossawa Tanner's painting of the same name (shown above), but describes instead "being moved by it and trying to figure out what it's about." In this "personal take on a Biblical story that [he] never totally got," Martin captures the sense of wonder and questioning that fine art can inspire. Looking and singing about Tanner's "big room filled with lions / so peaceful and quiet / with a young man standing so calmly by," Martin makes us all take a longer look and think.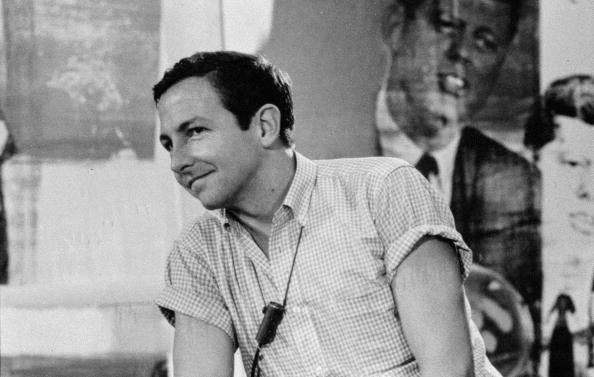 And, yet, Martin never gets bogged down in the art, which is, instead, always a springboard for self-discovery. "Down by the Singing Sea," the song with the most infectious hook on the album, started out as a song about how he spent childhood vacations with his family at the same Florida beach that artist Robert Rauschenberg (shown above) lived at. "This song is about the beach where Robert Rauschenberg spent the last 30 years of his life," Martin explains. But, "the verse that was about Rauschenberg was cut and it ended up just being a beach song, but to me it's about Robert Rauschenberg." Rauschenberg remains in the song in spirit — the inventive, explorative spirit found in his art. Even without dropping names, Martin manages to drop art history into his music.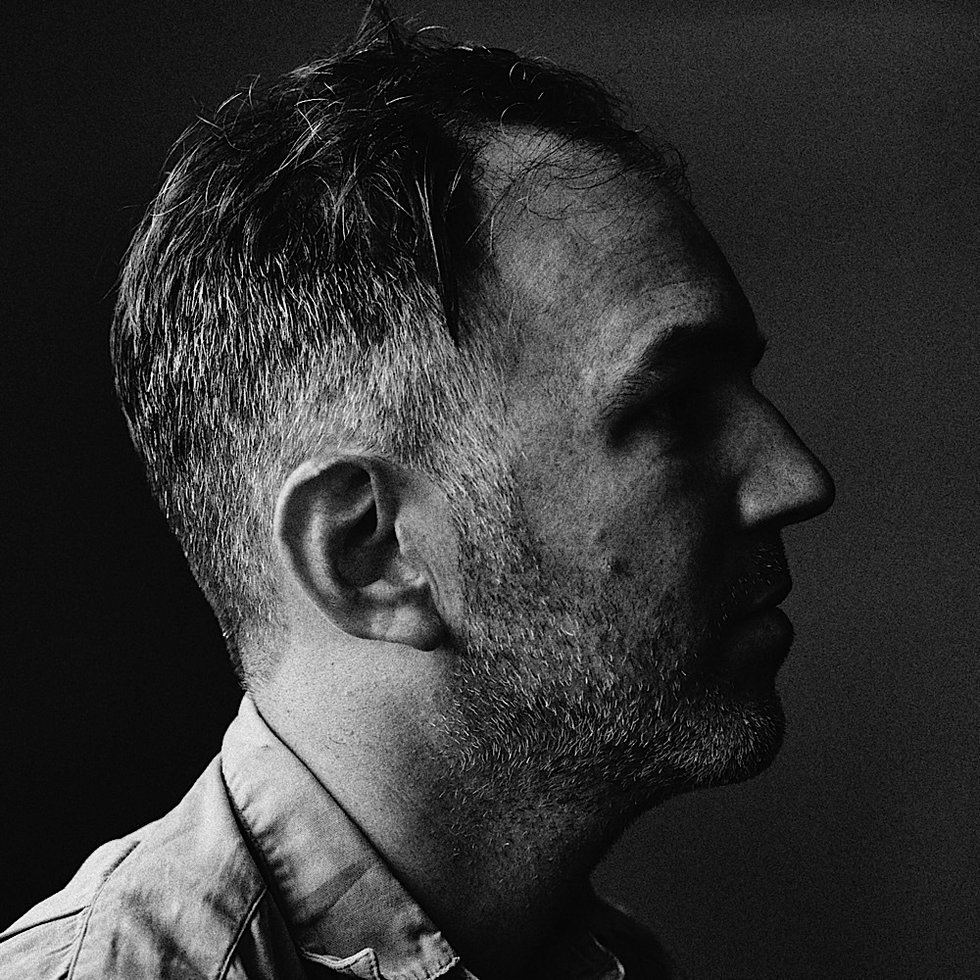 Martin claims only a "shaky grasp of college art history" supplemented by his travels as a musician and brief, pre-fame employment in museums. Arts and Leisure may not help you earn a degree, but it will give you a greater degree of appreciation of the essence of art beyond knowing the right names, dates, and movements. In the song "Michelangelo," Martin pictures the sculptor at work:
He'd go down to his studio
and he'd wait 'til the ideas flowed.
Then he'd take out his hammer and spike
and chip at that marble 'til the marble looked right.
Then he'd say, "Oh oh oh oh oh oh oh
that's why they call me Michelangelo!"
Arts and Leisure helps your feel and understand the necessity of every last "oh" in Michelangelo's art. If you've never gotten art, if every explanation makes as much sense as "dancing about architecture," then give Martin's Arts and Leisure a good, long listen and learn to look with your eyes, and ears.
--
Related Articles
It's just the current cycle that involves opiates, but methamphetamine, cocaine, and others have caused the trajectory of overdoses to head the same direction
From the study: http://science.sciencemag.org/content/361/6408/eaau1184
Surprising Science
It appears that overdoses are increasing exponentially, no matter the drug itself
If the study bears out, it means that even reducing opiates will not slow the trajectory.
The causes of these trends remain obscure, but near the end of the write-up about the study, a hint might be apparent
Through computationally intensive computer simulations, researchers have discovered that "nuclear pasta," found in the crusts of neutron stars, is the strongest material in the universe.
Accretion disk surrounding a neutron star. Credit: NASA
Surprising Science
The strongest material in the universe may be the whimsically named "nuclear pasta."
You can find this substance in the crust of neutron stars.
This amazing material is super-dense, and is 10 billion times harder to break than steel.
---
Superman is known as the "Man of Steel" for his strength and indestructibility. But the discovery of a new material that's 10 billion times harder to break than steel begs the question—is it time for a new superhero known as "Nuclear Pasta"? That's the name of the substance that a team of researchers thinks is the strongest known material in the universe.
Unlike humans, when stars reach a certain age, they do not just wither and die, but they explode, collapsing into a mass of neurons. The resulting space entity, known as a neutron star, is incredibly dense. So much so that previous research showed that the surface of a such a star would feature amazingly strong material. The new research, which involved the largest-ever computer simulations of a neutron star's crust, proposes that "nuclear pasta," the material just under the surface, is actually stronger.
The competition between forces from protons and neutrons inside a neutron star create super-dense shapes that look like long cylinders or flat planes, referred to as "spaghetti" and "lasagna," respectively. That's also where we get the overall name of nuclear pasta.
Caplan & Horowitz/arXiv
Diagrams illustrating the different types of so-called nuclear pasta.
The researchers' computer simulations needed 2 million hours of processor time before completion, which would be, according to a press release from McGill University, "the equivalent of 250 years on a laptop with a single good GPU." Fortunately, the researchers had access to a supercomputer, although it still took a couple of years. The scientists' simulations consisted of stretching and deforming the nuclear pasta to see how it behaved and what it would take to break it.
While they were able to discover just how strong nuclear pasta seems to be, no one is holding their breath that we'll be sending out missions to mine this substance any time soon. Instead, the discovery has other significant applications.
One of the study's co-authors, Matthew Caplan, a postdoctoral research fellow at McGill University, said the neutron stars would be "a hundred trillion times denser than anything on earth." Understanding what's inside them would be valuable for astronomers because now only the outer layer of such starts can be observed.
"A lot of interesting physics is going on here under extreme conditions and so understanding the physical properties of a neutron star is a way for scientists to test their theories and models," Caplan added. "With this result, many problems need to be revisited. How large a mountain can you build on a neutron star before the crust breaks and it collapses? What will it look like? And most importantly, how can astronomers observe it?"
Another possibility worth studying is that, due to its instability, nuclear pasta might generate gravitational waves. It may be possible to observe them at some point here on Earth by utilizing very sensitive equipment.
The team of scientists also included A. S. Schneider from California Institute of Technology and C. J. Horowitz from Indiana University.
Check out the study "The elasticity of nuclear pasta," published in Physical Review Letters.
Scientists think constructing a miles-long wall along an ice shelf in Antarctica could help protect the world's largest glacier from melting.
Image: NASA
Surprising Science
Rising ocean levels are a serious threat to coastal regions around the globe.
Scientists have proposed large-scale geoengineering projects that would prevent ice shelves from melting.
The most successful solution proposed would be a miles-long, incredibly tall underwater wall at the edge of the ice shelves.
The world's oceans will rise significantly over the next century if the massive ice shelves connected to Antarctica begin to fail as a result of global warming.
To prevent or hold off such a catastrophe, a team of scientists recently proposed a radical plan: build underwater walls that would either support the ice or protect it from warm waters.
In a paper published in The Cryosphere, Michael Wolovick and John Moore from Princeton and the Beijing Normal University, respectively, outlined several "targeted geoengineering" solutions that could help prevent the melting of western Antarctica's Florida-sized Thwaites Glacier, whose melting waters are projected to be the largest source of sea-level rise in the foreseeable future.
An "unthinkable" engineering project
"If [glacial geoengineering] works there then we would expect it to work on less challenging glaciers as well," the authors wrote in the study.

One approach involves using sand or gravel to build artificial mounds on the seafloor that would help support the glacier and hopefully allow it to regrow. In another strategy, an underwater wall would be built to prevent warm waters from eating away at the glacier's base.
The most effective design, according to the team's computer simulations, would be a miles-long and very tall wall, or "artificial sill," that serves as a "continuous barrier" across the length of the glacier, providing it both physical support and protection from warm waters. Although the study authors suggested this option is currently beyond any engineering feat humans have attempted, it was shown to be the most effective solution in preventing the glacier from collapsing.
Source: Wolovick et al.
An example of the proposed geoengineering project. By blocking off the warm water that would otherwise eat away at the glacier's base, further sea level rise might be preventable.
But other, more feasible options could also be effective. For example, building a smaller wall that blocks about 50% of warm water from reaching the glacier would have about a 70% chance of preventing a runaway collapse, while constructing a series of isolated, 1,000-foot-tall columns on the seafloor as supports had about a 30% chance of success.

Still, the authors note that the frigid waters of the Antarctica present unprecedently challenging conditions for such an ambitious geoengineering project. They were also sure to caution that their encouraging results shouldn't be seen as reasons to neglect other measures that would cut global emissions or otherwise combat climate change.
"There are dishonest elements of society that will try to use our research to argue against the necessity of emissions' reductions. Our research does not in any way support that interpretation," they wrote.
"The more carbon we emit, the less likely it becomes that the ice sheets will survive in the long term at anything close to their present volume."
A 2015 report from the National Academies of Sciences, Engineering, and Medicine illustrates the potentially devastating effects of ice-shelf melting in western Antarctica.
"As the oceans and atmosphere warm, melting of ice shelves in key areas around the edges of the Antarctic ice sheet could trigger a runaway collapse process known as Marine Ice Sheet Instability. If this were to occur, the collapse of the West Antarctic Ice Sheet (WAIS) could potentially contribute 2 to 4 meters (6.5 to 13 feet) of global sea level rise within just a few centuries."
Big think's weekly newsletter.
Get smarter faster from the comfort of your inbox.
See our newsletter privacy policy
here
Most Popular
Most Recent
Big think's weekly newsletter.
Get smarter faster from the comfort of your inbox.
See our newsletter privacy policy
here
© Copyright 2007-2018 & BIG THINK, BIG THINK EDGE,
SMARTER FASTER trademarks owned by The Big Think, Inc. All rights reserved.