Hieronymus Bosch: Freakiest Artist Ever?
On the 500th anniversary of the death of Dutch artist Hieronymus Bosch, his native Netherlands is letting the freak flags fly.
16 February, 2016
Some artists fascinate on frank freak appeal. Countless college dorm room walls feature the art of modern mind-bender Salvador Dalí. Yet, four centuries before Dalí, Dutch artist Hieronymus Bosch created some of the freakiest art ever. Now, on the 500th anniversary of Bosch's death, not only does a once-in-a-lifetime exhibit gather together many of the master's works, but also the Netherlands itself lets the national freak flag fly with a year-long celebration of their (and our) freakiest artist ever.
---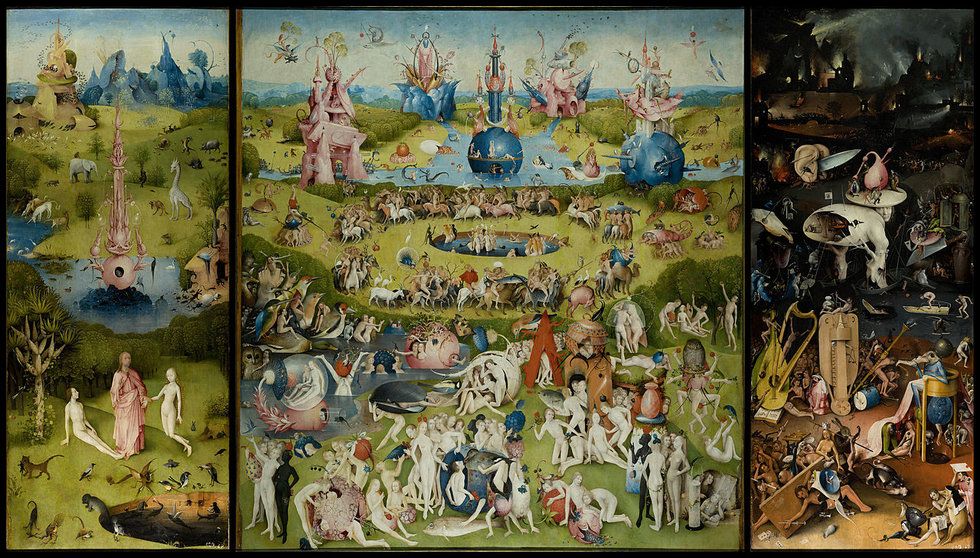 As with so many other ancient artists, we know little about Bosch other than when and where he worked and died. Bosch took his name from his birthplace, 's-Hertogenbosch, which itself refers to the surrounding forest. Trying to piece together the man from the work feels like finding yourself lost in a forest of religious imagery, obscure (possibly personal) visual references, and a pervading sense of gloom alternating with outrageous joy. Perhaps the greatest example of Bosch's bi-polarity is his "greatest hit," The Garden of Earthly Delights (shown above).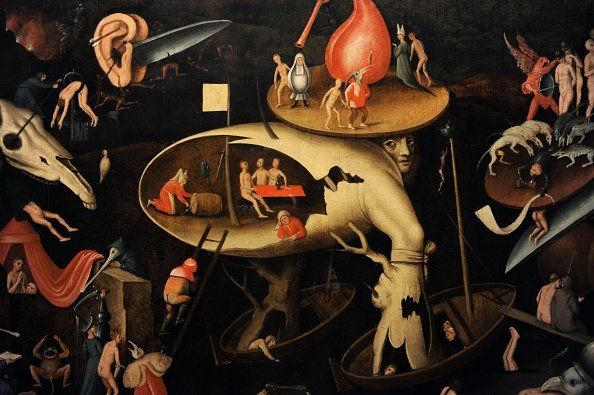 Reading the triptych from left to right, we start on the far left God with Adam and Eve in the Garden of Eden. In the middle panel, the party really gets started with a profusion of naked bodies cavorting in a landscape filled with tame animals and wild architecture. In the right panel, however, damnation looms darkly as a reminder of the price of sinfulness (detail shown above). As dreamlike as Bosch makes the delightful garden, he makes the scenes of eternal damnation nightmarish with devils leading you to the hellfire and bizarre scenes of a giant blade knifing through a huge pair of ears joined by an arrow. Dalí couldn't have said it any better or more befuddlingly.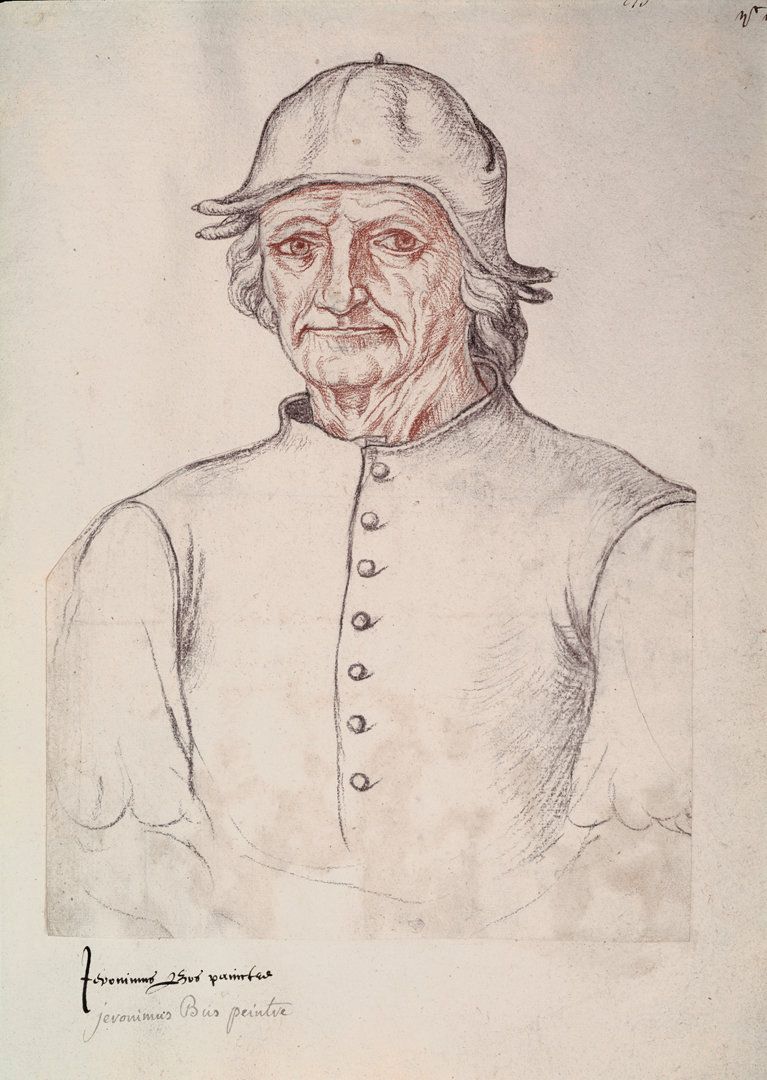 The Dutch enjoy a long line of world-renowned artists from Pieter Bruegel the Elder to Johannes Vermeer to Rembrandt to Vincent Van Gogh, but that line begins with Bosch (shown above in a posthumous portrait by Jacques Le Boucq). Bosch's wild individualism and wilder imagination set the standard for Dutch artists all the way to modernity. Even those lacking Bosch's freak factor, such as Vermeer and Rembrandt, still embodied Bosch's dedication to an individual vision. In the exhibition Jheronimus Bosch–Visions of Genius at Het Noordbrabants Museum, Den Bosch, Holland, Bosch has his greatest homecoming in modern history.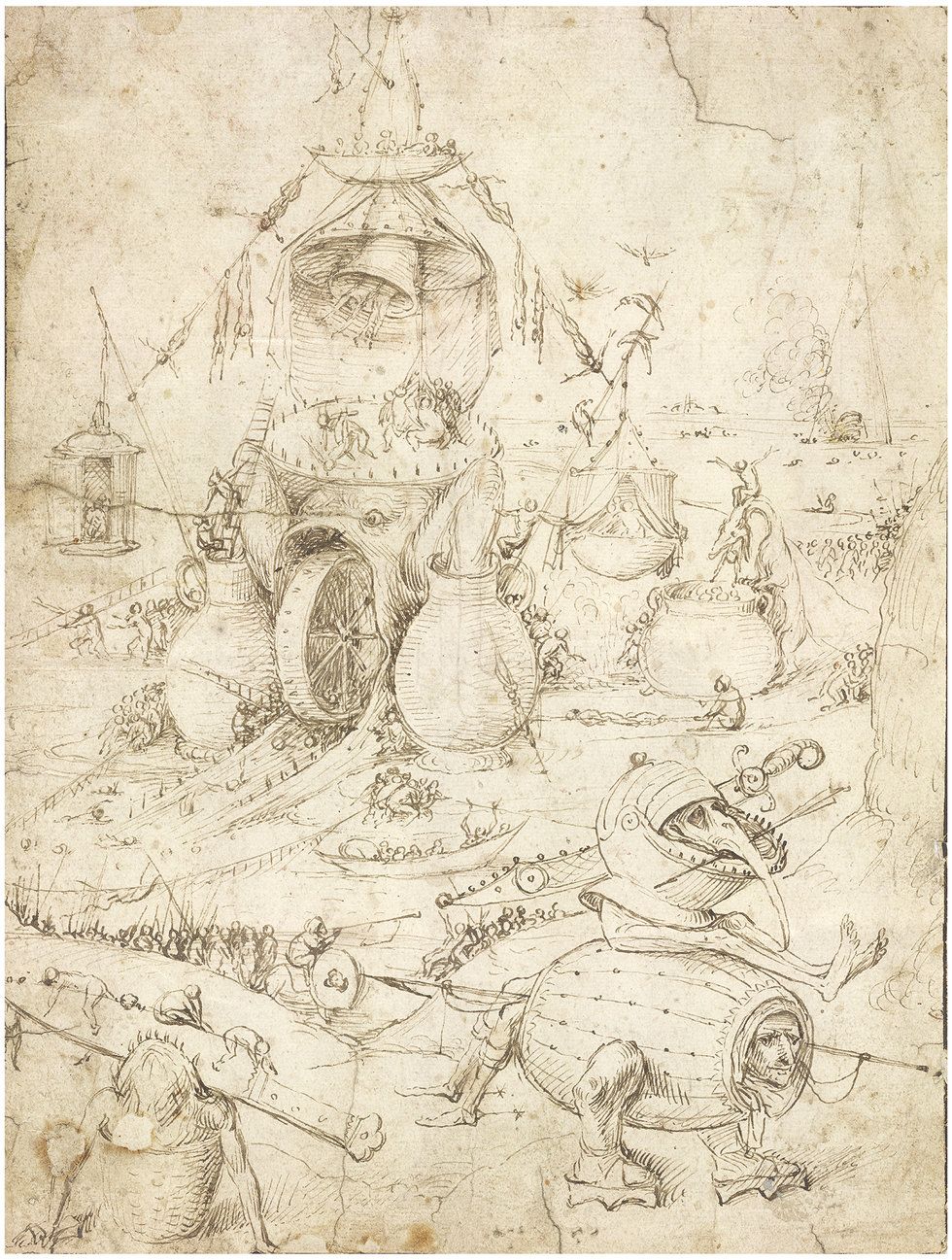 Jheronimus Bosch–Visions of Genius gathers together 20 of Bosch's 25 surviving paintings and 19 of 25 surviving drawings, an incredible accomplishment considering how few, how valuable, and how widespread these works are. To see drawings such as the privately owned Infernal Landscape by Bosch beside better-known works is to see even deeper into Bosch's bizarre artistic psyche. The Garden of Earthly Delights, alas, won't be joining the party, but there are more than enough delights to go around.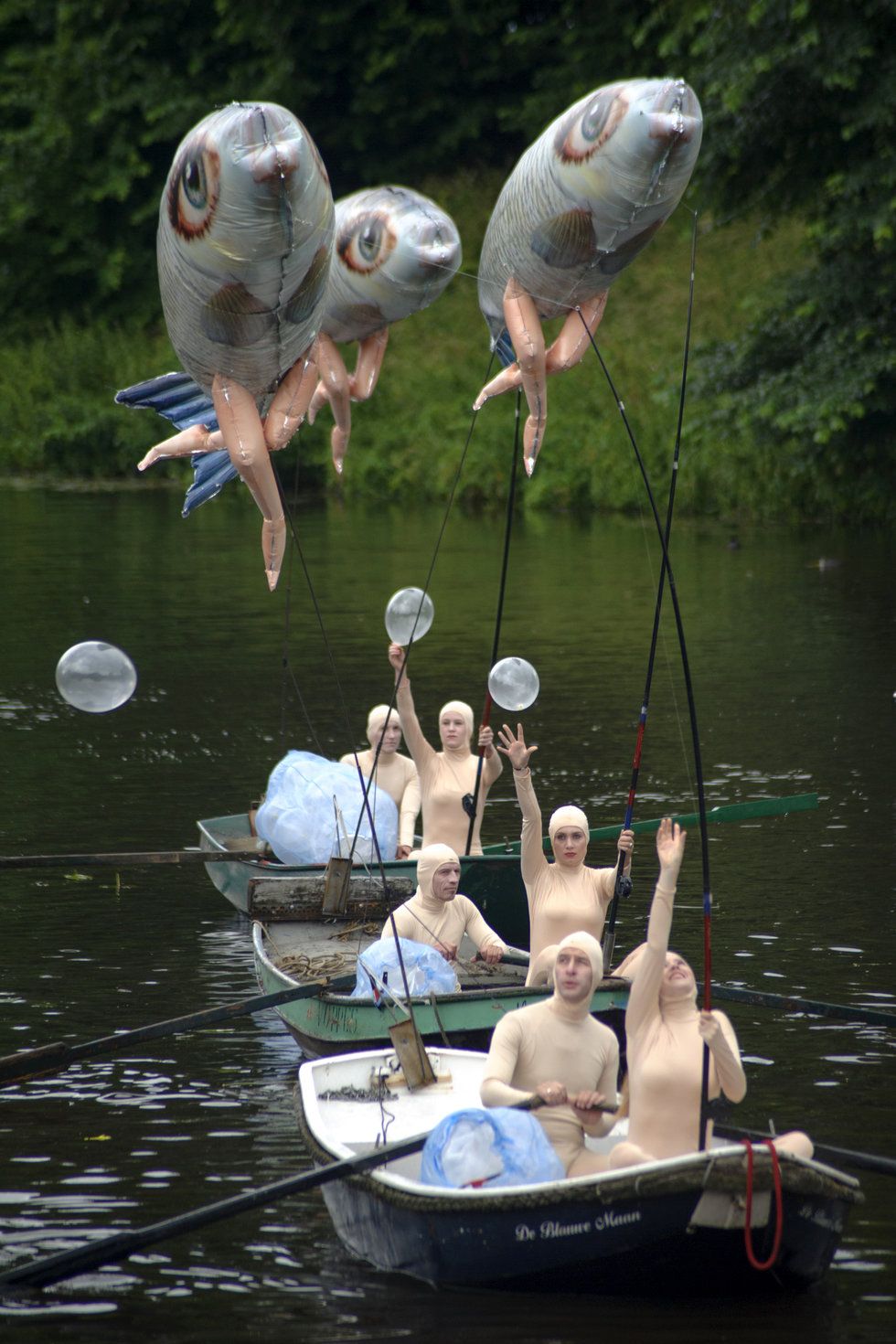 But you can't confine Bosch's 500th anniversary to museum galleries. The Bosch 500 celebration literally spills out onto the streets and into the rivers (shown above). Numerous events will celebrate Bosch's art by recreating the weirdly wonderful scenes and figures found in his art. Americans may laugh at these pictures and chalk them up to the liberal Dutch drug laws, but these images show just how "high" the Dutch get on the hallucinogenic, addictive appeal of the founding father of their rich art tradition. And who wouldn't want to don a flesh-colored bodysuit, reach for a giant fish balloon, and grab an oar to join in the fun? Such uninhibited public displays make Mardi Gras look tame. (And if you can't get to the party in person, there's a new app that allows you to virtually walk around a Bosch painting. "Enter" if you dare.)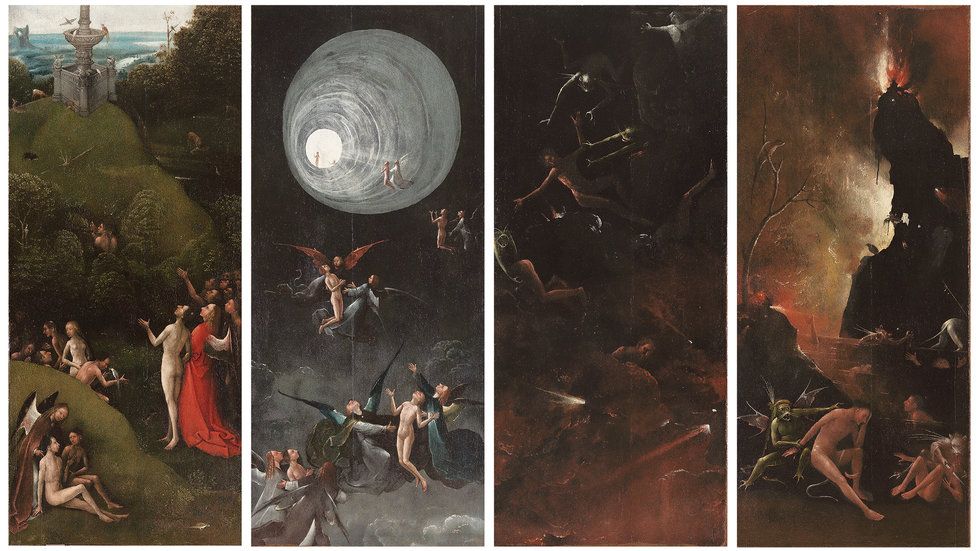 Yet, Bosch giveth and Bosch taketh away. As in the late work Visions of the Hereafter (shown above), which begins on the road to heaven, but ends in hell, Bosch encompasses the whole span of human existence — the pleasure and pain, the heavenly highs and the hellish lows. We're still learning about Bosch five centuries after his death. As part of Bosch 500, a "new" Bosch is on display — The Temptation of St. Anthony, which languished in storage for 70 years until experts took a closer look and determined it was by Bosch himself and not a follower. (The guy wearing a funnel on his head and the sausage floating behind St. Anthony should have given them a clue.) On this 500th anniversary of Bosch's death, it's time to bring him back to life in all his freakishness and rediscover him all over again.
What can 3D printing do for medicine? The "sky is the limit," says Northwell Health researcher Dr. Todd Goldstein.
Northwell Health
Sponsored by Northwell Health
Medical professionals are currently using 3D printers to create prosthetics and patient-specific organ models that doctors can use to prepare for surgery.
Eventually, scientists hope to print patient-specific organs that can be transplanted safely into the human body.
Northwell Health, New York State's largest health care provider, is pioneering 3D printing in medicine in three key ways.
An ordained Lama in a Tibetan Buddhist lineage, Lama Rod grew up a queer, black male within the black Christian church in the American south. Navigating all of these intersecting, evolving identities has led him to a life's work based on compassion for self and others.
Think Again Podcasts
"What I'm interested in is deep, systematic change. What I understand now is that real change doesn't happen until change on the inside begins to happen."
"Masculinity is not inherently toxic. Patriarchy is toxic. We have to let that energy go so we can stop forcing other people to do emotional labor for us."
We were gaining three IQ points per decade for many, many years. Now, that's going backward. Could this explain some of our choices lately?
The Flynn effect appears to be in retrograde. (Credit: Shutterstock/Big Think)
popular
There's a new study out of Norway that indicates our—well, technically, their—IQs are shrinking, to the tune of about seven IQ points per generation.
Here's why generalists triumph over specialists in the new era of innovation.
Videos
Since the explosion of the knowledge economy in the 1990s, generalist inventors have been making larger and more important contributions than specialists.
One theory is that the rise of rapid communication technologies allowed the information created by specialists to be rapidly disseminated, meaning generalists can combine information across disciplines to invent something new.
Here, David Epstein explains how Nintendo's Game Boy was a case of "lateral thinking with withered technology." He also relays the findings of a fascinating study that found the common factor of success among comic book authors.
Big think's weekly newsletter.
Get smarter faster from the comfort of your inbox.
See our newsletter privacy policy
here
Most Popular
Most Recent
Big think's weekly newsletter.
Get smarter faster from the comfort of your inbox.
See our newsletter privacy policy
here
© Copyright 2007-2019 & BIG THINK, BIG THINK EDGE,
SMARTER FASTER trademarks owned by The Big Think, Inc. All rights reserved.