Did the Most Political Artist on Earth Just Sell Out?
Chinese activist Ai Weiwei is the most political artist on Earth. Did he just sell his soul to a department store?
28 January, 2016
Is there anything more damning than a photo with Paris Hilton? Chinese activist Ai Weiwei is the most political artist on Earth, enduring censorship and arrest from the Chinese government in his struggle to give a voice to the voiceless both in his native country and around the world. So, what is he doing with the one-time star of The Simple Life (shown above)? The answer is simple (and troubling): They were attending the opening of an exhibition of Ai's art in a Paris department store. Such associations raise a troubling question: Did Ai Weiwei just sell his political and artistic soul?
---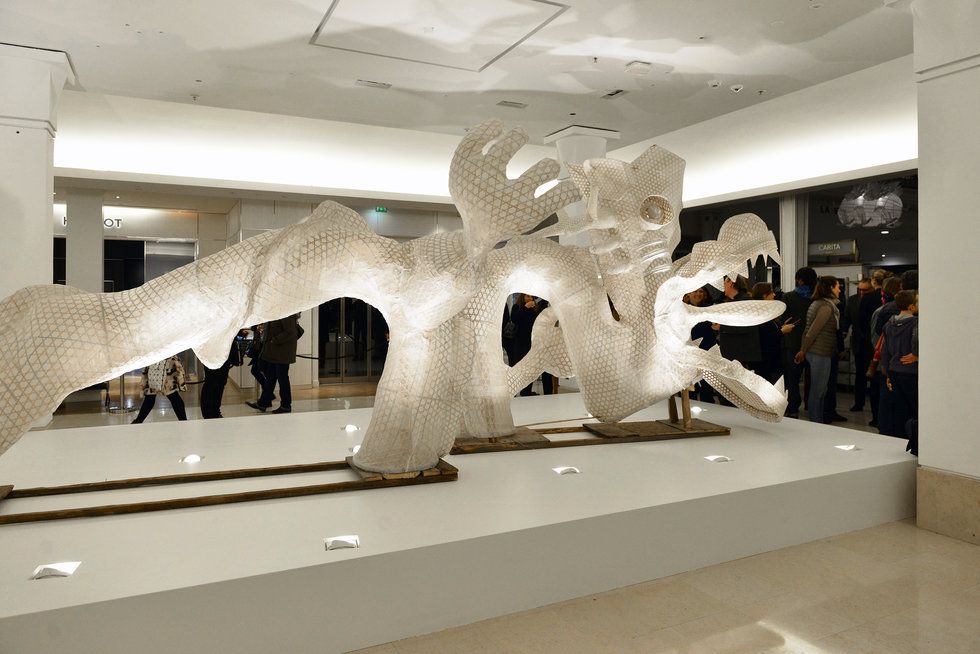 What exactly did Ai do to raise such a question? On January 16, 2016, Ai Weiwei's exhibition Er Xi opened at Le Bon Marché Rive Gauche in Paris, France. Er Xi (which means "Child's Play" or "Playground") features works by Ai hanging from the ceiling of, sitting in the gallery of, and appearing in the display windows of Le Bon Marché (which means "The Good Market" or "The Good Deal"). The theme of the exhibition is the Shan Hai Jing (also known as The Classic of Mountains and Seas), a collection of Chinese myths and legends that is part animal folktales and part geography lesson. With the help of Wong Yong-Xun, professional kite maker, Ai transforms those stories into bamboo and silk kites (such as The Dragon, shown above). The display window kites are two-dimensional (perhaps due to space restrictions), but those inside the store take the traditional two-dimensional woodcut illustrations of Chinese children's literature and bring them to three-dimensional life.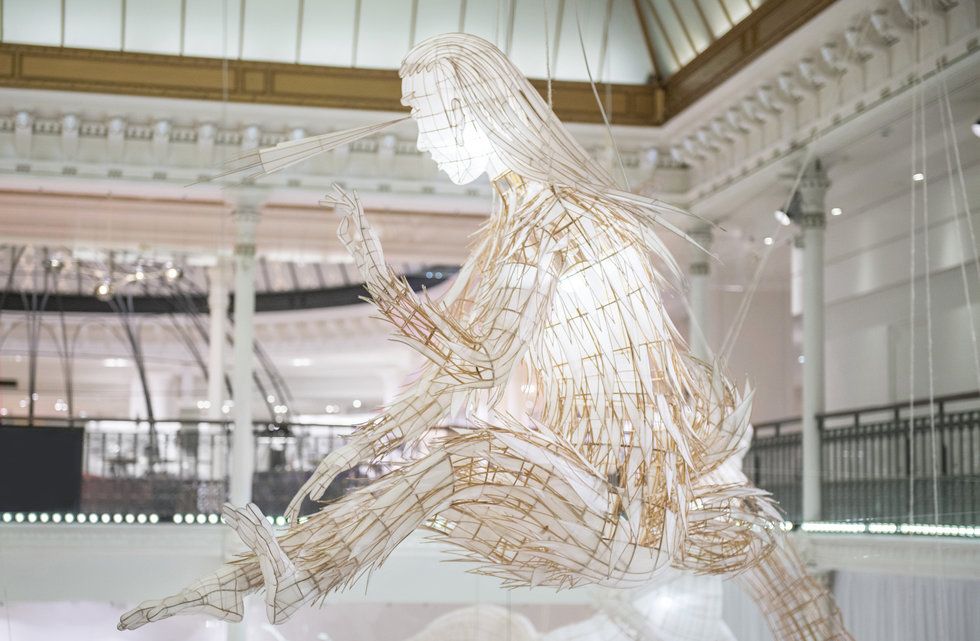 It's the commercialism that rankles critics of Er Xi. Ai's work comes at the same time as a big "White Sale" promotion at Le Bon Marché, with more than a little synergy between the white linen for sale and the white silk of the kite figures. Can we take Ai's political stances as seriously after he uses his work to hawk wares for a department store? "Showing at Le Bon Marché is using a new medium, the department store, to encounter a new audience, as broad as a museum's," Ai argues. If Jeff Koons made the same argument, we'd chalk it up to just another self-justifying excuse from a shamelessly commercial, self-promoting artist. But, when Ai Weiwei argues for department stores as "a new medium," should we take him at his word?
It wouldn't be the first time that Ai's been accused of selling out. When Ai helped design the Beijing National Stadium (aka, "The Bird's Nest") for the 2008 Summer Olympics, many saw a contradiction between Ai's cooperation with the Chinese government's propaganda party and his dissent. Ai defended his involvement in the stadium design by claiming that his love of design overcame his distaste for the Olympics and the nationalism they promoted, even later going so far as to criticize Steven Spielberg and Zhang Yimou for their involvement in the festivities. "It's disgusting," Ai said at the time. "I don't like anyone who shamelessly abuses their profession, who makes no moral judgment."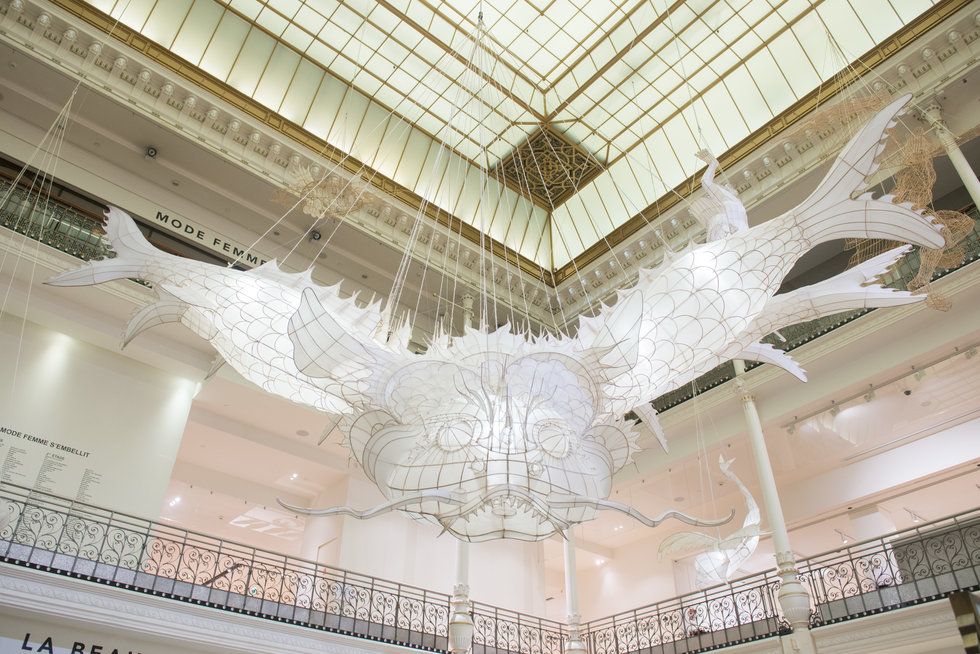 But did Ai Weiwei "abuse" his profession as artist and activist with poor "moral judgment" in Er Xi? Did he sell out? In the first place, Le Bon Marché Rive Gauche is no Target (even if you pronounce it "tar jay"). Le Bon Marché Aristide Boucicaut founder may have introduced the "white sale" back in the 19th century, but he also displayed art from his personal collection in his store, setting an upscale precedent continued today. Boucicaut traveled in cultured circles (inspiring a character in Émile Zola's Au Bonheur des Dames and posing for a portrait by William Bouguereau), so Ai's work follows a fine tradition. If any department store could live up to the status of a museum, Le Bon Marché Rive Gauche is it.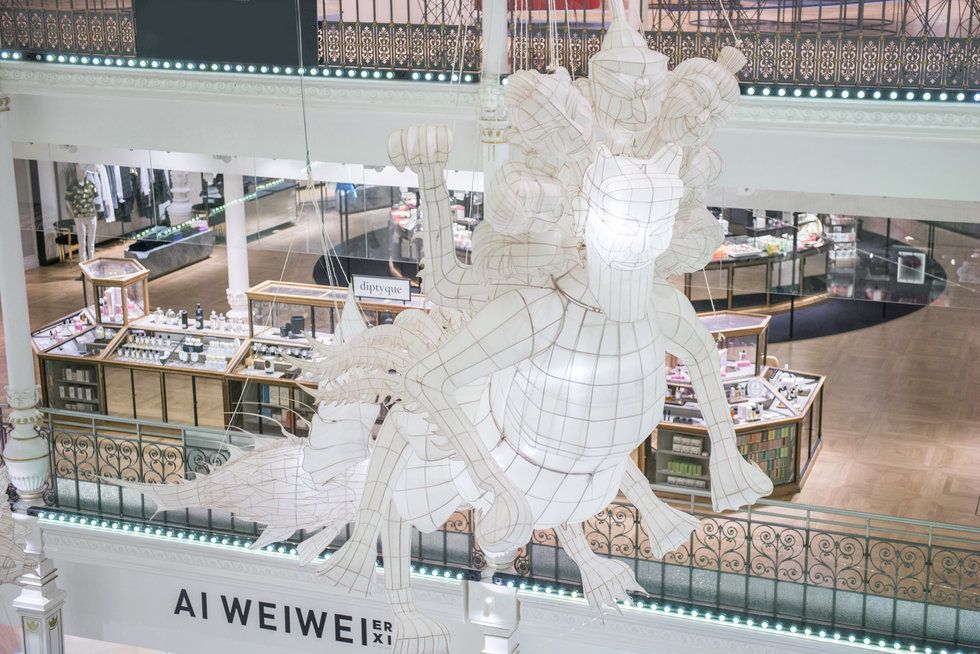 Secondly, and most importantly, beneath the "child's play" title and innocent exterior of Er Xi lies the subversive heart of Ai Weiwei's art. Whimsy's always been a part of Ai's approach. Just take a look at his 2012 parody video of Korean musician Psy's "Gangnam Style." Ai danced for fun, but also to thumb his nose at the Chinese government's attempts to contain him and his critiques. (The Chinese government actually blocked Ai's parody in response.) Er Xi may allude to children's tales, but Ai uses those same myths to make sly references to the long, troubled history of Chinese leadership. At the same time, he celebrates the mythic essence of China itself with these figures — an essence that endures despite the repressive government's best efforts. Like Western fairy tales, these stories, if manipulated in the right way by the right artist, can say very adult, very controversial things.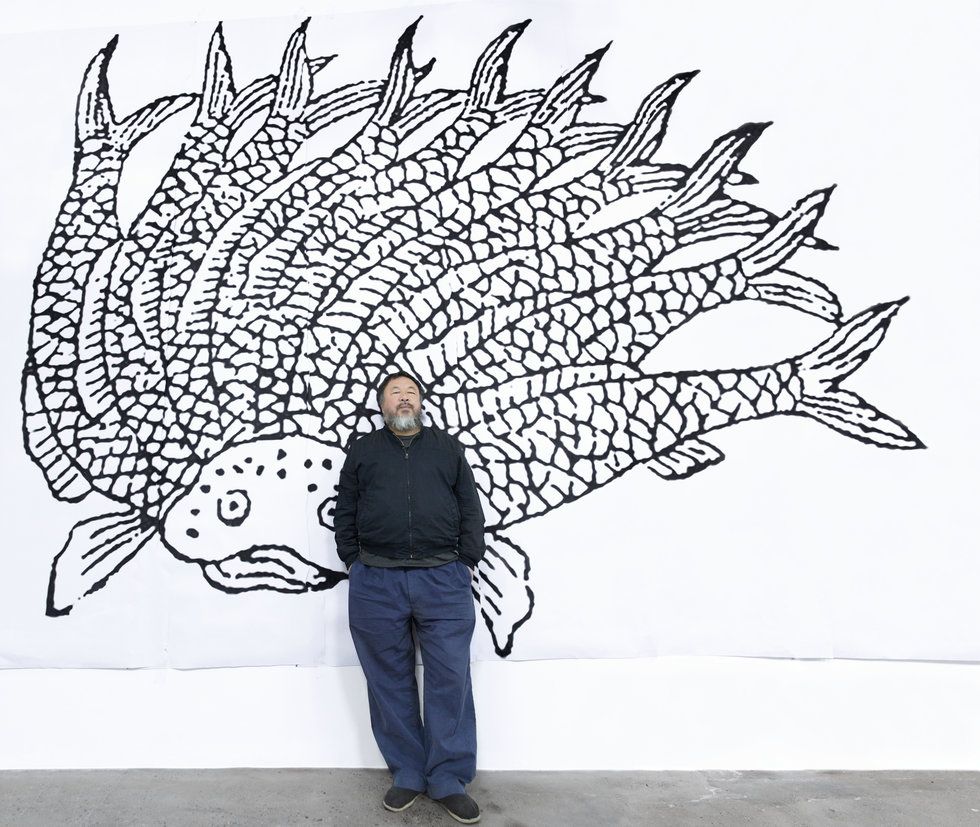 If you still think that Ai Weiwei's sold out and is hanging out with the Paris Hilton crowd now, consider what he did shortly before and shortly after that photo was taken. In late December, Ai visited the Greek island of Lesbos to help migrants and refugees from Europe with his presence as well with photos posted of their struggle on his social media accounts. And right after the opening of Er Xi, Ai closed two exhibitions in Denmark as a protest against new laws permitting not only the seizure of cash and valuables from asylum seekers, but also denying some refugee families from reuniting for three years. The 2015 Amnesty International Ambassador of Conscience Award winner doesn't seem to be selling out or slowing down in his activism. New French legislation improving (at least in the near future) the process for refugees may save Er Xi from cancellation, but I have no doubt that Ai Weiwei — the art world's ultimate refugee — won't compromise his principles if it comes down to money versus morals.
What can 3D printing do for medicine? The "sky is the limit," says Northwell Health researcher Dr. Todd Goldstein.
Northwell Health
Sponsored by Northwell Health
Medical professionals are currently using 3D printers to create prosthetics and patient-specific organ models that doctors can use to prepare for surgery.
Eventually, scientists hope to print patient-specific organs that can be transplanted safely into the human body.
Northwell Health, New York State's largest health care provider, is pioneering 3D printing in medicine in three key ways.
A recent study gives new meaning to the saying "fake it 'til you make it."
Pixabay
Surprising Science
The study involves four experiments that measured individuals' socioeconomic status, overconfidence and actual performance.
Results consistently showed that high-class people tend to overestimate their abilities.
However, this overconfidence was misinterpreted as genuine competence in one study, suggesting overestimating your abilities can have social advantages.
Is this proof of a dramatic shift?
Strange Maps
Map details dramatic shift from CNN to Fox News over 10-year period
Does it show the triumph of "fake news" — or, rather, its defeat?
A closer look at the map's legend allows for more complex analyses
Dramatic and misleading
Image: Reddit / SICResearch
The situation today: CNN pushed back to the edges of the country.
Over the course of no more than a decade, America has radically switched favorites when it comes to cable news networks. As this sequence of maps showing TMAs (Television Market Areas) suggests, CNN is out, Fox News is in.
The maps are certainly dramatic, but also a bit misleading. They nevertheless provide some insight into the state of journalism and the public's attitudes toward the press in the US.
Let's zoom in:
It's 2008, on the eve of the Obama Era. CNN (blue) dominates the cable news landscape across America. Fox News (red) is an upstart (°1996) with a few regional bastions in the South.
By 2010, Fox News has broken out of its southern heartland, colonizing markets in the Midwest and the Northwest — and even northern Maine and southern Alaska.
Two years later, Fox News has lost those two outliers, but has filled up in the middle: it now boasts two large, contiguous blocks in the southeast and northwest, almost touching.
In 2014, Fox News seems past its prime. The northwestern block has shrunk, the southeastern one has fragmented.
Energised by Trump's 2016 presidential campaign, Fox News is back with a vengeance. Not only have Maine and Alaska gone from entirely blue to entirely red, so has most of the rest of the U.S. Fox News has plugged the Nebraska Gap: it's no longer possible to walk from coast to coast across CNN territory.
By 2018, the fortunes from a decade earlier have almost reversed. Fox News rules the roost. CNN clings on to the Pacific Coast, New Mexico, Minnesota and parts of the Northeast — plus a smattering of metropolitan areas in the South and Midwest.
"Frightening map"
Image source: Reddit / SICResearch
This sequence of maps, showing America turning from blue to red, elicited strong reactions on the Reddit forum where it was published last week. For some, the takeover by Fox News illustrates the demise of all that's good and fair about news journalism. Among the comments?
"The end is near."
"The idiocracy grows."
"(It's) like a spreading disease."
"One of the more frightening maps I've seen."
For others, the maps are less about the rise of Fox News, and more about CNN's self-inflicted downward spiral:
"LOL that's what happens when you're fake news!"
"CNN went down the toilet on quality."
"A Minecraft YouTuber could beat CNN's numbers."
"CNN has become more like a high-school production of a news show."
Not a few find fault with both channels, even if not always to the same degree:
"That anybody considers either of those networks good news sources is troubling."
"Both leave you understanding less rather than more."
"This is what happens when you spout bullsh-- for two years straight. People find an alternative — even if it's just different bullsh--."
"CNN is sh-- but it's nowhere close to the outright bullsh-- and baseless propaganda Fox News spews."
"Old people learning to Google"
Image: Google Trends
CNN vs. Fox News search terms (200!-2018)
But what do the maps actually show? Created by SICResearch, they do show a huge evolution, but not of both cable news networks' audience size (i.e. Nielsen ratings). The dramatic shift is one in Google search trends. In other words, it shows how often people type in "CNN" or "Fox News" when surfing the web. And that does not necessarily reflect the relative popularity of both networks. As some commenters suggest:
"I can't remember the last time that I've searched for a news channel on Google. Is it really that difficult for people to type 'cnn.com'?"
"More than anything else, these maps show smart phone proliferation (among older people) more than anything else."
"This is a map of how old people and rural areas have learned to use Google in the last decade."
"This is basically a map of people who don't understand how the internet works, and it's no surprise that it leans conservative."
A visual image as strong as this map sequence looks designed to elicit a vehement response — and its lack of context offers viewers little new information to challenge their preconceptions. Like the news itself, cartography pretends to be objective, but always has an agenda of its own, even if just by the selection of its topics.
The trick is not to despair of maps (or news) but to get a good sense of the parameters that are in play. And, as is often the case (with both maps and news), what's left out is at least as significant as what's actually shown.
One important point: while Fox News is the sole major purveyor of news and opinion with a conservative/right-wing slant, CNN has more competition in the center/left part of the spectrum, notably from MSNBC.
Another: the average age of cable news viewers — whether they watch CNN or Fox News — is in the mid-60s. As a result of a shift in generational habits, TV viewing is down across the board. Younger people are more comfortable with a "cafeteria" approach to their news menu, selecting alternative and online sources for their information.
It should also be noted, however, that Fox News, according to Harvard's Nieman Lab, dominates Facebook when it comes to engagement among news outlets.
CNN, Fox and MSNBC
Image: Google Trends
CNN vs. Fox (without the 'News'; may include searches for actual foxes). See MSNBC (in yellow) for comparison
For the record, here are the Nielsen ratings for average daily viewer total for the three main cable news networks, for 2018 (compared to 2017):

Fox News: 1,425,000 (-5%)
MSNBC: 994,000 (+12%)
CNN: 706,000 (-9%)
And according to this recent overview, the top 50 of the most popular websites in the U.S. includes cnn.com in 28th place, and foxnews.com in... 27th place.
The top 5
, in descending order, consists of google.com, youtube.com, facebook.com, amazon.com and yahoo.com — the latter being the highest-placed website in the News and Media category.
If you thought your mother was pushy in her pursuit of grandchildren, wait until you learn about bonobo mothers.
Pixabay
Surprising Science
Mother bonobos have been observed to help their sons find and copulate with mates.
The mothers accomplish this by leading sons to mates, interfering with other males trying to copulate with females, and helping sons rise in the social hierarchy of the group.
Why do mother bonobos do this? The "grandmother hypothesis" might hold part of the answer.
Big think's weekly newsletter.
Get smarter faster from the comfort of your inbox.
See our newsletter privacy policy
here
Most Popular
Most Recent
Big think's weekly newsletter.
Get smarter faster from the comfort of your inbox.
See our newsletter privacy policy
here
© Copyright 2007-2019 & BIG THINK, BIG THINK EDGE,
SMARTER FASTER trademarks owned by The Big Think, Inc. All rights reserved.
//This will actually fire event. Should be called after consent was verifed