Did the Most Political Artist on Earth Just Sell Out?
Chinese activist Ai Weiwei is the most political artist on Earth. Did he just sell his soul to a department store?
28 January, 2016
Is there anything more damning than a photo with Paris Hilton? Chinese activist Ai Weiwei is the most political artist on Earth, enduring censorship and arrest from the Chinese government in his struggle to give a voice to the voiceless both in his native country and around the world. So, what is he doing with the one-time star of The Simple Life (shown above)? The answer is simple (and troubling): They were attending the opening of an exhibition of Ai's art in a Paris department store. Such associations raise a troubling question: Did Ai Weiwei just sell his political and artistic soul?
---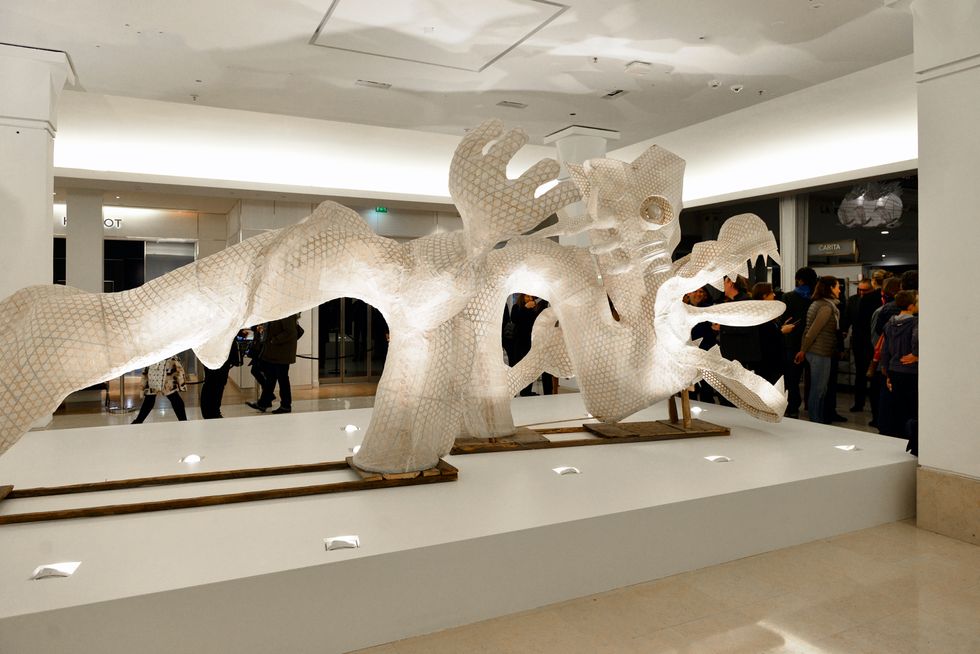 What exactly did Ai do to raise such a question? On January 16, 2016, Ai Weiwei's exhibition Er Xi opened at Le Bon Marché Rive Gauche in Paris, France. Er Xi (which means "Child's Play" or "Playground") features works by Ai hanging from the ceiling of, sitting in the gallery of, and appearing in the display windows of Le Bon Marché (which means "The Good Market" or "The Good Deal"). The theme of the exhibition is the Shan Hai Jing (also known as The Classic of Mountains and Seas), a collection of Chinese myths and legends that is part animal folktales and part geography lesson. With the help of Wong Yong-Xun, professional kite maker, Ai transforms those stories into bamboo and silk kites (such as The Dragon, shown above). The display window kites are two-dimensional (perhaps due to space restrictions), but those inside the store take the traditional two-dimensional woodcut illustrations of Chinese children's literature and bring them to three-dimensional life.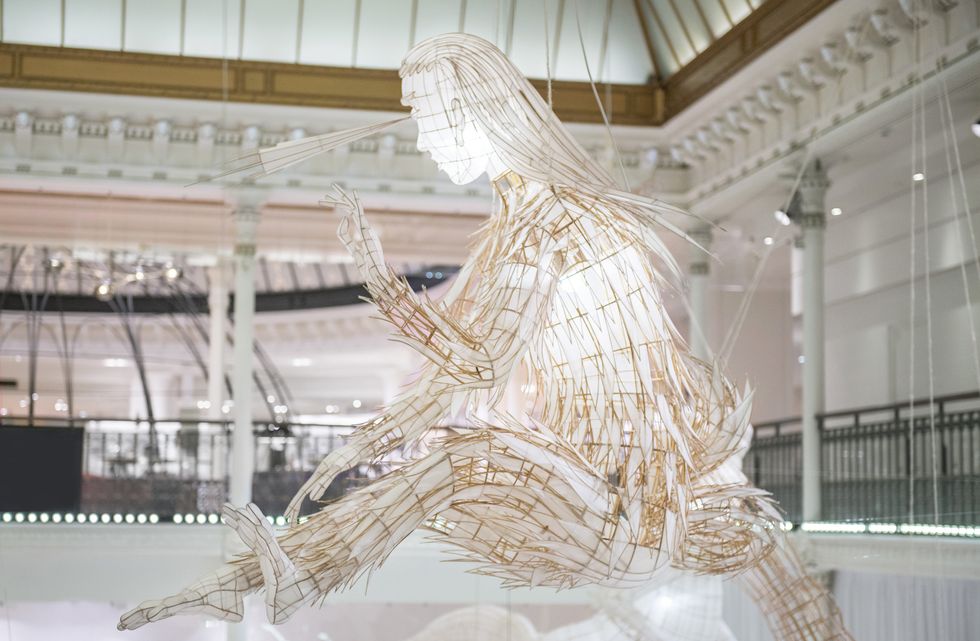 It's the commercialism that rankles critics of Er Xi. Ai's work comes at the same time as a big "White Sale" promotion at Le Bon Marché, with more than a little synergy between the white linen for sale and the white silk of the kite figures. Can we take Ai's political stances as seriously after he uses his work to hawk wares for a department store? "Showing at Le Bon Marché is using a new medium, the department store, to encounter a new audience, as broad as a museum's," Ai argues. If Jeff Koons made the same argument, we'd chalk it up to just another self-justifying excuse from a shamelessly commercial, self-promoting artist. But, when Ai Weiwei argues for department stores as "a new medium," should we take him at his word?
It wouldn't be the first time that Ai's been accused of selling out. When Ai helped design the Beijing National Stadium (aka, "The Bird's Nest") for the 2008 Summer Olympics, many saw a contradiction between Ai's cooperation with the Chinese government's propaganda party and his dissent. Ai defended his involvement in the stadium design by claiming that his love of design overcame his distaste for the Olympics and the nationalism they promoted, even later going so far as to criticize Steven Spielberg and Zhang Yimou for their involvement in the festivities. "It's disgusting," Ai said at the time. "I don't like anyone who shamelessly abuses their profession, who makes no moral judgment."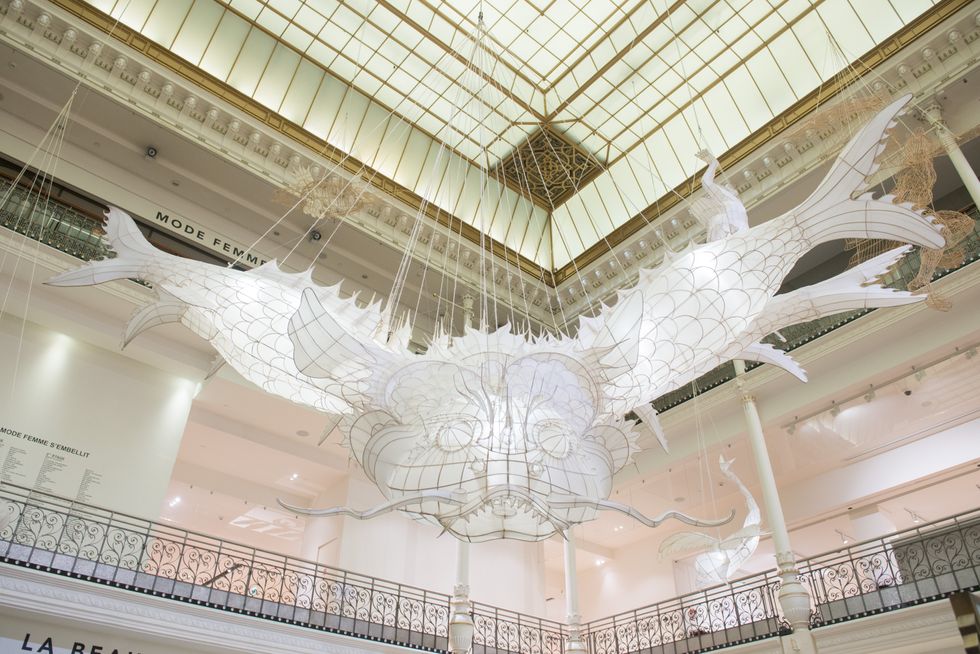 But did Ai Weiwei "abuse" his profession as artist and activist with poor "moral judgment" in Er Xi? Did he sell out? In the first place, Le Bon Marché Rive Gauche is no Target (even if you pronounce it "tar jay"). Le Bon Marché Aristide Boucicaut founder may have introduced the "white sale" back in the 19th century, but he also displayed art from his personal collection in his store, setting an upscale precedent continued today. Boucicaut traveled in cultured circles (inspiring a character in Émile Zola's Au Bonheur des Dames and posing for a portrait by William Bouguereau), so Ai's work follows a fine tradition. If any department store could live up to the status of a museum, Le Bon Marché Rive Gauche is it.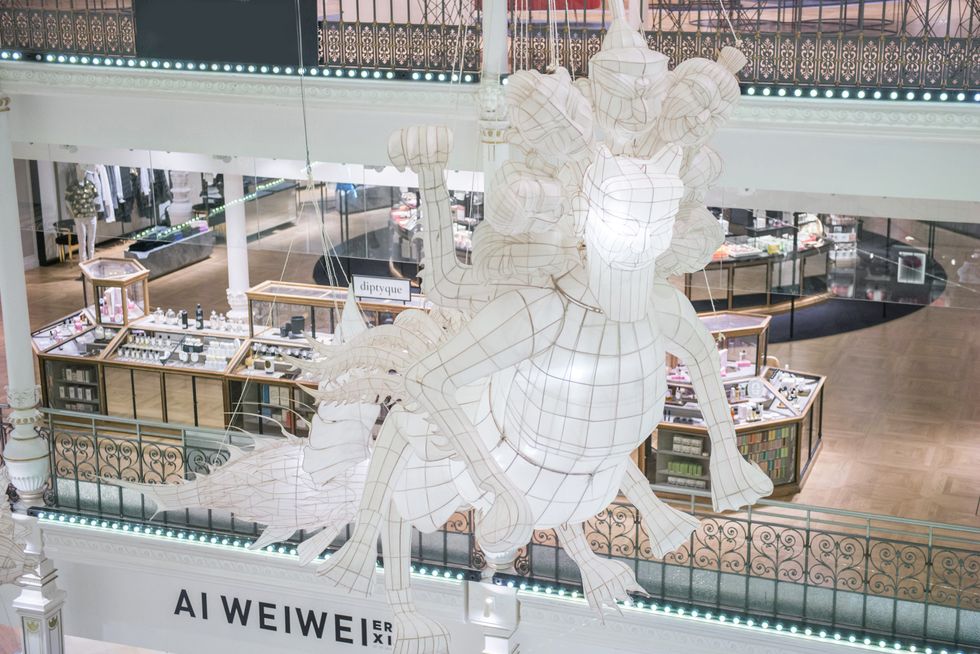 Secondly, and most importantly, beneath the "child's play" title and innocent exterior of Er Xi lies the subversive heart of Ai Weiwei's art. Whimsy's always been a part of Ai's approach. Just take a look at his 2012 parody video of Korean musician Psy's "Gangnam Style." Ai danced for fun, but also to thumb his nose at the Chinese government's attempts to contain him and his critiques. (The Chinese government actually blocked Ai's parody in response.) Er Xi may allude to children's tales, but Ai uses those same myths to make sly references to the long, troubled history of Chinese leadership. At the same time, he celebrates the mythic essence of China itself with these figures — an essence that endures despite the repressive government's best efforts. Like Western fairy tales, these stories, if manipulated in the right way by the right artist, can say very adult, very controversial things.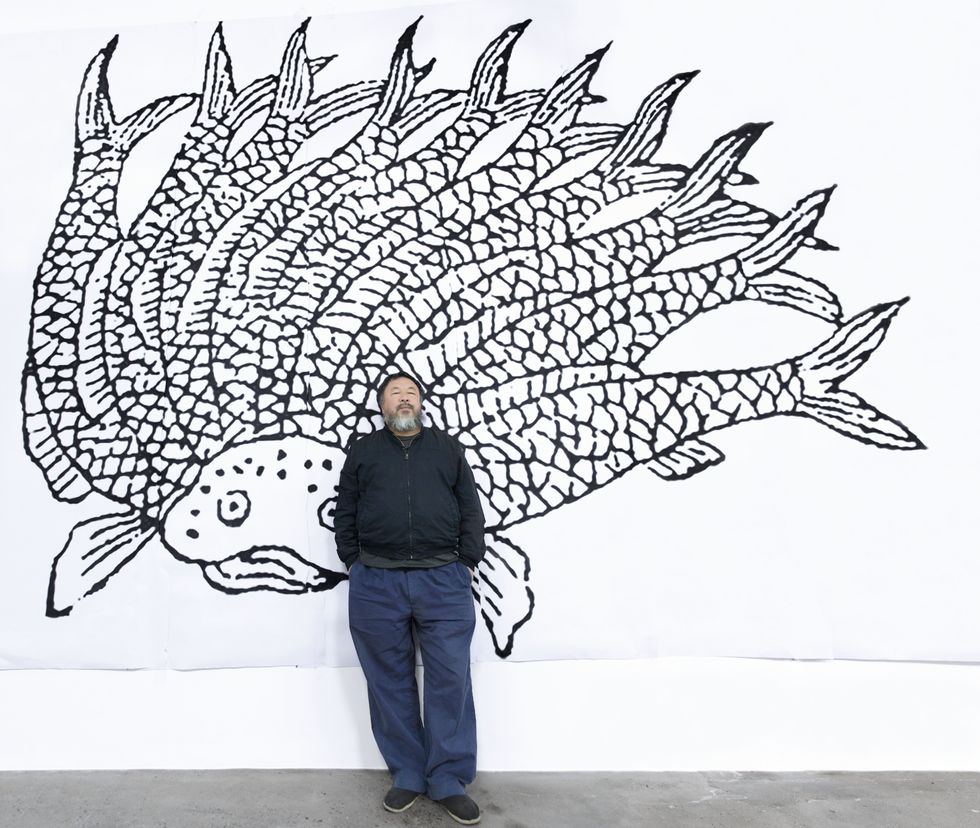 If you still think that Ai Weiwei's sold out and is hanging out with the Paris Hilton crowd now, consider what he did shortly before and shortly after that photo was taken. In late December, Ai visited the Greek island of Lesbos to help migrants and refugees from Europe with his presence as well with photos posted of their struggle on his social media accounts. And right after the opening of Er Xi, Ai closed two exhibitions in Denmark as a protest against new laws permitting not only the seizure of cash and valuables from asylum seekers, but also denying some refugee families from reuniting for three years. The 2015 Amnesty International Ambassador of Conscience Award winner doesn't seem to be selling out or slowing down in his activism. New French legislation improving (at least in the near future) the process for refugees may save Er Xi from cancellation, but I have no doubt that Ai Weiwei — the art world's ultimate refugee — won't compromise his principles if it comes down to money versus morals.
To create wiser adults, add empathy to the school curriculum.
Sponsored by Charles Koch Foundation
Stories are at the heart of learning, writes Cleary Vaughan-Lee, Executive Director for the Global Oneness Project. They have always challenged us to think beyond ourselves, expanding our experience and revealing deep truths.
Vaughan-Lee explains 6 ways that storytelling can foster empathy and deliver powerful learning experiences.
Global Oneness Project is a free library of stories—containing short documentaries, photo essays, and essays—that each contain a companion lesson plan and learning activities for students so they can expand their experience of the world.
This is what the world will look like, 250 million years from now
On Pangaea Proxima, Lagos will be north of New York, and Cape Town close to Mexico City
Surprising Science
To us humans, the shape and location of oceans and continents seems fixed. But that's only because our lives are so short.
The future of education and work will rely on teaching students deeper problem-solving skills.
Future of Learning
Asking kids 'What do you want to be when you grow up?' is a question that used to make sense, says Jaime Casap. But it not longer does; the nature of automation and artificial intelligence means future jobs are likely to shift and reform many times over.
Instead, educators should foster a culture of problem solving. Ask children: What problem do you want to solve? And what talents or passions do you have that can be the avenues by which you solve it?
"[T]he future of education starts on Monday and then Tuesday and then Wednesday and it's constant and consistent and it's always growing, always improving, and if we create that culture I think that would bring us a long way," Casap says.
These Jurassic predators resorted to cannibalism when hit with hard times, according to a deliciously rare discovery.
Stephanie K. Drumheller et.al
Surprising Science
Rare fossil evidence of dinosaur cannibalism among the Allosaurus has been discovered.
Scientists analyzed dinosaur bones found in the Mygatt-Moore Quarry in western Colorado, paying special attention to bite marks that were present on 2,368 of the bones.
It's likely that the predatory carnivore only ate their already-dead peers during times when resources were scarce.
Personal Growth
As a doctor, I am reminded every day of the fragility of the human body, how closely mortality lurks just around the corner.
Scroll down to load more…