Did Batman Begin Modern Nerd Culture?
If Batman v Superman: Dawn of Justice made you mad, maybe you're part of the modern nerd culture Batman began.
05 April, 2016
"You're doing it wrong!"  Hard-core Bat-nerds have screamed that phrase at every movie Batman:  Michael Keaton (too short), Val Kilmer (too pouty), George Clooney (too nipple-y), Christian Bale (too growly), and, most recently, Ben Affleck (too Ben Affleck).  If Batman v Superman: Dawn of Justice got you steamed, you might be part of the modern nerd culture that Glen Weldon's The Caped Crusade: Batman and the Rise of Nerd Culture not only spotlights, but also traces back to the roots of the Batman himself.  When the Dark Knight rose, did the Dork Knight of contemporary society rise (seen above), too?
---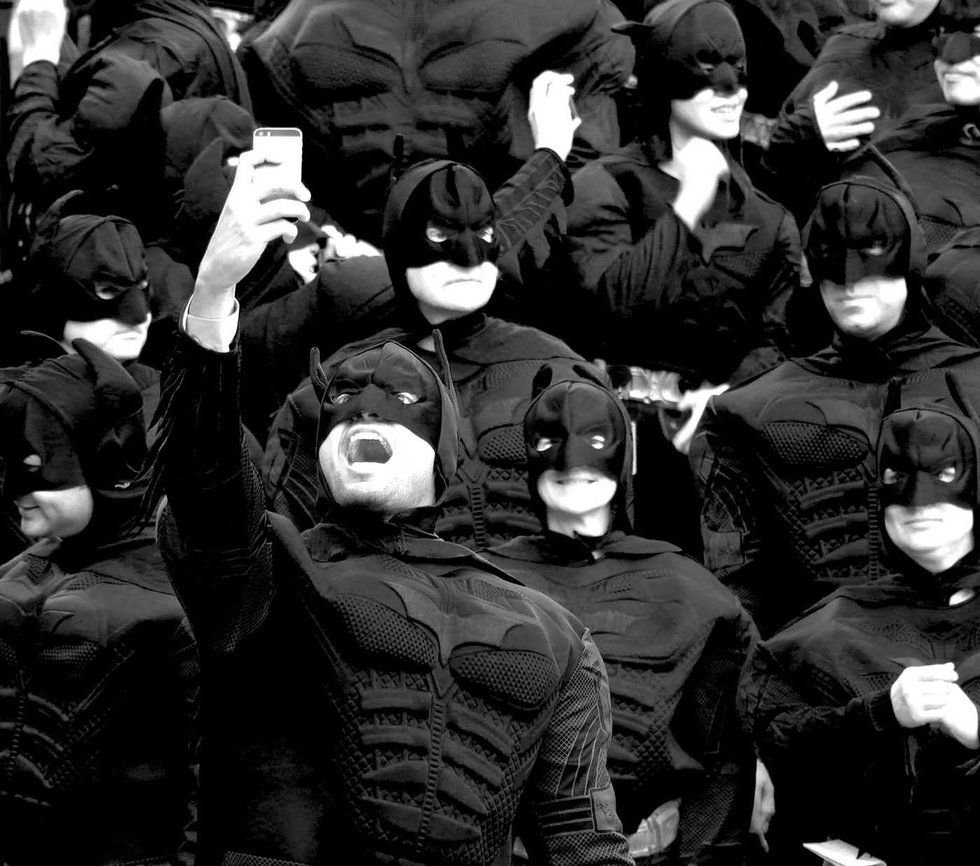 Image: Photo from cover of Glen Weldon's The Caped Crusade: Batman and the Rise of Nerd Culture.  Courtesy of Simon & Schuster.
How, exactly, did Batman "start" nerd culture?  Haven't we always had nerds?  Weldon, who previously wrote the excellent Superman: The Unauthorized Biography, believes that nerds always "lurked in the shadowy corners of popular culture" until Batman helped them come out of their (Bat)cave (as shown above).  "It was Batman—Batman the obsessive, Batman the ultimate nerd—who acted as the catalyst for billions of normals to embrace the culture they had once dismissed or rejected," Weldon writes.  Although it started with comics, Weldon argues, Batman the movies and television shows "continue to serve as gateway drugs to the nerdly life."  In Weldon's eyes, the non-superhuman Batman has one superpower—obsession, encapsulated in the oath he took to avenge his dead parents by "spending the rest of [his] life warring on criminals."  Batman's passion makes him the patron saint of sorts for the passionate modern nerd.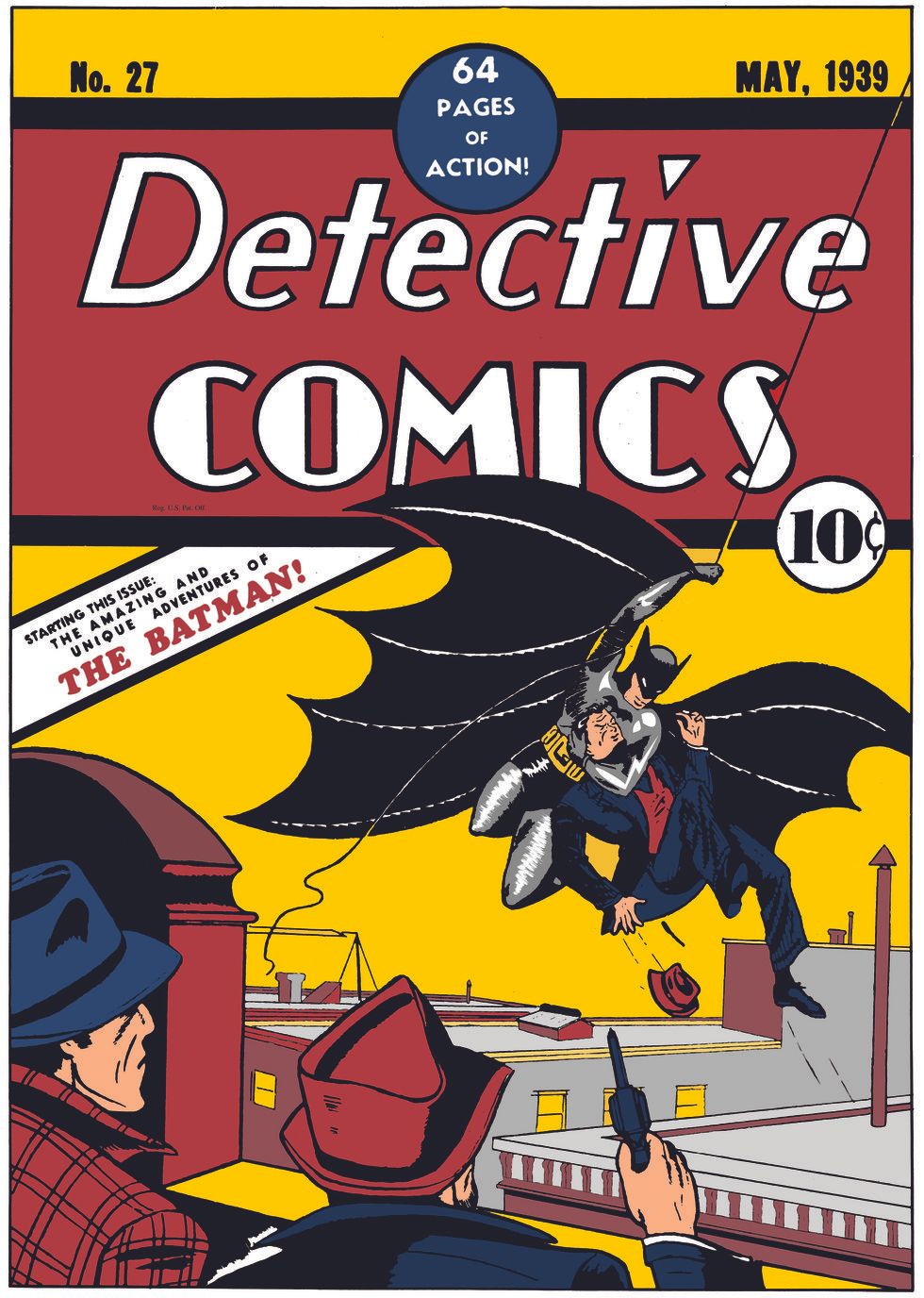 Image:  Cover of Detective Comics Issue No. 27 from May 1939, the first appearance of Batman in comics.  Courtesy of DC Entertainment.
Weldon traces Batman and nerd-dom's conjoined rise with great detail and humor—the dynamic duo of great Bat-nerdism.  When Batman first swung onto the scene in May 1939 (shown above), his creators intentionally made him everything Superman, the first comic book superhero, wasn't.  Philosophically, it's been Batman versus Superman for nearly 80 years now.  Whereas Superman was literally alien, Batman was relatably human (albeit, unrelatably rich).  Weldon follows the Bat-nerd's devotional evolution from letters pages in the backs of the comics, to fanzines, to (with the advent of the internet) message boards, to fan site, to fan fiction, to full-on cosplay.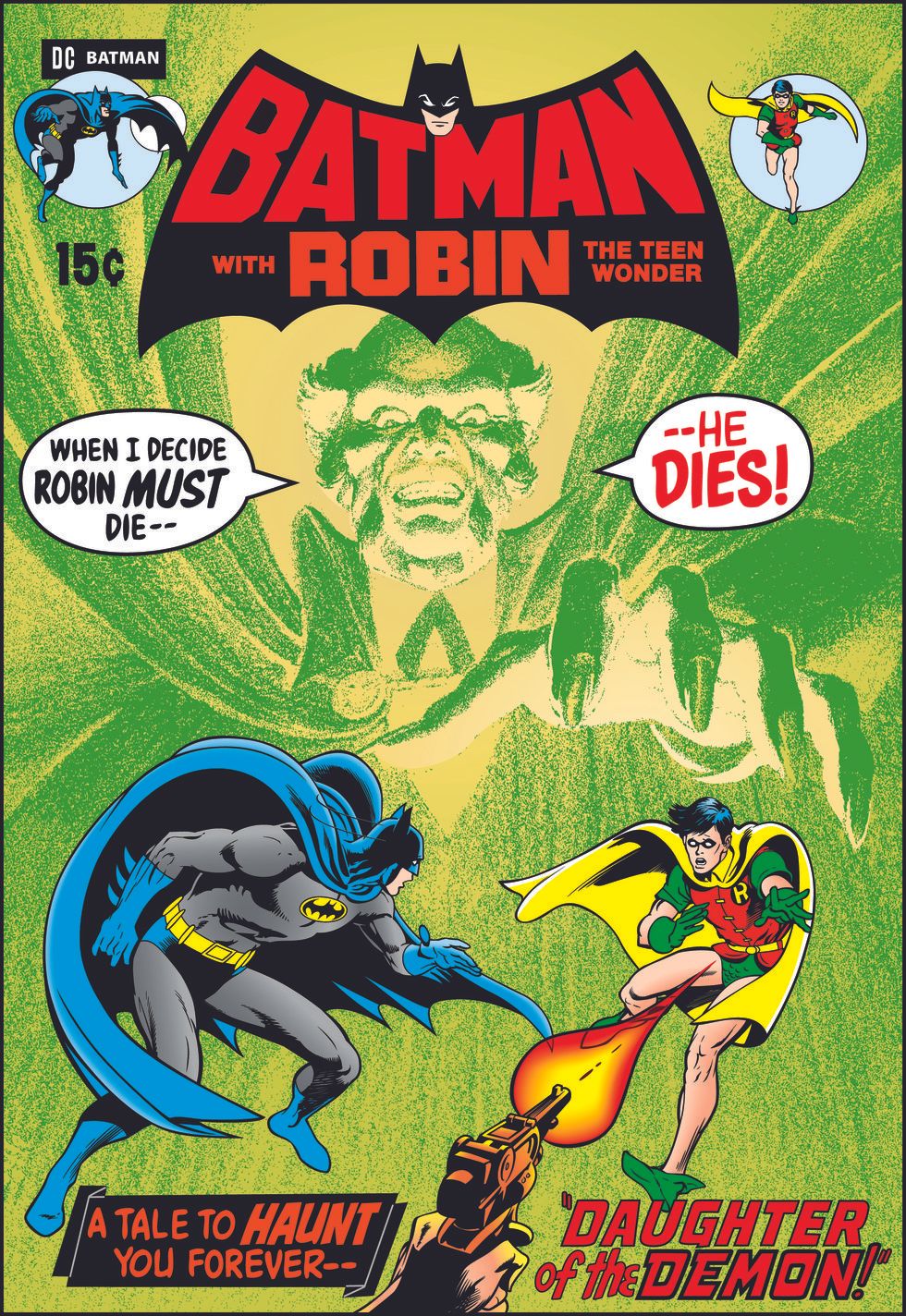 Image: Cover of Batman No. 232 from June 1971, the first appearance of supervillain Ra's al Ghul.  Courtesy of DC Entertainment.
Weldon's book serves as a gateway drug to Bat-nerdom with its own obsessive approach to every nuance of the eight decades of Batman across multiple media.  As a self-identifying Bat-nerd, I appreciated not only Weldon's rebalancing of the credit for Batman's creation between the self-promoting Bob Kane and the self-effacing Bill Finger, but also his shout-outs to Gardner Fox (father of the batarang and other bat-gadgets) and Sheldon Moldoff (the artist who first created Batman's dark look when he "ghosted" for the artistically challenged Kane).   I found myself transported to 1971 and the first appearance of supervillain Ra's al Ghul as drawn by Neil Adams, whose photorealistic Batman (shown above) first hooked me onto art.  Even if you think you know Batman, you don't know Batman like Glen Weldon knows Batman.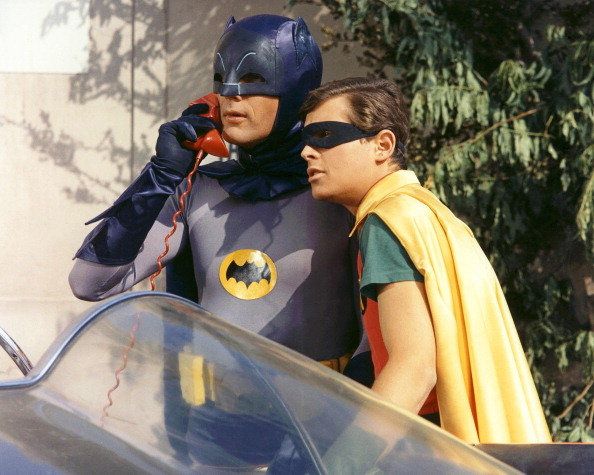 Image: Burt Ward, US actor, and Adam West, US actor, both in costume as the "Dynamic Duo" in a publicity still issued for the television series, Batman, USA, circa 1966. The television series featuring DC Comics characters, starred West as "Bruce Wayne" and his alter ego "Batman," and Ward as "Dick Grayson" and his alter ego "Robin." (Photo by Silver Screen Collection/Getty Images)
Of course, nerdom is all about believing you know Batman.  Weldon masterfully handles the 800-pound, Pop Art gorilla in the room that is and will always be the 1966 television series Batman starring Adam West and Burt Ward (shown above).  As Weldon narrates, Batman's continually cycled through darker (loner Batman) and brighter (Batman and Robin) periods, adjusting to the times and the fortunes of the up-and-down comic book industry.  Depending on when you entered the cycle, that's your Batman.  But for everyone who loves the "batusi" Batman, there are hard-core Bat-nerds who want to bury that incarnation forever.  And it's that hard-core Bat-nerd that's increasingly targeted by the movies and comics.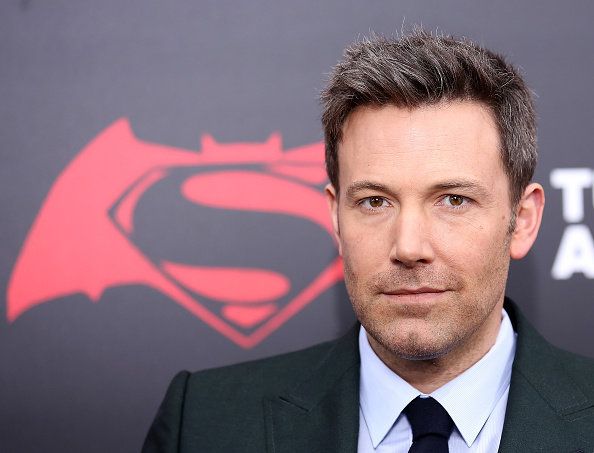 Image: Actor Ben Affleck attends the Batman v Superman: Dawn of Justice New York Premiere at Radio City Music Hall on March 20, 2016 in New York City. (Photo by J. Countess/Getty Images)
Why so much hate for Ben Affleck, the latest Batman?  A recent Economist article sized up the screen Batmen and judged Affleck to be the biggest and bulkiest (with, surprise, Adam West matching the comic book measurements closest).  Beefy is the opposite of nerdy.  Therefore, Affleck's Batman—however attractively dark to some—is the least nerdy, at least by that definition.  The Caped Crusade published before Batman v Superman's release, but Weldon weighed in during an interview to counter criticism of the film and Affleck.  "A story is all I ever want from these characters. They work on an elemental level," Weldon says. "And that's the point of my book. You can pick and choose whichever version of Batman you want." Like Batman's "caped crusade," arguments over Batman will never end, which is both Nerd Heaven and Nerd Hell.  Either way, you get to have your Batman while telling everyone else they're wrong, which pretty much sums up nerd life (and the Internet itself).
[Image at top of post: United States - April 18: Rich Willet of Sterling, Va., dressed as Batman, and an unidentified Superman, arrive for an event near the Capitol reflecting pool hosted by Awesome Con that attempted to set a Guinness World Record by assembling the largest gathering of comic book cosplayers, April, 18, 2014. The attempt fell short of the 1530 record. (Photo By Tom Williams/CQ Roll Call)]
[Many thanks to Simon & Schuster for providing me with a review copy of Glen Weldon's The Caped Crusade: Batman and the Rise of Nerd Culture.]
[Please follow me on Twitter (@BobDPictureThis) and Facebook (Art Blog By Bob) for more art news and views.]
What can 3D printing do for medicine? The "sky is the limit," says Northwell Health researcher Dr. Todd Goldstein.
Northwell Health
Sponsored by Northwell Health
Medical professionals are currently using 3D printers to create prosthetics and patient-specific organ models that doctors can use to prepare for surgery.
Eventually, scientists hope to print patient-specific organs that can be transplanted safely into the human body.
Northwell Health, New York State's largest health care provider, is pioneering 3D printing in medicine in three key ways.
The 'People Map of the United States' zooms in on America's obsession with celebrity
Strange Maps
Replace city names with those of their most famous residents
And you get a peculiar map of America's obsession with celebrity
If you seek fame, become an actor, musician or athlete rather than a politician, entrepreneur or scientist
Chicagoland is Obamaland
Image: The Pudding
Chicagoland's celebrity constellation: dominated by Barack, but with plenty of room for the Belushis, Brandos and Capones of this world.
Seen from among the satellites, this map of the United States is populated by a remarkably diverse bunch of athletes, entertainers, entrepreneurs and other persons of repute (and disrepute).
The multitalented Dwayne Johnson, boxing legend Muhammad Ali and Apple co-founder Steve Jobs dominate the West Coast. Right down the middle, we find actors Chris Pratt and Jason Momoa, singer Elvis Presley and basketball player Shaquille O'Neal. The East Coast crew include wrestler John Cena, whistle-blower Edward Snowden, mass murderer Ted Bundy… and Dwayne Johnson, again.
The Rock pops up in both Hayward, CA and Southwest Ranches, FL, but he's not the only one to appear twice on the map. Wild West legend Wyatt Earp makes an appearance in both Deadwood, SD and Dodge City, KS.
How is that? This 'People's Map of the United States' replaces the names of cities with those of "their most Wikipedia'ed resident: people born in, lived in, or connected to a place."
'Cincinnati, Birthplace of Charles Manson'
Image: The Pudding
Keys to the city, or lock 'em up and throw away the key? A city's most famous sons and daughters of a city aren't always the most favoured ones.
That definition allows people to appear in more than one locality. Dwayne Johnson was born in Hayward, has one of his houses in Southwest Ranches, and is famous enough to be the 'most Wikipedia'ed resident' for both localities.
Wyatt Earp was born in Monmouth, IL, but his reputation is closely associated with both Deadwood and Dodge City – although he's most famous for the Gunfight at the O.K. Corral, which took place in Tombstone, AZ. And yes, if you zoom in on that town in southern Arizona, there's Mr Earp again.
The data for this map was collected via the Wikipedia API (application programming interface) from the English-language Wikipedia for the period from July 2015 to May 2019.
The thousands of 'Notable People' sections in Wikipedia entries for cities and other places in the U.S. were scrubbed for the person with the most pageviews. No distinction was made between places of birth, residence or death. As the developers note, "people can 'be from' multiple places".
Pageviews are an impartial indicator of interest – it doesn't matter whether your claim to fame is horrific or honorific. As a result, this map provides a non-judgmental overview of America's obsession with celebrity.

Royals and (other) mortals
Image: The Pudding
There's also a UK version of the People Map – filled with last names like Neeson, Sheeran, Darwin and Churchill – and a few first names of monarchs.
Celebrity, it is often argued, is our age's version of the Greek pantheon, populated by dozens of major gods and thousands of minor ones, each an example of behaviours to emulate or avoid. This constellation of stars, famous and infamous, is more than a map of names. It's a window into America's soul.
But don't let that put you off. Zooming in on the map is entertaining enough: celebrities floating around in the ether are suddenly tied down to a pedestrian level, and to real geography. And it's fun to see the famous and the infamous rub shoulders, as it were.

Barack Obama owns Chicago, but the suburbs to the west of the city are dotted with a panoply of personalities, ranging from the criminal (Al Capone, Cicero) and the musical (John Prine, Maywood) to figures literary (Jonathan Franzen, Western Springs) and painterly (Ivan Albright, Warrenville), actorial (Harrison Ford, Park Ridge) and political (Eugene V. Debs, Elmhurst).
Freaks and angels
Image: Dorothy
The People Map of the U.S. was inspired by the U.S.A. Song Map, substituting song titles for place names.
It would be interesting to compare 'the most Wikipedia'ed' sons and daughters of America's cities with the ones advertised at the city limits. When you're entering Aberdeen, WA, a sign invites you to 'come as you are', in homage to its most famous son, Kurt Cobain. It's a safe bet that Indian Hill, OH will make sure you know Neil Armstrong, first man on the moon, was one of theirs. But it's highly unlikely that Cincinnati, a bit further south, will make any noise about Charles Manson, local boy done bad.
Inevitably, the map also reveals some bitterly ironic neighbours, such as Ishi, the last of the Yahi tribe, captured near Oroville, CA. He died in 1916 as "the last wild Indian in North America". The most 'pageviewed' resident of nearby Colusa, CA is Byron de la Beckwith, Jr., the white supremacist convicted for the murder of Civil Rights activist Medgar Evers.
As a sampling of America's interests, this map teaches that those aiming for fame would do better to become actors, musicians or athletes rather than politicians, entrepreneurs or scientists. But also that celebrity is not limited to the big city lights of LA or New York. Even in deepest Dakota or flattest Kansas, the footlights of fame will find you. Whether that's good or bad? The pageviews don't judge...
Average waiting time for hitchhikers in Ireland: Less than 30 minutes. In southern Spain: More than 90 minutes.
Image: Abel Suyok
Strange Maps
A popular means of transportation from the 1920s to the 1980s, hitchhiking has since fallen in disrepute.
However, as this map shows, thumbing a ride still occupies a thriving niche – if at great geographic variance.
In some countries and areas, you'll be off the street in no time. In other places, it's much harder to thumb your way from A to B.
Technology may soon grant us immortality, in a sense. Here's how.
Videos
Through the Connectome Project we may soon be able to map the pathways of the entire human brain, including memories, and create computer programs that evoke the person the digitization is stemmed from.
We age because errors build up in our cells — mitochondria to be exact.
With CRISPR technology we may soon be able to edit out errors that build up as we age, and extend the human lifespan.
Big think's weekly newsletter.
Get smarter faster from the comfort of your inbox.
See our newsletter privacy policy
here
Most Popular
Most Recent
Big think's weekly newsletter.
Get smarter faster from the comfort of your inbox.
See our newsletter privacy policy
here
© Copyright 2007-2019 & BIG THINK, BIG THINK EDGE,
SMARTER FASTER trademarks owned by The Big Think, Inc. All rights reserved.