U.S. students lag far behind rest of the world in learning a second language. Here's why that matters.
Throughout Europe, 92 percent of children speak multiple languages. In America, that number is 20 percent.
19 August, 2018
If you live in the German-speaking Community of Belgium, one of the nation's three federal communities, you most likely speak multiple languages. Though the local dialect is German, three-year-olds are required to study a foreign language. As it turns out, this is the easiest time during human development to grasp multiple dialects, given the plasticity of the brain. The longer you wait, the harder it becomes.
---
Most European countries require that their students speak foreign languages. At what age they start learning is another story, though for most of Europe, knowing at least two other languages is compulsory. Only Ireland (save Northern Ireland) and Scotland escape this fate, but even there you'll hear many tongues spoken by every citizen:
Ireland and Scotland are two exceptions that do not have compulsory language requirements, but Irish students learn both English and Gaelic (neither is considered a foreign language); Scottish schools are still obligated to offer at least one foreign-language option to all students ages 10-18.
Then you have America, a nation in which less than half of citizens own a passport. This number, thankfully, has risen to 42 percent from 27 percent since 2007, but data still hint at a majority disinterested in international travel. A new Pew Research poll shows that most American states have less than one-quarter of students studying a foreign language.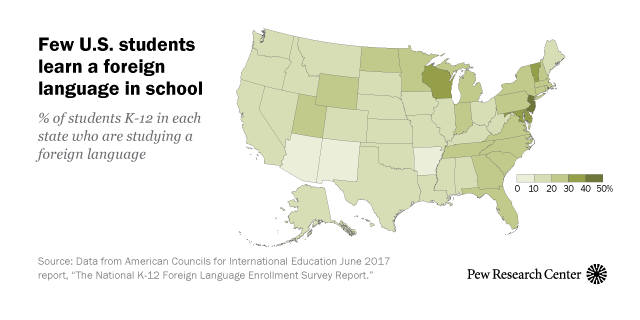 That's because learning a foreign language is not nationally mandated. The state with the most students enrolled—New Jersey has 51 percent—happens to be where I grew up. In high school, you either took Spanish, German, or French; looking back, I thought it was required everywhere. Not the case, at least broadly—school districts (and even states) can require language studies, but the U.S. Department of Education has no broad requirements.
Which is in stark contrast to Europe. In France, Romania, Austria, Norway, Malta, Luxembourg, and Liechtenstein, every student must learn another language. The country with the least amount of students enrolled is actually Belgium, with 64 percent, just behind Portugal (69 percent) and the Netherlands (70 percent). Overall, 92 percent of European students know multiple languages. In America, that number is 20 percent.
It also depends on which state you're discussing. In New Mexico, Arizona, and Arkansas, only 9 percent of students study a language other than English, an especially disturbing fact given that two are border states that benefit greatly from communicating with their neighbors.
The numbers don't get much better as we investigate older demographics. Only 36 percent of Americans believe speaking another language is "extremely or very important" in the modern workplace. Strangely, most Americans realize that further training is required to stay competitive in the market:
The vast majority of U.S. workers say that new skills and training may hold the key to their future job success.
Americans spend so much time focused on bringing jobs "back," yet we actually have no clue where they "go." It's impossible to compete in a global workforce if you refuse to educate yourself on anywhere beyond your neighborhood. Eight in ten Americans believe outsourcing is a serious problem and seven in ten claims that responsibility is on the individual, yet just over one-third consider that preparation should include learning another language.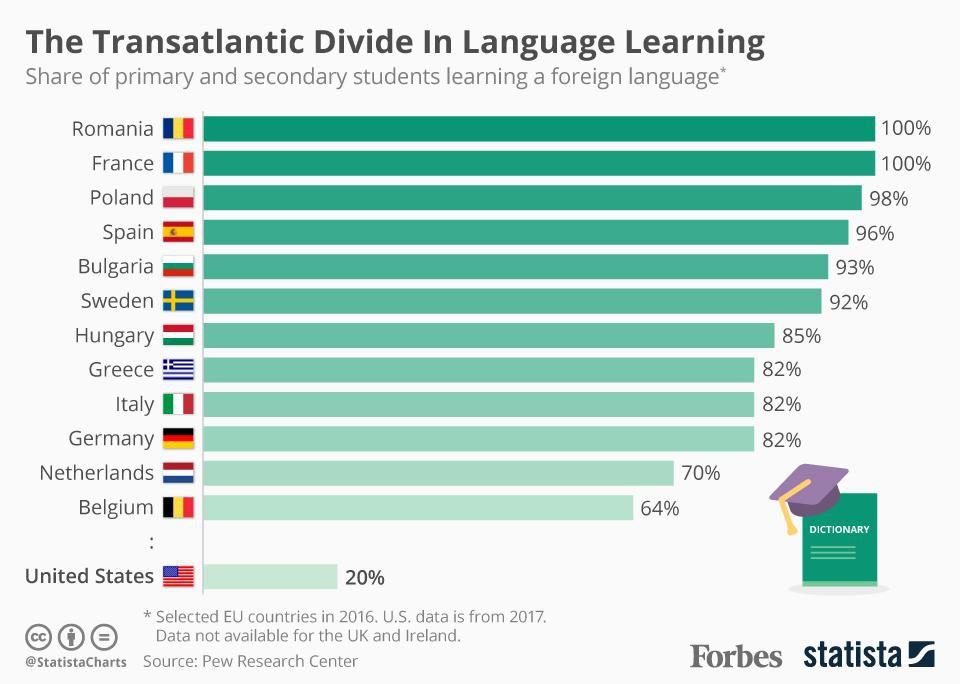 Considering English is the most studied language across Europe, it's not surprising American citizens are lazy. We can communicate almost anywhere we travel, our privileged reality. During my four trips to Morocco, I was often approached in French; upon learning I'm American, the speaker immediately switched to English. This is beside the native Moroccan Arabic. Many citizens also know Spanish and Italian.
One can argue that their economy depends on it. English is, after all, the business language of the world. Beyond staying competitive in the marketplace, however, there are many personal benefits. Early language learning increases cognitive benefits and helps fight diseases of dementia. Being multilingual has positive effects on memory, problem-solving, verbal and spatial abilities, and intelligence. These are all important skillsets in business. They also make you a healthier citizen, physically and socially.
Still, many Americans don't recognize the value of curiosity. Instead of bristling when hearing people communicate in a language they don't understand, they can attempt to make sense of it. Instead, we're constantly confronted with videos of Americans demanding that immigrants "learn to speak the language." Complacency usurps curiosity—and common sense.
Within the English language, the more words you know, the broader the population you can dialogue with. That extends exponentially when you know multiple languages. Why we wouldn't want to talk to as many people as possible sheds light on rampant nationalism, which is a shame. The larger one's vocabulary, the more likely we'll get along, in business and in life. Everyone's health improves.
--
Journaling can help you materialize your ambitions.
Videos
Organizing your thoughts can help you plan and achieve goals that might otherwise seen unobtainable.
The Bullet Journal method, in particular, can reduce clutter in your life by helping you visualize your future.
One way to view your journal might be less of a narrative and more of a timeline of decisions.
Progressive America would be half as big, but twice as populated as its conservative twin.
Image: Dicken Schrader
Strange Maps
America's two political tribes have consolidated into 'red' and 'blue' nations, with seemingly irreconcilable differences.
Perhaps the best way to stop the infighting is to go for a divorce and give the two nations a country each
Based on the UN's partition plan for Israel/Palestine, this proposal provides territorial contiguity and sea access to both 'red' and 'blue' America
New research links urban planning and political polarization.
Pixabay
Politics & Current Affairs
Canadian researchers find that excessive reliance on cars changes political views.
Decades of car-centric urban planning normalized unsustainable lifestyles.
People who prefer personal comfort elect politicians who represent such views.
Big think's weekly newsletter.
Get smarter faster from the comfort of your inbox.
See our newsletter privacy policy
here
Most Popular
Most Recent
Big think's weekly newsletter.
Get smarter faster from the comfort of your inbox.
See our newsletter privacy policy
here
© Copyright 2007-2018 & BIG THINK, BIG THINK EDGE,
SMARTER FASTER trademarks owned by The Big Think, Inc. All rights reserved.