The Zoo Effect: Where Is the Line Between Voyeurism and Cultural Exchange?
03 July, 2014
While many of us remain glued to our televisions as we watch team after team get eliminated from the World Cup, those who are in Brazil for the games have the opportunity to explore the host cities between matches. 
---
Tourism infrastructure has been amped up over the last few years in anticipation of the games, especially in Rio de Janeiro where government police installations have made the streets significantly safer for the average pedestrian. While traditional highlights like the Christ the Redeemer statue and scene on Ipanema Beach remain perennial favorites, stringent security measures have spawned an interesting aberration of the traditional tourist circuit: slum tourism. 
Dozens of tour operators -- from budget-focused guides to luxury excursions -- now offer trips into Rio's central favelas to explore this unique way of life off the grid. 
But visiting a city's slum is by no means a travel quirk that exists solely in Brazil; dozens of countries around the world -- from India to South Africa and even the United States -- have unfortunate urban pockets where visitors can see "how the other half lives". Nelson Mandela's Soweto has been a tourist favorite since the abolition of apartheid, tours of New Orleans' Ninth Ward shed light on the state of the city, and trips into the intricate shantytowns of Mumbai were popularized after Danny Boyle's hit "Slumdog Millionaire". 
Oftentimes these excursions are run by residents of the neighborhoods themselves, and when larger agencies are involved there's usually a great deal of transparency about profits benefiting the area in question, but at the end of the day what is a tourist really doing when they visit a slum? Are they engaging in an enlightening experience, or is it an act akin to a safari?
Travelers in 2014 are primed for meaningful experiences with locals. Elevated by social media, we use our experiences abroad as the barometer of a successful vacation. Today we habitually shun the glossy holiday veneer in favor of something unadulterated, and slums seem to offer the perfect antidote to that Disney-fied feel: local life in its rawest, most un-touristy form.  
The line between voyeurism and cultural exchange is more a gray zone blurred by extreme opinions. Supporters of slum tourism cite financial benefits and an increase in employment, while ardent naysayers worry about the objectification and zoo-ification of the slum residents in question. 
All points are valid, but beyond weighing the virtues of time spent in a disadvantaged area, it's also crucial to examine the desire to go. Why do we want to visit a slum anyway?
According to a study at the University of Pennsylvania, it's in our nature. We as humans are innately curious.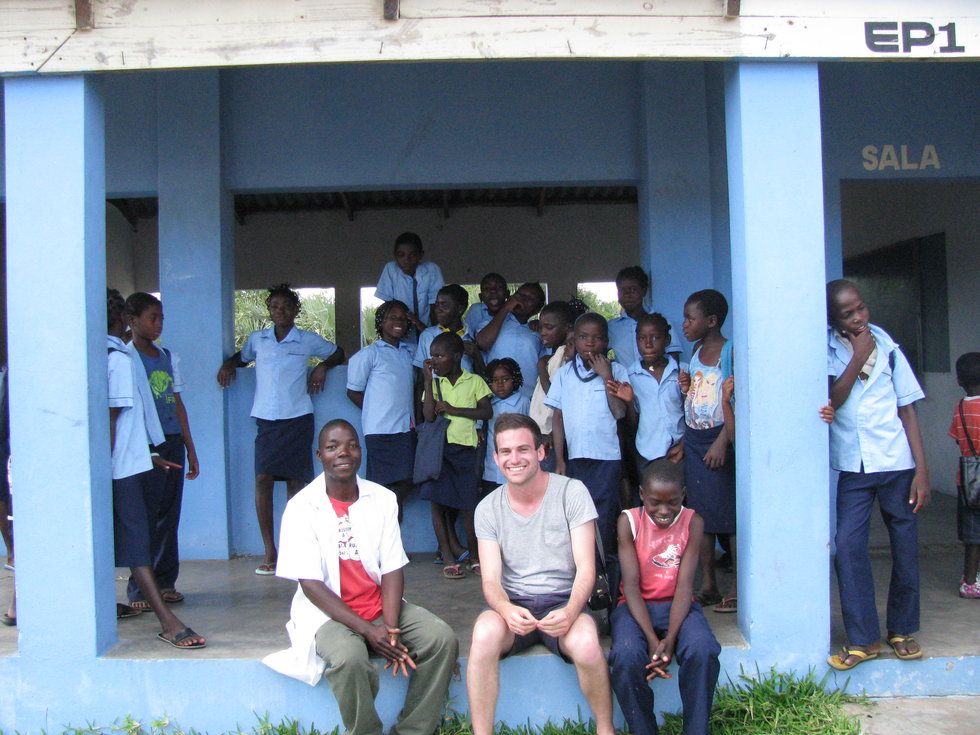 As a child, my parents gave me a large picture book entitled Material World. Each spread featured a different family with all of their earthly possessions splayed across the front of their house (or yurt etc). Fascinated, I would thumb through the pages memorizing the different items that each clan held dear (from Iceland to Bhutan everyone owned a TV; the family from Texas had a cherish collection of taxidermic elk.) I often credit this picture book with sparking my genuine interest in how others live and perceive the world around them, which has fueled the majority of my travel interests. 
The book's images of the poorer families were never meant to sensationalize or evoke shock and awe; they were there, etched in colored ink, not as a stand-alone photo, but a patch in a much larger quilt. 
Isolating a slum away from the surrounding urban organism is what creates the zoo effect. Like pages of the picture book displaying the lives most dissimilar from ours, slum tourism works when it is qualified as a patch in the quilt as well; a part of a greater dialog about the city that surrounds it -- the city that was ultimately responsible for its inception. 
Step inside the unlikely friendship of a former ACLU president and an ultra-conservative Supreme Court Justice.

Sponsored by Charles Koch Foundation
Former president of the ACLU Nadine Strossen and Supreme Court Justice Antonin Scalia were unlikely friends. They debated each other at events all over the world, and because of that developed a deep and rewarding friendship – despite their immense differences.
Scalia, a famous conservative, was invited to circles that were not his "home territory", such as the ACLU, to debate his views. Here, Strossen expresses her gratitude and respect for his commitment to the exchange of ideas.
"It's really sad that people seem to think that if you disagree with somebody on some issues you can't be mutually respectful, you can't enjoy each other's company, you can't learn from each other and grow in yourself," says Strossen.
The opinions expressed in this video do not necessarily reflect the views of the Charles Koch Foundation, which encourages the expression of diverse viewpoints within a culture of civil discourse and mutual respect.
French newspapers report that the trial hasn't lived up to expectations.
Image source: Charly Triballeau / AFP / Getty Images
Technology & Innovation
The French government initially invested in a rural solar roadway in 2016.
French newspapers report that the trial hasn't lived up to expectations.
Solar panel "paved" roadways are proving to be inefficient and too expensive.
Erik Verlinde has been compared to Einstein for completely rethinking the nature of gravity.
Photo by Willeke Duijvekam
Surprising Science
The Dutch physicist Erik Verlinde's hypothesis describes gravity as an "emergent" force not fundamental.
The scientist thinks his ideas describe the universe better than existing models, without resorting to "dark matter".
While some question his previous papers, Verlinde is reworking his ideas as a full-fledged theory.
Scientists make an important discovery for the future of computing.
Pixabay
Surprising Science
Researchers find a new state of matter called "topological superconductivity".
The state can lead to important advancements in quantum computing.
Utilizing special particles that emerge during this state can lead to error-free data storage and blazing calculation speed.