Yahoo CEO Marissa Mayer Has It All. Can You?
Daniel Honan
From 2011-2014, Daniel Honan was the Managing Editor at Big Think. Prior to Big Think, Daniel was Vice President of Production for Plum TV, a niche cable network he helped launch in 2002. The production team he oversaw won over two dozen Emmy awards. Daniel has created numerous shows and documentaries for television, and his film credits include Stealing the Fire, a documentary on the black market for nuclear weapons technology.
Follow Daniel on Twitter @DanielHonan
18 July, 2012
Yahoo wants to have it all. The company's board has tasked new CEO Marissa Mayer with the mandate to compete with her former company, the cash register that is known as Google, as well as to take on her former Google colleague Sheryl Sandberg's new company, Facebook. 
---
Mayer certainly has her work cut out for her, in more ways than one. 
What's the Big Idea?
Mayer is Yahoo's third CEO in twelve months and her every move will be scrutinized by Wall Street. Oh yeah, and she has a baby on the way. While Mayer's situation is a rare for the head of a large public corporation, the balance she will need to maintain between her public and private responsibilities is nothing new to women. In fact, the timing of Yahoo's announcement came on the heels of Anne-Marie Slaughter's controversial Atlantic article that argued women cannot "have it all."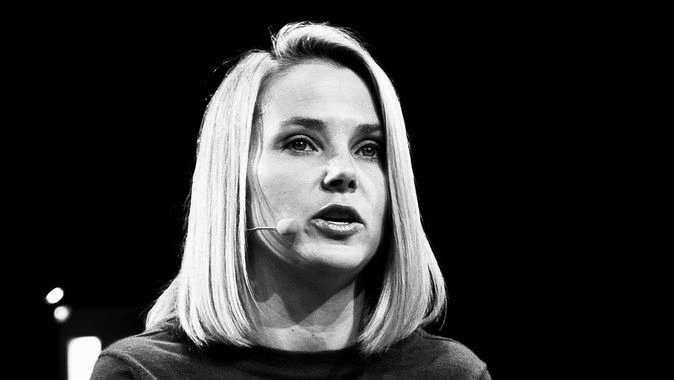 As Google's first female programmer, Mayer has played the role of trailblazer. 
In recent months, Big Think has interviewed women in a variety of fields who have grappled with this issue, and the different choices they have made are illuminating.
When Fortune magazine's assistant managing editor Leigh Gallagher turned 38 she made the decision to freeze her eggs, an experience she recently wrote about on the women's website The Hairpin. 
In her Big Think interview, Gallagher discussed her decision as well as the bioethics and social implications involved in delaying parenthood. "Three or four or five years ago, this really wouldn't have been as viable an option for people in my situation, but now it is," says Gallagher. 
Watch the video here:
What's the Significance?
According to Gallagher, the ability to hold off the biological clock has "long-term implications for the workplace." In her experience, Gallagher says she sees a lot of women "leave the workplace for a few years, women on very high-track careers, to have children." And at what cost?
Gallagher edits Fortune's 40 Under 40 list and says "we consistently have a problem finding women in their 30s who match the achievement of the men on the list, and it's a constant struggle for us." Gallagher says the childcare burden "unevens the playing field for men and women." While delaying pregnancy may not solve that problem for everyone, Gallagher says it is a good option for people under certain circumstances who "either haven't met someone yet and want to have children with a partner." On the other hand, it's also an option for people "who just aren't ready just yet but want to keep their options open."
Balancing the demands of parenting and careers is not unique to women in business. It is arguably a greater issue in science, as tenure track positions become available to women during peak years of fertility. Columbia University Neuroscientist Dr. Joy Hirsch explains the enormous challenges faced by women in science, and how she dealt with these challenges.
Watch the video here:
Image courtesy of Shutterstock
Follow Daniel Honan on Twitter @Daniel Honan
Related Articles
It's a development that could one day lead to much better treatments for osteoporosis, joint damage, and bone fractures.
Image: Nissim Benvenisty
Surprising Science
Scientists have isolated skeletal stem cells in adult and fetal bones for the first time.
These cells could one day help treat damaged bone and cartilage.
The team was able to grow skeletal stem cells from cells found within liposuctioned fat.
Gut bacteria play an important role in how you feel and think and how well your body fights off disease. New research shows that exercise can give your gut bacteria a boost.
National Institutes of Health
Surprising Science
Two studies from the University of Illinois show that gut bacteria can be changed by exercise alone.
Our understanding of how gut bacteria impacts our overall health is an emerging field, and this research sheds light on the many different ways exercise affects your body.
Exercising to improve your gut bacteria will prevent diseases and encourage brain health.
A groundbreaking new study shows that octopuses seemed to exhibit uncharacteristically social behavior when given MDMA, the psychedelic drug commonly known as ecstasy.
Surprising Science
Octopuses, like humans, have genes that seem to code for serotonin transporters.
Scientists gave MDMA to octopuses to see whether those genes translated into a binding site for serotonin, which regulates emotions and behavior in humans
Octopuses, which are typically asocial creatures, seem to get friendlier while on MDMA, suggesting humans have more in common with the strange invertebrates than previously thought
Big think's weekly newsletter.
Get smarter faster from the comfort of your inbox.
See our newsletter privacy policy
here
Most Popular
Most Recent
Big think's weekly newsletter.
Get smarter faster from the comfort of your inbox.
See our newsletter privacy policy
here
© Copyright 2007-2018 & BIG THINK, BIG THINK EDGE,
SMARTER FASTER trademarks owned by The Big Think, Inc. All rights reserved.