Yahoo CEO Marissa Mayer Has It All. Can You?
Daniel Honan
From 2011-2014, Daniel Honan was the Managing Editor at Big Think. Prior to Big Think, Daniel was Vice President of Production for Plum TV, a niche cable network he helped launch in 2002. The production team he oversaw won over two dozen Emmy awards. Daniel has created numerous shows and documentaries for television, and his film credits include Stealing the Fire, a documentary on the black market for nuclear weapons technology.
Follow Daniel on Twitter @DanielHonan
18 July, 2012
Yahoo wants to have it all. The company's board has tasked new CEO Marissa Mayer with the mandate to compete with her former company, the cash register that is known as Google, as well as to take on her former Google colleague Sheryl Sandberg's new company, Facebook. 
---
Mayer certainly has her work cut out for her, in more ways than one. 
What's the Big Idea?
Mayer is Yahoo's third CEO in twelve months and her every move will be scrutinized by Wall Street. Oh yeah, and she has a baby on the way. While Mayer's situation is a rare for the head of a large public corporation, the balance she will need to maintain between her public and private responsibilities is nothing new to women. In fact, the timing of Yahoo's announcement came on the heels of Anne-Marie Slaughter's controversial Atlantic article that argued women cannot "have it all."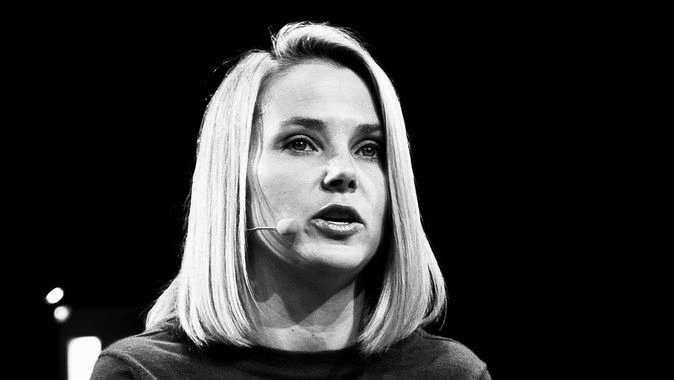 As Google's first female programmer, Mayer has played the role of trailblazer. 
In recent months, Big Think has interviewed women in a variety of fields who have grappled with this issue, and the different choices they have made are illuminating.
When Fortune magazine's assistant managing editor Leigh Gallagher turned 38 she made the decision to freeze her eggs, an experience she recently wrote about on the women's website The Hairpin. 
In her Big Think interview, Gallagher discussed her decision as well as the bioethics and social implications involved in delaying parenthood. "Three or four or five years ago, this really wouldn't have been as viable an option for people in my situation, but now it is," says Gallagher. 
Watch the video here:
What's the Significance?
According to Gallagher, the ability to hold off the biological clock has "long-term implications for the workplace." In her experience, Gallagher says she sees a lot of women "leave the workplace for a few years, women on very high-track careers, to have children." And at what cost?
Gallagher edits Fortune's 40 Under 40 list and says "we consistently have a problem finding women in their 30s who match the achievement of the men on the list, and it's a constant struggle for us." Gallagher says the childcare burden "unevens the playing field for men and women." While delaying pregnancy may not solve that problem for everyone, Gallagher says it is a good option for people under certain circumstances who "either haven't met someone yet and want to have children with a partner." On the other hand, it's also an option for people "who just aren't ready just yet but want to keep their options open."
Balancing the demands of parenting and careers is not unique to women in business. It is arguably a greater issue in science, as tenure track positions become available to women during peak years of fertility. Columbia University Neuroscientist Dr. Joy Hirsch explains the enormous challenges faced by women in science, and how she dealt with these challenges.
Watch the video here:
Image courtesy of Shutterstock
Follow Daniel Honan on Twitter @Daniel Honan
New research links urban planning and political polarization.
Pixabay
Politics & Current Affairs
Canadian researchers find that excessive reliance on cars changes political views.
Decades of car-centric urban planning normalized unsustainable lifestyles.
People who prefer personal comfort elect politicians who represent such views.
Progressive America would be half as big, but twice as populated as its conservative twin.
Image: Dicken Schrader
Strange Maps
America's two political tribes have consolidated into 'red' and 'blue' nations, with seemingly irreconcilable differences.
Perhaps the best way to stop the infighting is to go for a divorce and give the two nations a country each
Based on the UN's partition plan for Israel/Palestine, this proposal provides territorial contiguity and sea access to both 'red' and 'blue' America
Science and the squishiness of the human mind. The joys of wearing whatever the hell you want, and so much more.
Flickr / 13winds
Think Again Podcasts
Why can't we have a human-sized cat tree?
What would happen if you got a spoonful of a neutron star?
Why do we insist on dividing our wonderfully complex selves into boring little boxes
Big think's weekly newsletter.
Get smarter faster from the comfort of your inbox.
See our newsletter privacy policy
here
Most Popular
Most Recent
Big think's weekly newsletter.
Get smarter faster from the comfort of your inbox.
See our newsletter privacy policy
here
© Copyright 2007-2018 & BIG THINK, BIG THINK EDGE,
SMARTER FASTER trademarks owned by The Big Think, Inc. All rights reserved.