Unlike Voters, Fish Make Better Group Decisions
25 April, 2014
Editor's Note: This article was provided by our partner, RealClearScience. The original is here.
---
The entire idea of democracy rests upon the notion that large groups of people will, more often than not, make prudent decisions. In theory, all the stupid voters will cancel each other out, and society's collective intelligence will result in the best candidates getting elected. However, American voters, particularly since 1992, have almost single-handedly challenged the idea of the "wisdom of crowds."
Still, collective intelligence exists, despite Americans' vigorous attempts to disprove it. Large groups of animals are known to make synchronized, life-or-death decisions with great rapidity. Think of a school of fish evading a predator, or a flock of birds finding refuge in a storm. How are those coordinated decisions made? Scientists are just now beginning to unravel how such complex behavior works.
New work from a group led by Angelo Bisazza sheds more light on this decision-making process. But instead of studying large groups (10 or more individuals), which is customary for this type of research, Bisazza's team looked at how pairs (called "dyads") of fish made decisions. Specifically, they wanted to determine if a pair of fish was better at making basic numerical calculations than a single fish alone.
Fish can't count, but they do have a vague sense of relative magnitude known as "numerosity." For instance, if school of fish "A" is twice as large as school of fish "B," a fish will be likelier to join the larger group, presumably because it is safer for a fish to swim around with a larger group than a smaller one. The researchers took advantage of this natural instinct in their experiments. (See figure.)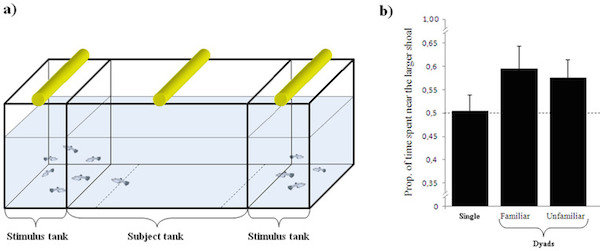 As shown in figure A, Bisazza's team placed either a single or a dyad of fish into a middle tank. On each side was another tank filled with either 4 or 6 fish. The test was straightforward: Which tank would the fish swim toward? Figure B depicts the result: Single fish were indecisive, spending roughly equal amounts of time with both the group of 4 and the group of 6. Dyads were much smarter; they spent more time adjacent to the group of 6. (The results were statistically significant.) Dyads of fish that had spent time together in the same tank ("familiar") yielded similar results to dyads of fish that were not previously acquainted ("unfamiliar").
Further experiments by Bisazza's team hinted that the smarter fish led the way. In other words, merit-based leadership was responsible for dyads making better decisions than single fish alone.
If only humans were so smart.
Source:  Angelo Bisazza, Brian Butterworth, Laura Piffer, Bahador Bahrami, Maria Elena Miletto Petrazzini & Christian Agrillo. "Collective enhancement of numerical acuity by meritocratic leadership in fish." Scientific Reports 4, Article number: 4560. Published 02-April-2014. doi:10.1038/srep04560
The ability to speak clearly, succinctly, and powerfully is easier than you think
Former U.S. President Barack Obama speaks during a Democratic Congressional Campaign Committee rally at the Anaheim Convention Center on September 8, 2018 in Anaheim, California. (Photo by Barbara Davidson/Getty Images)
Personal Growth
The ability to communicate effectively can make or break a person's assessment of your intelligence, competence, and authenticity.
The results come from a 15-year study that used ultrasound scans to track blood vessels in middle-aged adults starting in 2002.
Mind & Brain
The study measured the stiffness of blood vessels in middle-aged patients over time.
Stiff blood vessels can lead to the destruction of delicate blood vessels in the brain, which can contribute to cognitive decline.
The scans could someday become a widely used tool to identify people at high risk of developing dementia and Alzheimer's.
What defines a dark horse? The all-important decision to pursue fulfillment and excellence.
Big Think Books
When we first set the Dark Horse Project in motion, fulfillment was the last thing on our minds. We were hoping to uncover specific and possibly idiosyncratic study methods, learning techniques, and rehearsal regimes that dark horses used to attain excellence. Our training made us resistant to ambiguous variables that were difficult to quantify, and personal fulfillment seemed downright foggy. But our training also taught us never to ignore the evidence, no matter how much it violated our expectations.
Big think's weekly newsletter.
Get smarter faster from the comfort of your inbox.
See our newsletter privacy policy
here
Most Popular
Most Recent
Big think's weekly newsletter.
Get smarter faster from the comfort of your inbox.
See our newsletter privacy policy
here
© Copyright 2007-2018 & BIG THINK, BIG THINK EDGE,
SMARTER FASTER trademarks owned by The Big Think, Inc. All rights reserved.