Humans are Related to All Life on Earth: Why This is Important for our Health
In light of the interrelatedness of all life, we have an obligation to remove silos and broaden biological and biomedical thinking.
Kevin Strange
Dr. Kevin Strange has been President of Mount Desert Island Biological Laboratory (MDIBL) since 2009. He is the laboratory's first full-time director, brought on during its transition from a seasonal research center to a year-round research institution. In his short tenure there, Strange has helped to build and expand MDIBL by recruiting some of the most creative and talented biological scientists from all over the world.
MDIBL takes a unique approach and attitude towards scientific research. Instead of focusing on independent, isolated projects, the Laboratory fosters flexible collaboration, exhaustive creative solutions, and entrepreneurial thinking amongst its scientists and students. Strange has been instrumental in driving this innovative, collegial approach to biological inquiry, raising over $5 million dollars in investment and attracting nearly 50 full-time scientists and staff.
Before arriving in Maine, Strange was the Director of Anesthesiology Research at the Vanderbilt University School of Medicine, where he founded a much-needed clinical research program which quickly elevated the department's prestige to "top ten" status. As an expert in the field of membrane biology, he has lead research into how animal cells cope with environmental stressors by focusing on how cells detect, degrade, and repair proteins, and how proteins are regulated on a cellular level. This work is vital to understanding human genetic signaling. Strange holds a master's degree from the University of California Davis and received his doctorate from the University of British Columbia.
Strange excels at creating environments for efficient, dynamic scientific investigation and has been effective in building MDIBL into a pioneering 21st century research institution. He has nurtured a nimble, intellectual culture at MDIBL, where his cutting-edge physiological work is uniquely in conversation with the other environmental science and regenerative biology research ongoing at the institution.
06 June, 2013
---
Charles Darwin proposed that all life evolved from "one primordial form".  This means that humans are related to even the simplest and evolutionarily oldest organisms.  The interrelatedness of all life has important implications for how we understand the inner workings of our biology and for how we develop therapies to treat the thousands of diseases that plague our species.  
There is compelling evidence to support Darwin's common ancestor theory.  However, until we were able to readily sequence genomes from many diverse organisms it was not possible to apply rigorous statistical tests to this idea.  Douglas Theobald at Brandeis University described such analyses in a recent paper published in the prestigious journal Nature.  He concluded that there was less than a 1 in 102,860 chance that all life did not arise from a common ancestor.  102,860 is 1 followed by 2,860 zeros, an incomprehensibly large number.
The common ancestor theory has two important implications.  First, we share the information encoded within our genes with all other life forms.  A gene is a small section of a large double helix DNA molecule.  Genes are instructions for making proteins, and proteins mediate virtually all biological processes.  Since we share our genes with all organisms, we also must share our biology with them.  
Second, evolution is a process that increases the complexity of life forms over time.  Whatever our common ancestor was, it was a bare bones form of life, probably something that did little more than store and copy genetic information.  Over time, genes are distorted by mutations that occur when DNA is damaged or copied incorrectly.  Most mutations are either inconsequential or harm the organisms that harbor them.  However, mutations will occasionally give rise to new and advantageous biological functions that enable an organism to exploit new environments and resources.  As new biological functions are added, complexity increases.  
How does any of this impact human health?  If the biology of all life is related, it stands to reason that we can gain essential insights into human biology and disease by studying organisms that don't even remotely resemble us.  The diversity of life generated by evolution provides scientists with many unique and powerful experimental models.  Studying less complex organisms speeds the pace of discovery and reduces research costs.  In some cases, certain organisms make it possible to do experiments that could not be done otherwise.  For example, the first detailed understanding of the electrical signals used by our nerve cells to communicate with each other and the rest of the body came by studying giant nerve fibers from squid.  These fibers allowed physiologists to measure and manipulate nerve cell electrical activity in ways not readily possible in other animals.  Our understanding of this electrical activity underlies all of modern neuroscience and neuromedicine.  The tiny roundworm C. elegans grows easily and inexpensively in the laboratory, produces abundant offspring, can be studied using powerful genetic methods and has a lifespan of only 2-3 weeks.  These characteristics allowed C. elegans biologists to identify the first genes that influence how long we live thus opening the door to the development of therapeutic tools for slowing the degenerative changes associated with aging.  
Organisms that many think have nothing in common with humans are even being used in drug discovery.  The zebrafish, a common household aquarium species, is a powerful model used in many types of basic biological research.  Scientists in Boston are using zebrafish to understand human blood diseases.  Their recent studies identified a drug that increases blood cell replacement in these fish after they are injured by radiation.  That discovery led to the initiation of Phase I clinical trials of the drug as a treatment for leukemia and lymphomas.  At the Mount Desert Island Biological Laboratory, one of our scientists recently identified a drug that dramatically speeds the regeneration and repair of damaged tissues in zebrafish.  The drug has been tested in humans for unrelated conditions and is well tolerated.  Work is underway to begin testing its effects on wound healing in patients.  Because of its unique biology, C. elegans is being used by several groups as a powerful experimental system in which to identify new and desperately needed antibiotic compounds.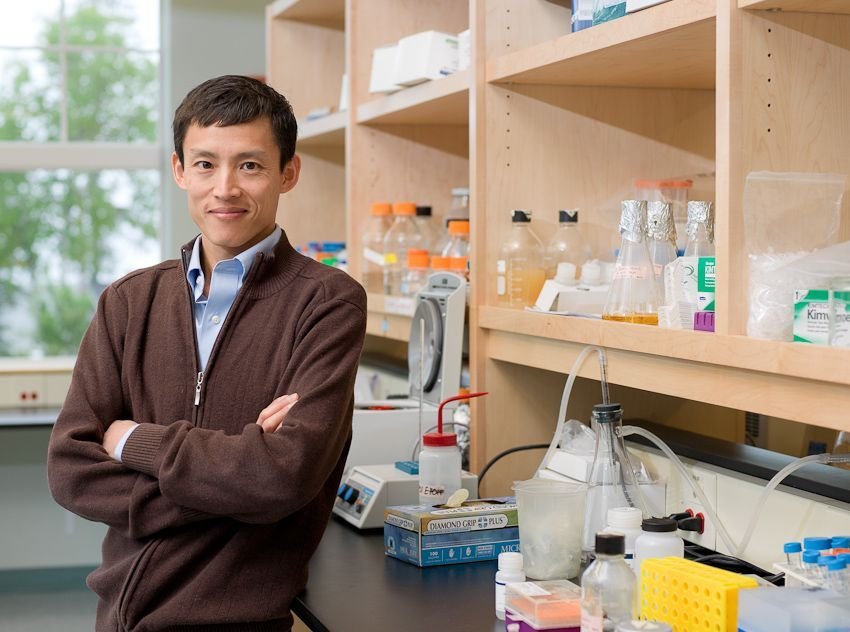 Assistant professor Voot Yin, Ph.D, studies regeneration and repair of damaged tissues in zebrafish at MDIBL.
For much of the history of biology, biologists exploited the diversity of life to define fundamental biological principles.  However, during the middle of the 20th century biological research underwent considerable narrowing with a greatly increased focus on a limited number of experimental models that can be genetically and molecularly manipulated.  The use of these models led to an even further narrowing of biological research with the establishment of "model-centric" research communities that exhibited little or no interaction.
The biological sciences are threatened by even further narrowing with the increased focus on translational research, which is defined broadly as moving basic research discoveries into research that will have a near-term impact on human health.  The goals of translational research are critically important and ones I support fully.  However, it is essential to remember that without basic discovery there will be nothing to translate.  
Genome sequencing and genomics have revolutionized the biological sciences and what we do not need is more narrowing and specialization.  What is needed now is interdisciplinary research that will allow us to see and understand the bigger picture, not small isolated parts.  Long gone are the days of ivory tower thinking and disciplinary silos.  I believe that it is essential for basic biologists to tackle the considerable intellectual challenge of understanding, articulating and advancing the potential human health impact of their basic research efforts.  Equally important, we need a sea change in the biomedical enterprise.  We need biomedical and clinical scientists, physicians and the pharmaceutical/biotech industry to recognize the interrelatedness of all life and to understand the important insights into human health and disease that have already been and can be further gained from studying roundworms, fruit flies, zebrafish, water fleas, yeast, slime molds and all other organisms with which we share our genes and biology.  It is not an option, but a societal obligation to remove the silos, reemphasize evolutionary science and broaden biological and biomedical thinking.  Only in this manner can we hope to solve the myriad of human health problems in the most rapid, economical and innovative ways.  
The Mount Desert Island Biological Laboratory is an independent biomedical research institution located on the coast of Maine.  Our core scientific values include interdisciplinary research, using diverse experimental models to speed the pace of discovery and reduce its costs, and translating our findings into solutions to the most challenging human and environmental health problems.  This blog will showcase examples of our research and how it impacts lives.
Giving our solar system a "slap in the face"
Surprising Science
A stream of galactic debris is hurtling at us, pulling dark matter along with it
It's traveling so quickly it's been described as a hurricane of dark matter
Scientists are excited to set their particle detectors at the onslffaught
Bernardo Kastrup proposes a new ontology he calls "idealism" built on panpsychism, the idea that everything in the universe contains consciousness. He solves problems with this philosophy by adding a new suggestion: The universal mind has dissociative identity disorder.
We're all one mind in "idealism." (Credit: Alex Grey)
Mind & Brain
There's a reason they call it the "hard problem." Consciousness: Where is it? What is it? No one single perspective seems to be able to answer all the questions we have about consciousness. Now Bernardo Kastrup thinks he's found one. He calls his ontology idealism, and according to idealism, all of us and all we perceive are manifestations of something very much like a cosmic-scale dissociative identity disorder (DID). He suggests there's an all-encompassing universe-wide consciousness, it has multiple personalities, and we're them.
Once again, our circadian rhythm points the way.
Photo: Victor Freitas / Unsplash
Surprising Science
Seven individuals were locked inside a windowless, internetless room for 37 days.
While at rest, they burned 130 more calories at 5 p.m. than at 5 a.m.
Morning time again shown not to be the best time to eat.
Big think's weekly newsletter.
Get smarter faster from the comfort of your inbox.
See our newsletter privacy policy
here
Most Popular
Most Recent
Big think's weekly newsletter.
Get smarter faster from the comfort of your inbox.
See our newsletter privacy policy
here
© Copyright 2007-2018 & BIG THINK, BIG THINK EDGE,
SMARTER FASTER trademarks owned by The Big Think, Inc. All rights reserved.