The Present —
Venice will now start charging tourists an entrance fee
The new charge was announced in a tweet by the city's mayor.
If a romantic gondola ride in Venice is on your bucket list for 2019, it will cost you slightly more for the experience now the Italian city has introduced a new 'tax' on tourists.
---
The new charge – known as contributo di sbarco or disembarkation contribution – was announced in a tweet by the city's mayor Luigi Brugnaro at the end of December with the words: "Now the landing contribution to #Venezia is law!"
Venice already charges tourists for staying overnight in its hotels – which brought in $38.6 million in 2017. But this tax is designed to target day-trippers, many of whom come on cruise ships, and make up more than half of the estimated 30 million tourists visiting the city each year.It will cost up to $11.50 to enter the World Heritage site known for its intricate network of canals and alleyways, which will be used to meet the costs of cleaning and maintaining the city.
The tax forms part of Italy's 2019 budget and was brought in after long discussions with Brussels. The city council now has two months to work out how it will operate the charge, which could be included in the cost of a bus, train or cruise ship ticket.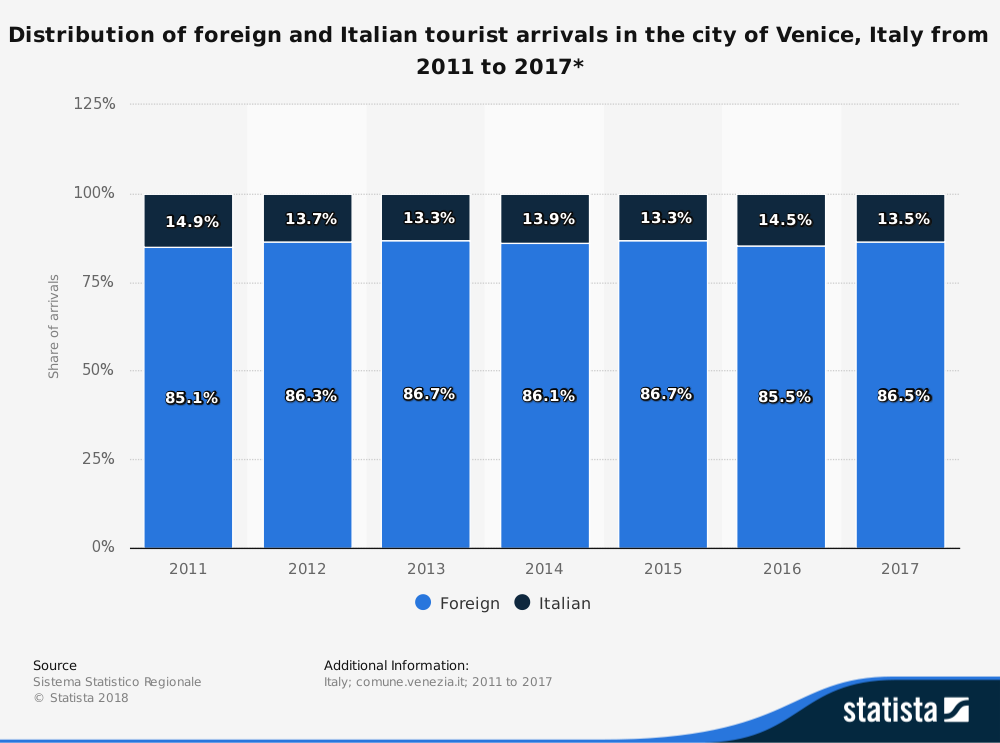 Image: Statista
But there will be exemptions – including students, those travelling to Venice briefly on business, as well as regional residents.
And it's not yet clear whether the 'landing tax' will replace the hotel tax.
The cost of tourism
Venice's Piazza San Marco flooded in October 2018 Image: Reuters/Manuel Silvestri
Venetians have long been concerned and have even protested about the impact of over-tourism on the character of their city, including additional wear and tear on historic monuments such as St Mark's Basilica and the Rialto Bridge.

It's also harder and more expensive to clear up after tourists in Venice than in other Italian cities, since materials must be brought in and out by boat.
In the summer, tourists generate so much waste, the council has to empty bins every half an hour, according to reports.
Towards sustainability
Tourist taxes are becoming increasingly common in parts of Europe and around the globe, as local governments try and mitigate the environmental impacts of tourism.
Subscribe for counterintuitive, surprising, and impactful stories delivered to your inbox every Thursday
Elsewhere in Italy, other cities have imposed a tax on visitors, including Florence, which charges up to 5 euros ($5.70) for overnight stays. The mayor of Florence recently called on other Italian cities to follow Venice's example by charging day-trippers too.
"What the government has done in Venice is a great idea and can be a template for a national law that introduces a tourist congestion charge across Italy," he is reported as saying.
While in Spain's Balearic Islands, the Sustainable Tourist Tax doubled in May 2018 to 4 euros ($4.60) per person, per night. The money is used to protect the islands' natural resources.
Tourism, travel and its enabling ecosystem is an important driver for growth – according to the World Economic Forum's Travel & Tourism Competitiveness Report 2017, accounting for 10% of global GDP and 1 in 10 jobs on the planet.
But taxes in popular destinations such as Venice will help balance this appetite for travel with the needs of the environment.
Reprinted with permission of World Economic Forum. Read the original article here.