Big ideas.
Once a week.
Subscribe to our weekly newsletter.
Fiction Isn't Good for You
30 April, 2012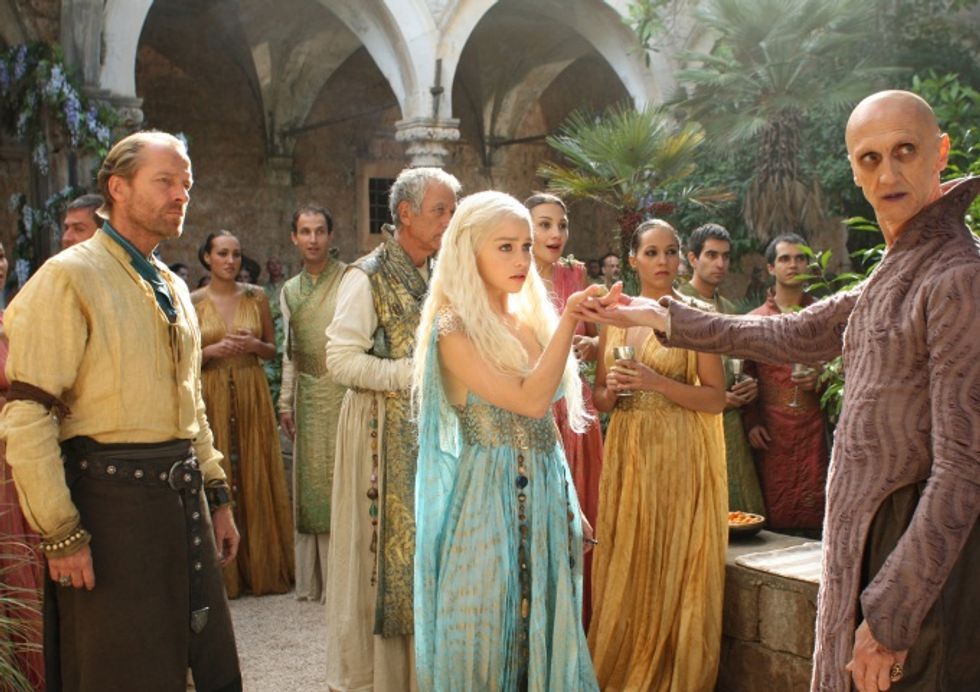 Jonathan Gottschall says stories are good for us. I'll soon apply myself full-time to story-writing, so you might suppose I'd find this an encouraging thought, but I don't. It's an annoying thought. And (therefore?) I find myself pretty skeptical of the idea that fiction is morally improving.
---
I don't mind if fiction is instructive or edifying. It's hard to see how time spent inhabiting fictional worlds and fictional minds can fail to expand our powers of sympathetic imagination. I don't mind if fiction does that, nor do I mind if there's some profit in it for readers/viewers and their social relations. But if a story is entertaining or stimulating or gripping or beautiful, that's good enough. 
This guy, who complains that the contemporary Anglophone novel fails to combat injustice, is the enemy of art. The story may well be the most powerful weapon in the propagandist's arsenal, but it is rarely to the aesthetic credit of a piece of fiction that it functions as propaganda. Stories don't need non-aesthetic justification, even if it turns out there are moral dimensions to literary quality. "Art is good for you" arguments almost always get my hackles up. Because what if it isn't?
Gottschall's main claim is that "Fiction enhances our ability to understand other people; it promotes a deep morality that cuts across religious and political creeds." Gotschall also notes that fiction can "warp our sense of reality," and that the lessons learned from fiction can be either bad or good. Let's talk about ambiguous moral valence of fiction first. Gothschall writes:
[S]tudies reliably show that when we watch a TV show that treats gay families nonjudgmentally (say, "Modern Family"), our own views on homosexuality are likely to move in the same nonjudgmental direction. History, too, reveals fiction's ability to change our values at the societal level, for better and worse. For example, Harriet Beecher Stowe's "Uncle Tom's Cabin" helped bring about the Civil War by convincing huge numbers of Americans that blacks are people, and that enslaving them is a mortal sin. On the other hand, the 1915 film "The Birth of a Nation" inflamed racist sentiments and helped resurrect an all but defunct KKK.
I think it's undeniably true that story is a powerful instrument of norm inculcation. The question is whether there is something inherent in the nature of stories that lend them a morally progressive bias. If fiction is equally capable of promoting and reinforcing "good" and "bad" moralities, then it would seem to be a neutral force. If "Modern Family" is making Americans more sympathetic to gay folk, and it is, that's because it's amplifying and accelerating an already existing push for progressive social change. Stories radically out of sync with the status quo morality will not find purchase in our story-loving minds; we reject these with disgust, like rancid pieces of meat.     
Now, I think it is likely that the stories available in our mass media do have a left-leaning bias, which one may or may not see as a bias toward a desirable morality. But my guess is that this bias has to do primarily with the fact that the people most likely to opt into creative careers are unusually high in "openness to experience," a personality trait highly correlated with liberal political sympathies. These will be people disinclined to help others, through the exercise of their imaginative sympathy, to finally see just how beautiful, noble, and good the aims of the Nazis were to the Nazis. (A pity?) If storytelling attracts a certain moral personality -- if there is something inherent in stories a certain moral personality likes -- that may enough to give storytelling a fairly reliable moral bias, but it's important to correctly identify the operative mechanism. 
According to Gottschall, the progressive moral bias baked into fiction flows not from a selection effect but from the way stories as such encourage the development of empathy. "[V]irtually all storytelling, regardless of genre, increases society's fund of empathy and reinforces an ethic of decency that is deeper than politics," he says. 
Again, I've no beef with the idea that stories call upon our perspective-shifting capacities. But the evidence presented that this has a significant positive effect seems weak:
Washington & Lee psychologist Dan Johnson recently had people read a short story that was specifically written to induce compassion in the reader. He wanted to see not only if fiction increased empathy, but whether it would lead to actual helping behavior. Johnson found that the more absorbed subjects were in the story, the more empathy they felt, and the more empathy they felt, the more likely the subjects were to help when the experimenter "accidentally" dropped a handful of pens — highly absorbed readers were twice as likely to help out.
I'm not impressed. In light of the situationist literature, which calls into question the existence and/or behavioral relevance of moral virtue, it's easy to doubt that this sort of boost in helpfulness to pen-droppers will survive the walk out of the lab. Moreover, even if fiction expands our empathic capacity, everything depends on our willingness to deploy it "in the wild." If we just won't put ourselves in the shoes of of those we see as the "other" when it really counts, when the game is on, then our highly cultivated capacity for imaginative empathy when reading books may be of slight moral consequence. Virtuosity at Super-Mario Cart does not a race-car driver make.
What about the ways in which stories distort our sense of reality? As Gottschall writes:
[F]iction's happy endings seem to warp our sense of reality. They make us believe in a lie: that the world is more just than it actually is. But believing that lie has important effects for society — and it may even help explain why humans tell stories in the first place.
Should we be so sure this is helpful? If stories generally encourage us to believe that we all eventually get what we have coming, won't this interfere with our ability to sympathize with the plight of, say, the poor? "Get a job!" If social justice just is, as Ronald Dworkin has it, our indemnifying each other against the risk of ill fortune, won't fiction's bias toward karmic moral balance stand in the way of justice?
Finally, what if stewing in stories makes us inclined to reduce everything to a simplified narrative? Samuel McInerny, riffing off Tyler Cowen's cautionary tale about stories, writes:
This is one of the reasons we humans love narratives; they summarize the important information in a form that's familiar and easy to digest. It's much easier to understand events in the world as instances of good versus evil, or any one of the seven story types. As Daniel Kahneman explains, "[we] build the best possible story form the information available… and if it is a good story, [we] believe it." The implication here is that it's how good the story is, not necessarily its accuracy, that's important.
But narratives are also irrational because they sacrifice the whole story for one side of a story that conforms to one's worldview. Relying on them often leads to inaccuracies and stereotypes. This is what the participants in Brenner's study highlight; people who take in narratives are often blinded to the whole story – rarely do we ask: "What more would I need to know before I can have a more informed and complete opinion?"
The "stories are good for you" argument, in addition to wrongly suggesting that stories ought to be good for you, promotes complacency about the cognitive dangers of naive narrative. Writing about politics every day has made me painfully aware of just how pathetically idiotic the "good-and-smart vs. stupid-or-evil" stories inside of which even some of our smartest commentators seem to be helplessly trapped. Better stories would certainly help. (There's probably no non-narrative mode of thinking available to us.) But stories as such don't look so great once we begin to see moral progress -- Careful! History has not a plot -- as a process of replacing bad stories with slightly less bad ones. 
Game of Thrones image courtesy of HBO
Geologists discover a rhythm to major geologic events.
Surprising Science
It appears that Earth has a geologic "pulse," with clusters of major events occurring every 27.5 million years.
Working with the most accurate dating methods available, the authors of the study constructed a new history of the last 260 million years.
Exactly why these cycles occur remains unknown, but there are some interesting theories.
Our hearts beat at a resting rate of 60 to 100 beats per minute. Lots of other things pulse, too. The colors we see and the pitches we hear, for example, are due to the different wave frequencies ("pulses") of light and sound waves.
Now, a study in the journal Geoscience Frontiers finds that Earth itself has a pulse, with one "beat" every 27.5 million years. That's the rate at which major geological events have been occurring as far back as geologists can tell.
A planetary calendar has 10 dates in red
Credit: Jagoush / Adobe Stock
According to lead author and geologist Michael Rampino of New York University's Department of Biology, "Many geologists believe that geological events are random over time. But our study provides statistical evidence for a common cycle, suggesting that these geologic events are correlated and not random."

The new study is not the first time that there's been a suggestion of a planetary geologic cycle, but it's only with recent refinements in radioisotopic dating techniques that there's evidence supporting the theory. The authors of the study collected the latest, best dating for 89 known geologic events over the last 260 million years:
29 sea level fluctuations
12 marine extinctions
9 land-based extinctions
10 periods of low ocean oxygenation
13 gigantic flood basalt volcanic eruptions
8 changes in the rate of seafloor spread
8 times there were global pulsations in interplate magmatism
The dates provided the scientists a new timetable of Earth's geologic history.
Tick, tick, boom
Credit: New York University
Putting all the events together, the scientists performed a series of statistical analyses that revealed that events tend to cluster around 10 different dates, with peak activity occurring every 27.5 million years. Between the ten busy periods, the number of events dropped sharply, approaching zero.

Perhaps the most fascinating question that remains unanswered for now is exactly why this is happening. The authors of the study suggest two possibilities:
"The correlations and cyclicity seen in the geologic episodes may be entirely a function of global internal Earth dynamics affecting global tectonics and climate, but similar cycles in the Earth's orbit in the Solar System and in the Galaxy might be pacing these events. Whatever the origins of these cyclical episodes, their occurrences support the case for a largely periodic, coordinated, and intermittently catastrophic geologic record, which is quite different from the views held by most geologists."
Assuming the researchers' calculations are at least roughly correct — the authors note that different statistical formulas may result in further refinement of their conclusions — there's no need to worry that we're about to be thumped by another planetary heartbeat. The last occurred some seven million years ago, meaning the next won't happen for about another 20 million years.
Research shows that those who spend more time speaking tend to emerge as the leaders of groups, regardless of their intelligence.
Credit: Adobe Stock / saksit.
Surprising Science
A new study proposes the "babble hypothesis" of becoming a group leader.
Researchers show that intelligence is not the most important factor in leadership.
Those who talk the most tend to emerge as group leaders.
If you want to become a leader, start yammering. It doesn't even necessarily matter what you say. New research shows that groups without a leader can find one if somebody starts talking a lot.
This phenomenon, described by the "babble hypothesis" of leadership, depends neither on group member intelligence nor personality. Leaders emerge based on the quantity of speaking, not quality.
Researcher Neil G. MacLaren, lead author of the study published in The Leadership Quarterly, believes his team's work may improve how groups are organized and how individuals within them are trained and evaluated.
"It turns out that early attempts to assess leadership quality were found to be highly confounded with a simple quantity: the amount of time that group members spoke during a discussion," shared MacLaren, who is a research fellow at Binghamton University.
While we tend to think of leaders as people who share important ideas, leadership may boil down to whoever "babbles" the most. Understanding the connection between how much people speak and how they become perceived as leaders is key to growing our knowledge of group dynamics.
The power of babble
The research involved 256 college students, divided into 33 groups of four to ten people each. They were asked to collaborate on either a military computer simulation game (BCT Commander) or a business-oriented game (CleanStart). The players had ten minutes to plan how they would carry out a task and 60 minutes to accomplish it as a group. One person in the group was randomly designated as the "operator," whose job was to control the user interface of the game.
To determine who became the leader of each group, the researchers asked the participants both before and after the game to nominate one to five people for this distinction. The scientists found that those who talked more were also more likely to be nominated. This remained true after controlling for a number of variables, such as previous knowledge of the game, various personality traits, or intelligence.
How leaders influence people to believe | Michael Dowling | Big Think www.youtube.com
In an interview with PsyPost, MacLaren shared that "the evidence does seem consistent that people who speak more are more likely to be viewed as leaders."

Another find was that gender bias seemed to have a strong effect on who was considered a leader. "In our data, men receive on average an extra vote just for being a man," explained MacLaren. "The effect is more extreme for the individual with the most votes."
The great theoretical physicist Steven Weinberg passed away on July 23. This is our tribute.
Credit
: Billy Huynh via Unsplash
13-8
The recent passing of the great theoretical physicist Steven Weinberg brought back memories of how his book got me into the study of cosmology.
Going back in time, toward the cosmic infancy, is a spectacular effort that combines experimental and theoretical ingenuity. Modern cosmology is an experimental science.
The cosmic story is, ultimately, our own. Our roots reach down to the earliest moments after creation.
When I was a junior in college, my electromagnetism professor had an awesome idea. Apart from the usual homework and exams, we were to give a seminar to the class on a topic of our choosing. The idea was to gauge which area of physics we would be interested in following professionally.
Professor Gilson Carneiro knew I was interested in cosmology and suggested a book by Nobel Prize Laureate Steven Weinberg: The First Three Minutes: A Modern View of the Origin of the Universe. I still have my original copy in Portuguese, from 1979, that emanates a musty tropical smell, sitting on my bookshelf side-by-side with the American version, a Bantam edition from 1979.
Inspired by Steven Weinberg

Books can change lives. They can illuminate the path ahead. In my case, there is no question that Weinberg's book blew my teenage mind. I decided, then and there, that I would become a cosmologist working on the physics of the early universe. The first three minutes of cosmic existence — what could be more exciting for a young physicist than trying to uncover the mystery of creation itself and the origin of the universe, matter, and stars? Weinberg quickly became my modern physics hero, the one I wanted to emulate professionally. Sadly, he passed away July 23rd, leaving a huge void for a generation of physicists.
What excited my young imagination was that science could actually make sense of the very early universe, meaning that theories could be validated and ideas could be tested against real data. Cosmology, as a science, only really took off after Einstein published his paper on the shape of the universe in 1917, two years after his groundbreaking paper on the theory of general relativity, the one explaining how we can interpret gravity as the curvature of spacetime. Matter doesn't "bend" time, but it affects how quickly it flows. (See last week's essay on what happens when you fall into a black hole).
The Big Bang Theory
For most of the 20th century, cosmology lived in the realm of theoretical speculation. One model proposed that the universe started from a small, hot, dense plasma billions of years ago and has been expanding ever since — the Big Bang model; another suggested that the cosmos stands still and that the changes astronomers see are mostly local — the steady state model.
Competing models are essential to science but so is data to help us discriminate among them. In the mid 1960s, a decisive discovery changed the game forever. Arno Penzias and Robert Wilson accidentally discovered the cosmic microwave background radiation (CMB), a fossil from the early universe predicted to exist by George Gamow, Ralph Alpher, and Robert Herman in their Big Bang model. (Alpher and Herman published a lovely account of the history here.) The CMB is a bath of microwave photons that permeates the whole of space, a remnant from the epoch when the first hydrogen atoms were forged, some 400,000 years after the bang.
The existence of the CMB was the smoking gun confirming the Big Bang model. From that moment on, a series of spectacular observatories and detectors, both on land and in space, have extracted huge amounts of information from the properties of the CMB, a bit like paleontologists that excavate the remains of dinosaurs and dig for more bones to get details of a past long gone.
How far back can we go?
Confirming the general outline of the Big Bang model changed our cosmic view. The universe, like you and me, has a history, a past waiting to be explored. How far back in time could we dig? Was there some ultimate wall we cannot pass?
Because matter gets hot as it gets squeezed, going back in time meant looking at matter and radiation at higher and higher temperatures. There is a simple relation that connects the age of the universe and its temperature, measured in terms of the temperature of photons (the particles of visible light and other forms of invisible radiation). The fun thing is that matter breaks down as the temperature increases. So, going back in time means looking at matter at more and more primitive states of organization. After the CMB formed 400,000 years after the bang, there were hydrogen atoms. Before, there weren't. The universe was filled with a primordial soup of particles: protons, neutrons, electrons, photons, and neutrinos, the ghostly particles that cross planets and people unscathed. Also, there were very light atomic nuclei, such as deuterium and tritium (both heavier cousins of hydrogen), helium, and lithium.
Cosmic alchemy
So, to study the universe after 400,000 years, we need to use atomic physics, at least until large clumps of matter aggregate due to gravity and start to collapse to form the first stars, a few millions of years after. What about earlier on? The cosmic history is broken down into chunks of time, each the realm of different kinds of physics. Before atoms form, all the way to about a second after the Big Bang, it's nuclear physics time. That's why Weinberg brilliantly titled his book The First Three Minutes. It is during the interval between one-hundredth of a second and three minutes that the light atomic nuclei (made of protons and neutrons) formed, a process called, with poetic flair, primordial nucleosynthesis. Protons collided with neutrons and, sometimes, stuck together due to the attractive strong nuclear force. Why did only a few light nuclei form then? Because the expansion of the universe made it hard for the particles to find each other.
What about the nuclei of heavier elements, like carbon, oxygen, calcium, gold? The answer is beautiful: all the elements of the periodic table after lithium were made and continue to be made in stars, the true cosmic alchemists. Hydrogen eventually becomes people if you wait long enough. At least in this universe.
In this article, we got all the way up to nucleosynthesis, the forging of the first atomic nuclei when the universe was a minute old. What about earlier on? How close to the beginning, to t = 0, can science get? Stay tuned, and we will continue next week.
To Steven Weinberg, with gratitude, for all that you taught us about the universe.
Surprising Science
Long before Alexandria became the center of Egyptian trade, there was Thônis-Heracleion. But then it sank.
Scroll down to load more…