Existentialism is great and all, but how can you really relate to the ideas if you don't think God is dead? Luckily, we've got just the thing.
Søren Kierkegaard, the man who invented the word "angst".
Existentialism remains one of the more popular philosophies for the layperson to read about, consider, and study. The questions that it asks and the problems it confronts, ones of free will, anxiety, and the search for meaning; are ones we all face in our daily lives. While the solutions it offers may not work for everyone, existentialism can have a particularly large blind spot when it tries to provide answers for the religious.

Think of it, Nietzsche declared that God was dead, Sartre, Camus, and Beauvoir were all atheists, and the related philosophy of Nihilism also denies God's existence. For the religious individual who seeks extra comfort from existential dread and the perspective of the existentialists on the problems of modern life, good answers can be hard to come by.

But there is an Existentialist who made Christianity one of the core principles of his thought. The founder of existentialism, Søren Kierkegaard.

Kierkegaard was a Danish philosopher born to a wealthy family in Copenhagen in the early 19th century. He was a prolific writer who often used pseudonyms to explore alternative perspectives. His work covers all of the areas of existential thought; anxiety, absurdity, authenticity, despair, the search for meaning, and individualism. However, unlike his atheistic successors, he places his faith in the center of the solutions to the problems of human life. Just as the death of God was key for Nietzsche, the need for God was just as important to Kierkegaard. Here are some of his insights:

On finding meaning
Kierkegaard agrees that life can be absurd and that meaning could be hard to come by. As opposed to Nietzsche, who said the death of God caused this, Søren argued that, in the present age, meaning is sucked out of concepts by abstraction and a tendency to view things with too much rationality. He lamented that he lived in an age where humans were increasingly viewed as generalizations, where the passionate man was seen as intemperate, and where most people simply went along.
He cries out for us to live passionately, and worry more about the problem of living life than trying to fit the social order. His philosophy is all about living this way, even to the point where an outside viewer will be unable to understand your motivation. 

Kierkegaard also discovered a point that was hammered in by latter existentialists; reason and science can tell you a lot of things, but they cannot give something value or meaning. You have to do that. Meaning, value, and purpose cannot be reduced to quantifiable elements, it is up to the individual acting on their own to decide what the meaning of their life is going to be. His favored solution for finding meaning is to look to God and make a leap of faith. That alone, he argued, could both offer us meaning and properly balance us as people.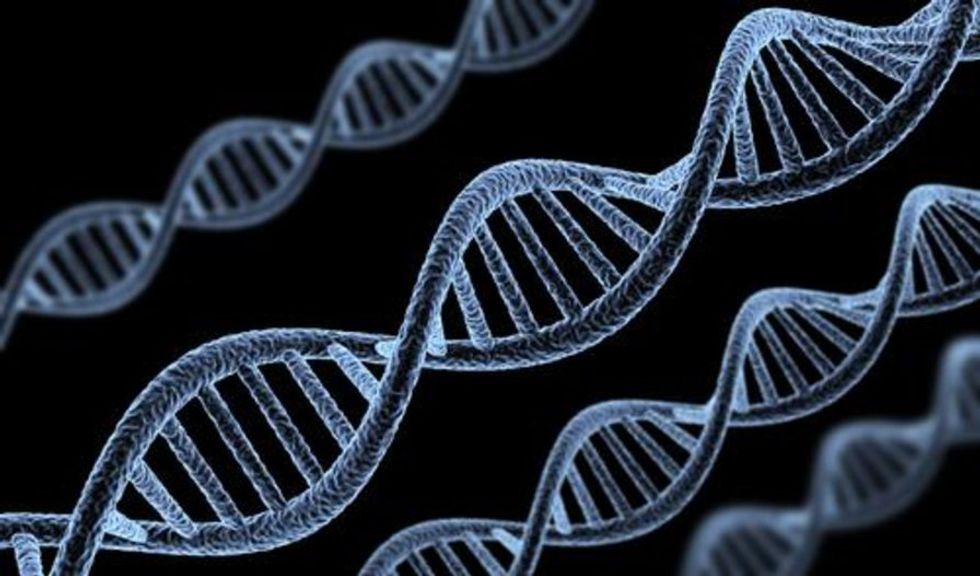 Pictured, the building blocks of life. Not pictured, the building blocks of the meaning of life. 
On living with freedom
We must face the world as individuals, so Søren tells us. However, to fully be ourselves he posits that a person must recognize the "power that constituted it". We are given the moral imperative to discover and live as ourselves, and God is a key part of that imperative. Every day, we are presented with facts of life and possibilities, and we must make choices. To not choose is also an option, but a poor one. To avoid becoming ourselves is to be in despair, which, for Kierkegaard, is to be in sin.
He warns us also of the anxiety that comes with choosing the path of our lives. While we must choose, we can never be sure that we choose correctly, as "Life can only be understood backwards; but it must be lived forwards." In the same way, we have endless possibilities before us, except for those lives we chose not to have. He articulates the anxiety of having to choose to not live out some possibilities magnificently, "If you marry, you will regret it; if you do not marry, you will also regret it; if you marry or do not marry, you will regret both; Laugh at the world's follies, you will regret it, weep over them, you will also regret that; laugh at the world's follies or weep over them, you will regret both…."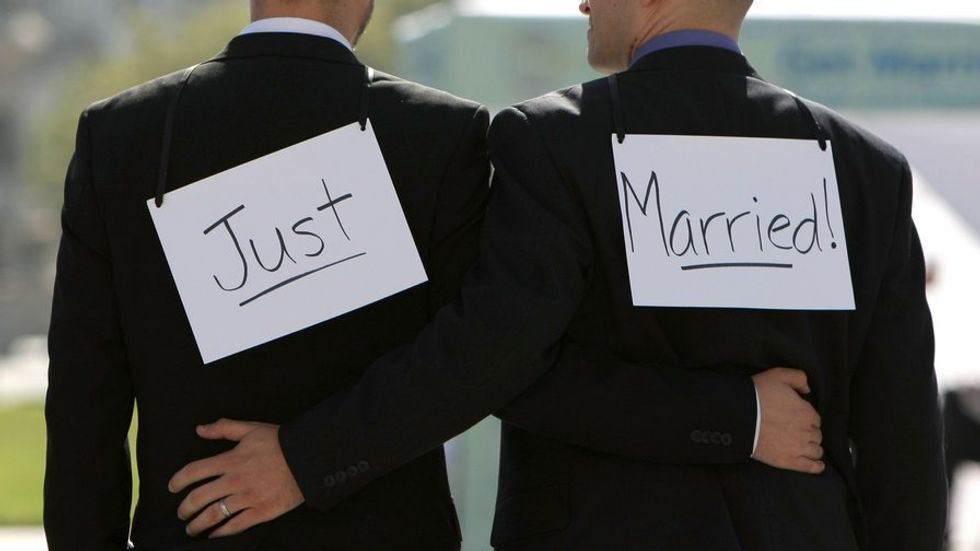 Kierkegaard says they will live to regret it, no matter what happens. 
Like Nietzsche, Kierkegaard also saw the potential use of "isms" to solve the problem of meaning in our lives. Søren focuses on the idea of an "ethical" life as an escape from deciding on meaning for yourself. By choosing a social or ethical system to latch onto we can find meaning in our relation to it; rather than by ourselves. He sees this as a possibility for many people, but not as the ideal solution to our problems. 
One of his solutions to the problem of meaning was a Christian variant of the super-individualist Ubermensch; before Nietzsche had invented it. The Knight of Faith is an individual who has moved beyond relying on external rationality or "isms" for the justification of their lives and fully dedicated themselves to a higher calling. This calling is God in the case of Kierkegaard's examples of Abraham and Mary.
They understand that the demands of God might be unethical, as the demand that Abraham kill his son was. However, they carry on past ethical concerns anyway, as to be a Knight of Faith is to be- to steal a phrase from Nietzsche- beyond good and evil.*
The benefits of Existentialism don't have to be utterly separated from the Christian notion of God. Likewise, Kierkegaard's insights do not require a dedication to Christianity to be used. He argued that the "passionate pagan" who prayed to a false idol was living better than the Christian who was worshiping out of mere habit. Even for those of us who are not Christians, it is possible to understand a little more about ourselves and the problems we all face as humans by considering the worldview of Søren Kierkegaard. A fantastic introduction to his ideas can be seen here.




*-To those of you who see a potential problem here, Kierkegaard notes in the book Fear and Trembling that some method must be used to determine who is a Knight of Faith and who is just a lunatic. Likewise, while the Knights could be divinely inspired to do horrible and bizarre things (like sacrificing children or inventing circumcision) by religious fervor, Søren posits that the typical Knight would be rather reserved and that we might never hear about them. Debate continues on if that answer is sufficient. 
Albert Einstein shared his thoughts on the meaning of life and his own spiritual views.
Portrait taken 6 February 1938 at Princeton University of the physicist Professor Albert Einstein, author of theory of relativity. (Photo credit: AFP/Getty Images)
Albert Einstein was one of the world's most brilliant thinkers, influencing scientific thought immeasurably. He was also not shy about sharing his wisdom about other topics, writing essays, articles, letters, giving interviews and speeches. His everyday-life opinions on social and intellectual issues that do not come from the world of physics give an insight into the spiritual and moral vision of the scientist, offering much to take to heart.
The collection of essays and ideas "The World As I See It" gathers Einstein's thoughts from before 1935, when he was as the preface says "at the height of his scientific powers but not yet known as the sage of the atomic age". 
In the book, Einstein comes back to the question of the purpose of life, and what a meaningful life is, on several occasions. In one passage, he links it to a sense of religiosity.
"What is the meaning of human life, or, for that matter, of the life of any creature? To know an answer to this question means to be religious. You ask: Does it many any sense, then, to pose this question? I answer: The man who regards his own life and that of his fellow creatures as meaningless is not merely unhappy but hardly fit for life," wrote Einstein.
Did Einstein himself hold religious beliefs? Raised by secular Jewish parents, he had complex and evolving spiritual thoughts. He generally seemed to be open to the possibility of the scientific impulse and religious thoughts coexisting in people's lives.
"Science without religion is lame, religion without science is blind," said Einstein in his 1954 essay on science and religion.
Some (including the scientist himself) have called Einstein's spiritual views pantheism, largely influenced by the philosophy of Baruch Spinoza. Pantheists see God as existing but abstract, equating all of reality with divinity. They also reject a specific personal God or a god that is somehow endowed with human attributes.
Himself a famous atheist, Richard Dawkins calls Einstein's pantheism a "sexed-up atheism," but other scholars point to the fact that Einstein did seem to believe in a supernatural intelligence that's beyond the physical world. He referred to it in his writings as "a superior spirit," "a superior mind" and a "spirit vastly superior to men". Einstein was possibly a deist, although he was quite familiar with various religious teachings, including a strong knowledge of Jewish religious texts. 
In another passage from 1934, Einstein talks about the value of a human being, reflecting a Buddhist-like approach:
"The true value of a human being is determined primarily by the measure and the sense in which he has attained liberation from the self".
This theme of liberating the self to glimpse life's true meaning is also echoed by Einstein later on, in a 1950 letter to console a grieving father Robert S. Marcus:
"A human being is a part of the whole, called by us "Universe," a part limited in time and space. He experiences himself, his thoughts and feelings as something separate from the rest—a kind of optical delusion of his consciousness. The striving to free oneself from this delusion is the one issue of true religion. Not to nourish it but to try to overcome it is the way to reach the attainable measure of peace of mind."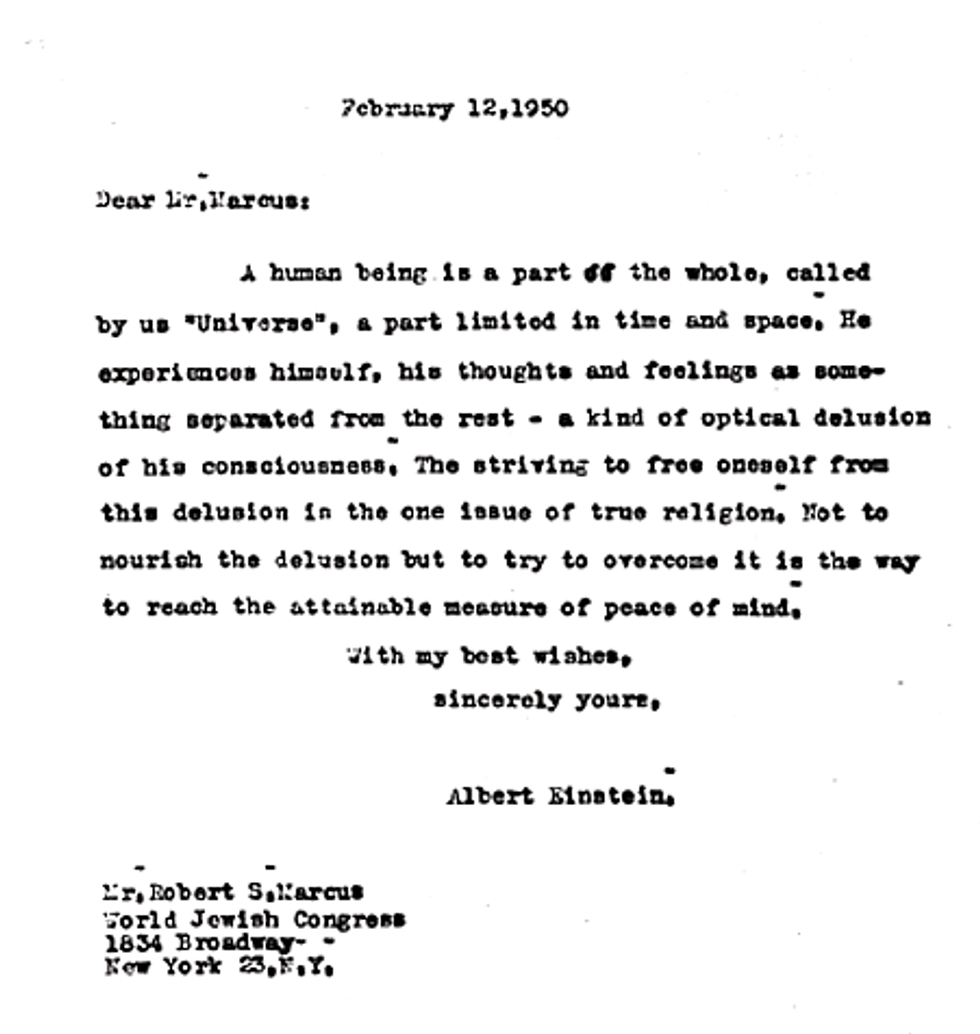 In case you are wondering whether Einstein saw value in material pursuits, here's him talking about accumulating wealth in 1934, as part of the "The World As I See It": 
"I am absolutely convinced that no wealth in the world can help humanity forward, even in the hands of the most devoted worker in this cause. The example of great and pure characters is the only thing that can lead us to noble thoughts and deeds. Money only appeals to selfishness and irresistibly invites abuse. Can anyone imagine Moses, Jesus or Gandhi armed with the money-bags of Carnegie?"
In discussing the ultimate question of life's real meaning, the famous physicist gives us plenty to think about when it comes to the human condition.
Can philosophy lead us to a good life? Here, Columbia Professor Philip Kitcher explains how great minds—like Plato, Aristotle, Socrates, Confucius, Mencius, Immanuel Kant, Friedrich Nietzsche, Albert Camus, and Jean-Paul Sartre—can help us find meaning and wellbeing in human existence—even if there is no "better place".
Related reading: Sapiens: Can Humans Overcome Suffering and Find True Happiness?
Related reading: A Growing Number of Scholars Are Questioning the Historical Existence of Jesus Christ
The philosopher believed we craved for something less pleasant.
Nietzsche, towards the end of his not entirely happy life.
Everybody wants to be happy, right? Who doesn't? Sure, you may not want to sacrifice everything for pleasure, but you certainly want to enjoy yourself. There are a slew of drugs on the market for solving the problems of depression, and the methods for achieving happiness are often sold and advertised as something you can get, and that which you desire above all else.
The pursuit of happiness is so integral to our idea of the good life that it was declared to be an inalienable right by Thomas Jefferson. It summarizes the American Dream like no other idea. For many people it is the meaning of life itself. It is difficult for some to fathom that there is a way of thinking that suggests you don't want to at least try to be as happy as you can be.
Well, there is one philosopher who doesn't think you want happiness in itself. Friedrich Nietzsche.
Nietzsche saw the mere pursuit of happiness, defined here as that which gives pleasure, as a dull waste of human life. Declaring: "Mankind does not strive for happiness; only the Englishman does", referencing the English philosophy of Utilitarianism, and its focus on total happiness. A philosophy which he rejected with his parable of the "Last Man," a pathetic being who lives in a time where mankind has "invented happiness".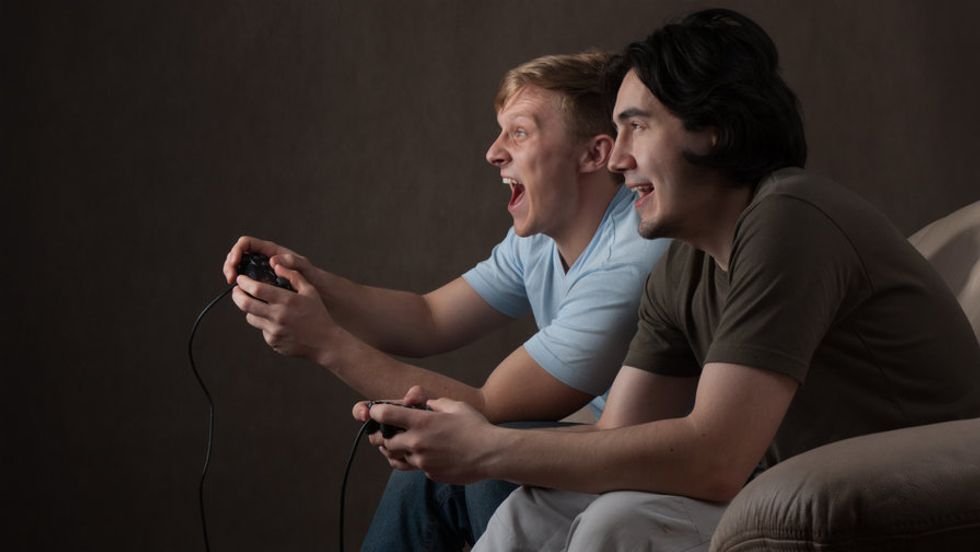 The Last Men? In Nietzsche's mind they were happy, but dull.

Nietzsche was instead dedicated to the idea of finding meaning in life. He suggested the Ubermensch, and his creation of meaning in life, as an alternative to the Last Man, and offered us the idea of people who were willing to undertake great suffering in the name of a goal they have set, as examples. Can we imagine that Michelangelo found painting the ceiling of the Sistine Chapel pleasant? Nikola Tesla declared that his celibacy was necessary to his work, but complained of his loneliness his entire life.
Is that happiness? If these great minds wanted happiness in itself, would they have done what they did?
No, says Nietzsche. They would not. Instead, they chose to pursue meaning, and found it. This is what people really want.
Psychology often agrees. Psychologist Victor Frankl suggested that the key to good living is to find meaning, going so far as to suggest positive meanings for the suffering of his patients to help them carry on. His ideas, published in the best-selling work Man's Search for Meaning, were inspired by his time at a concentration camp and his notes on how people suffering unimaginable horrors were able to carry on through meaning, rather than happiness.
There is also a question of Utilitarian math here for Nietzsche. In his mind, those who do great things suffer greatly. Those who do small things suffer trivially. In this case, if one was to try to do Utilitarian calculations it would be difficult, if not impossible, to find a scenario when the net happiness is very large. This is why the Last Man is so dull; the only things that grant him a large net payoff in happiness are rather dull affairs, not the suffering-inducing activities that we would find interesting.
This problem is called "the paradox of happiness." Activities which are done to directly increase pleasure are unlikely to have a high payoff. Nietzsche grasped this problem and gave it voice when he said that "Joy accompanies, joy does not move." A person who enjoys collecting stamps does not do it because it makes them happy, but because they find it interesting. The happiness is a side effect. A person who suffers for years making a masterpiece is not made happy by it, but rather finds joy in the beauty they create after the fact.
Of course, there is opposition to Nietzsche's idea. The great English thinker Bertrand Russell condemned Nietzsche in his masterpiece A History of Western Philosophy. Chief among his criticisms of Nietzsche was what he saw as a brutality and openness to suffering, and he compared Nietzschean ideas against those of the compassionate Buddha, envisioning Nietzsche shouting:
Why go about sniveling because trivial people suffer? Or, for that matter, because great men suffer? Trivial people suffer trivially, great men suffer greatly, and great sufferings are not to be regretted, because they are noble. Your ideal is a purely negative one, absence of suffering, which can be completely secured by non-existence. I, on the other hand, have positive ideals: I admire Alcibiades, and the Emperor Frederick II, and Napoleon. For the sake of such men, any misery is worthwhile.
Against this Russell contrasts the ideas of the Buddha, and suggests an impartial observer would always side with him. Russell, whose interpretations of Nietzsche were less than accurate and who suffered from having poor translations to work with, saw his philosophy as the stepping stone to fascism, and as being focused on pain.

So, while you may value something above happiness, how much are you willing to suffer to get it? Nietzsche argues that you will give it all up for a higher value. Others still disagree. Are you even able to pursue happiness and receive it? Or is Nietzsche correct that you must focus elsewhere, on meaning, in order to even hope for satisfaction later?
susan-david-on-our-unhealthy-obsession-with-happiness