Getting a good night's sleep just took on a whole new meaning.
A new study introduces a new method for determining your personal circadian rhythm.
This could have profound effects on combating cognitive disorders and helping patients understand when to take medicine.
The blood test measures a person's biological clock to within 1.5 hours.
Though the light bulb isn't exactly a hot new piece of technology, at the time of initial dissemination it created a social revolution whose effects — positive and negative — are still felt today. No matter how much awe we feel flying over the bright jigsaw of a metropolis, the unintended damage electric lighting waged on our sleep patterns is in part to blame for a number of modern ailments, including obesity, Type 2 diabetes, hypertension, cardiovascular disease, and cancer.
Until a few centuries ago all life was governed by the rhythm of the sun. Earlier technologies, such as controlled fire and candles, require constant upkeep while causing nowhere near the same damage as the blue lights on our phones. What we call advancement comes at a cost — for example, the physical and emotional health of teenagers.
As journalist and high school science teacher Henry Nicholls recently wrote in the NY Times, three out of four high school students do not get eight hours of sleep per night. This is extremely damaging during a time of great neuronal development. Nicholls argues that an 8:30 a.m. start time is counterproductive and dangerous:
It is unthinkable that a school should operate with asbestos in the ceilings, with no central heating in winter or with rats in the kitchen. Starting school before 8:30 a.m. should be equally unacceptable.
Such an early start time is mostly the result of parental convenience: in a two-parent household where both adults work, dropping the kids off at school considers their schedule. Unfortunately, such a timeline usurps basic biology. Teenagers should be sleeping more than eight hours, yet the combination of an early first period and late-night chats and gaming on smartphones has created an environment not conducive to learning.
Photo: Yuris Alhumaydy / Unsplash
The human circadian rhythm approximates with the rising and setting of the sun, though that's not the final word in this story. Before electric lights we slept in two shifts — still within the timeframe of the rotation of the planet, however. As Daniel Pink writes in When, his book on timing, there is individual variation in this rhythm: 14 percent of humans are what he terms "larks" and 21 percent "night owls," while the majority are "third birds," meaning their midpoint of sleep is between 3–4 am.
How do you know what feathered vertebrate you are? It turns out your blood can tell you. A new test called TimeSignature, announced in a study published in the Proceedings of the National Academy of Sciences, requires only two blood draws to inform you what your genes say about your circadian rhythms.
This follows previous, expensive tests requiring numerous blood draws at specific times of the day. TimeSignature measures forty different gene expression markers that signal when you should be sleeping. Though variation might exist dependent upon scheduling — I remember gruelingly working overnight shifts in the emergency room back in college — your genetic make-up doesn't lie.
Now we can pinpoint the hours we should be unconscious with previously unavailable precision. According to Northwestern University Feinberg School of Medicine assistant professor (and lead author of the study), Rosemary Braun,
This is a much more precise and sophisticated measurement than identifying whether you are a morning lark or a night owl. We can assess a person's biological clock to within 1.5 hours.
Poor sleep patterns are also implicated in two devastating health issues beyond those mentioned above. First, not honoring your nightly requirement factors into mental health problems and neurological disorders. Second, when you take a dose of medicine matters. TimeSignature might aid in informing doctors when their patients should be swallowing pills. As coauthor Phyllis Zee says of the study's findings,
This is really an integral part of personalized medicine. So many drugs have optimal times for dosing. Knowing what time it is in your body is critical to getting the most effective benefits. The best time for you to take the blood pressure drug or the chemotherapy or radiation may be different from somebody else.
Coauthor Ravi Allada notes that almost every tissue and organ system in our body depends on our personal circadian rhythm. The fact that certain mental health disorders, obesity, and even cancer can be avoided by knowing when you should be sleeping is a groundbreaking step forward in modern medicine, even if it is basic common sense: a good night's rest is folk wisdom.
That said, little seems common when we've shut nature out of our lives in so direct a fashion. From electricity to blue lights to virtual reality headsets, one light still matters most. The ancients would honor that star by naming their gods after it; today, fearing skin cancer, we shelter ourselves at every turn. Yet there it remains, dictating our every bodily process even as we remain ignorant of the fact. With this new test, such ignorance might just be abandoned.
--
Before you reach for another glass of warm milk, read this.
It has happened to most of us: being hit with a slew of worries, stresses, and knowledge of what we have to do tomorrow just when we want to go to bed. The resultant strain is made worse when we realize that each moment spent thinking is one less to sleep in. The problem is familiar to the one-third of Americans who report difficulty falling asleep more than one night a week. As sleep deprivation can be the cause of a myriad of health problems, the search for a good night's sleep is one that takes on tremendous importance.
One study has a surprising solution to this common problem.
Participants aged from 18 to 30 attended a sleep lab and were asked to complete one of two tasks before going to bed. Either they were asked to spend five minutes writing a comprehensive to-do list of all the things they needed to do tomorrow and over the next few days, or spend the same time writing a list of all of the things that they accomplished that day. 
The participants carried out the task then went to bed. Measurements were taken on how long it took them to get to sleep. Those in the "to-do list" group took an average of 15 minutes to fall asleep, while those in the "accomplishments list" group took an average of 25.
It was also seen that the more detailed and complete of a "to-do" list that a subject made, the faster they fell asleep. This observation drove the researchers to propose that there was some sort of "offloading" phenomenon; the action of detailing what needed to be done was able to put the mind to rest. The opposite effect was noted in the "accomplishments" group, however. The more detailed a list they made, the longer it took them to fall asleep.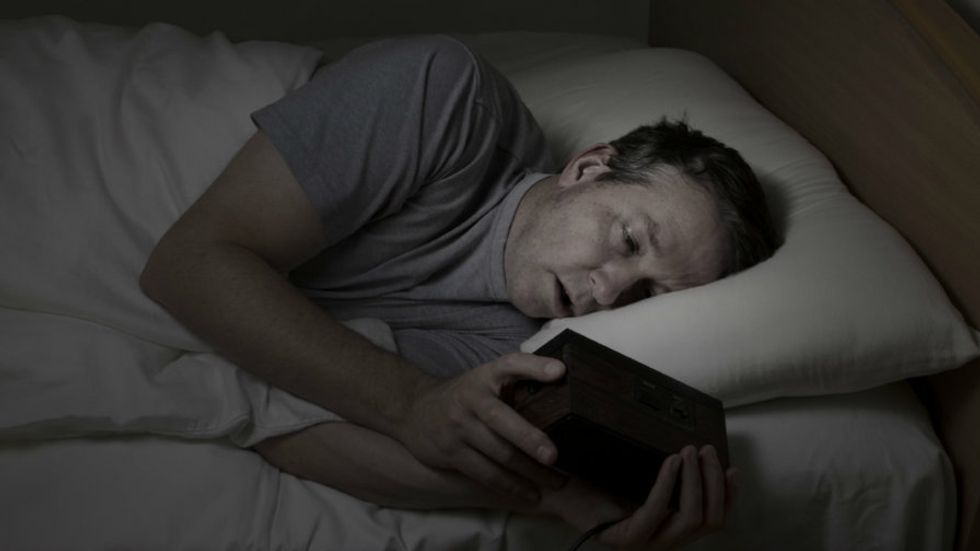 If you are reading this on a smartphone before bed, you might have the same problem. 
So, should I start making to-do lists before I go to bed?
It must be said the study was rather limited. It was done with a mere 57 participants, and none of the participants reported having chronic sleep problems. No baseline level for how long it typically took them to fall asleep was ever established, so it remains possible that writing a list made it harder for them to fall asleep. It can be said, however, that of the two methods the higher potential for helping people fall asleep lies with making a to-do list.
Difficulties when trying to fall asleep are some of the most common issues in the world. For these insomniacs, relief might be found in a simple five-minute routine. While more research is needed to determine if and why writing tomorrow's to-do list helps people fall asleep faster, I for one am going to start making my to-do lists the night before.
Forty percent of Americans sleep less than seven hours per night, and that's a problem.
A seven-year-old cat sleeps besides its owner near Sao Conrado beach in Rio de Janeiro, Brazil on October 9, 2011. (Photo: Yasayoshi Chiba/AFP/Getty Images)
Of the many pieces of folk wisdom handed down through the generations, the necessity of sleep is of primary importance. While sleep research was effectively in the dark (pun presented but not intended) for eons, the list of benefits of a good night's sleep—better memory retention; stronger immune system functioning; better attentional control; less aggressive and impulsive behavior; less need for sugars and carbs, implicated in willpower studies—has changed our understanding of the time we spend "doing nothing." 
Which is why new research published in the journal, Sleep Medicine, should be alarming. Thanks to the increased usage of social media and smartphones, teenagers are losing sleep at alarming rates. While seven hours a night is recommended for adults, adolescents require nine, given the continuing formation of brain circuitry, especially the prefrontal cortex where many rational decisions are made. We don't make the best choices when groggy.
Analyzing a whopping 360,000 teenagers, a team led by San Diego State University Professor of Psychology Jean Twenge found that 40 percent of teens slept less than seven hours a night in 2015. Teens who spend five hours or more a day online were significantly more likely to fall into this group than teens online for an hour or less. 
This disastrous phenomenon is not limited to teens. As Twenge concludes, 
Given the importance of sleep for both physical and mental health, both teens and adults should consider whether their smartphone use is interfering with their sleep. It's particularly important not to use screen devices right before bed, as they might interfere with falling asleep.
Forty percent is also not a number limited to teens. Turns out that's also the total number of Americans getting less than seven hours of sleep every night. Respondents 65 and older were in the highest group, with 67 percent claiming at least seven hours, while parents of young children and lower-income workers struggle to achieve that number. Young adults also fall short of the mark. 
This has led sleep scientist Matthew Walker to proclaim a disturbing reality for many young Americans today: 
Not only does sleep disruption play a role in the declining mental abilities that typify Alzheimer's disease, but getting enough sleep is one of the most important factors determining whether you will develop the condition in the future.
Walker points to the fact that sleep helps memories become solidified in the architecture of the brain. The creation of long-term memories is integrated from experiences into the fabric of your history, and therefore identity, though the process of sleep. 
Yet humans are terribly complacent when considering best practices involving the future. A smoker knows cancer is likely around the corner, yet puffs anyways; the same goes for alcoholics and cirrhosis, obesity, and other diseases. Most drivers recognize that texting while behind the wheel results in over 400,000 injured or dead every year, yet that's always the other person—it could never happen to me. Chances that you'll ply the phone from a teen or adult with a promise of decreased risk of dementia decades from now are minimal. 
But the lack of sleep is harming us, now. The National Sleep Foundation estimates that 47 million Americans don't get restorative sleep, with real world consequences: our insomnia costs the US eighteen billion dollars a year in lost productivity and accidents. Speaking of accidents, 20 percent of car crashes—1.2 million—are attributed to tired drivers. 
Preempting the problem with sleeping pills is not the path forward. Pills like Ambien and Rozerem have been shown to only increase sleep seven to nineteen minutes per night, with a host of attendant side effects (including, amazingly, insomnia). 
Sleep is such big business that it is now considered a sign of status. On certain days I work in Beverly Hills and Hollywood, regions of Los Angeles where plastic surgeries that make you look inhuman are markers of affluence. That something as basic and primary as a good night's sleep is now part of our fragmented cultural milieu is highly disturbing. We live in a competitive society already. Bragging about your proficiency in being unconscious is not a sign of a developed mind. 
We should all be getting a good night's rest. If that means restructuring society to accommodate such a goal, so be it. Rising rates of inattention and dementia are not helping our economy, relationships, or much of anything. In a nation that has offered so much to science, that we can't get the basics down is a dangerous signal that something is systemically wrong.
--
Derek is the author of Whole Motion: Training Your Brain and Body For Optimal Health. Based in Los Angeles, he is working on a new book about spiritual consumerism. Stay in touch on Facebook and Twitter.
If you're constantly tired because you can't break your bad sleeping patterns, this super smart Sunrise Pillow might put you back in the game.
Photo: Hugo Bernard (flickr.com/photos/hugobernard)
Nutrition, physical activity and sleep are the cornerstones of health. Yet, sleep seems to be the most overlooked, with electronic devices, light pollution, stress, busy schedules, and Netflix all standing in the way. According to the Center for Disease Control and Prevention an estimated 50-70 million US adults have sleep or wakefulness disorder, and more than a third of adults are getting less than the recommended minimum of seven hours of sleep. People with sleep insufficiency are more likely to suffer from chronic diseases such as hypertension, diabetes, depression, and obesity, as well as from cancer, increased mortality, and reduced quality of life and productivity.
The pair of papers suggest that sleep is crucial in order to wipe out memories. Yep – it turns out that, sometimes, it's smart to forget.
When weaker memories aren't "pruned" during sleep, our recall of important information suffers, causing fuzzy memories. (Photo: Shutterstock)
Why do we sleep? We know what happens when we don't get enough. But what is its evolutionary purpose – what kind of changes do our brains undergo when we sleep? A pair of papers published in the journal Science in 2017 have evidence to suggest our brains undergo a pruning cycle while we rest.
Its important to note these studies are still in their early stages. The tests were done on mice.
The results of the study suggest sleep may allow our synapses to undergo a maintenance period. Synapses are the gaps between neurons, across which information is transmitted, and they are a critical part of memory formation. The studies posit that the sleep process trims the fat and adds clarity to our memories, letting us forget the less relevant information while strengthening memories that may be important. When blocking the chemical responsible for trimming the synapses during sleep, the researchers found those mice's memories became fuzzy.
However, its uncertain whether this is a function of sleep, or if sleep is the function. These tests were done in a lab setting, controlled and optimized. However, modern humans don't abide by a natural sleep cycle anymore – we look at our phones before bed and expose ourselves to things that cause our brains to think sleep is not on the menu. Some believe this has caused a spike in sleep aids.
The Atlantic reported back in 2014 that the use of sleeping pills has been on the rise:
"The number of prescriptions for nonbenzodiazepine sedative hypnotics, a group of drugs to which zolpidem belongs, grew 30 times over between 1994 and 2007—that's five times faster than the growth of insomnia diagnoses over the same period of time, and 21 times faster than the growth of patient complaints of sleeplessness. Somewhere between 50 and 70 million Americans are currently thought to suffer from sleep disorders, according to the Centers for Disease Control and Prevention, and around 4 percent of adults use prescription medication to get a good night's rest."
Joshua Liao, a physician at Brigham and Women's Hospital in Boston and a clinical fellow at Harvard Medical School, says much of the issues relating to insomnia can be dealt with by practicing good sleep hygiene. If people avoided napping, eating or drinking caffeine or alcohol, and looking at their phone right before bed, they might not require a chemical crutch to get some rest.
The evidence for sleeping pills giving people restorative sleep relies mostly on self-observation.
"Do you feel more rested, more alert, more able to concentrate, less irritable on medication versus off?" Dr. Daniel J. Buysse told the New York Times. "If all those things are true then I would say it's more restorative. If a hypnotic drug leaves you feeling hung over or more anxious, if it causes you to order five hickory smoked turkeys on the Internet without remembering, then it's probably not good."
But the larger question of what happens to our brains in the longterm is still unknown. The abundance of light and our "natural" bedtime habits have changed considerably in these modern times. What we do know is the practice of good pre-bedtime habits might help you get a good night's rest and, if the study above proves true for humans, form clearer memories.
The New York Times has more on this study.