Altered states of consciousness are documented across cultures, from shamans to Silicon Valley coders. As different as these experiences seem, there are four neurological features they all have in common.
Transcendent experiences that were once attributed to gods, angels, muses, or even possession, are now being demystified by neuroscience. Jamie Wheal, Director of Programs at the Flow Genome Project, explains that each culture has unique rituals and narratives when it comes to non-ordinary experiences of consciousness or 'altered states', whether that's mediation, flow state, psychedelic experiences, or others. A farmer in India, a peasant in Mexico, and a coder in Silicon Valley will all have vastly different ways of approaching altered states, and will give vastly different descriptions once they come out the other side – perhaps they saw a vision of Ganesh the elephant God, received a message from the Virgin of Guadalupe, or produced a brilliant line of code while in a Matrix-like binary blur. However, those experiences are more alike than we think. Jamie Wheal and Steven Kotler devised a functional framework so they could compare non-ordinary experiences across cultures. Here, Wheal explains that they identified four common elements of altered states of consciousness, which they coined as STER: selflessness, timelessness, effortlessness and richness. Jamie Wheal and Steven Kotler's book is Stealing Fire: How Silicon Valley, the Navy SEALs, and Maverick Scientists Are Revolutionizing the Way We Live and Work.
Jamie Wheal and Steven Kotler's book is Stealing Fire: How Silicon Valley, the Navy SEALs, and Maverick Scientists Are Revolutionizing the Way We Live and Work.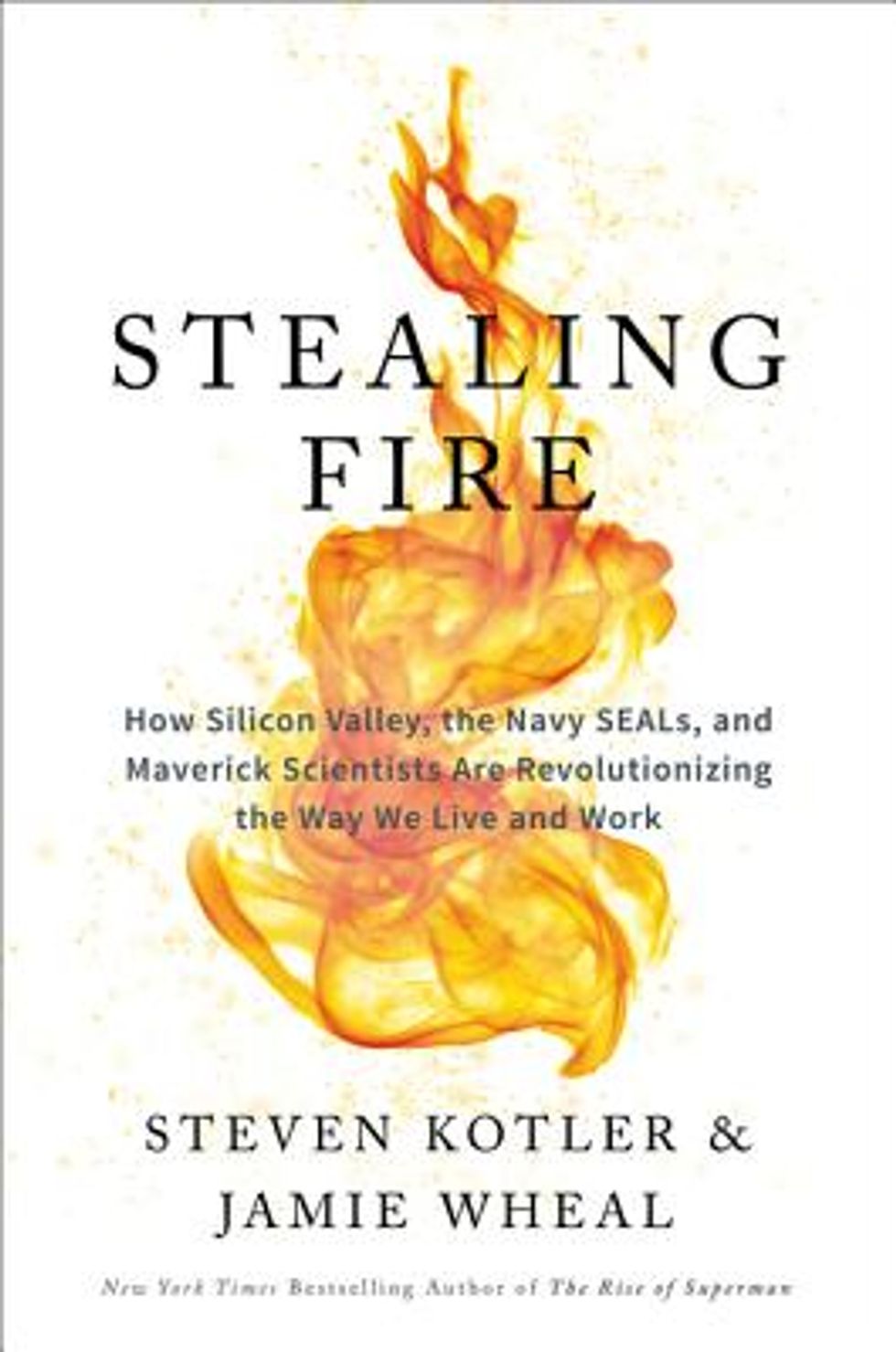 Nothing kills creativity like overthinking it. Jumping from anecdote to anecdote from his incredible career, Ethan Hawke illustrates why letting your subconscious steer the ship will get you to a more honest, creative place than your intellect ever could.
We all know the actor Ethan Hawke, star of films like Gattaca, Dead Poet's Society, and Training Day, but have you met director, screenwriter, novelist, and philanthropist Ethan Hawke? With an energy that can't be hushed and a curiosity that won't quit, Hawke is a creative tornado.
It's true that there's no formula for creativity, but after decades as an artistic professional Ethan Hawke has zeroed in on some of the ingredients. He says spontaneity + discipline + intelligence = creative truth. To him it's a 'flow state' and a feeling that can only be explained using the metaphor of jazz music. When jazz musicians play, there is a loose architecture of a song, but then the players riff and find a new melody inside that original score, and it evolves and shifts before mysteriously coming back around again. This is Hawke's argument for the power of the subconscious mind over the conscious intellect in any creative process.
He's onto something anecdotally, and it's supported by the science director of the Imagination Institute (and Big Think alumnus) Scott Barry Kaufman, who has addressed why it is that so many of us do our best thinking in the shower or in the bath tub. What is it about those environments that lead to 'eureka!' moments? "The relaxing, solitary, and non-judgmental shower environment may afford creative thinking by allowing the mind to wander freely, and causing people to be more open to their inner stream of consciousness and daydreams," says Kaufman.
This free-wandering is crucial, and Allen Braun, a researcher at the National Institute of Health who has studied the origins of creativity in the brain noted the following after studying rappers' brains during spontaneous freestyle rap verses: "We think what we see is a relaxation of 'executive functions' to allow more natural de-focused attention and uncensored processes to occur that might be the hallmark of creativity."
So, if you want to reach the "a-ha!" state and channel creativity that is less labored and more truthful to your inner thoughts, Hawke recommends putting your intellect in the back seat and having your subconscious take the wheel. When those higher brain functions are at rest, the more primal and truthful part of your being shines.
Ethan Hawke's graphic novel is
Indeh: The Story of the Apache Wars
.