If its claims are true, Clearview AI has quietly blown right past privacy norms to become the nightmare many have been fearing.
Image source:
pathdoc
/Shutterstock/Big Think
Recent reporting has revealed the existence of a company that has probably scraped your personal data for its facial recognition database.
Though social platforms forbid it, the company has nonetheless collected personal data from everywhere it can.
The company's claims of accuracy and popularity with law enforcement agencies is a bit murky.
We know that body language reveals a lot. But language is an even bigger tell if you know what to look for.
"You're tearing me apart, Lisa!"
I can read your face better than you can. The same holds true for you. While the role of mirror neurons is still not well understood (and sometimes disputed), the fact that we can tell what another person is feeling, often more quickly than they can, is a consequence of being a social animal. This transcends facial expressions. We read bodies all of the time. For example, if we meet for the first time and I cross my arms, I'm more likely to trust you if you follow suit and cross yours. If we're in a group and you're the only one who doesn't follow this pantomime, I'm less likely to trust you. Social cues have been tried and tested for a long time, so much so they don't need to be consciously understood to be effective. 
New research published in Proceedings of the National Academy of Sciences has uncovered another telling clue regarding our inner state, namely stress: shifts in language. A team led by University of Arizona's Matthias Mehl found that certain markers in language detect stress levels better than conscious ratings, which in turn effects gene expression in our immune system. The more stressed we are, the more genetic inflammation activity occurs, while antiviral genes are turned down. 
One hundred and forty-three American adults were recruited to wear audio recorders. Over a two-day period, 22,627 clips were collected. After transcribing the tapes, Mehl analyzed the language they used, focusing on "function words," i.e. pronouns and adjectives. We consciously choose "meaning words," i.e. nouns and verbs, while function words "are produced more automatically and they betray a bit more about what's going on with the speaker."
Function words change, Mehl says, when we face a crisis as well as following terrorist attacks. Volunteers self-reported feeling less stressed, anxious, and depressed than they actually were, according to their white blood cell counts Mehl's team measured. 
Researchers focused on two aspects of language: volume and structure. The more stressed a volunteer was, the less likely they were to talk much at all. When they did speak they used more adverbs, such as "incredibly" and "really." They also focused their speech less on others and more on themselves. 
This research could lead to more effective means of understanding and treating stress. As I recently wrote about, Twitter might become a new avenue for discovering sufferers of depression and PTSD. Just as Israeli airport security guards focus heavily on behavioral detection (such as body language) for detecting threats, doctors and therapists could use natural language patterns to better understand potential psychological disorders. As Mehl and team conclude, 
Statistical pattern analysis of natural language use may provide a useful behavioral indicator of nonconsciously evaluated well-being (implicit safety vs. threat) that is distinct from the information provided by conventional self-report measures and more closely tracks the activity of underlying CNS processes which regulate peripheral physiology, gene expression, and health.
So it might be true that we don't know ourselves as well as others know us. Instead of an invasion of privacy, treating this as a therapeutic means of dealing with inner conflict could help a world experiencing rising anxiety and depression rates. Anthropologists have long known group fitness is the main driver behind our evolutionary triumph in the animal kingdom. Though we might live in an individualistic culture, remembering where our strength lies—in depending on others—could not be more timely. 
--
Derek is the author of Whole Motion: Training Your Brain and Body For Optimal Health. Based in Los Angeles, he is working on a new book about spiritual consumerism. Stay in touch on Facebook and Twitter.
Researchers at Human Longevity have developed technology that can generate images of individuals face using only their genetic information. But not all are convinced.
Real photo (left) next to an A.I.-generated image
What if a computer could generate a realistic image of your face using only your genetic information?
That's precisely the technology researchers at Human Longevity, a San-Diego based company with the world's largest genomic database, claim to have developed. The team, led by genome-sequencing pioneer Craig Venter, reported their findings in a controversial paper published in the journal Proceedings of the National Academy of Sciences. 
To train the A.I. to generate facial images, the team first sequenced the genomes of 1,061 people of various ages and ethnicity. They also took high-definition 3D photos of each participant. Finally, they fed the photos and genetic information to an algorithm that taught itself how small differences in DNA relate to facial features, like cheekbone height or protrusion of the brow. The algorithm was then given genomes it hadn't seen before, and it used them to generate images of the individual's face that could be reliably matched to real photos.
Well... sort of.
The team successfully matched eight out of ten images to the real photos. However, this rate fell to just five out of ten when researchers analyzed participants of only one race, considering facial features differ slightly by race. Judge for yourself how well the algorithm did: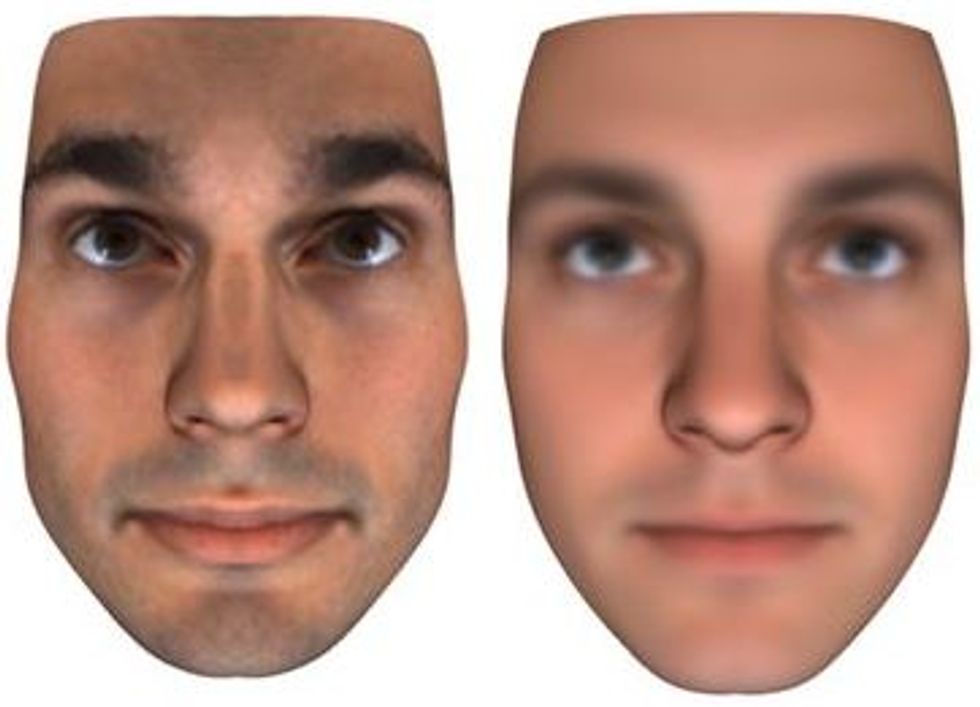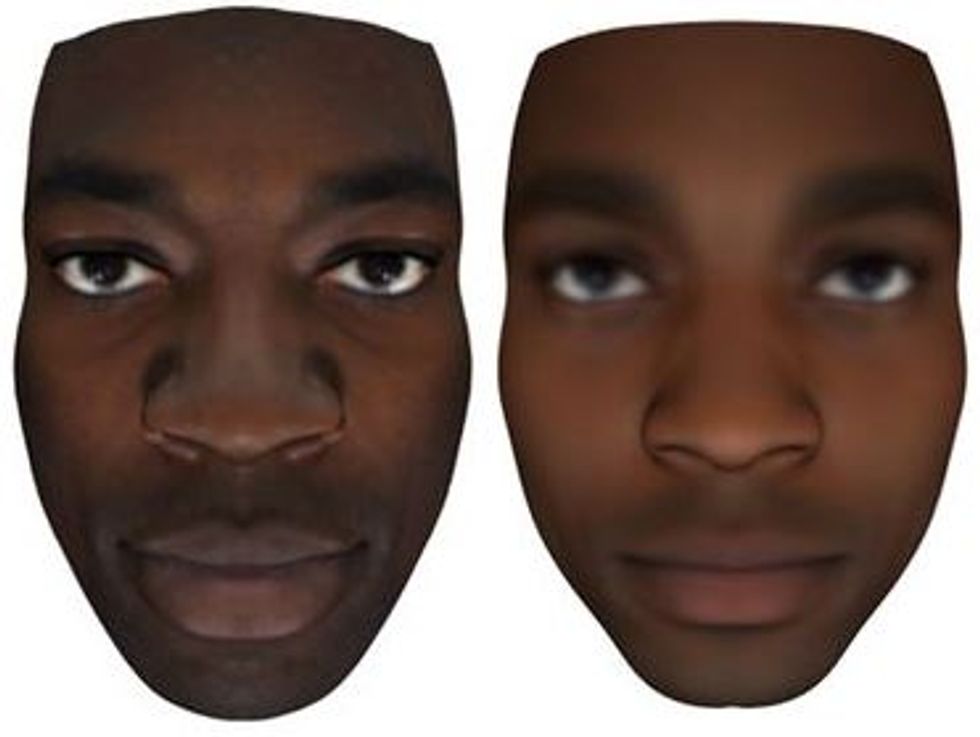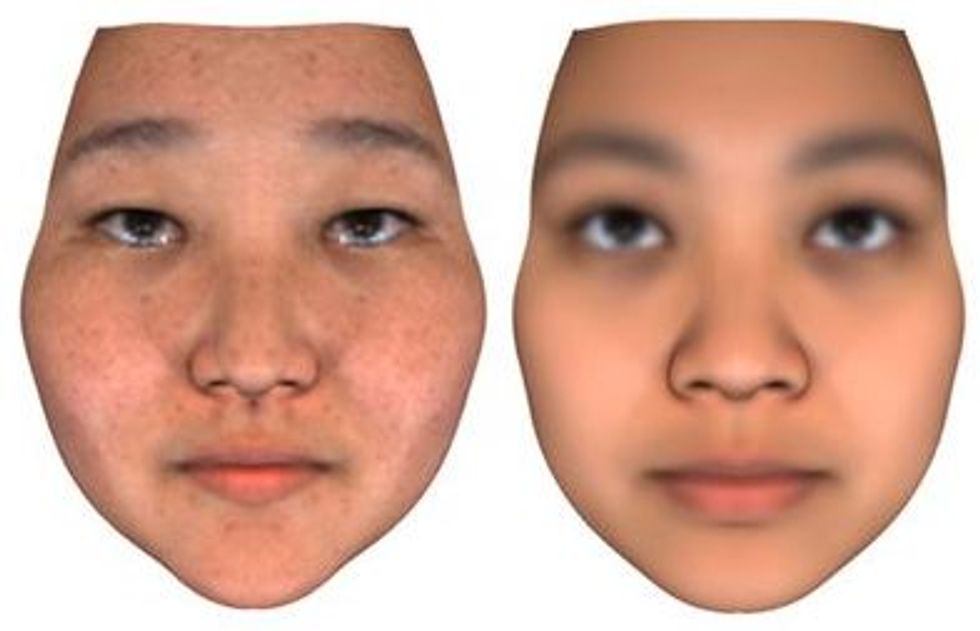 The potential applications of this technology are especially intriguing for fields like forensic science — what if investigators were able to use genetic information left at a crime scene to "see" the perpetrator? 
Interesting as the applications may be, Human Longevity is more concerned with the implications its findings has on privacy in genomics research, namely that technologies like this could be used to match people's thought-to-be anonymous genetic information to their online photos.
"A core belief from the HLI researchers is that there is now no such thing as true deidentification and full privacy in publicly accessible databases," HLI said in a statement.
Overblown claims?
Privacy concerns seem to be widely shared in the community. But some scientists say that the paper is misleading. One reason is that the Human Longevity researchers already knew the age, sex and race of the participants — demographic information that could have been used to achieve the same matching rate without using the computer-generated photos at all.
"I don't think this paper raises those risks, because they haven't demonstrated any ability to individuate this person from DNA," said Mark Shriver, an anthropologist at Pennsylvania State University in University Park, in an interview with Nature. 
Jason Piper, a former employee of Human Longevity, took issue with what he considered a lack of accuracy in the images, writing on Twitter that: 
"everyone looks close to the average of their race, everyone looks like their prediction."
But perhaps the most exhaustive criticism came from computational biologist Yaniv Erlich, who published a paper entitled Major flaws in "Identification of individuals by trait prediction using whole-genome sequencing data, part of which reads:
"The results of the authors are unremarkable. I achieved a similar re-identification accuracy with the Venter cohort in 10 minutes of work without fancy face morphology..."
Just days later, the team behind the original paper issued a rebuttal, titled simply No major flaws in "Identification of individuals by trait prediction using whole-genome sequencing data.
(It may seem mundane to those outside the field, but it's a pretty vicious beef in the scientific community at the moment, as seen by the "shots fired!" and "I'm gonna grab my popcorn..." comments under both papers.)
Access to genomics data
Underlying this whole debate is a question of access. Genomic data is used across various fields of study, but perhaps most importantly in research that seeks to combat diseases. In an interview with Nature, Piper said that Human Longevity has a vested interest in restricting access to DNA databases because it's a for-profit company that's trying to build the largest genome database in the world.
"I think genetic privacy is very important, but the approach being taken is the wrong one," Piper said. "In order to get more information out of the genome, people have to share." 
Rather than privatizing and restricting access to genomic data, Piper said that a better solution would be to make data public while using techniques that still allow individuals to remain anonymous.