Just as the collective ruckus of science deniers hits its peak, Netflix announces a date for 'Bill Nye Saves the World', a heroic new show that will answer the most pressing science questions of our era.
Heroes don't wear capes, they wear coats. No lies, no hidden agenda – Bill Nye will set the record straight on science.
On April 21, the 13-part series 'Bill Nye Saves the World' will embark on its enormous mission to be an informed (and entertaining) counterweight to science skeptics by refuting bogus claims with a little thing called evidence. Each episode, he'll tackle a topic like climate change, GMOs, sex, space, and alternative medicine. He will make things explode, shake, and fly during lab demos, and bring on guests like science educator Derek Muller, supermodel Karlie Kloss, comedian Joel McHale, actors Donald Faison and Zach Braff, and musician Steve Aoki.
In terms of timing, 'Bill Nye Saves the World' is not just a fun idea, but a necessary one. Margaret Atwood dropped by Big Think late last year to explain that certain people find science "inconvenient", and anti-science mindsets – about climate change, for example – will continue to be propagated from the top and trickle down through the public consciousness until clean energy becomes profitable enough for the wealthy to "believe" in climate change. Only then will policy change follow. 
Scientists and academics have not always done a great job of communicating important ideas to the public, but the national mood has pushed the science community to respond in various ways – like UC Berkeley genetics professor Michael Eisen, who has announced he'll be running for Senate in 2018, a level of government with zero scientists in its ranks. Educating the public through popular programming, which has been Nye's missions since the 1990s, is another route: it can mobilize minds and stoke change from the bottom up. "Change doesn't come from Washington, change comes to Washington," Obama once said. 
Nye is a regular guest at Big Think, where he answers viewer questions for us every Tuesday. Here are two of his finest moments:
#1. Are there Ghosts?
Bill Nye tackles a tough question that every person alive has been hung up on – what happens after we die? Where does our life energy go? 
#2. Why Do We Need Science-Literate Leaders?
Bill Nye weaves explains the importance of science literacy in a country's elected leaders.
Netflix is marketing Nye as a new hero in town. Sure he has a six-pack of facts, mental muscle to shred misinformation into confetti, and an invisible weapon: words – but can he save the world?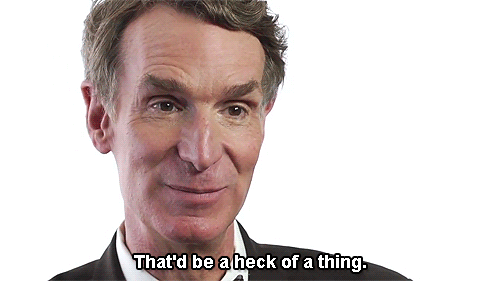 Only two things will change the minds of science skeptics: appeals to their ego, or their wallets.
People do not want to give up their cherished beliefs, says author Margaret Atwood, especially the ones they find most comforting. What appears obvious and enlightening to atheists like Richard Dawkins, for example, it isn't so straightforward for those whose identity and community is hinged on a certain set of beliefs. One person's liberation is another's nightmare.
It's a very human quality to avoid things that are inconvenient or unappealing. Our days are vastly improved if we know to avoid the store with the long queues, to steer clear of dairy or gluten if it makes us sick, and to not order the whole roast duck if its head, still attached, is too much of a reminder. At some point, though, it's necessary to confront uncomfortable truths – especially when a failure to do so affects the quality of human life (and all life) in a broader context. At that juncture, our avoidance moves beyond self-preservation and enters into exactly the opposite.
This mindset is what fuels anti-intellectualism, says Atwood, and it always has. When Galileo supported and expanded Copernicus' heliocentric model of our solar system, he was punished by the church (Copernicus died too quickly to be reprimanded). Charles Darwin came under fire when he suggested we weren't created but that we evolved. When new ideas interrupt what's comfortable, many will reject and discredit it simply to not have to change their behavior. Is this sounding familiar yet?
There will be a point when the position of climate-change deniers will shift, explains Atwood, but it won't be until the idea starts to appeal to our ego, or to our wallets. When the green energy sector becomes profitable enough, expect a sudden reduction in the amount of climate change opposition. "That will be the real tipping point in public consciousness in this country," Atwood says. She believes Elon Musk is the "wave of the future", with Tesla cars and the Powerwall home battery. When his technology becomes affordable and therefore profitable, the idea of green energy will truly have arrived in the wider consciousness.
Margaret Atwood's new book is Hag-Seed.
Climate change is a topic that's politically charged rather than scientifically charged. Bill Nye offers tips for how those on the side of science can begin to have meaningful conversations with skeptics.
Danny Miller is at odds with many of his friends; they don't believe in climate change, but he does. It's a predicament Bill Nye can lend some guidance on; science skeptics and climate change deniers have been one of his longest uphill battles in the public sphere.
So what is Nye's advice for having meaningful discussions with climate change deniers and perhaps even bringing them slowly around to see reason? Nye admits that public figures who deny climate change have been alarmingly successful at casting doubt over the credibility of science so, as a starting point, it's important to choose your language carefully. The word 'theory' has lost its integrity in recent years – it seems like anyone these days can have a theory. "I have a theory it's raining outside," Nye jokes, with a hint of sadness. So understanding and relaying the real definition of the word to people you don't see eye to eye with can be a crucial tool.
Most people hear the word "theory" and assume it's an idea or statement in need of proof. A scientist hears the word "theory" and recognizes it as certifiable fact because it's been proven. A hypothesis is one thing, that's the first step towards an idea becoming a theory. When a hypothesis is proven, then it is a theory. So climate change theory isn't a wishy washy idea people can choose to believe in or not; it's backed by data, and is a concrete concept.
Bill Nye's most recent book is Unstoppable: Harnessing Science to Change the World.