The legendary DARPA tests technology that lets soldiers control drones with their minds.
Getty Images
Military researchers have been testing implants that allow the operator to control drones with thoughts.
The tech translates thinking into code.
More development is necessary.
Technological progress has often been driven by military needs. Whether this is progress we want may be debatable, but the U.S. military's research arm, DARPA, tested technology that would allow an operator to control up to three drones just with thoughts. The goal is to create a direct interface between humans and unmanned aerial vehicles (UAVs).
DARPA, which stands for the Defense Advanced Research Projects Agency, has been a key engine of innovation since its founding in 1958. It's had a hand in inventing the Internet, GPS, navigation tools like Google Maps, technology that led to SIRI, the world's fastest airplanes, stealth fighters, and more. Not to mention that the list of DARPA's projects that we know of likely pales in comparison to what we don't know.
Between June 2016 and January 2017, DARPA conducted mind-control trials in Pittsburgh. These involved a paralyzed volunteer named Nathan Copeland who was outfitted with "bidirectional neural interface," according to the agency. Using the technology, Copeland was able to control the steering of a lead UAV as simulated by a computer, while keeping up the formation of two other simulated aircraft, explained Tim Kilbride, a DARPA spokesman, to the Daily Beast.
The specifics had Copeland channeling his thoughts via a medical implant in his skull while an EEG (electroencephalogram) allowed him to interface with a computer simulation which was navigating a hypothetical drone through an obstacle course. Basically, the programming turned Copeland's thoughts like "turn left" into code that the drone could interpret. Two robot wingmen supported the lead UAV, as reports David Axe.
"Nathan's task was to exercise vertical and lateral control to fly the lead aircraft through a series of hoops positioned in the center of the screen, while also maintaining/correcting the lateral course of the two support aircraft through their own hoops positioned in shifting locations at the top of the screen," Kilbride elaborated.

The drone operations that were controllable by thinking consisted of scanning the environment, detecting obstacles, and warning the operator.
Here's how you operate a drone currently:
Interestingly, the brain of the operator translated the signal from the drone as a strong feeling or "a haptic response." According to Defense One, Justin Sanchez, the director of DARPA's Biological Technologies Office, said at an event in September that "the signals from those aircraft can be delivered directly back to the brain so that the brain of that user can also perceive the environment."

While these tests aren't yet quite the same as having an army division of drone-guiding telepaths, they are promising. Another goal for such tech would be to be able to send images from the drone to the operator's brain. This potentially very invasive man-machine interface is still quite far into the future, as Daniel Palanker, a prostheses expert from Stanford University, related to The Daily Beast. "High-resolution electro-neural interface with read and write capabilities in 3-D is a long ways away," he said. However long it will take, the future of controlling devices with your mind appears to be inevitably coming.
Other countries are conducting this kind of research as well. Here's a video from 2016 about the attempts by Russian military scientists to control drones with their minds:
A new study compared cognitive boosts from running versus relaxing.
Getty Images
Researchers compared jogging versus relaxing for 15 minutes.
Jogging provided clear cognitive and mood benefits.
The relaxing group had much less energy.
If you wanted a quick boost for your mind, what's the best activity to engage in? Scientists looked at whether a brief relaxation or a jog would boost your cognition and have a definitive winner. Lace up your sneakers!
There's already been evidence that brief aerobic exercise that's not too intense like a jog or a walk can provide an instant boost to how your mind functions. Its speed and attentional control, as well as your mood will be beneficially affected. Now a new study involving 101 undergraduate students found that emotional effects of exercise bring specific cognitive benefits.
The participants had to rate their levels of energy and vigorousness and complete two cognitive tests. These were based on the Trail Making Test, where the subject has to draw lines between letters and numbers as quickly and precisely as they can to measure mental speed and attentional control.
After the testing, one portion of the students was made to go on 15-minute jogs while others did group relaxation exercises. Two minutes following these sessions, the students answered the same questions and completed the cognitive tests as before, indicating their energy levels.
The jogging students exhibited great improvement on the cognitive tests, while feeling increases in vigor. The researchers think this shows that the jog helped cognition by affecting the subjective sense of having more energy. On the other hand, the group that was just relaxing was much less energetic.
The study was authored by Fabian Legrand from the University of Reims Champagne-Ardenne in France and his colleagues Isabella Morrone from the University Hospital of Reims, Anne Canivet form the University of Poitiers, Cedric Albinet from the University of Toulouse as well as Fabien Gierski and Chrystel Besche-Richard also from the University of Reims Champagne-Ardenne.
Legrand thinks more research needs to be done to follow up on these conclusions but says they already "add weight to recent suggestions that increased feelings of energy may mediate the relationship between aerobic exercise and some aspects of cognitive functioning." In layman's terms - running is good for your brain.
Read the new paper in Acta Psychologica.
Blame our ancestors for why it's easier to be a couch potato.
Pixabay.com
A new study shows that the brain prefers to expend as little energy as possible.
Putting forth less effort had advantages for our ancestors.
Being inactive is not beneficial in modern life and needs addressing.
Why is it often so hard to get off the couch and go to the gym? While you can certainly point to your lack of will power for the inaction, you can also blame evolution for this predicament. Your brain prefers to minimize effort because that's how it's been trained to do it for millennia.
Scientists from the University of Geneva (UNIGE) and the University Hospitals of Geneva (HUG) in Switzerland came to this conclusion after studying the neuron activity of people who had the choice of either engaging in physical activity or doing nothing. The researchers found that it takes much more effort for the brain to escape its general tendency to put forth less effort.
This battle in the mind comes courtesy of our ancestors who aimed to do less to increase the likelihood they would survive. Expending unnecessary energy would have made them more vulnerable to predators or environmental factors. Conserving energy was helpful when competing against rivals, fighting, hunting for prey, and searching for food. Living in modern societies does not require this approach, and yet the predilection of our brains to work less persists.
To gain a better understanding, the scientists based their hypothesis on "the physical activity paradox." You've experienced it if you've ever done something like buying a membership to a gym that you attend with less frequency each passing week. This happens when the conflict between your reason-based knowledge (going to the gym is good for my health) runs into the automatic system based on affect, which is, in this case, all the hurt and tiredness you expect to get out of the physical activity. The result is often paralysis—you remain sedentary.
To delve deeper into what is taking place at the neuronal level, the researchers studied the brain activity of 29 people who desired to be more active in their everyday lives but had a hard time doing so. The subjects were made to choose between physical activity or inactivity as the researchers observed their brains using an electroencephalograph (EEG) with 64 electrodes.
The research team was headed by Boris Cheval from the Faculty of Medicine at UNIGE and HUG and Matthieu Boisgontier from Leuven University, Belgium, and the University of British Columbia, Canada.
Cheval explained how the experiment, where subjects controlled an online avatar, was carried out:
We made participants play the "manikin task," which involved steering a dummy towards images representing a physical activity and subsequently moving it away from images portraying sedentary behaviour [...] They were then asked to perform the reverse action.
The scientists looked at how long it took the participants to get near the sedentary image versus avoiding it and found that it took the subjects 32 milliseconds less to move away from the less active image. Cheval called this result "considerable for a task like this." While such an outcome didn't correspond to their theory of the physical activity paradox at first glance, it actually ended up confirming it.
This animation shows the experiment the participants were asked to perform, moving the avatar closer or farther from the image shown.
Credit: UBC Media Relations
It turned out that the reason for why the participants moved their avatar away from images of physical inactivity and towards active pictures more quickly is because avoiding lazy images forced their brains to work harder. That's due to the fact that the participants wanted to engage in physical activity even if they weren't doing so. Choosing more active images was actually easier to do. As such, the EEG scans suggested that their brains were essentially hardwired towards laziness.
Matthieu Boisgontier explained why evolution preferred the easy way out:
Conserving energy has been essential for humans' survival, as it allowed us to be more efficient in searching for food and shelter, competing for sexual partners, and avoiding predators. [...] The failure of public policies to counteract the pandemic of physical inactivity may be due to brain processes that have been developed and reinforced across evolution.
He thinks one big takeaway from the study is that the brain has to work hard to avoid physical activity. The team's research will next focus on whether the brain can be re-trained.
Check out the new study, published in the journal Neuropsychologia, here.
Molecular biologists are hopeful about the results, but a long road lies ahead—so far this diet has only worked proven wonders on mice.
Ketogenic diets are this year's weight-loss silver bullet. While we should approach every diet with a healthy dose of skepticism, the more studies being conducted on ketosis—the state your body enters when producing elevated amounts of ketone bodies, which are constructed via fatty acid metabolism in your liver—the more the benefits are accruing. 
Weight loss is a continually trending topic, though such popular pastimes sometimes lead to deeper inquiry. In the case of ketogenic diets, two new studies published in Cell Metabolism show how cutting back carbohydrates and intermittent fasting not only helps with weight, but may stretch out your life while improving your memory along the way—in mice, at least. 
A quick primer: your body burns fat as well as carbs for energy. Since our culture lives on carbs, with pretty much every processed food from a box or wrapped in plastic being carb- or sugar-dominated (which equates to the same thing once the saliva begins breaking down the nutrients in your mouth), we use the carbs and store the rest as fat. Hello obesity levels. Remove the carbs and your body turns to fat for energy. Burn the fat, weight loss follows. 
Unfortunately your brain can't burn fat for its outsized energy needs. It requires sugar. Or ketone bodies if you decide to starve your body of glucose. Eat lots of fat, consume fewer carbs, and voila. While I'm not overweight I dropped ten pounds in weeks when experimenting with ketosis. Ever since I've maintained this weight, not by fasting—a popular ketogenic method is to fast for between 12 and 18 hours every day—but by keeping carb consumption down and fat intake high, also supported by recent research on 135,000 adults. 
Anecdotes are just that, personal stories, so let's turn to the research. In the first study, mice were fed three diets: zero carbohydrates, a nutrient-balanced diet (the control group), and a high fat diet with just 15 percent carbohydrate intake, a percentage arrived at when researchers slowly added carbs to a carb-restricted diet to find the baseline in which mice remain in ketosis. After 15 percent their bodies suppressed ketosis, and would be little different than the control group. 
The mice were put on a cyclic ketogenic, high-fat, or control diet in mid-life. The cycle was one week, so they would eat this way for a week, then every mouse would spend a week on their respective diets. (Ketogenic- and high-fat only mice did not fare as well.) Interestingly, the high-fat group ended up heaviest, though the ketogenic and high-fat groups both had a higher caloric intake than the control group. In terms of longevity, the ketonic group proved most successful, at least through midlife. After thirty months of age, their mortality rate was the same as the control and high-fat groups. 
As for memory, the researchers write: 
In healthspan testing, we found a striking effect of Cyclic KD [ketogenic diet] on memory as well as more modest effects on a broader range of measures. We saw consistent memory improvement in two distinct tasks over 6 months.
The ketogenic group showed normal cognition wear with aging, but performed better in a visuospatial learning and memory test than the other groups, in which the mice learned to avoid (or not) an electric shock. The KD mice also showed improvement in late middle age (28-30 months) in novel object recognition.
Game-changer? Not quite. But anything that helps memory in aging bodies is a boost, especially given the crippling rates of dementia affecting millions of humans each year. An increase in midlife mortality rates means we'd be healthier during our prime.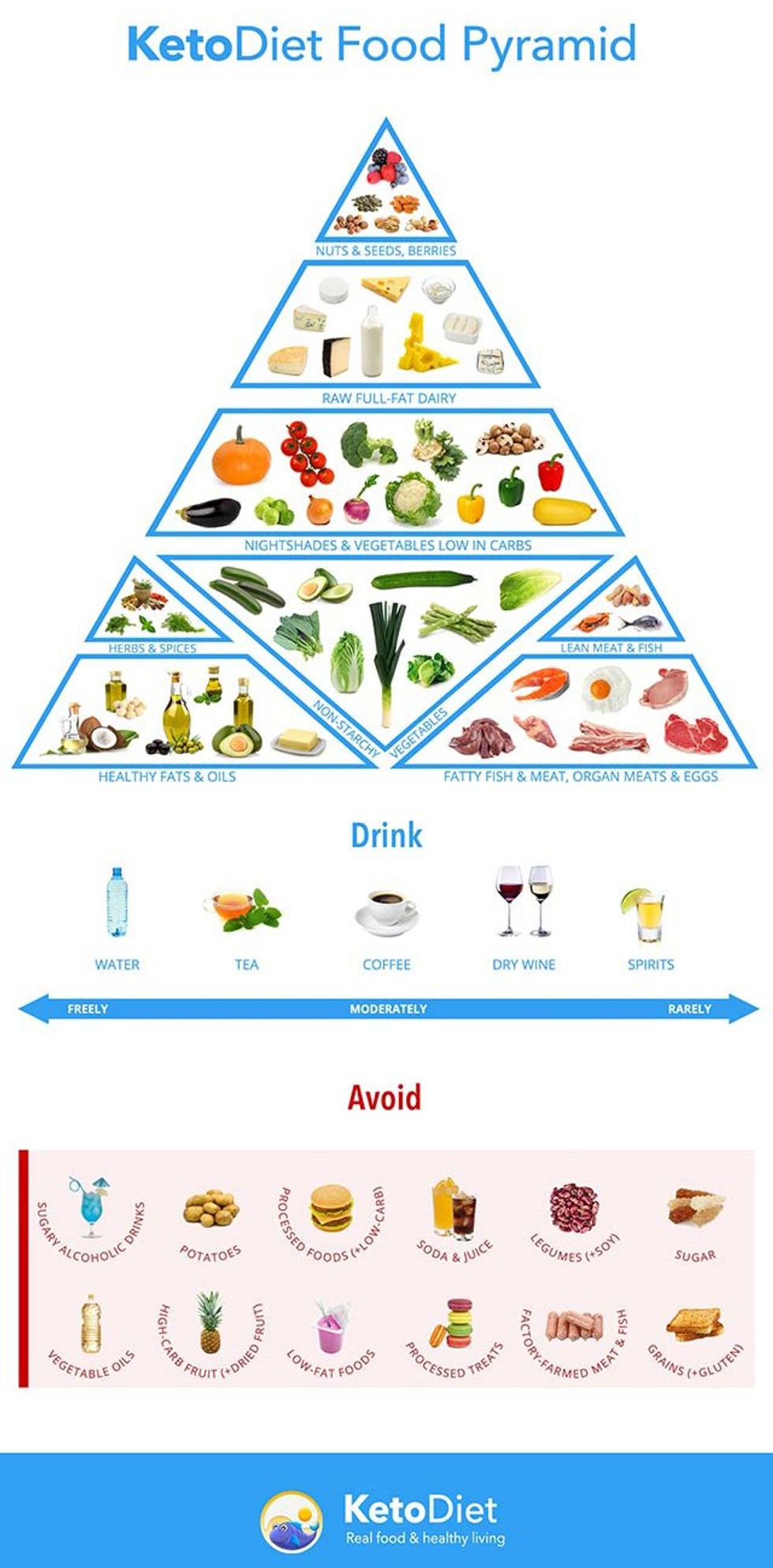 Image: ketodietapp.com
The second study also began at 12 months of age. It focused on calorie restriction, which, coupled with carbohydrate restriction, promotes production of ketone bodies. This study also featured the same three dietary guidelines: no carbs, low carbs, and a control group. While the first study showed better rates of midlife mortality, this one offered an optimistic view of longevity: 
The results clearly demonstrate that lifespan is increased in mice consuming a KD compared to a standard control diet. 
More tellingly, perhaps, is how the ketogenic group showed even better results in memory: 
Our results show that a KD slows cognitive decline and preserves motor function in aging mice. It should be noted that although the LCD [low carbohydrate diet] did not significantly differ from the ketogenic group in longevity, the two diets differed in their ability to preserve physiological function with age. This suggests that ketones may be necessary to elicit an extension of healthspan.
The role of ketones is playing a bigger role not only in general research but at pharmaceuticals companies as well. Researchers from these studies are interested in the physiological mechanisms behind ketones in hopes of isolating them for usage in pill form. If their protective effects can be better understood, perhaps humans won't have to fast or restrict carbs to reap the cognitive and longevity benefits. 
As one researcher, molecular biologist Eric Verdin puts it, these results are hopeful, but a long road lies ahead—mice aren't humans. Our diet and relationship to our environment has changed greatly over the last few hundred thousand years, while mice have been mice for a long time. As he states:
We're very excited to see such a profound effect on brain function. Our results don't imply this is going to work in humans. For that, we'll need extensive clinical trials.
Until then read this extensive article on ketosis and fasting. We might not have conclusive results, but the data trickling in from varied confirmed sources is pointing in one direction: cut down on carbs.
--
Derek is the author of Whole Motion: Training Your Brain and Body For Optimal Health. Based in Los Angeles he is working on a new book about spiritual consumerism. Stay in touch on Facebook and Twitter.
Albert Einstein's famous thought experiments led to groundbreaking ideas.
Albert Einstein during a lecture in Vienna in 1921. Photo by F. Schmutzer.
Albert Einstein is widely considered one of the smartest people who ever lived, significantly impacting our understanding of the world around us. His General Theory of Relativity has redefined what we know about space and time and is one of the pillars of modern physics. What's also remarkable about Einstein's achievements is that they relied largely on his mental powers and the intricacy of his imagination. He was able to discern and relate very complex scientific concepts to everyday situations. His thought experiments, that he called Gedankenexperiments in German, used conceptual and not actual experiments to come up with groundbreaking theories.
CHASING A BEAM OF LIGHT
One of Einstein's most famous thought experiments took place in 1895, when he was just 16. The idea came to him when he ran away from a school he hated in Germany and enrolled in an avant-garde Swiss school in the town of Aarau that was rooted in the educational philosophy of Johann Heinrich Pestalozzi, which encouraged visualizing concepts. 
Einstein called this thought experiment the "germ of the special relativity theory." What he imagined is this scenario - you are in a vacuum, pursuing a beam of light at the speed of light - basically going as fast as light. In that situation, Einstein thought, that light should appear stationary or frozen, since both you and the light would be going at the same speed. But this was not possible in direct observation or under Maxwell's equations, the fundamental mathematics that described what was known at the time about the workings of electromagnetism and light. The equations said that nothing could stand still in the situation Einstein envisioned and would have to move at the speed of light - 186,000 miles per second.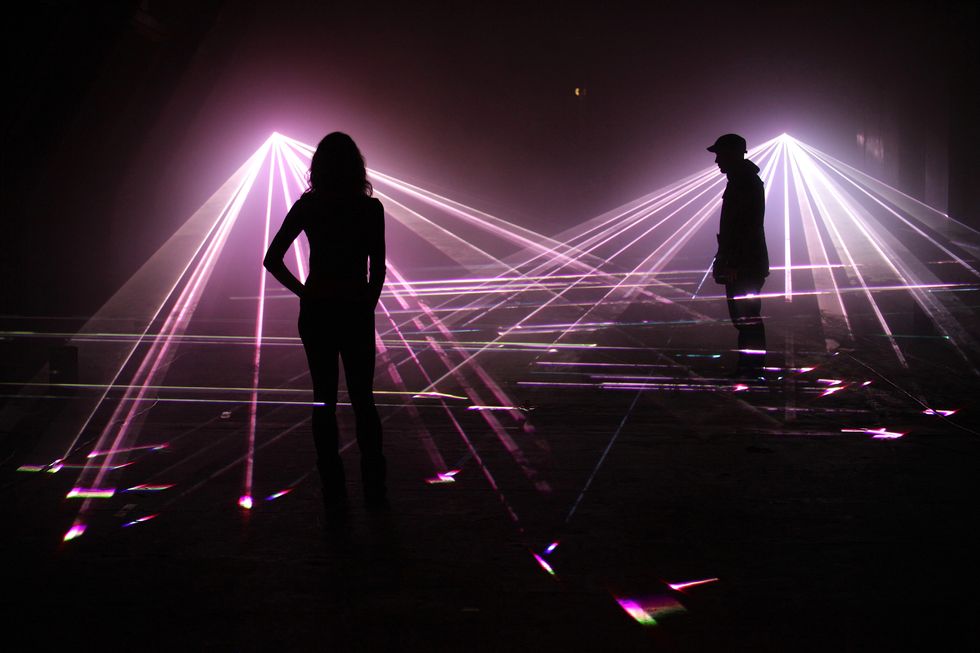 Artists pose in a laser projection entitled 'Speed of Light' at the Bargehouse on March 30, 2010 in London, England. (Photo by Peter Macdiarmid/Getty Images)
Here's how Einstein expanded on this in his Autobiographical Notes:
"If I pursue a beam of light with the velocity c (velocity of light in a vacuum), I should observe such a beam of light as an electromagnetic field at rest though spatially oscillating. There seems to be no such thing, however, neither on the basis of experience nor according to Maxwell's equations. From the very beginning it appeared to me intuitively clear that, judged from the standpoint of such an observer, everything would have to happen according to the same laws as for an observer who, relative to the earth, was at rest. For how should the first observer know or be able to determine, that he is in a state of fast uniform motion? One sees in this paradox the germ of the special relativity theory is already contained."
The tension between what he conceived of in his mind and the equations bothered Einstein for close to a decade and led to further advancements in his thinking.
LIGHTNING STRIKING A MOVING TRAIN
A 1905 thought experiment laid another cornerstone in Einstein's special theory of relativity. What if you were standing on a train, he thought, and your friend was at the same time standing outside the train on an embankment, just watching it go by. If at that moment, lightning struck both ends of the train, it would look to your friend that it struck both of them at the same time.
But as you are standing on the train, the lighting that the train is moving towards would be closer to you. So you would see that one first. It is, in other words, possible for one observer to see two events happening at once and for another to see them happening at different times. 
"Events that are simultaneous with reference to the embankment are not simultaneous with respect to the train," wrote Einstein. 
The contradiction between how time moves differently for people in relative motion, contributed to Einstein's realization that time and space are relative.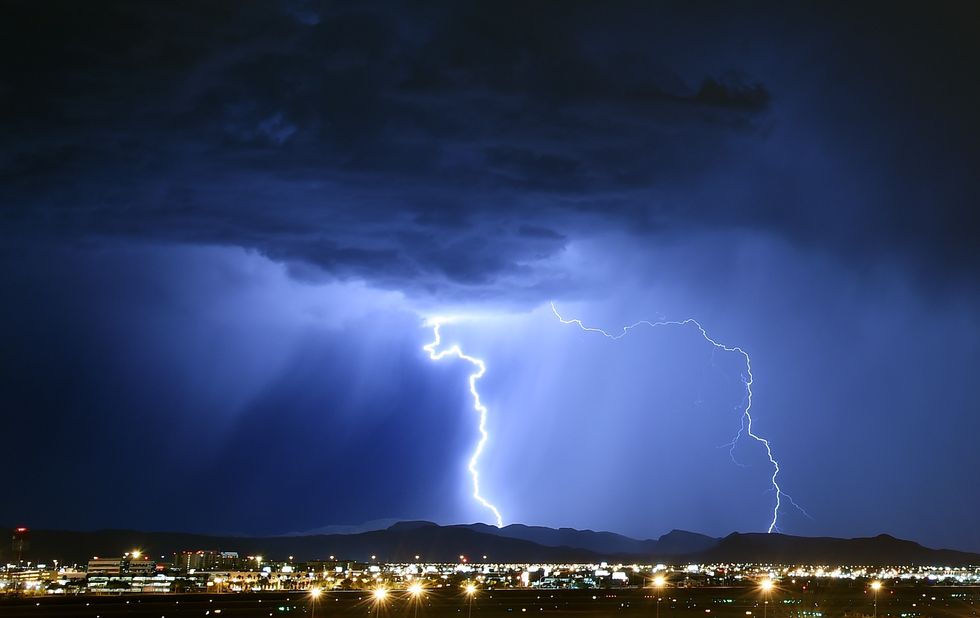 Lightning strikes during a thunderstorm on July 6, 2015 in Las Vegas, Nevada. (Photo by Ethan Miller/Getty Images)
MAN IN FALLING ELEVATOR
Another thought experiment led to the development of Einstein's General Theory of Relativity by showing that gravity can affect time and space. Here's how he described it happened:
"I was sitting in a chair in the patent office at Bern when all of a sudden a thought occurred to me," he remembered. "If a person falls freely, he will not feel his own weight." He later called it "the happiest thought in my life."
A 1907 thought experiment expanded on this idea. If a person was inside an elevator-like "chamber" with no windows, it would not be possible for that person to know whether he or she was falling or pulled upward at an accelerated rate. Gravity and acceleration would produce similar effects and must have the same cause, proposed Einstein. 
"The effects we ascribe to gravity and the effects we ascribe to acceleration are both produced by one and the same structure," wrote Einstein.
One consequence of this idea is that gravity should be able to bend a beam of light - a theory confirmed by a 1919 observation by the British astronomer Arthur Eddington. He measured how a star's light was bend by the sun's gravitational field.
THE CLOCK PARADOX AND THE TWIN PARADOX
In 1905, Einstein thought - what if you had two clocks that were brought together and synchronized. Then one of them was moved away and later brought back. The traveling clock would now lag behind the clock that went nowhere, exhibiting evidence of time dilation - a key concept of the theory of relativity.
"If at the points A and B of K there are clocks at rest which, considered from the system at rest, are running synchronously, and if the clock at A is moved with the velocity v along the line connecting B, then upon arrival of this clock at B the two clocks no longer synchronize but the clock that moved from A to B lags behind the other which has remained at B," wrote Einstein. 
This idea was expanded upon to human observers in 1911 in a follow-up thought experiment by the French physicist Paul Langevin. He imagined two twin brothers - one traveling to space while his twin stays on Earth. Upon return, the spacefaring brother finds that the one who stayed behind actually aged quite a bit more than he did.
Einstein solved the clocks paradox by considering acceleration and deceleration effects and the impact of gravity as causes of the for the loss of synchronicity in the clocks. The same explanation stands for the differences in the aging of the twins. 
Time dilation has been abundantly demonstrated in atomic clocks, when one of them was sent on a space trip or by comparing clocks on the space shuttle that ran slower than reference clocks on Earth.
How can you utilize Einstein's approach to thinking in your own life? For one - allow yourself time for introspection and meditation. It's equally important to be open to insight wherever or whenever it might come. Many of Einstein's key ideas occurred to him while he was working in a boring job at the patent office. The elegance and the scientific impact of the scenarios he proposed also show the importance of imagination not just in creative pursuits but in endeavors requiring the utmost rationality. By precisely yet inventively formulating the questions within the situations he conjured up, the man who once said "imagination is more important than knowledge" laid the groundwork for the emergence of brilliant solutions, even if it would come as a result of confronting paradoxes.