Big ideas.
Once a week.
Subscribe to our weekly newsletter.
"Wonderfully unimpressive": hill-climbing in London
For urban exploration with an ironic twist, go 'bag' all 32 London Borough Tops
12 May, 2018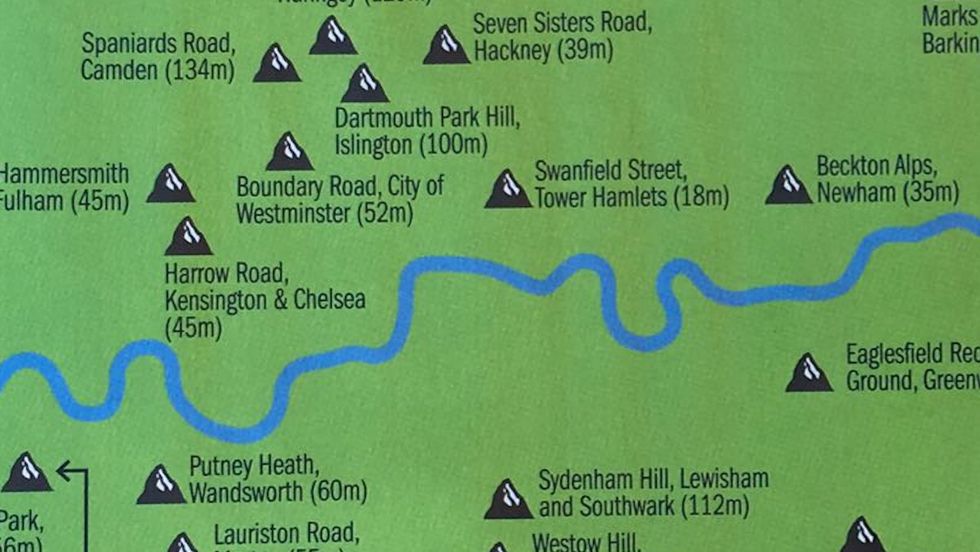 Think you've seen all of London? Not until you've climbed the highest points of its 32 boroughs
London is an unlikely destination for hill-climbing. The local topography is mostly flat, with some soft undulations. The city's tallest building – the Shard, at 306 m (1,000 ft) or 310 m (1,020 ft) if you include the tip – easily beats the highest natural point, Westerham Heights in the south-eastern borough of Bromley (245 m, 804 ft).
---
But if you're in London anyway and you've seen all of the usual sights, why not seek out the highest points in each of its 32 boroughs? Yes, many are ridiculously low and obscure. Nevertheless, 'hill bagging' is a thing even in London, as an alternative and mildly ironic (and thus perhaps very British) form of urban exploration. Alternatively, there's the London Peaks Relay, a 240-km (150-mile) race in which a team of runners visit the highest point in every London borough within 24 hours. 
Here's an overview of the 32 tumps (1) you have to 'climb' before you can consider yourself the conqueror of London's Borough Tops. While none is a challenge individually, together they add up to 2,996 m (9,829 ft) – more than twice the height of Britain's highest mountain, the redoubtable Ben Nevis, at 1,344 m (4,409 ft).
1. Westerham Heights, Bromley: 245 m (804 ft)
The 2,141st-highest peak in England and the 13,201st-highest peak in the British Isles.
"Traffic on the A233 is lethal and the top is on a blind corner".
"Maybe we could petition the house owner to get a huge granite slab installed in the garden as a summit feature."
"Got as close as I could without upsetting people or horses!"
Westerham Heights is a separately named part of Betsom's Hill, which peaks just across the county border in Kent. It's both the highest point of the North Downs and of Kent. Its ranking as the 2,141st-highest peak in England (and the 13,201st-highest in the British Isles) derives from the Database of British and Irish Hills (DoBIH), as quoted by The Mountain Guide, from which the other rankings – where available – were also taken. The quotes are from climbers who have bagged the 'hills' in question, taken from the Hill Bagging website.
2. Sanderstead Plantation, Croydon: 175 m (574 ft)
The 3,045th-highest peak in England and the 15,722nd-highest peak in the British Isles.
"The little hillock is clearly marked with information in a plastic wallet". 
"Nice woods, but the brambles on the top are getting a bit long. Not one for shorts".
"Pleasant spot. Clearing with 2 small benches and a large tree in the middle".
3. Bushey Heath, Harrow: 153 m (502 ft)
The 3,361st-highest peak in England and the 16,538th-highest peak in the British Isles. Also formerly the summit of Hertfordshire.
"Nice boundary stone opposite sude of the road from the Harvester".
"Easy one, this: park in the Harvester car park, get a coffee and then before you drive off, hop over the road and bag yourself a county top".
"These sort of tump summits on totally flat urban roads are such a pointless nonsense aren't they!"
4. Clock House, Sutton: 147 m (482 ft)
The 3,437th-tallest in England and the 16,776th-highest peak in the British Isles.
"Top in the corner of playing field just over the stile".
"Popular dog walking spot, nice high hill but no views to speak of".
"Glad people weren't playing football here or it could have been embarrassing".
5. Highwood Hill, Barnet: 146 m (479 ft)
The 3,453rd-highest peak in England and the 16,811th-highest peak in the British Isles.
"Access nightmare. Watch out for electric fences and angry horses". 
"Asked to proceed to top on private land – denied".
"In the dark over fence from east into grassy field and up to paddock summit. Kept torch off".
6. Potter Street Hill, Hillingdon: 134 m (440 ft)
The 3,595th-highest peak in England, and the 17,224th-highest peak in the British Isles.
"Some very posh property".
"Short amble through Oxhey Wood from the car park".
"A pleasant mile uphill from Northwood Hills station. The presence of the City of London Coal Duty post near the top was an added bonus".
7. Spaniards Road, Camden: 134 m (440 ft)
Also mentioned as Hampstead Heath. The high point is at or near where these two meet.
"Saw several of the resident bright green parakeets".
"I agree on the difficulty in finding the natural top. It may be in the large building being restored next to the memorial. The gate was open, so I wandered in. Good views of London through the trees near the summit". 
"No real top, just a bus stop and hundreds of other Sunday walkers for company".
8. Eaglesfield Recreation Ground (part of Shooters Hill), Greenwich: 132 m (433 ft)
"Also visited nearby Severndroog castle".
"Walked up from Falconwood railway station through Oxleas Wood and Oxleas Meadows - much nicer approach than most London Tumps!"
"Nice parkland, Great views SE, interesting architecture tower".
9. Highgate, Haringey: 129 m (423 ft)
The 3,661st-highest peak in England, and the 17,420th-highest peak in the British Isles.
"Only room for one of us at a time on this tiny roundabout!"
"Rather inauspicious".
"Not recommended at rush hour".
10. Bournwell Hill, Enfield: 119 m (390 ft)
The 3,762nd-highest peak in England, and the 17,758th-highest peak in the British Isles.
"Walk down hill to the top. Near gate. nearby lamp-post proclaims highest point in Enfield".
"Nice leafy stroll from Cockfosters tube to the top - lunch beside cricket pitch".
"Unremarkable. Note to self not to return".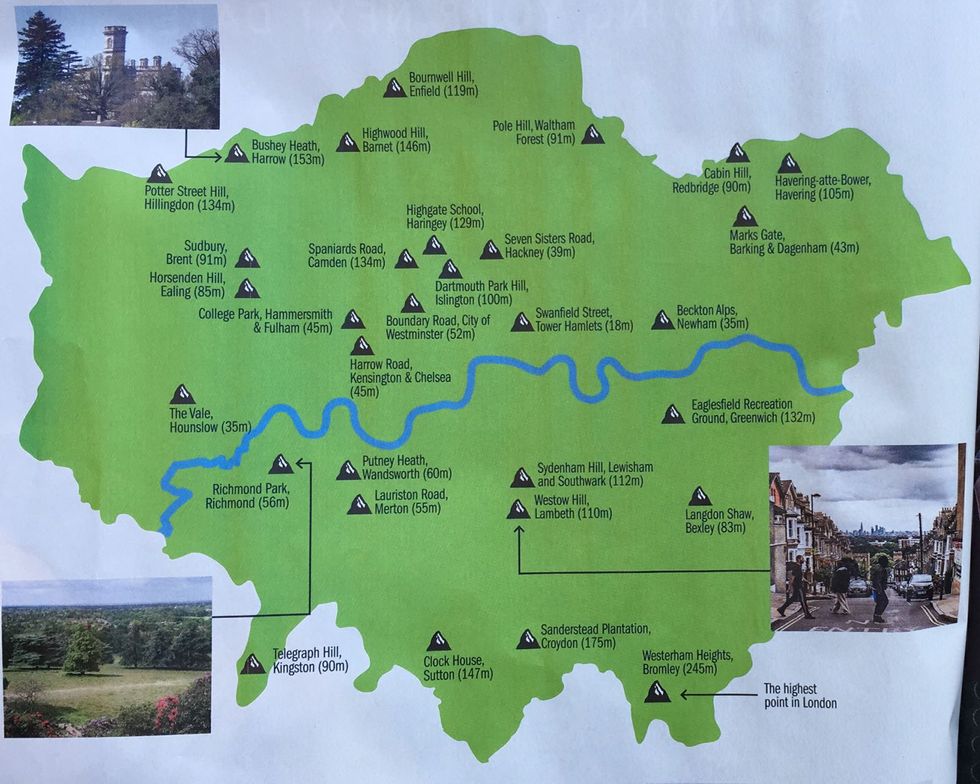 11. Sydenham Hill, Southwark/Lewisham: 112 m (367 ft)
The 3,857th-highest peak in England, and the 18,024th-highest peak in the British Isles.
"Following a visit to the Horniman Museum & Gardens, a pleasant walk up leafy Sydenham Hill".
"Nice pub nearby!"
"Could be anywhere".
12. Westow Hill, Lambeth: 110 m (361 ft)
The 3,885th-highest peak in England, and the 18,103rd-highest peak in the British Isles.
"Busy and dangerous road top, shame the highest point not in the nearby Crystal Palace Park".
"By black-painted pub at unpleasantly busy road junction".
"I walked around the roundabout via the crossings, then seized my chance to carefully walk across the centre during a momentary lull in traffic".
13. Havering-atte-Bower, Havering: 105 m (344 ft)
The 3,941st-highest peak in England, and the 18,306th-highest peak in the British Isles.
"Highest point appears to be churchyard near SE corner".
"Great village sign and unusual arch and main entrance under church tower".
"Nice view of east London from here".
14. Dartmouth Park Hill, Islington: 100 m (328 ft)
(near Highgate Hill, also mentioned as the borough high point, with the same altitude)
"The high point appears to be at the boundary stones/mile posts".
"Excellent selection of real ales at the nearby Duke's Head".
"Alongside is Highgate Cemetery (…) Notable for being a nature reserve (lots of foxes) and for some of the people buried there such as Karl Marx (…), but also Douglas Adams who I like to think would have described Marvin plodding around bagging London Borough Tops moaning that 'the first 32 were the worst'…"
15. Sudbury, Brent: 91 m (299 ft)
The 4,084th-highest peak in England, and the 18,805th-highest peak in the British Isles.
"A glorious sunny winter day and a good little hill to mark 71st birthday!"
"A surprisingly pleasant hill in a pleasant neighbourhood".
"The views over north London were spectacular".
16. Pole Hill, Waltham Forest: 91 m (299 ft)
The 4,085th-highest peak in England, and the 18,806th-highest peak in the British Isles.
"Short walk, good view, trig point an obelisk, marking meridian line and a plaque about TE Lawrence. Proper hill unlike other London ones I have done".
"Easy walk from Chingford station. Nice top in woods with view to Shard".
"Definitely one of the better London Borough Tops".
17. Cabin Hill, Redbridge: 90 m (295 ft)
"Parked in the car park to the north then wandered about the flattish summit. A pleasant spot".
"Popular recreation area with golf course approach from Havering".
"Very nice spot - probably my favourite of all the borough tops".
18. Telegraph Hill, Kingston upon Thames: 90 m (295 ft)
"Parked at pub, then up track to clay pigeon shooting ground. Nobody blasting away & spoke to two nice guys who let me cross the ground to the reservoir compound".
"Did not try to climb locked gate at road due to warning signs, and tales of an impenetrable inner fenced compound and security cameras".
"Fenced off as described by others so settled for highest point outside the fence. Shame it can't be claimed".
19. Horsenden Hill, Ealing: 85 m (279 ft)
The 4,149th-highest peak in England, and the 19,035th-highest peak in the British Isles.
"A proper hill with good views and paths".
"A conservation area of woodland and rough grass. Archaeological evidence has shown that people occupied the site for at least 7000 years. The ancient plough soil on the hill top suggests Neolithic farming. The Ballet Box Public House is so called because of its use as a polling station for canal boatmen".
"Not a bad top apart from the shady characters in the car park".
20. Langdon Shaw, Bexley: 83 m (272 ft)
The 4,161st-highest peak in England, and the 19,099th-highest peak in the British Isles.
"Driveway of house tucked into corner (left of the fancy, out-of-place gates) seems to be summit although there could be a back garden a few cm higher".
"Uninspiring".
"Two days ago, I was walking in the mountains around Lake Como: the contrast (is) surreal".
21. Putney Heath, Wandsworth: 60 m (197 ft)
"Big lump of a hillock in the middle of the heath".
"Wonderfully unimpressive".
"I returned to the Windmill Cafe with burdock seed-heads all over my rucksack".
22. Richmond Park, Richmond upon Thames: 56 m (184 ft)
The 4,337th-highest peak in England, and the 19,888th-highest peak in the British Isles.
"Who thought London could be so lovely?"
"A deer stepped out of the margins of the wood quite close to me in the twilight. Admired the view from King Henry's mound and toured the potential high points. Either the grassy road verge or the ground by a tree 50 yards North West of the trig, near the fence, for my money".
"I'm glad I live in Scotland. These English hills are just so difficult. Finding the exact top is like being blindfolded and trying to stick the tail on a donkey in a spin dryer".
23. Lauriston Road, Merton: 55 m (180 ft)
The 4,343rd-highest peak in England, and the 19,925th-highest peak in the British Isles.
"Wandered over from an afternoon drinking in the Crooked Billet - fine pub, dull hill".
"A blue plaque at the road end marks a house where the WWI war poet Robert Graves lived".
"Very flat area, posh but not scenic for a top. Highest lump on road marked, maybe appropriately, with a pile of horse dung today".
24. Boundary Road, Westminster: 52 m (170 ft)
Also mentioned as St John's Wood Park Road. The high point is at or near the junction of these two roads.
"Reckon the actual top is the base of the Plane tree or perhaps even the junction of Boundary Rd and The Marlowes. Took in the Abbey Rd zebra crossing for good measure".
"Seems to be at end of the block paved drive to me. It's all debatable as both pavement and block-paved drive are man-made".
"I had the impression that I was walking downhill from Swiss Cottage for this one".
25. College Park, Hammersmith and Fulham: 45 m (148 ft) 
The 4,397th-highest peak in England, and the 20,191st-highest peak in the British Isles.
"The high point is by Travis Perkins it would appear. I liked the house just down the road called 'Belle Vue'. Maybe once upon a time!"
"Combined with the adjacent Harrow Road top outside the intriguing Kensal Green Cemetery which is well worth exploring for its history and wide range of different grave styles from different faiths".
"A short walk from Kensal Green station. Seems to be the Portuguese/Brazilian quarter around here".
26. Harrow Road, Kensington and Chelsea: 45 m (148 ft)
The 4,398th-highest peak in England, and the 20,192nd-highest peak in the British Isles.
"An engraved stone on the wall of 691C appears to show a boundary line. Otherwise, the topographical excitement around here is limited".
"Really not worth the time and effort in getting here".
"Bagged on way back from board meeting. Rubbish but slightly better than the one up the road".
27. Marks Gate, Barking and Dagenham: 43 m (141 ft)
"Easy approach as downhill from Havering Atte Bower church".
"Easy parking in nearby Billet Road, which about the only good thing I can say about this top. A boring and busy main road. The nearby McDonalds is named after the top - is London Borough Top bagging really getting that popular?!"
"Highest spot in the new part of the cemetery or across road in quarry site".
28. Seven Sisters Road, Hackney: 39 m (128 ft)
The 4,429th-highest peak in England, and the 20,358th-highest peak in the British Isles.
"Yippee, yet another road junction! At least it was only a short stroll from the tube".
"Rather dull".
"Pleasant park nearby".
29. The Vale, Hounslow: 35 m (115 ft)
"The high point appears to be in an industrial estate at 34 metres, although it's all flat there too so near impossible to pick the highest point".
"Every day at Heathrow 1,400 flights take off and land – one every 45 seconds which is nearly half a million per year and all of them fly low over here as the end of the runway is only 2 miles away and points this way".
"I think this need to be validated - Hard to believe this is a top of anything".
30. Beckton Alps, Newham: 35 m (115 ft)
"From Beckton DLR station via zig zag path and gap in fence. Great views over London!"
"Popular spot judging by the amount of litter on top, which is not surprising given the fantastic 360-degree views".
"A wonderful sense of dereliction".
31. Swanfield Street, Tower Hamlets: 18 m (59 ft)
"Highest point is the bandstand in the small circular park".
"Beaten to be first to log this hill by my daughter and then only by 10 minutes".
"A quick detour on a sunny evening, bound for City airport".
London has 32 boroughs, but the map (and this list) has only 31 tops. That's because Sydenham Hill, on the border between Southwark and Lewisham, is the highest point in both boroughs. Not mentioned on the map is the highest point in the City of London, which is a separate and independent entity, not part of Greater London as such.
Chancery Lane/Holborn, City of London: 22 m (72 ft)
"Cheating really. I was on a 25 bus".
"Climbed up the steps in Holborn Station from the lowest platform just to get a sense of altitude gain. Oxygen tanks and crampons not needed".
"I'd walked across this pavement summit several times whilst working in London, without realising it was a high point. How strange to revisit it now in a stolen moment of a day trip from Scotland to London for work".
Map published in Time Out, sent in by Jeremy Hoogmartens. More info at Hill Bagging, The Mountain Guide and London Peaks.
Strange Maps #906
Got a strange map? Let me know at strangemaps@gmail.com.
(1) In England, a hillock, mound, barrow or tumulus. May be related to the Welsh twmp.
Inventions with revolutionary potential made by a mysterious aerospace engineer for the U.S. Navy come to light.
Credit: Getty Images
Surprising Science
U.S. Navy holds patents for enigmatic inventions by aerospace engineer Dr. Salvatore Pais.
Pais came up with technology that can "engineer" reality, devising an ultrafast craft, a fusion reactor, and more.
While mostly theoretical at this point, the inventions could transform energy, space, and military sectors.
The U.S. Navy controls patents for some futuristic and outlandish technologies, some of which, dubbed "the UFO patents," came to light recently. Of particular note are inventions by the somewhat mysterious Dr. Salvatore Cezar Pais, whose tech claims to be able to "engineer reality." His slate of highly-ambitious, borderline sci-fi designs meant for use by the U.S. government range from gravitational wave generators and compact fusion reactors to next-gen hybrid aerospace-underwater crafts with revolutionary propulsion systems, and beyond.
Of course, the existence of patents does not mean these technologies have actually been created, but there is evidence that some demonstrations of operability have been successfully carried out. As investigated and reported by The War Zone, a possible reason why some of the patents may have been taken on by the Navy is that the Chinese military may also be developing similar advanced gadgets.
Among Dr. Pais's patents are designs, approved in 2018, for an aerospace-underwater craft of incredible speed and maneuverability. This cone-shaped vehicle can potentially fly just as well anywhere it may be, whether air, water or space, without leaving any heat signatures. It can achieve this by creating a quantum vacuum around itself with a very dense polarized energy field. This vacuum would allow it to repel any molecule the craft comes in contact with, no matter the medium. Manipulating "quantum field fluctuations in the local vacuum energy state," would help reduce the craft's inertia. The polarized vacuum would dramatically decrease any elemental resistance and lead to "extreme speeds," claims the paper.
Not only that, if the vacuum-creating technology can be engineered, we'd also be able to "engineer the fabric of our reality at the most fundamental level," states the patent. This would lead to major advancements in aerospace propulsion and generating power. Not to mention other reality-changing outcomes that come to mind.
Among Pais's other patents are inventions that stem from similar thinking, outlining pieces of technology necessary to make his creations come to fruition. His paper presented in 2019, titled "Room Temperature Superconducting System for Use on a Hybrid Aerospace Undersea Craft," proposes a system that can achieve superconductivity at room temperatures. This would become "a highly disruptive technology, capable of a total paradigm change in Science and Technology," conveys Pais.
High frequency gravitational wave generator.
Credit: Dr. Salvatore Pais
Another invention devised by Pais is an electromagnetic field generator that could generate "an impenetrable defensive shield to sea and land as well as space-based military and civilian assets." This shield could protect from threats like anti-ship ballistic missiles, cruise missiles that evade radar, coronal mass ejections, military satellites, and even asteroids.
Dr. Pais's ideas center around the phenomenon he dubbed "The Pais Effect". He referred to it in his writings as the "controlled motion of electrically charged matter (from solid to plasma) via accelerated spin and/or accelerated vibration under rapid (yet smooth) acceleration-deceleration-acceleration transients." In less jargon-heavy terms, Pais claims to have figured out how to spin electromagnetic fields in order to contain a fusion reaction – an accomplishment that would lead to a tremendous change in power consumption and an abundance of energy.
According to his bio in a recently published paper on a new Plasma Compression Fusion Device, which could transform energy production, Dr. Pais is a mechanical and aerospace engineer working at the Naval Air Warfare Center Aircraft Division (NAWCAD), which is headquartered in Patuxent River, Maryland. Holding a Ph.D. from Case Western Reserve University in Cleveland, Ohio, Pais was a NASA Research Fellow and worked with Northrop Grumman Aerospace Systems. His current Department of Defense work involves his "advanced knowledge of theory, analysis, and modern experimental and computational methods in aerodynamics, along with an understanding of air-vehicle and missile design, especially in the domain of hypersonic power plant and vehicle design." He also has expert knowledge of electrooptics, emerging quantum technologies (laser power generation in particular), high-energy electromagnetic field generation, and the "breakthrough field of room temperature superconductivity, as related to advanced field propulsion."
Suffice it to say, with such a list of research credentials that would make Nikola Tesla proud, Dr. Pais seems well-positioned to carry out groundbreaking work.
A craft using an inertial mass reduction device.
Credit: Salvatore Pais
The patents won't necessarily lead to these technologies ever seeing the light of day. The research has its share of detractors and nonbelievers among other scientists, who think the amount of energy required for the fields described by Pais and his ideas on electromagnetic propulsions are well beyond the scope of current tech and are nearly impossible. Yet investigators at The War Zone found comments from Navy officials that indicate the inventions are being looked at seriously enough, and some tests are taking place.
If you'd like to read through Pais's patents yourself, check them out here.
Laser Augmented Turbojet Propulsion System
Credit: Dr. Salvatore Pais
China has reached a new record for nuclear fusion at 120 million degrees Celsius.
Technology & Innovation
This article was originally published on our sister site, Freethink.
China wants to build a mini-star on Earth and house it in a reactor. Many teams across the globe have this same bold goal --- which would create unlimited clean energy via nuclear fusion.
But according to Chinese state media, New Atlas reports, the team at the Experimental Advanced Superconducting Tokamak (EAST) has set a new world record: temperatures of 120 million degrees Celsius for 101 seconds.
Yeah, that's hot. So what? Nuclear fusion reactions require an insane amount of heat and pressure --- a temperature environment similar to the sun, which is approximately 150 million degrees C.
If scientists can essentially build a sun on Earth, they can create endless energy by mimicking how the sun does it.
If scientists can essentially build a sun on Earth, they can create endless energy by mimicking how the sun does it. In nuclear fusion, the extreme heat and pressure create a plasma. Then, within that plasma, two or more hydrogen nuclei crash together, merge into a heavier atom, and release a ton of energy in the process.
Nuclear fusion milestones: The team at EAST built a giant metal torus (similar in shape to a giant donut) with a series of magnetic coils. The coils hold hot plasma where the reactions occur. They've reached many milestones along the way.
According to New Atlas, in 2016, the scientists at EAST could heat hydrogen plasma to roughly 50 million degrees C for 102 seconds. Two years later, they reached 100 million degrees for 10 seconds.
The temperatures are impressive, but the short reaction times, and lack of pressure are another obstacle. Fusion is simple for the sun, because stars are massive and gravity provides even pressure all over the surface. The pressure squeezes hydrogen gas in the sun's core so immensely that several nuclei combine to form one atom, releasing energy.
But on Earth, we have to supply all of the pressure to keep the reaction going, and it has to be perfectly even. It's hard to do this for any length of time, and it uses a ton of energy. So the reactions usually fizzle out in minutes or seconds.
Still, the latest record of 120 million degrees and 101 seconds is one more step toward sustaining longer and hotter reactions.
Why does this matter? No one denies that humankind needs a clean, unlimited source of energy.
We all recognize that oil and gas are limited resources. But even wind and solar power --- renewable energies --- are fundamentally limited. They are dependent upon a breezy day or a cloudless sky, which we can't always count on.
Nuclear fusion is clean, safe, and environmentally sustainable --- its fuel is a nearly limitless resource since it is simply hydrogen (which can be easily made from water).
With each new milestone, we are creeping closer and closer to a breakthrough for unlimited, clean energy.
The symbol for love is the heart, but the brain may be more accurate.
Videos
How love makes us feel can only be defined on an individual basis, but what it does to the body, specifically the brain, is now less abstract thanks to science.
One of the problems with early-stage attraction, according to anthropologist Helen Fisher, is that it activates parts of the brain that are linked to drive, craving, obsession, and motivation, while other regions that deal with decision-making shut down.
Dr. Fisher, professor Ted Fischer, and psychiatrist Gail Saltz explain the different types of love, explore the neuroscience of love and attraction, and share tips for sustaining relationships that are healthy and mutually beneficial.
Sex & Relationships
A new study suggests that reports of the impending infertility of the human male are greatly exaggerated.
Scroll down to load more…