What's Your Country Best in the World At?
It might not be what you expect
Frank Jacobs
From a young age, Frank was fascinated by maps and atlases, and the stories they contained. Finding his birthplace on the map in the endpapers of Tolkien's Lord of the Rings only increased his interest in the mystery and message of maps.
While pursuing a career in journalism, Frank started a blog called Strange Maps, as a repository for the weird and wonderful cartography he found hidden in books, posing as everyday objects and (of course) floating around the Internet.
"Each map tells a story, but the stories told by your standard atlas for school or reference are limited and literal: they show only the most practical side of the world, its geography and its political divisions. Strange Maps aims to collect and comment on maps that do everything but that - maps that show the world from a different angle".
A remit that wide allows for a steady, varied diet of maps: Frank has been writing about strange maps since 2006, published a book on the subject in 2009 and joined Big Think in 2010. Readers send in new material daily, and he keeps bumping in to cartography that is delightfully obscure, amazingly beautiful, shockingly partisan, and more.
29 November, 2016
Every country is the best at something; even if it's a bad thing, like murder, child marriages or spam email. 
---
The aptly-named Information is Beautiful website has sifted through piles of data from the UN, the CIA, the Guardian and a bunch of other places to compile a world map that awards a gold star to just about every country on the planet (1).  
The accolades come in nine different types: Commodity (pink), Psychology (light blue), Ecology (green), Gastronomy (purple), Economy (gray), Nicety (yellow), Humanity (dark blue), Technology (red) and Nasty (black).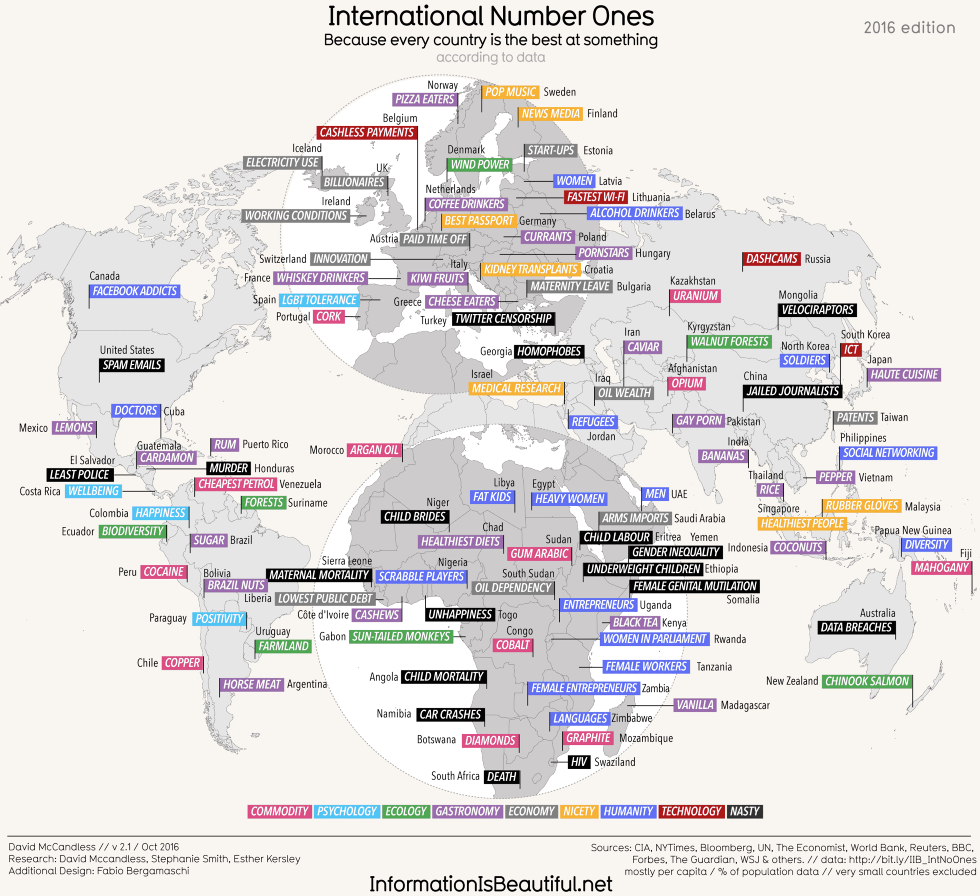 Some firsts are expected, or at least not surprising: Sweden is #1 in pop music, North Korea has more soldiers relative to its population than any other country, Cuba leads in doctors per capita and Afghanistan is the world capital of opium production. 
Other world records we are storing for that pub quiz to end all pub quizzes. Fastest wifi: Lithuania. Most Facebook addicts: Canada. Most Scrabble players: Nigeria. Most languages: Zimbabwe. 
Most diamonds per capita: Botswana.
And then there are those records are that surprising, or even downright shocking. Did you know that the biggest whisky-drinkers in the world are… the French? Or that the biggest cheese-eaters are… the Greeks? That nobody consumes more gay porn than… Pakistan? Or that most brazil nuts are produced by… Bolivia? (Brazil itself beats everybody else in sugar production).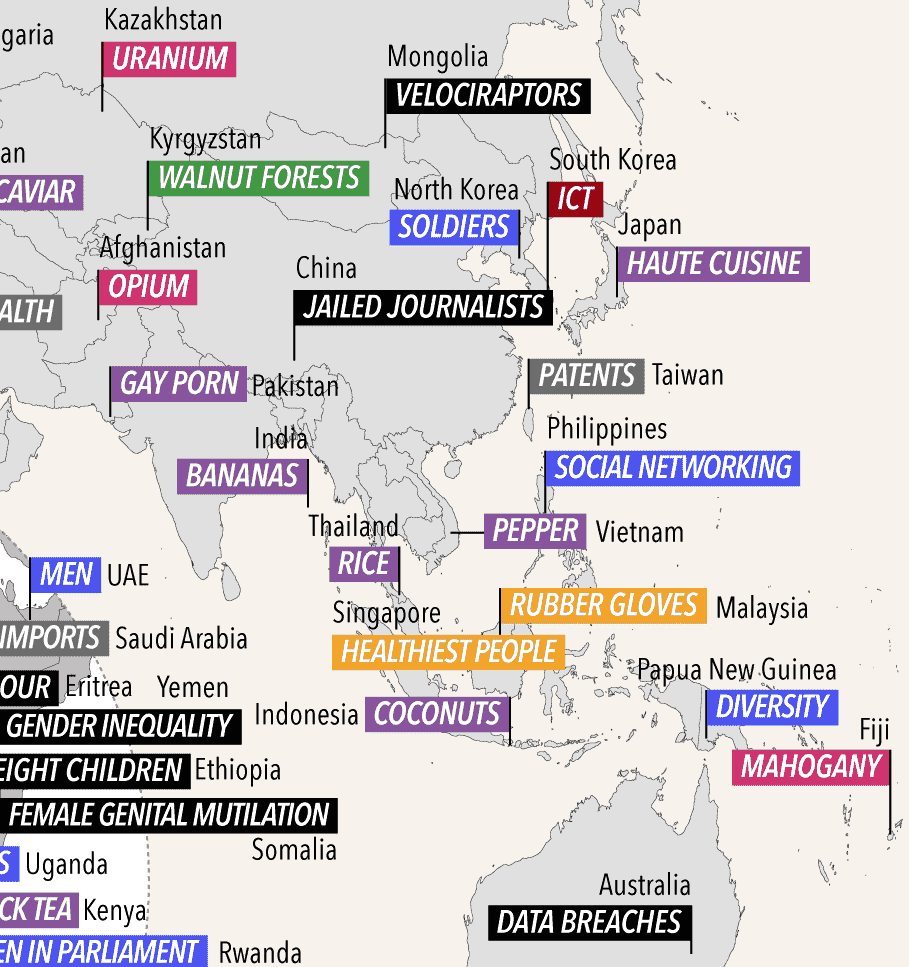 Healthiest people on the planet: Singaporeans
Scoring a distinction in the black category is a reverse compliment. Which country wants to be first in murders? None – but the accolade goes to Honduras nonetheless. Similar blemishes on national records are noted for Namibia (most car crashes), Eritrea (most child labour), China (most jailed journalists) and Mongolia (most velociraptors – although that can't be a current problem. Can it?)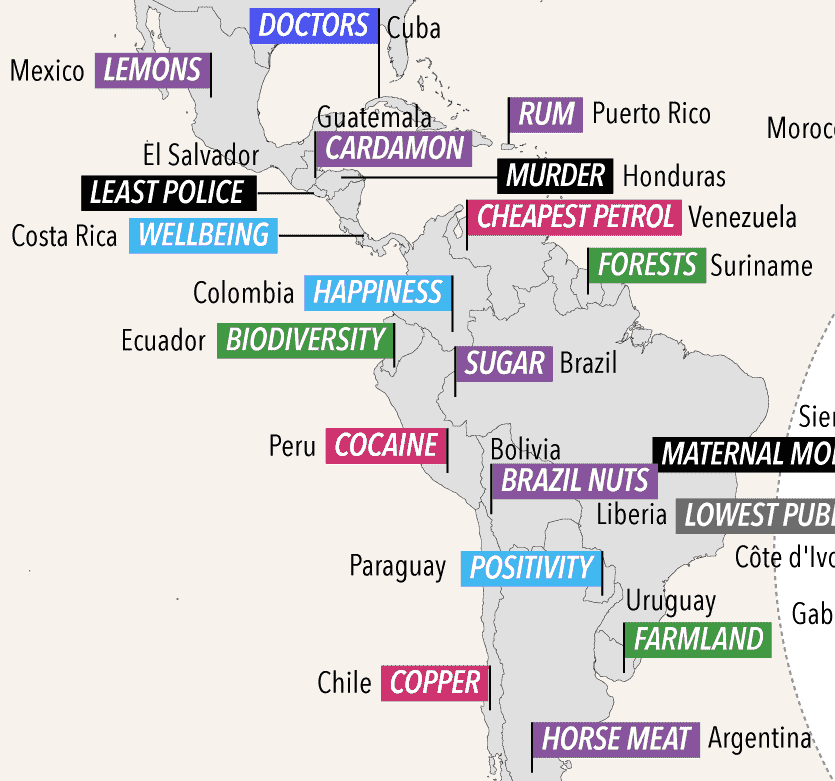 World's most positive people: Paraguayans
Looking at the map, one can't help but feel that some countries could definitely benefit from being introduced to each other. Like Colombia (most happiness) and Togo (most unhappiness), Spain (highest LGBT tolerance) and Georgia (most homophobes), and Zambia (most female entrepreneurs) and Yemen (most gender inequality).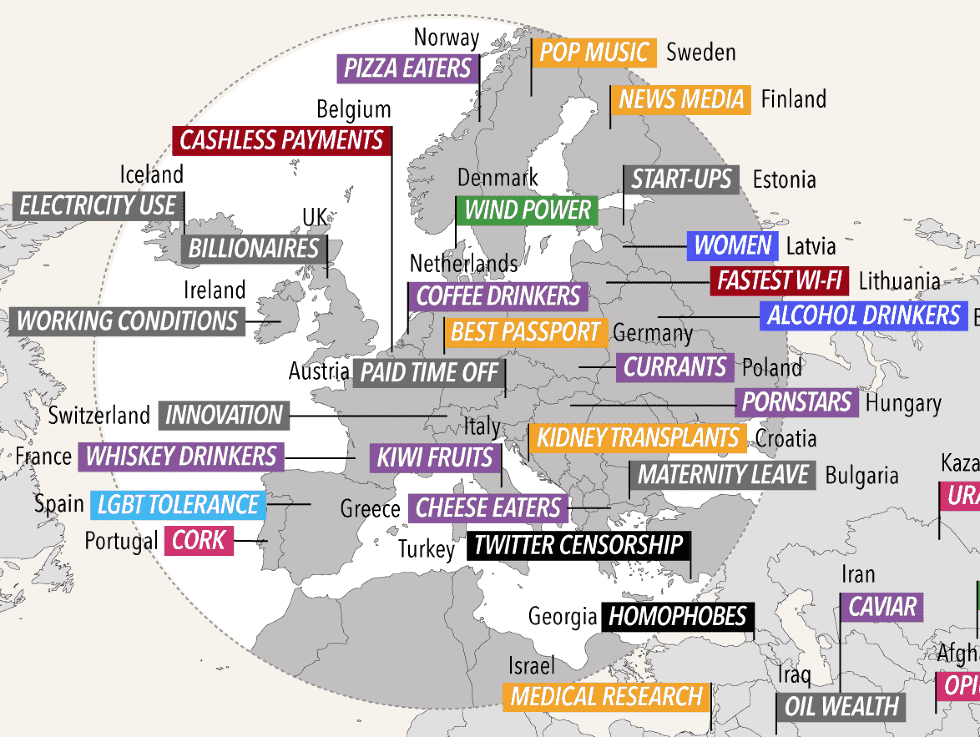 World-leading innovators: the Swiss
Talking of which, these stats may be fairly random, but there does appear to be something good going on in East Africa re gender equality: most female entrepreneurs, but also most female workers and most women in parliament. 
And the U.S.? It leads the world in… spam emails. Take that, Nigeria!
Map found here at Information is Beautiful. Many thanks to Tanja Rutten for sending it in.
Strange Maps #812
Got a strange map? Let me know at strangemaps@gmail.com. 
(1) Every country? No. As the compilers explain, "If your country is not on the image, it's either because a) we couldn't fit it in, or b) we couldn't find something your nation is the best at (sorry!)"
Related Articles
These five main food groups are important for your brain's health and likely to boost the production of feel-good chemicals.
Infographics show the classes and anxieties in the supposedly classless U.S. economy.
What is the middle class now, anyway? (JEWEL SAMAD/AFP/Getty Images)
Politics & Current Affairs
For those of us who follow politics, we're used to commentators referring to the President's low approval rating as a surprise given the U.S.'s "booming" economy. This seeming disconnect, however, should really prompt us to reconsider the measurements by which we assess the health of an economy. With a robust U.S. stock market and GDP and low unemployment figures, it's easy to see why some think all is well. But looking at real U.S. wages, which have remained stagnant—and have, thus, in effect gone down given rising costs from inflation—a very different picture emerges. For the 1%, the economy is booming. For the rest of us, it's hard to even know where we stand. A recent study by Porch (a home-improvement company) of blue-collar vs. white-collar workers shows how traditional categories are becoming less distinct—the study references "new-collar" workers, who require technical certifications but not college degrees. And a set of recent infographics from CreditLoan capturing the thoughts of America's middle class as defined by the Pew Research Center shows how confused we are.
Big think's weekly newsletter.
Get smarter faster from the comfort of your inbox.
See our newsletter privacy policy
here
Most Popular
Most Recent
Big think's weekly newsletter.
Get smarter faster from the comfort of your inbox.
See our newsletter privacy policy
here
© Copyright 2007-2018 & BIG THINK, BIG THINK EDGE,
SMARTER FASTER trademarks owned by The Big Think, Inc. All rights reserved.