What the world will look like 4°C warmer
Will your grandchildren live in cities on Antarctica?
Frank Jacobs
From a young age, Frank was fascinated by maps and atlases, and the stories they contained. Finding his birthplace on the map in the endpapers of Tolkien's Lord of the Rings only increased his interest in the mystery and message of maps.
While pursuing a career in journalism, Frank started a blog called Strange Maps, as a repository for the weird and wonderful cartography he found hidden in books, posing as everyday objects and (of course) floating around the Internet.
"Each map tells a story, but the stories told by your standard atlas for school or reference are limited and literal: they show only the most practical side of the world, its geography and its political divisions. Strange Maps aims to collect and comment on maps that do everything but that - maps that show the world from a different angle".
A remit that wide allows for a steady, varied diet of maps: Frank has been writing about strange maps since 2006, published a book on the subject in 2009 and joined Big Think in 2010. Readers send in new material daily, and he keeps bumping in to cartography that is delightfully obscure, amazingly beautiful, shockingly partisan, and more.
22 May, 2017
Micronesia is gone – sunk beneath the waves. Pakistan and South India have been abandoned. And Europe is slowly turning into a desert. This is the world, 4°C warmer than it is now. 
---
But there is also good news: Western Antarctica is no longer icy and uninhabitable. Smart cities thrive in newly green and pleasant lands. And Northern Canada, Scandinavia and Siberia produce bountiful harvests to feed the hundreds of millions of climate refugees who now call those regions home.
This map, which shows some of the effects a 4°C rise in average temperature could have on the planet, is eight years old, but it seems to get more contemporary as it ages (and the planet warms). Antarctica is white with snow and ice, on the ground and, traditionally, on most maps. This map has turned the continent's western end incongruously green. And recent reports confirm that Antarctica is indeed turning green.
Few serious scientists doubt that climate change is happening, or that it is man-made. But the fact remains that many still have a hard time grasping global warming, partly as a convenient way of ignoring the destructive impact it is predicted to have. 
Those on the fact-based side of this argument should realise that continuously bombarding the opposition with doom and gloom is likely to reinforce their resistance to accepting the new paradigm. 
This map offers an alternative: lots of misery and disaster, but also plenty of hope and solutions. Not solutions that will lead us back to the climate of a few decades ago – costly and pointless – but solutions that work for the world as it will be, when it will be much warmer than it is now. 
First, the bad news. Brown indicates 'Uninhabitable due to floods, drought or extreme weather'. Say goodbye to the Eastern Seaboard of the U.S., to Mexico and Central America, to the middle third of South America. In Africa, Mozambique and Madagascar are gone; Asia loses much of the Indian subcontinent, including all of Pakistan; Indochina is abandoned, as is most of Indonesia. As the map mentions, "The last inhabitants of (the South-west U.S. are) migrating north. The Colorado river is a mere trickle"; "Deglaciation means (Peru) is dry and uninhabitable"; and "Bangladesh is largely abandoned, as is South India. (In) Pakistan, isolated communities remain in pockets".
Orange is not much better: 'Uninhabitable desert'. That's most of the U.S. and the rest of South America, almost the entirety of Africa and the southern halves of Europe and Asia. "Deserts have encroached on (Southern Europe), rivers have dried up and the Alps are now snow-free. Goats and other hardy animals are kept at the fringes", the map predicts.
Red is for lands lost to the rising tide (assuming +4°C adds two metres to ocean levels). This may not seem a lot, but this is where populations are concentrated. In the U.S. for instance, counties directly on the shoreline constitute less than 10% of the total land area (not including Alaska), but account for 40% of the total population.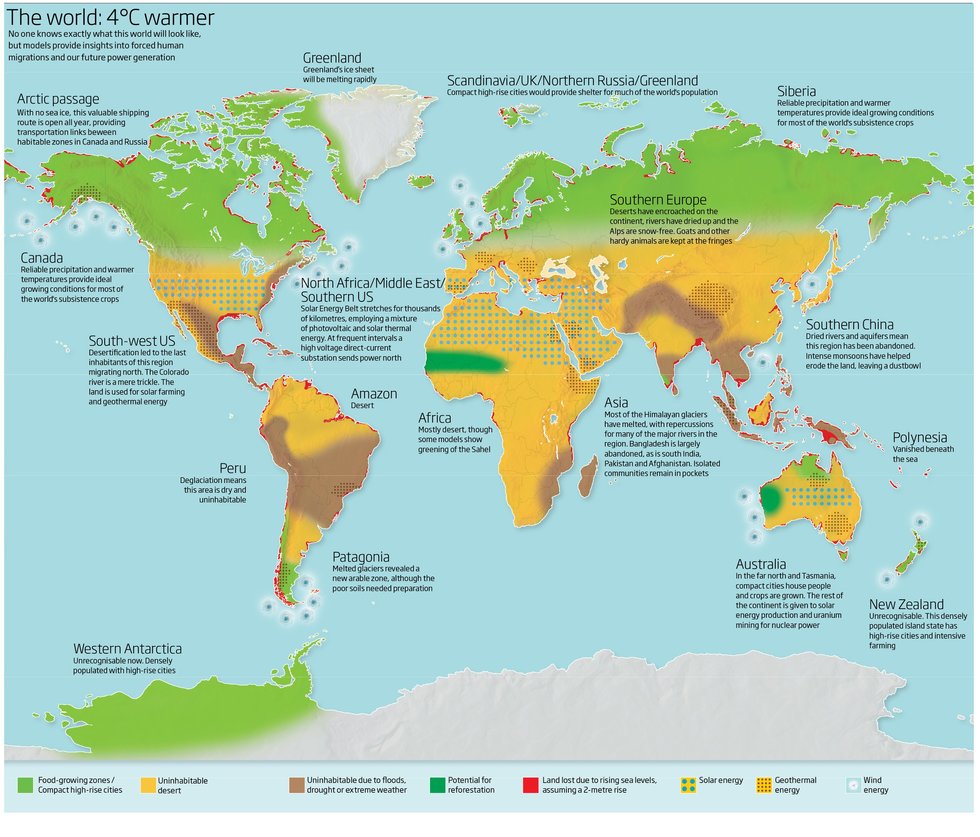 But there is a flipside. Light-green stands for food-growing zones, and compact high-rise cities. That's Western Antarctica, "unrecognisable now. Densely populated with high-rise cities". New Zealand, sparsely populated in our time, will also be transformed into a high-density population centre. There will be a lot more room for this in the northern hemisphere: Siberia and Canada, where "reliable precipitation and warmer temperatures provide ideal growing conditions for most of the world's subsistence crops." And the UK, Scandinavia, Greenland and northern Russia, which will be dotted with compact high-rise cities to "provide shelter for much of the world's population".
A warmer climate could even lead to reforestation in certain areas of the world, including the Sahel and Western Australia. The regions abandoned to desertification are empty, but not useless: they will be used for solar farming (green dots) and geothermal energy (red dots). Giant wind farms off the coasts of South America, Alaska and in the North Sea will generate the remainder of the planet's energy needs. 
This map was first published by New Scientist, and republished by Parag Khanna for his book Connectography. Khanna speculates: "The entire population of the Arctic region today is less than 4 million. Could it be 400 million within the coming 20 years?"
Now is the time to buy property in Greenland – before it too turns green...
Map found here at Parag Khanna. 
Strange Maps #842
Got a strange map? Let me know at strangemaps@gmail.com.
What makes an excellent educator?
Mind & Brain
When it comes to educating, says Dr. Elizabeth Alexander, a brave failure is preferable to timid success.
Fostering an environment where one isn't afraid to fail is tantamount to learning.
Human beings are complicated and flawed. Working with those complications and flaws leads to true knowledge.

Drinking home alone in your underwear just might be what you need to be as relaxed as the Finnish.
Big Think art department / Finnish tourism department
Personal Growth
Päntsdrunk is the latest trend to come out of Scandinavia and it involves drinking alone at home.
Finnish writer Miska Rantanen outlines the philosophy in his newest book titled: Pantsdrunk: Kalsarikanni: The Finnish Path to Relaxation.
Kalsarikänni is a word in Finnish that literally means "drinking at home and alone in your underwear."
We all know sleeping with your ex is a bad idea, or is it?
Shutterstock
Sex & Relationships
In the first study of its kind, researchers have found sex with an ex didn't prevent people from getting over their relationship.
Instead of feeling worse about their breakup after a hookup, the new singles who attempted sexual contact with their ex reported feeling better afterwards.
The findings suggest that not every piece of relationship advice is to be taken at face value.
Big think's weekly newsletter.
Get smarter faster from the comfort of your inbox.
See our newsletter privacy policy
here
Most Popular
Most Recent
Big think's weekly newsletter.
Get smarter faster from the comfort of your inbox.
See our newsletter privacy policy
here
© Copyright 2007-2018 & BIG THINK, BIG THINK EDGE,
SMARTER FASTER trademarks owned by The Big Think, Inc. All rights reserved.