Data Shows Logic Gap in Trump's So-Called Muslim Ban
Number of terrorist acts perpetrated in the U.S. by nationals of any of the seven countries? Zero.
Frank Jacobs
From a young age, Frank was fascinated by maps and atlases, and the stories they contained. Finding his birthplace on the map in the endpapers of Tolkien's Lord of the Rings only increased his interest in the mystery and message of maps.
While pursuing a career in journalism, Frank started a blog called Strange Maps, as a repository for the weird and wonderful cartography he found hidden in books, posing as everyday objects and (of course) floating around the Internet.
"Each map tells a story, but the stories told by your standard atlas for school or reference are limited and literal: they show only the most practical side of the world, its geography and its political divisions. Strange Maps aims to collect and comment on maps that do everything but that - maps that show the world from a different angle".
A remit that wide allows for a steady, varied diet of maps: Frank has been writing about strange maps since 2006, published a book on the subject in 2009 and joined Big Think in 2010. Readers send in new material daily, and he keeps bumping in to cartography that is delightfully obscure, amazingly beautiful, shockingly partisan, and more.
30 January, 2017
The so-called Muslim Travel Ban is President Trump's most controversial measure yet. 
---
The suspension of entry into the U.S. covers citizens of seven majority-Muslim countries, mainly in the Middle East. Comments by Trump indicating that he would exempt members of Christian minorities in those countries have fueled accusations that the measure specifically targets Muslims. 
However, the travel ban does not include a few other important Middle-Eastern countries, also with a Muslim majority. To assume, as some have done, that the latter countries were exempted because the Trump Organization has vested business interests there would be to ignore former vice president Joe Biden's parting advice: "Question a man's judgment, not his motives".
The ostensible motive of Trump's executive order is "Protecting the Nation from Foreign Terrorist Entry". However, as pointed out by CNN's Fareed Zakaria on his show GPS, the total tally of Americans killed on U.S. soil by nationals of any of the seven countries is... zero. Or, as he quoted the list in full: "Iraq – zero, Iran – zero, Syria – zero, Yemen – zero, Libya – zero, Somalia – zero, Sudan – zero".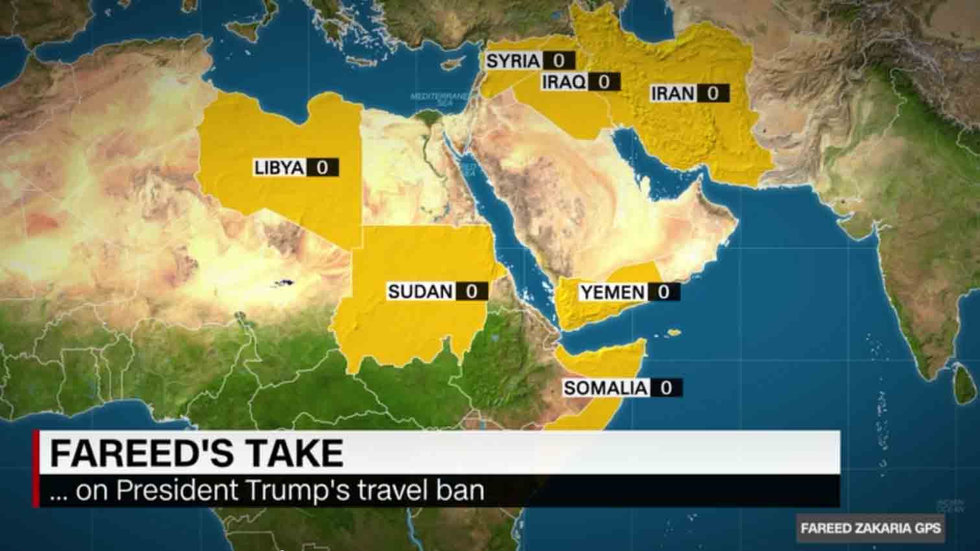 The figures quoted by Zakaria were produced by the Cato Institute, a conservative think tank. Comparing those figures to those of some countries left off the banned list: "That number for Saudi Arabia is 2,369, for the UAE is 314, for Egypt is 162, according to CATO," Zakaria says.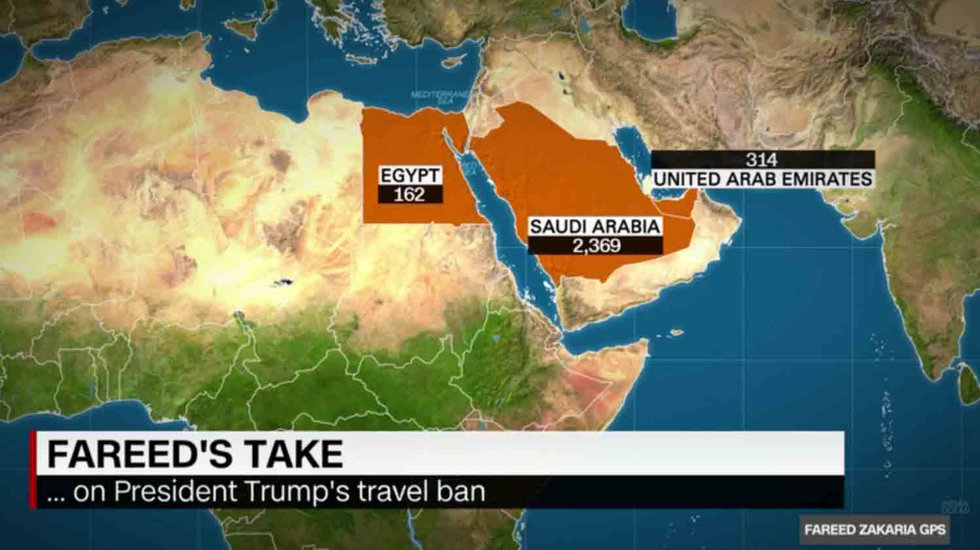 Images from GPS. 
Strange Maps #821
Got a strange map? Let me know at strangemaps@gmail.com.
Big think's weekly newsletter.
Get smarter faster from the comfort of your inbox.
See our newsletter privacy policy
here