649 - Tomb of Doom? How a Tiny Exclave Could Draw Turkey into Syria's War
Frank Jacobs
From a young age, Frank was fascinated by maps and atlases, and the stories they contained. Finding his birthplace on the map in the endpapers of Tolkien's Lord of the Rings only increased his interest in the mystery and message of maps.
While pursuing a career in journalism, Frank started a blog called Strange Maps, as a repository for the weird and wonderful cartography he found hidden in books, posing as everyday objects and (of course) floating around the Internet.
"Each map tells a story, but the stories told by your standard atlas for school or reference are limited and literal: they show only the most practical side of the world, its geography and its political divisions. Strange Maps aims to collect and comment on maps that do everything but that - maps that show the world from a different angle".
A remit that wide allows for a steady, varied diet of maps: Frank has been writing about strange maps since 2006, published a book on the subject in 2009 and joined Big Think in 2010. Readers send in new material daily, and he keeps bumping in to cartography that is delightfully obscure, amazingly beautiful, shockingly partisan, and more.
18 March, 2014
Remember Syria? It's the war everyone was talking about before the one about to erupt over Crimea invaded our screens. Turkey hasn't forgotten, though. Syria's northern neighbour has seen a burdensome spillover, in refugees and violence, from the civil war raging on its southern flank.
---
But crises are also opportunities, and the Syrian conflict might be Ankara's chance to reassert its influence in a region that was part of the Ottoman Empire less than a century ago. Perhaps now is a better time than ever, with the rest of the world fixated on Russia's land grab in Ukraine (or looking for a missing passenger jet).
Syrian refugees in Turkey number well over half a million. They are a powerful, if latent incentive for Turkey to restore order in at least some part of Syria. Actual use of force would require a more active provocation by Syria's warring parties. Although there have been some cross-border incidents over time, neither the Assad regime's forces nor the various rebel factions seem prepared to take the fight into Turkey.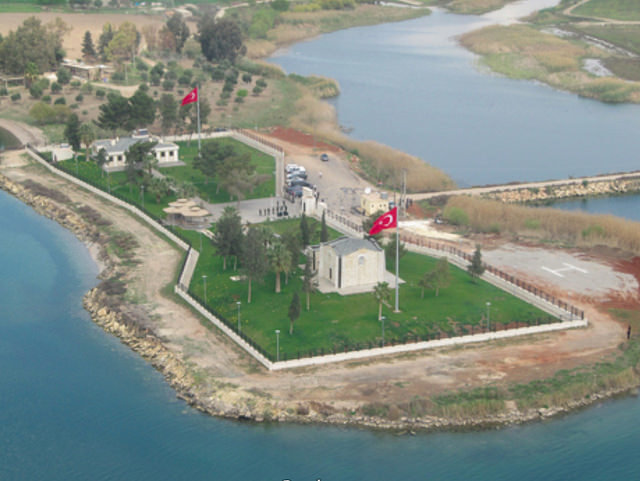 Sulayman Shah's Tomb: Turkey's only exclave, deep inside Syrian territory. (Image: Google Maps)
But Ankara has a geopolitical mousetrap on a wire, hidden deep inside Syrian territory, courtesy of a Turkish headman who's been dead for the better part of a millennium. Sulayman Shah (1178-1236) is buried in Syria, but his grave is in a plot of land that is forever Turkish – not just poetically, but in a very real, guaranteed-by-international-treaty kind of sense.
The Tomb of Sulayman Shah, on the left bank of the Euphrates in Aleppo Governorate, is Turkey's only exclave, with full Turkish sovereignty. The compound flies the Turkish flag, and is guarded by a dozen Turkish soldiers. Outnumbered and outgunned by all of the local rebel groups, that symbolic guard of honour would be quickly defeated by any militia deciding to take over the Tomb. Which is why Turkish Foreign Minister Ahmet Davutoglu recently issued a stark warning to rebel fighters in the area: Turkey will retaliate 'in kind' to an attack on the Tomb of Sulayman Shah.
For, as far as Ankara is concerned, an attack on the Tomb is an attack on Turkey itself. "Turkey will take any measures to defend its homeland without any hesitation. Turkey has the right to take any kind of measures for its security and stability," according to Davutoglu.
To which a high-ranking Turkish official, speaking on condition of anonymity, added: "We are prepared for any scenario, as always". The portentous comments were made as clashes between rivalling rebel groups of the Free Syrian Army (FSA) and the Islamic State in Iraq and Syria (ISIS) near the Tomb continued to intensify, with ISIS seizing control of a nearby town.
Although small in area, Turkey's only exclave, located about 25 miles south of the Turkish-Syrian border has a great symbolic significance for the Turks: Sulayman Shah was the grandfather of Osman, the founder of the Ottoman Empire.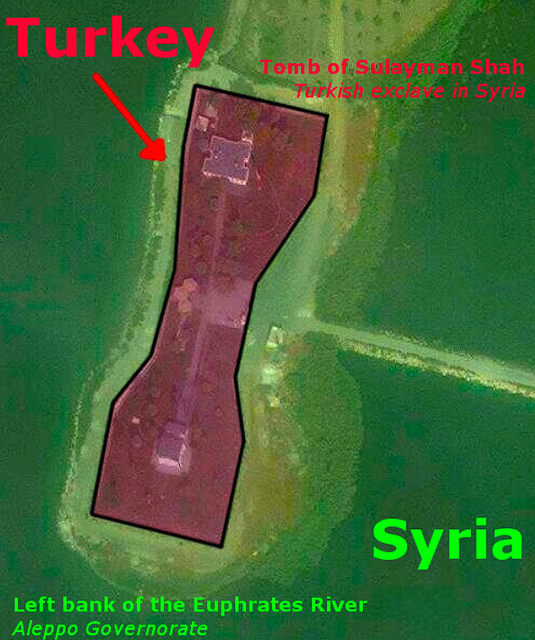 Geographical situation of the Turkish compound: on a Syrian peninsula sticking out into the Euphrates. (Image: Ruland Kolen)
But the monument's actual link to Sulayman Shah is tenuous at best, mainly because so little about him is historically verifiable. This headman of the Kayı, a tribe of Oghuz Turks then living across Iran, Iraq and Syria, is remembered for two things: his famous progeny, and his untimely death. Sulayman Shah drowned in the Euphrates while fleeing a sudden advance of Genghis Khan's Mongol armies.
The unfortunate headman reportedly met his watery end near Qal'at Ja'bar (in Turkish: Caber Kalesi), a hilltop castle overlooking the left bank of the river. Whether true or not, the folklore of later centuries associated the castle with the Shah, nicknaming it Mezar-i-Türk (Turkman's Grave).
Much later, when Sulayman Shah's Ottoman descendents ruled these parts, Sultan Abdülhamid II (r. 1876-1909) constructed a tomb at the castle to match the stories. Even after the Ottoman Empire fell and its successor state Turkey withdrew to the north, Suleyman Shah's symbolic value assured that the tomb received special treatment. Atatürk, although a secularist moderniser, insisted that it remain in Turkish hands.
So, while the Treaty of Ankara (1921) handed control of Syria over to the French, Article 9 made an exception for Caber Kalesi, which was to remain a Turkish exclave – complete with the aforementioned honour guard for the Shah's tomb. This territorial arrangement survived Syrian independence in 1946, but was threatened by the creation of Lake Assad.
In 1968, when construction started in 1968 on the Tabqa Dam, upstream from Caber Kalesi, it became clear that the river's rising waters would greatly impact, and perhaps could swallow Turkey's symbolic foothold in Syria.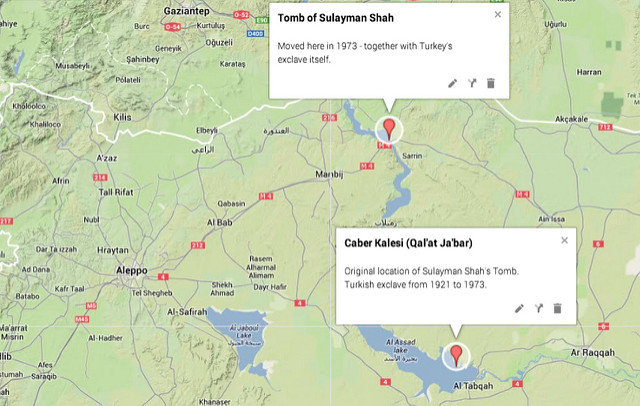 Previous and present locations of the Tomb, and the Turkish exclave. White line denotes Turkish-Syrian border. (Image: Google Maps)
The Syrians and Turks worked out a unique solution. They agreed to move both the tomb and the exclave to another location on the riverbank, on the other side of the dam. To my knowledge, this is the only example ever of an exclave physically being moved to another location.
Caber Kalesi, Syrian since 1973, as it turns out has not been submerged by the rising tide of the Euphrates. But the former hillside fort has been transformed to an island, only accessible via an artifical causeway.
Turkey's new exclave is located near the town of Karakozak, 50 miles north of Caber Kalesi (and thus much closer to the Turkish border). It is roughly the same size as the previous one (just under 100,000 square feet). Also like the previous one, it sits on the left bank of the Euphrates.
Even today, the Tomb is still guarded by Turkish soldiers (although it is unclear how they make their way across the hostile territory north towards the Turkish 'mainland') and remains a bizarre geopolitical island in the raging sea of the Syrian civil war. You still need a passport to enter the compound.
Could a violation of the Tomb's exceptional geopolitical situation become a casus belli for Turkey? It could play into the Neo-Ottoman tendencies of its current government, perhaps dreaming to restore some of its ancient authority over the region. Or at the very least, it could help deflect attention away from scandals and civil unrest at home...
Turkish minister's threats first seen on this page of Friends of Syria. For a more in-depth treatment of the political background of this story (but without maps), see Dr. Erimtan Can's article on rt.com.
Related Articles
While short-term results are positive, there is mounting evidence against staying in ketosis for too long.
Surprising Science
Recent studies showed volunteers lost equal or more weight on high-carb, calorie-restricted diets than low-carb, calorie restricted diets.
There might be positive benefits to short-term usage of a ketogenic diet.
One dietician warns that the ketogenic diet could put diabetics at risk for diabetic ketoacidosis.
Research shows that the way math is taught in schools and how its conceptualized as a subject is severely impairing American student's ability to learn and understand the material.
One derivative coming right up... (Photo: Getty Images)
Technology & Innovation
Americans continually score either in the mid- or bottom-tier when it comes to math and science compared to their international peers.
Students have a fundamental misunderstanding of what math is and what it can do. By viewing it as a language, students and teachers can begin to conceptualize it in easier and more practical ways.
A lot of mistakes come from worrying too much about rote memorization and speedy problem-solving and from students missing large gaps in a subject that is reliant on learning concepts sequentially.
The surprisingly simple treatment could prove promising for doctors and patients seeking to treat depression without medication.
Photo by Luis Marina/Flickr
Mind & Brain
A new report shows how cold-water swimming was an effective treatment for a 24-year-old mother.
The treatment is based on cross-adaptation, a phenomenon where individuals become less sensitive to a stimulus after being exposed to another.
Getting used to the shock of cold-water swimming could blunt your body's sensitivity to other stressors.
Big think's weekly newsletter.
Get smarter faster from the comfort of your inbox.
See our newsletter privacy policy
here
Most Popular
Most Recent
Big think's weekly newsletter.
Get smarter faster from the comfort of your inbox.
See our newsletter privacy policy
here
© Copyright 2007-2018 & BIG THINK, BIG THINK EDGE,
SMARTER FASTER trademarks owned by The Big Think, Inc. All rights reserved.