531 - A Rio Runs Through It: Naming the American Stream
Frank Jacobs
From a young age, Frank was fascinated by maps and atlases, and the stories they contained. Finding his birthplace on the map in the endpapers of Tolkien's Lord of the Rings only increased his interest in the mystery and message of maps.
While pursuing a career in journalism, Frank started a blog called Strange Maps, as a repository for the weird and wonderful cartography he found hidden in books, posing as everyday objects and (of course) floating around the Internet.
"Each map tells a story, but the stories told by your standard atlas for school or reference are limited and literal: they show only the most practical side of the world, its geography and its political divisions. Strange Maps aims to collect and comment on maps that do everything but that - maps that show the world from a different angle".
A remit that wide allows for a steady, varied diet of maps: Frank has been writing about strange maps since 2006, published a book on the subject in 2009 and joined Big Think in 2010. Readers send in new material daily, and he keeps bumping in to cartography that is delightfully obscure, amazingly beautiful, shockingly partisan, and more.
12 September, 2011
A body of running water may be called any of many different names, the most generic being stream, the most common being river.  A river can be defined as 'a natural stream of water of usually considerable volume'. General terms for smaller streams include creek (smaller than a river) and brook (smaller than a creek). Very specific types of water currents  include anabranches (river branches that rejoin the main body of water) and distributaries (branches that don't).
---
This map charts the rich variety of waterflow toponyms in the US, which reflects the climatological and geographical diversity of the country, but also its linguistic and historical heritage. River names seem extremely resistant to change, and indeed often are echoes of earlier dominant cultures [1]. 
The colours on the map, which is based on the place names in the USGS National Hydrography Dataset, correspond to the generic toponyms for waterflows, excluding the two commonest ones (river and creek, rendered in gray).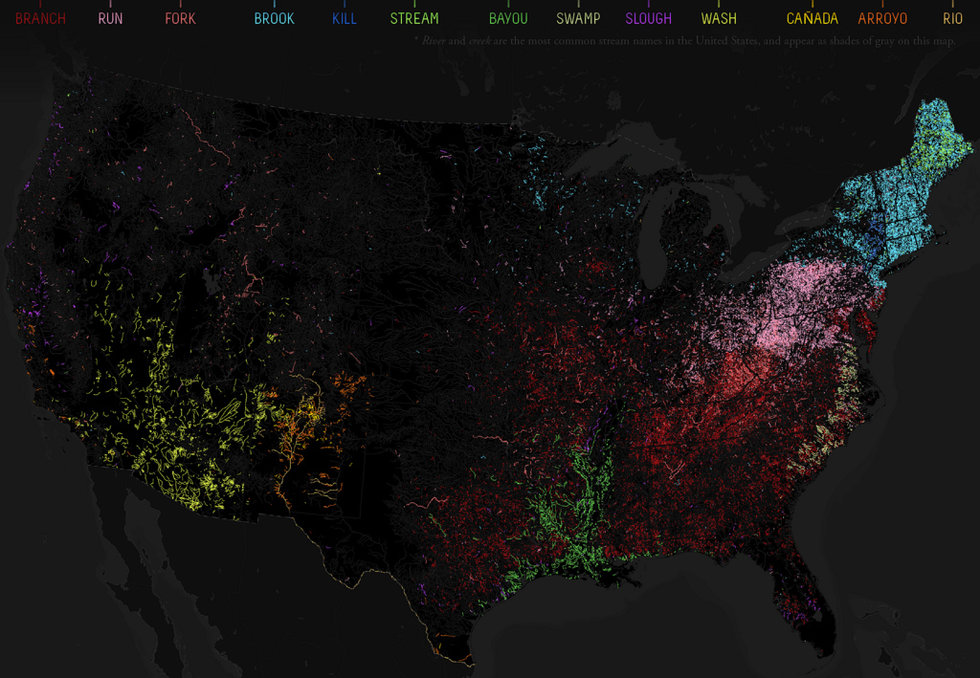 The term brook (light blue) is massively prevalent throughout New England, and into northern New Jersey and Pennsylvania. It is interspersed with stream (light green) in Maine, the only place in the country where that term is used with any frequency; and with kill (dark blue) in New York state's Hudson valley - the occurrence of that Dutch-derived term coinciding somewhat with the former Dutch colony of New Netherland. 
Pennsylvania, Maryland, northern Virginia, West Virginia and Ohio are dominated by the run (pink), while branch and fork (darker and lighter red respectively, and not easily distinguishable) dominate much of the South. One glaring exception is the lower Mississippi valley and the Gulf coast, centred on New Orleans, where the bayou (dark green) holds sway, reflecting French settlement.
Spanish heritage is reflected by certain generic names predominant in the southwest, i.e. rio (yellow), arroyo (dark orange) and cañada (light orange).
Other terms denote certain types of water, like the wash (yellowish green) in the Southwest, reflecting that water body's periodic nature, the slough (purple) throughout California and the Northwest, often a tidal body of water, and the swamp (faded green) along the Atlantic coast, indicating the area where more or less stagnant bodies of water are likely to occur.
The map was produced by Derek Watkins (here on his blog about cartography, neogeography and genius loci in a networked world); in a very lively comments section, some interesting points raised about this map include:
The division in West Virginia between runs and branches may coincide with the Kanawha River, and ultimately with two different waves of settlement.
The distribution of stream names coincides with the Northern, Midland (run) and Southern (branch) dialects.
"Run is used in the mountains for the action, the speed which it denotes; branch is used in the plateau because of the greater number of divisions in the streams; and creek predominates in the coastal area because of the influence of the original meaning of the word, an inlet or tidal estuary." (J. Louis Kuethe: 'Runs, Creeks and Branches in Maryland', in American Speech [1935])
A interesting parallel to New England's preference for brook over creek is to be found in its preference for naming stagnant waters pond rather than lake. 
Many thanks to Michael Hindley for pointing out this map, which, fascinating as it is, clearly only skims the surface of a subject with much, much deeper waters…
------
[1] The names of many European rivers are of Celtic, Indo-European, or even older origin. The Ukrainian rivers Dnieper and Dniester, for example, respectively mean 'the far-away river' and 'the close-by river' in Sarmatian, an Iranic language. Many American rivers carry Indian names. This historic resonance is one reason why rivers play such a prominent role in Finnegan's Wake, James Joyce's last work, arguably the world literature's most extended pun.
Related Articles
There's still a lot even doctors don't know about it.
(Dierk Schaefer/Flickr)
Surprising Science
Scientists are experimenting with applying electrical current to brains as a potential therapy and enhancement.
A wave of DIY brain-shocking is worrying experts.
Would you ever zap your own brain to see what happens? DIY and direct-to-consumer devices are available, but researchers have called for an open dialog with the DIY community about the risks.
Both schizophrenics and people with a common personality type share similar brain patterns.
(shutterstock)
Mind & Brain
A new study shows that people with a common personality type share brain activity with patients diagnosed with schizophrenia.
The study gives insight into how the brain activity associated with mental illnesses relates to brain activity in healthy individuals.
This finding not only improves our understanding of how the brain works but may one day be applied to treatments.
It's a development that could one day lead to much better treatments for osteoporosis, joint damage, and bone fractures.
Image: Nissim Benvenisty
Surprising Science
Scientists have isolated skeletal stem cells in adult and fetal bones for the first time.
These cells could one day help treat damaged bone and cartilage.
The team was able to grow skeletal stem cells from cells found within liposuctioned fat.
Big think's weekly newsletter.
Get smarter faster from the comfort of your inbox.
See our newsletter privacy policy
here
Most Popular
Most Recent
Big think's weekly newsletter.
Get smarter faster from the comfort of your inbox.
See our newsletter privacy policy
here
© Copyright 2007-2018 & BIG THINK, BIG THINK EDGE,
SMARTER FASTER trademarks owned by The Big Think, Inc. All rights reserved.