Amikejo, the World's First (and Only) Esperanto State
Amikejo was located in Neutral Moresnet, a geopolitical anomaly that managed to survive for a whole century after the Congress of Vienna.
Frank Jacobs
From a young age, Frank was fascinated by maps and atlases, and the stories they contained. Finding his birthplace on the map in the endpapers of Tolkien's Lord of the Rings only increased his interest in the mystery and message of maps.
While pursuing a career in journalism, Frank started a blog called Strange Maps, as a repository for the weird and wonderful cartography he found hidden in books, posing as everyday objects and (of course) floating around the Internet.
"Each map tells a story, but the stories told by your standard atlas for school or reference are limited and literal: they show only the most practical side of the world, its geography and its political divisions. Strange Maps aims to collect and comment on maps that do everything but that - maps that show the world from a different angle".
A remit that wide allows for a steady, varied diet of maps: Frank has been writing about strange maps since 2006, published a book on the subject in 2009 and joined Big Think in 2010. Readers send in new material daily, and he keeps bumping in to cartography that is delightfully obscure, amazingly beautiful, shockingly partisan, and more.
23 July, 2010
The story of Amikejo is a fantastic piece of obscure cartographic and cultural history: Amikejo was the world's first and only state based on the ideals of the Esperantist movement. It was founded in a tiny (3,5 km²), wedge-shaped area that for a hundred years was an easily overlooked 'neutral zone' in Western Europe.
---
 To find the general area where this neutral zone once was, take a map of Europe and find the point where the Netherlands, Germany and Belgium meet. This Drielandenpunt ('trinational point' in Dutch) even today is a bizarre enough place in itself:
It's the southernmost point of the Netherlands, a country world-renowned for its flatness, is at the same time its highest point.
The German city of Aachen, once the capital of Charlemagne's empire, is a mere 5 kilometres away.
And across the Belgian border lies a hazy zone of transition between Germanic and Latin cultures, and Dutch, French and German language zones.
This is where it gets really weird: this Drielandenpunt once was a Vierlandenpunt ('quadrinational point') – the only one in the world ever, to my knowledge. Please correct me if I'm wrong! I'll briefly summarise the history of the place to give you some background to the map accompanying this post. Please visit Cees Damen's thorough and beautiful website for more background.   
1815: Napoleon is defeated at Waterloo. The victorious powers convene in the Congress of Vienna to re-draw the map of Europe. The United Kingdom of the Netherlands was constituted as an anti-French buffer state, consisting roughly of the three present-day Benelux states (Belgium, Netherlands, Luxemburg). Its border with the German state of Prussia was left undefined in the area of Moresnet, because of an important zinc mine claimed by both powers.
1816: in a separate treaty concluded at Aachen, the Netherlands and Prussia decide to divide Moresnet into three areas, one controlled by the Netherlands, one by Prussia and one 'neutral' area in between (where the zinc mine was located), to be administered by a Dutch and a Prussian commissar.
1818: the boundaries between the differert areas are demarcated, leading to a 'trinational' point at Vaalserberg, where the Netherlands and Prussia share their border with 'neutral Moresnet'.
 1830: Belgium secedes from the United Kingdom of the Netherlands, taking 'Dutch' Moresnet with it. The 'trinational' point at Vaalserberg now is a 'quadrinational' point. Belgium assumes the commissary rights over Neutral Moresnet (rights which, incidentally, were never officially relinquished by the Netherlands).
1856: due to the economic good fortunes of 'Vieille Montagne', the local zinc mine, the number of inhabitants of Neutral Moresnet grew fivefold from 500 (in 1850) to more than 2.500 in this year. Living in neutral territory had pluses and minuses. These 'neutrals' could escape military service in the surrounding countries, for example, but were stateless when they traveled 'abroad'.
1863: Wilhelm Moly, a German doctor, moves to Neutral Moresnet. He becomes very popular as a general practitioner, and gets involved with the local 'Verkehrsanstalt' (traffic organization), issuing stamps that seem to indicate an aspiration for independence.
1906: Moly and Gustave Roy, a French professor – both keen Esperantists – decide to establish an Esperanto state in Neutral Moresnet. Esperanto being an artificial language developed some decades before by L.L. Zamenhof, a Polish doctor. This language, devoid of nationalistic connotations, was supposed to transcend the linguistic divides crippling Europe.
1908: a great demonstration is held in Neutral Moresnet, attended by the whole population, advocating the establishment of an Esperanto Free State to be called 'Amikejo' (Esperanto for 'Friendship'). The local band played a tune which would be the national anthem for Amikejo. It's unclear whether this gathering constituted the official formation of Amikejo, although some newspapers at the time reported the event as such.In the mean time, tensions had been building between Belgium and Prussia/Germany over the neutral territory (which had outlasted its usefulness since the depletion of the zinc mine). The locals petitioned Belgium for annexation, following some strong-arm tactics by Prussia/Germany.
1919: The Treaty of Versailles, following World War One, officialised the annexation of the territory to Belgium, thus ending its neutral state. It's unclear what happened to 'Amikejo', although it's likely its high-minded idealism was simply swept away by the brutal forces of war…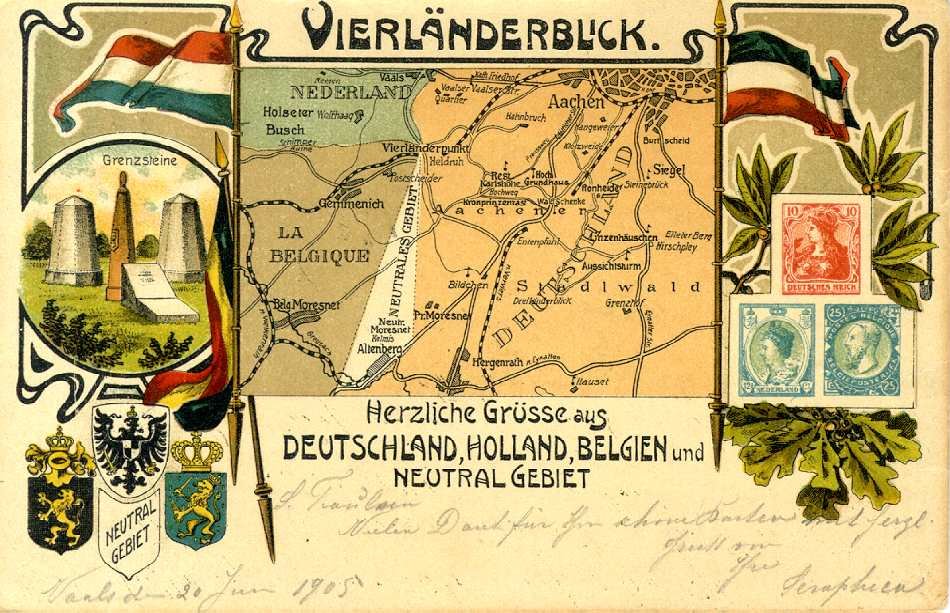 This German postcard, dated 20 June 1905, clearly shows the Dutch, Belgian, German and Neutral areas, and the 'Vierländerpunkt'.
If you read German, here is an interesting contribution by the grandson of Dr Molly.
Strange Maps #41
Got a strange map? Let me know at strangemaps@gmail.com.
Delay, deny and deflect were the strategies Facebook has used to navigate scandals it's faced in recent years, according to the New York Times.
(Photo by Chip Somodevilla/Getty Images)
Politics & Current Affairs
The exhaustive report is based on interviews with more than 50 people with ties to the company.
It outlines how senior executives misled the public and lawmakers in regards to what it had discovered about privacy breaches and Russian interference in U.S. politics.
On Thursday, Facebook cut ties with one of the companies, Definers Public Relations, listed in the report.
Protected animals are feared to be headed for the black market.
(VL.ru)
Politics & Current Affairs
Russian news network discovers 101 black-market whales.
Orcas and belugas are seen crammed into tiny pens.
Marine parks continue to create a high-price demand for illegal captures.
Dogs' floppy ears may be part of why they and other domesticated animals love humans so much.
Surprising Science
Nearly all domestic animals share several key traits in addition to friendliness to humans, traits such as floppy ears, a spotted coat, a shorter snout, and so on.
Researchers have been puzzled as to why these traits keep showing up in disparate species, even when they aren't being bred for those qualities. This is known as "domestication syndrome."
Now, researchers are pointing to a group of a cells called neural crest cells as the key to understanding domestication syndrome.
Big think's weekly newsletter.
Get smarter faster from the comfort of your inbox.
See our newsletter privacy policy
here
Most Popular
Most Recent
Big think's weekly newsletter.
Get smarter faster from the comfort of your inbox.
See our newsletter privacy policy
here
© Copyright 2007-2018 & BIG THINK, BIG THINK EDGE,
SMARTER FASTER trademarks owned by The Big Think, Inc. All rights reserved.