Amikejo, the World's First (and Only) Esperanto State
Amikejo was located in Neutral Moresnet, a geopolitical anomaly that managed to survive for a whole century after the Congress of Vienna.
23 July, 2010
The story of Amikejo is a fantastic piece of obscure cartographic and cultural history: Amikejo was the world's first and only state based on the ideals of the Esperantist movement. It was founded in a tiny (3,5 km²), wedge-shaped area that for a hundred years was an easily overlooked 'neutral zone' in Western Europe.
---
 To find the general area where this neutral zone once was, take a map of Europe and find the point where the Netherlands, Germany and Belgium meet. This Drielandenpunt ('trinational point' in Dutch) even today is a bizarre enough place in itself:
It's the southernmost point of the Netherlands, a country world-renowned for its flatness, is at the same time its highest point.
The German city of Aachen, once the capital of Charlemagne's empire, is a mere 5 kilometres away.
And across the Belgian border lies a hazy zone of transition between Germanic and Latin cultures, and Dutch, French and German language zones.
This is where it gets really weird: this Drielandenpunt once was a Vierlandenpunt ('quadrinational point') – the only one in the world ever, to my knowledge. Please correct me if I'm wrong! I'll briefly summarise the history of the place to give you some background to the map accompanying this post. Please visit Cees Damen's thorough and beautiful website for more background.   
1815: Napoleon is defeated at Waterloo. The victorious powers convene in the Congress of Vienna to re-draw the map of Europe. The United Kingdom of the Netherlands was constituted as an anti-French buffer state, consisting roughly of the three present-day Benelux states (Belgium, Netherlands, Luxemburg). Its border with the German state of Prussia was left undefined in the area of Moresnet, because of an important zinc mine claimed by both powers.

1816: in a separate treaty concluded at Aachen, the Netherlands and Prussia decide to divide Moresnet into three areas, one controlled by the Netherlands, one by Prussia and one 'neutral' area in between (where the zinc mine was located), to be administered by a Dutch and a Prussian commissar.

1818: the boundaries between the differert areas are demarcated, leading to a 'trinational' point at Vaalserberg, where the Netherlands and Prussia share their border with 'neutral Moresnet'.

 1830: Belgium secedes from the United Kingdom of the Netherlands, taking 'Dutch' Moresnet with it. The 'trinational' point at Vaalserberg now is a 'quadrinational' point. Belgium assumes the commissary rights over Neutral Moresnet (rights which, incidentally, were never officially relinquished by the Netherlands).

1856: due to the economic good fortunes of 'Vieille Montagne', the local zinc mine, the number of inhabitants of Neutral Moresnet grew fivefold from 500 (in 1850) to more than 2.500 in this year. Living in neutral territory had pluses and minuses. These 'neutrals' could escape military service in the surrounding countries, for example, but were stateless when they traveled 'abroad'.

1863: Wilhelm Moly, a German doctor, moves to Neutral Moresnet. He becomes very popular as a general practitioner, and gets involved with the local 'Verkehrsanstalt' (traffic organization), issuing stamps that seem to indicate an aspiration for independence.

1906: Moly and Gustave Roy, a French professor – both keen Esperantists – decide to establish an Esperanto state in Neutral Moresnet. Esperanto being an artificial language developed some decades before by L.L. Zamenhof, a Polish doctor. This language, devoid of nationalistic connotations, was supposed to transcend the linguistic divides crippling Europe.

1908: a great demonstration is held in Neutral Moresnet, attended by the whole population, advocating the establishment of an Esperanto Free State to be called 'Amikejo' (Esperanto for 'Friendship'). The local band played a tune which would be the national anthem for Amikejo. It's unclear whether this gathering constituted the official formation of Amikejo, although some newspapers at the time reported the event as such.In the mean time, tensions had been building between Belgium and Prussia/Germany over the neutral territory (which had outlasted its usefulness since the depletion of the zinc mine). The locals petitioned Belgium for annexation, following some strong-arm tactics by Prussia/Germany.

1919: The Treaty of Versailles, following World War One, officialised the annexation of the territory to Belgium, thus ending its neutral state. It's unclear what happened to 'Amikejo', although it's likely its high-minded idealism was simply swept away by the brutal forces of war…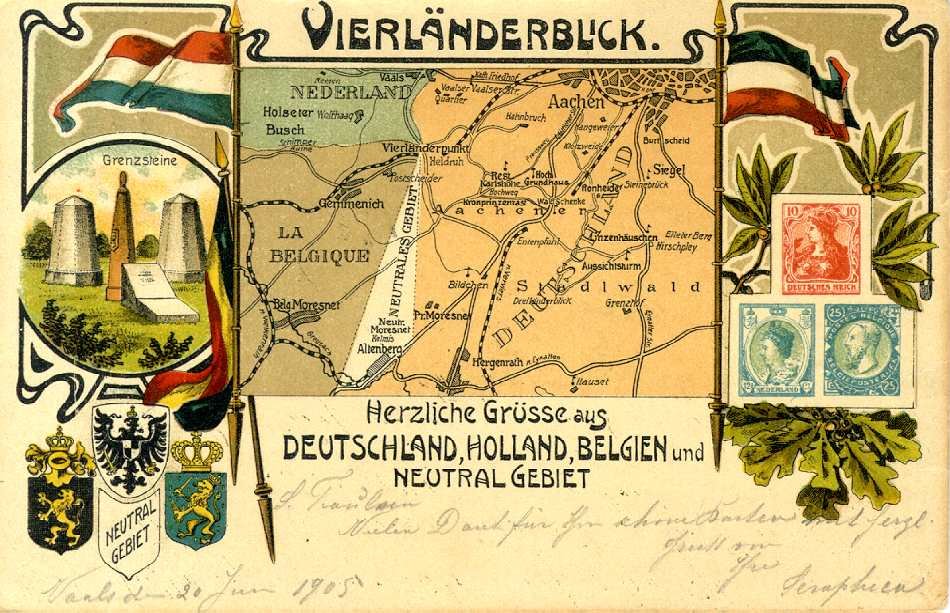 This German postcard, dated 20 June 1905, clearly shows the Dutch, Belgian, German and Neutral areas, and the 'Vierländerpunkt'.
If you read German, here is an interesting contribution by the grandson of Dr Molly.
Strange Maps #41
Got a strange map? Let me know at strangemaps@gmail.com.
Sharon Salzberg, world-renowned mindfulness leader, teaches meditation at Big Think Edge.
Image: Big Think
Big Think Edge
Try meditation for the first time with this guided lesson or, if you already practice, enjoy being guided by a world-renowned meditation expert.
Sharon Salzberg teaches mindfulness meditation for Big Think Edge.

Subscribe to Big Think Edge before we launch on March 30 to get 20% off monthly and annual memberships.
The 21st century is experiencing an Asianization of politics, business, and culture.
Videos
Our theories about the world, even about history or the geopolitics of the present, tend to be shaped by Anglo perspectives of the Western industrial democracies, particularly those in the United States and the United Kingdom.
The West, however, is not united. Canada, for instance, acts in many ways that are not in line with American or British policies, particularly in regard to populism. Even if it were united, though, it would not represent most of the world's population.
European ideas, such as parliamentary democracy and civil service, spread across the world in the 19th century. In the 20th century, American values such as entrepreneurialism went global. In the 21st century, however, what we're seeing now is an Asianization — an Asian confidence that they can determine their own political systems, their own models, and adapt to their own circumstances.
They didn't know it, but the rituals of Iron Age Scandinavians turned their iron into steel.
Shutterstock
Culture & Religion
Iron Age Scandinavians only had access to poor quality iron, which put them at a tactical disadvantage against their neighbors.
To strengthen their swords, smiths used the bones of their dead ancestors and animals, hoping to transfer the spirit into their blades.
They couldn't have known that in so doing, they actually were forging a rudimentary form of steel.
Can sensitive coral reefs survive another human generation?
Videos
Coral reefs may not be able to survive another human decade because of the environmental stress we have placed on them, says author David Wallace-Wells. He posits that without meaningful changes to policies, the trend of them dying out, even in light of recent advances, will continue.
The World Wildlife Fund says that 60 percent of all vertebrate mammals have died since just 1970. On top of this, recent studies suggest that insect populations may have fallen by as much as 75 percent over the last few decades.
If it were not for our oceans, the planet would probably be already several degrees warmer than it is today due to the emissions we've expelled into the atmosphere.
Big think's weekly newsletter.
Get smarter faster from the comfort of your inbox.
See our newsletter privacy policy
here
Most Popular
Most Recent
Big think's weekly newsletter.
Get smarter faster from the comfort of your inbox.
See our newsletter privacy policy
here
© Copyright 2007-2018 & BIG THINK, BIG THINK EDGE,
SMARTER FASTER trademarks owned by The Big Think, Inc. All rights reserved.