The Blonde vs. Brunette Map of Europe
This map, indicating the varying degrees of blondness in Europe, shows how fair hair gets rarer further away from this core area – towards the south, as one intuitively might presume.
Frank Jacobs
From a young age, Frank was fascinated by maps and atlases, and the stories they contained. Finding his birthplace on the map in the endpapers of Tolkien's Lord of the Rings only increased his interest in the mystery and message of maps.
While pursuing a career in journalism, Frank started a blog called Strange Maps, as a repository for the weird and wonderful cartography he found hidden in books, posing as everyday objects and (of course) floating around the Internet.
"Each map tells a story, but the stories told by your standard atlas for school or reference are limited and literal: they show only the most practical side of the world, its geography and its political divisions. Strange Maps aims to collect and comment on maps that do everything but that - maps that show the world from a different angle".
A remit that wide allows for a steady, varied diet of maps: Frank has been writing about strange maps since 2006, published a book on the subject in 2009 and joined Big Think in 2010. Readers send in new material daily, and he keeps bumping in to cartography that is delightfully obscure, amazingly beautiful, shockingly partisan, and more.
23 July, 2010
Q: How do you get a blonde out of a tree?
---
A: Wave
According to this map – and if you really believe that blondes have less brains – a nasty fall like that is more likely to happen in the central parts of Norway, Sweden and Finland, where at least 80% of the population is fair-haired, the highest figure in all of Europe.
This map, indicating the varying degrees of blondness in Europe, shows how fair hair gets rarer further away from this core area – towards the south, as one intuitively might presume, but also towards the east, west and even towards the north.
The consecutive bands (coloured in such a way as to approximately represent the 'average' hair colour in each area) surrounding the core blonde area in Scandinavia in most cases don't correspond with national boundaries, but could be taken to represent certain degrees of ethnic variation, often with a possible historical explanation.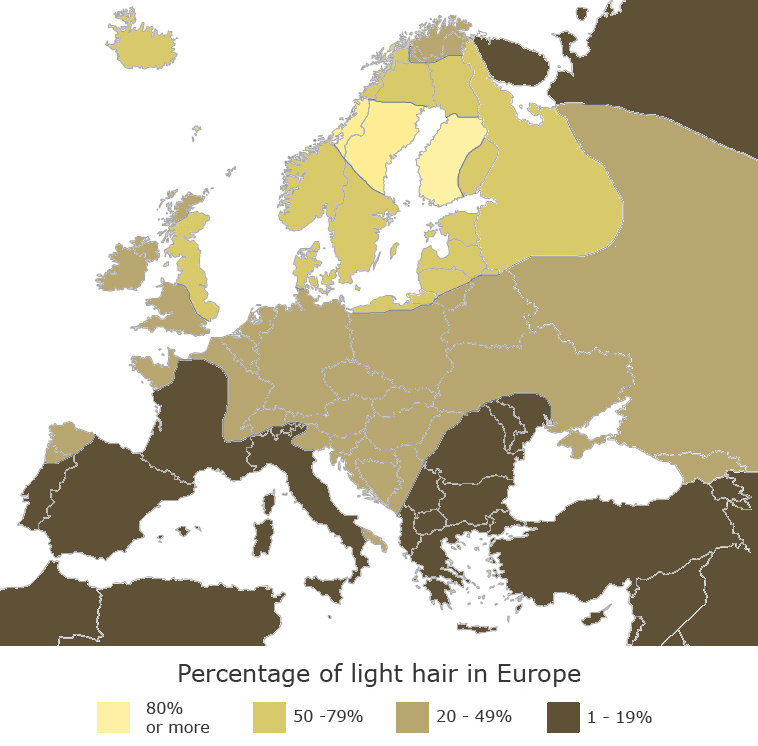 The highest percentages of fair-haired people can be found around the Baltic Sea (e.g. Denmark, the Polish coast and the Baltic states), making it in effect an almost entirely blonde-bounded lake.
Only the German part of the Baltic coastline is remarkably un-blonde.
Iceland was settled by mainly Norwegian colonists, and Icelanders still share the same degree of blondness with the largest part of Norway.
The southern border of the fairer-haired part of Great Britain seems to correspond quite well with the southern border of the Danelaw, which was ruled and settled by the Danish in the early Middle Ages.
The northern border of the 50-79% blonde area in Britain excludes the Highlands, perhaps indicating this was a refuge for the darker-haired Celtic people of Scotland.
The darkest-haired part of France seems to correspond with those areas most heavily populated by its more ancient Gallo-Roman inhabitants, lighter-haired regions possibly reflect a later influx of Celts (in Brittany) and a more pronounced settlement of Frankish tribes of Germanic origin (in northern France and down towards Burgundy).
Galicia prides itself on its Celtic heritage. Maybe this explains the relative blondness of that north-west corner of Spain.
The darker-haired area of Switzerland seems to correspond with the areas where Rhaeto-Roman and Italian are spoken.
The blonder area in northern Italy might reflect a larger Germanic, Celtic and/or Slavic component of the local population, a similar area in the heel of Italy, way down south, is more of a mystery.
A significant blonder-darker divide cuts through the Balkans, dividing Serbia in two (whilst Montenegro lands on the 'blonder' side of the border, and Kosovo on the 'darker' side).
Romanian areas closest to the Hungarian border are equally blonde – many ethnic Hungarians live in Romania, possibly most of them closest to the border.
Moldova, ethnically Romanian, is equally dark-haired.
As is an adjacent part of the Ukraine, which for the largest part is as blonde as most of central and eastern Europe (all the way down to Georgia).
The darker areas in Russia's far north (the Kola peninsula) and further east (Siberia) are probably due to the prevalence of native, darker-haired peoples, e.g. the Saami (formerly referred to as the Lapps - see also #481), who also account for the darker area at the very north of the Scandinavian peninsula.
I've no idea which year this map is from, but it seems fair to say - pun intended - that the larger mobility of people nowadays would make for a more diffuse distribution of hair colouration. Which dovetails nicely with this blonde joke:
Q: What did the blonde do when she heard that 90% of accidents occur around the home?
A: She moved.
--
The map was sent to me by Faluvégi Balázs from Hungary, and can be found here on eupedia.com, together with other interesting maps showing the distribution of eye-colour, religion, ethnicity, GDP per capita, legal age to purchase and drink alcohol and even the legal status of cannabis.
Strange Maps #214
Got a strange map? Let me know at strangemaps@gmail.com.
A mind-bending paradox questions the nature of reality.
Pixabay
Surprising Science
Boltzmann Brains are hypothetical disembodied entities with self-awareness.
It may be more likely for a Boltzmann Brain to come into existence than the whole Universe.
The idea highlights a paradox in thermodynamics.
What makes an excellent educator?
Mind & Brain
When it comes to educating, says Dr. Elizabeth Alexander, a brave failure is preferable to timid success.
Fostering an environment where one isn't afraid to fail is tantamount to learning.
Human beings are complicated and flawed. Working with those complications and flaws leads to true knowledge.

Drinking home alone in your underwear just might be what you need to be as relaxed as the Finnish.
Big Think art department / Finnish tourism department
Personal Growth
Päntsdrunk is the latest trend to come out of Northern Europe and it involves drinking alone at home.
Finnish writer Miska Rantanen outlines the philosophy in his newest book titled: Pantsdrunk: Kalsarikanni: The Finnish Path to Relaxation.
Kalsarikänni is a word in Finnish that literally means "drinking at home and alone in your underwear."
Big think's weekly newsletter.
Get smarter faster from the comfort of your inbox.
See our newsletter privacy policy
here
Most Popular
Most Recent
Big think's weekly newsletter.
Get smarter faster from the comfort of your inbox.
See our newsletter privacy policy
here
© Copyright 2007-2018 & BIG THINK, BIG THINK EDGE,
SMARTER FASTER trademarks owned by The Big Think, Inc. All rights reserved.