The Blonde vs. Brunette Map of Europe
This map, indicating the varying degrees of blondness in Europe, shows how fair hair gets rarer further away from this core area – towards the south, as one intuitively might presume.
23 July, 2010
Q: How do you get a blonde out of a tree?
---
A: Wave
According to this map – and if you really believe that blondes have less brains – a nasty fall like that is more likely to happen in the central parts of Norway, Sweden and Finland, where at least 80% of the population is fair-haired, the highest figure in all of Europe.
This map, indicating the varying degrees of blondness in Europe, shows how fair hair gets rarer further away from this core area – towards the south, as one intuitively might presume, but also towards the east, west and even towards the north.
The consecutive bands (coloured in such a way as to approximately represent the 'average' hair colour in each area) surrounding the core blonde area in Scandinavia in most cases don't correspond with national boundaries, but could be taken to represent certain degrees of ethnic variation, often with a possible historical explanation.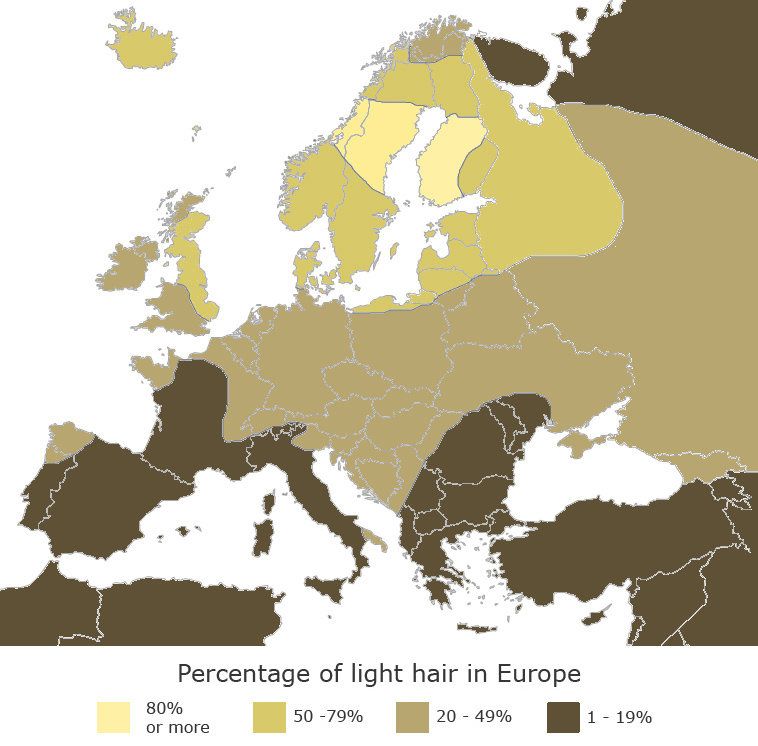 The highest percentages of fair-haired people can be found around the Baltic Sea (e.g. Denmark, the Polish coast and the Baltic states), making it in effect an almost entirely blonde-bounded lake.
Only the German part of the Baltic coastline is remarkably un-blonde.
Iceland was settled by mainly Norwegian colonists, and Icelanders still share the same degree of blondness with the largest part of Norway.
The southern border of the fairer-haired part of Great Britain seems to correspond quite well with the southern border of the Danelaw, which was ruled and settled by the Danish in the early Middle Ages.
The northern border of the 50-79% blonde area in Britain excludes the Highlands, perhaps indicating this was a refuge for the darker-haired Celtic people of Scotland.
The darkest-haired part of France seems to correspond with those areas most heavily populated by its more ancient Gallo-Roman inhabitants, lighter-haired regions possibly reflect a later influx of Celts (in Brittany) and a more pronounced settlement of Frankish tribes of Germanic origin (in northern France and down towards Burgundy).
Galicia prides itself on its Celtic heritage. Maybe this explains the relative blondness of that north-west corner of Spain.
The darker-haired area of Switzerland seems to correspond with the areas where Rhaeto-Roman and Italian are spoken.
The blonder area in northern Italy might reflect a larger Germanic, Celtic and/or Slavic component of the local population, a similar area in the heel of Italy, way down south, is more of a mystery.
A significant blonder-darker divide cuts through the Balkans, dividing Serbia in two (whilst Montenegro lands on the 'blonder' side of the border, and Kosovo on the 'darker' side).
Romanian areas closest to the Hungarian border are equally blonde – many ethnic Hungarians live in Romania, possibly most of them closest to the border.
Moldova, ethnically Romanian, is equally dark-haired.
As is an adjacent part of the Ukraine, which for the largest part is as blonde as most of central and eastern Europe (all the way down to Georgia).
The darker areas in Russia's far north (the Kola peninsula) and further east (Siberia) are probably due to the prevalence of native, darker-haired peoples, e.g. the Saami (formerly referred to as the Lapps - see also #481), who also account for the darker area at the very north of the Scandinavian peninsula.
I've no idea which year this map is from, but it seems fair to say - pun intended - that the larger mobility of people nowadays would make for a more diffuse distribution of hair colouration. Which dovetails nicely with this blonde joke:
Q: What did the blonde do when she heard that 90% of accidents occur around the home?
A: She moved.
--
The map was sent to me by Faluvégi Balázs from Hungary, and can be found here on eupedia.com, together with other interesting maps showing the distribution of eye-colour, religion, ethnicity, GDP per capita, legal age to purchase and drink alcohol and even the legal status of cannabis.
Strange Maps #214
Got a strange map? Let me know at strangemaps@gmail.com.
What can 3D printing do for medicine? The "sky is the limit," says Northwell Health researcher Dr. Todd Goldstein.
Northwell Health
Sponsored by Northwell Health
Medical professionals are currently using 3D printers to create prosthetics and patient-specific organ models that doctors can use to prepare for surgery.
Eventually, scientists hope to print patient-specific organs that can be transplanted safely into the human body.
Northwell Health, New York State's largest health care provider, is pioneering 3D printing in medicine in three key ways.
Mega-rich entrepreneurs are taking us where no human being has gone before.
Videos
During the first golden era of space exploration, we went to the moon. Then we sort of dropped the ball for 50 years.
The problem is space travel is very expensive, especially the way governments do space travel.
Because it costs $10,000 to put a pound of anything into orbit around the planet, we need to have an infusion of public and private funds. That's where billionaires such as Elon Musk and Jeff Bezos come into the picture. With their help, we have new energies, new strategies, and new plans to go back into outer space.
Some books had a profound influence on Einstein's thinking and theories.
Getty Images
Culture & Religion
Einstein had a large library and was a voracious reader.
The famous physicist admitted that some books influenced his thinking.
The books he preferred were mostly philosophical and scientific in nature.
Cook's commencement speech at Tulane University urges students to take action.
Getty Images
Technology & Innovation
Apple CEO Tim Cook gave a commencement speech at Tulane University on May 18th.
Cook cautioned the graduates to not get caught up in echo chambers and algorithms.
He acknowledged the failures of his generation.
Big think's weekly newsletter.
Get smarter faster from the comfort of your inbox.
See our newsletter privacy policy
here
Most Popular
Most Recent
Big think's weekly newsletter.
Get smarter faster from the comfort of your inbox.
See our newsletter privacy policy
here
© Copyright 2007-2019 & BIG THINK, BIG THINK EDGE,
SMARTER FASTER trademarks owned by The Big Think, Inc. All rights reserved.