New Switzerland, Jules Verne's Imaginary Shipwreck Sanctuary
The only way to visit this island is to read the book
23 July, 2010
In 1900, the famous French writer of adventure stories Jules Verne published Seconde Patrie ('Second Fatherland') in two parts. Like many works at the end of his life, this adventure story was a revisiting of earlier work, though in this case not Verne's own. Seconde Patrie is a sequel to a well-known book by Johann David Wyss: Der schweizerische Robinson ('The Swiss Family Robinson').
---
Wyss was a Swiss pastor, who wrote this Christian morality story disguised as an adventure novel to teach his four sons about family values, self-reliance and good husbandry. It tells of a shipwrecked Swiss family's survival on an island in the Indian ocean. The family is not called Robinson, by the way; that's a reference to the earlier, equally fictional Robinson Crusoë, probably still the most famous shipwreck, fictional or otherwise.
Verne's book revisits the original shipwreck, and the Swiss family's final years on the original island. Unnamed in the original, the family is called Zermatt in Verne's book. The Zermatts have been joined by Jenny, a girl stranded by a different shipwreck and rescued by the Zermatt boys, and the English family Wolston. Aided by the engineering skills of Mr Wolston, the islanders set about to further taming their new home, dubbed 'New Switzerland'.
Further adventures ensue, with plenty of unfriendly natives, sea-travel and shipwrecks. In the end, the island is annexed by Great Britain and the flourishing colony soon has over 2,000 inhabitants. This map (in French, but with some place names in German and English) shows the shape, names some features and indicates the settlements on Nouvelle Suisse.
Situated in the Indian Ocean, the island boast five bays:
Baie des Perles (Pearl Bay)
Baie des Nautiles (Nautilus Bay)
Baie du Salut (Salvation Bay)
Baie des Eléphants (Elephant Bay)
Baie des Tortues (Turtle Bay)
A small area at the north side of the island, protected by an encircling mountain range, is named Terre Promise (the Promised Land). There, five settlements are named:
Prospect Hill
Waldegg (Forest Edge)
Eberfurt (Boar Ford)
Falkenhorst (Falcon's Aerie)
Felsenheim (Cliff Home)
The interior of New Switzerland is dominated by a single mountain top, the Pic Jean Zermatt (Mount John Zermatt). A small inset shows the Promised Land in greater detail:
Outside the mountain range, there is a Rivière orientale (East River), on the right bank of which there is a Tour arabe (Arab Tower).
An additional settlement in the north-west of the Promised Land is called Zukertop (Sugartop).
Further inland, a Lac des Cygnes (Swan Lake) is connected to the Rivière des Chacals (Jackal River) by a canal.
Just south of the mountain range, there is a Caverne des Ours (Bear Cavern).
More coastal features include the Cap de l'Espoir trompé (Cape of False Hope), the Baie des Flamands (Flemish Bay), Isle de la Baleine (Whale Island) and Isle du Requin (Shark Island).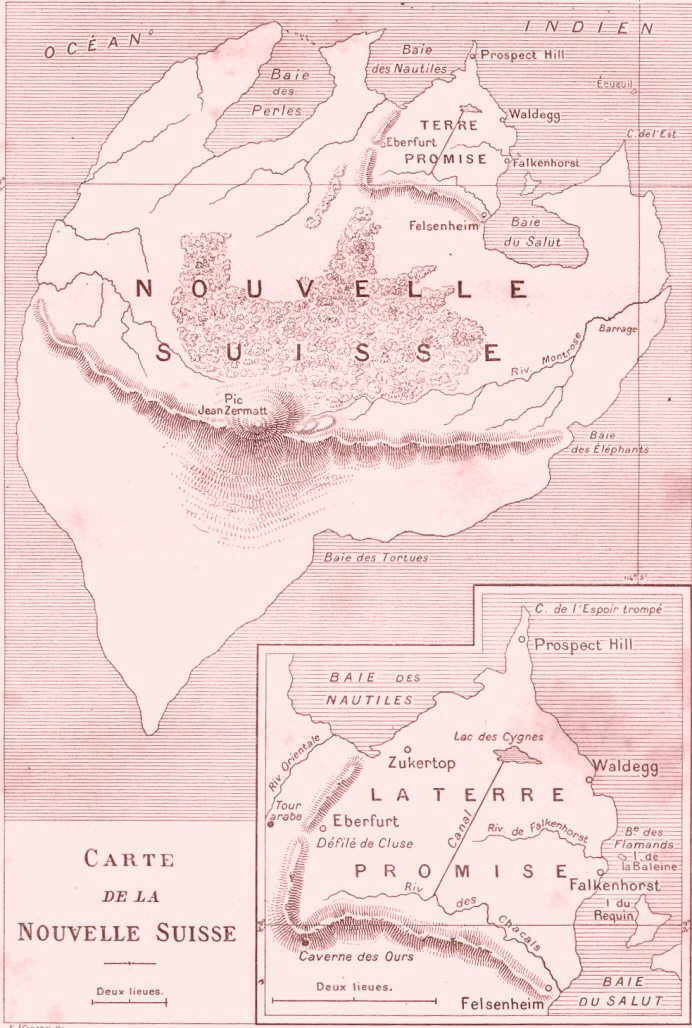 This map was found here, at Die Welt Jules Vernes, a German-language Jules Verne site.
Strange Maps #133
Got a strange map? Let me know at strangemaps@gmail.com.
International poker champion Liv Boeree teaches decision-making for Big Think Edge.
Big Think Edge
Learn to make decisions with the clarity of a World Series Poker Champion.

Liv Boeree teaches analytical thinking for Big Think Edge.

Subscribe to Big Think Edge before we launch on March 30 to get 20% off monthly and annual memberships.
"I was so moved when I saw the cells stir," said 90-year-old study co-author Akira Iritani. "I'd been hoping for this for 20 years."
Yamagata et al.
Surprising Science
The team managed to stimulate nucleus-like structures to perform some biological processes, but not cell division.
Unless better technology and DNA samples emerge in the future, it's unlikely that scientists will be able to clone a woolly mammoth.
Still, studying the DNA of woolly mammoths provides valuable insights into the genetic adaptations that allowed them to survive in unique environments.
An MIT study predicts when artificial intelligence will take over for humans in different occupations.
Photo credit: YOSHIKAZU TSUNO / AFP / Getty Images
Surprising Science
While technology develops at exponential speed, transforming how we go about our everyday tasks and extending our lives, it also offers much to worry about. In particular, many top minds think that automation will cost humans their employment, with up to 47% of all jobs gone in the next 25 years. And chances are, this number could be even higher and the massive job loss will come earlier.
The blood of horseshoe crabs is harvested on a massive scale in order to retrieve a cell critical to medical research. However, recent innovations might make this practice obsolete.
An Atlantic horseshoe crab in an aquarium. Photo: Domdomegg via Wikimedia Commons.
Surprising Science
Horseshoe crabs' blue blood is so valuable that a quart of it can be sold for $15,000.
This is because it contains a molecule that is crucial to the medical research community.
Today, however, new innovations have resulted in a synthetic substitute that may end the practice of farming horseshoe crabs for their blood.
Big think's weekly newsletter.
Get smarter faster from the comfort of your inbox.
See our newsletter privacy policy
here
Most Popular
Most Recent
Big think's weekly newsletter.
Get smarter faster from the comfort of your inbox.
See our newsletter privacy policy
here
© Copyright 2007-2018 & BIG THINK, BIG THINK EDGE,
SMARTER FASTER trademarks owned by The Big Think, Inc. All rights reserved.